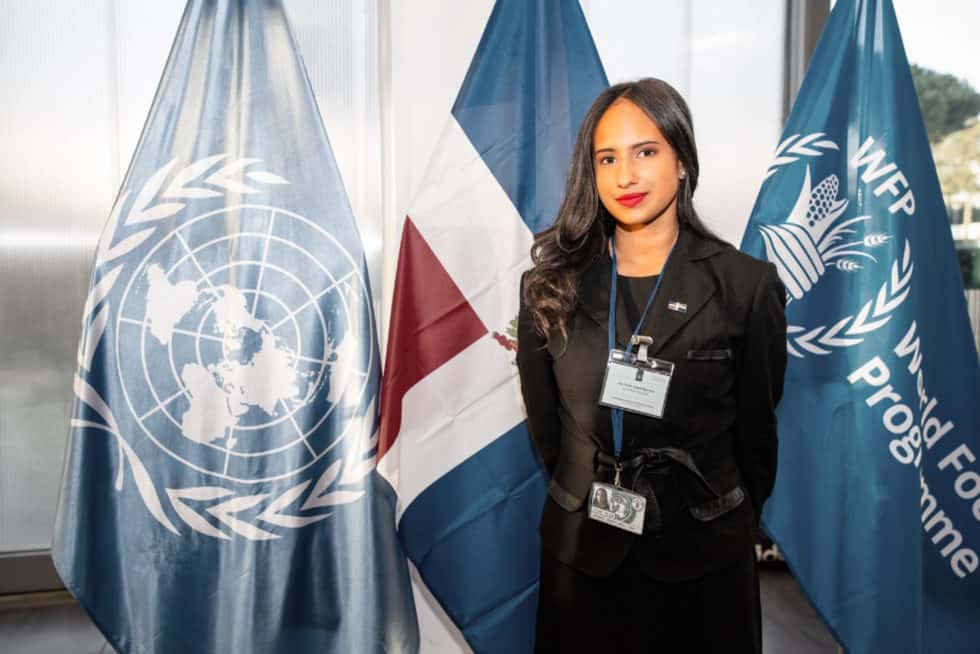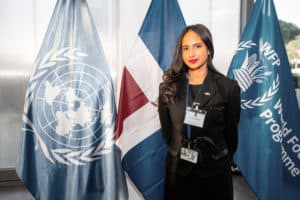 For 18 years Yisbell Marrero '20 watched how her Washington Heights neighborhood in New York City changed due to gentrification and community push back. Socio-economic levels were impacted and she knew her surroundings had transformed. And it wasn't necessarily for the best. It wasn't until she was in high school that Marrero understood how these changes were affecting her future. As an adolescent, she began to question political involvement and started to familiarize herself with elected officials in the community. By her sophomore year of high school, she had decided that representing the Latinx and Dominican population was what she wanted from her career. More specifically, she wanted to predict and compare the future of communities, and analyze trends in search of solutions to displacement and misrepresentation.
Her studies at Trinity College and her internships would lead her across the globe. Marrero, a double-major in political science and international studies, would travel to Haiti to examine cross-border flows, dynamics, and exchanges between Haiti and the Dominican Republic. According to Assistant Professor of Political Science Reo Matsuzaki, this was a project she designed and found funding for entirely on her own initiative.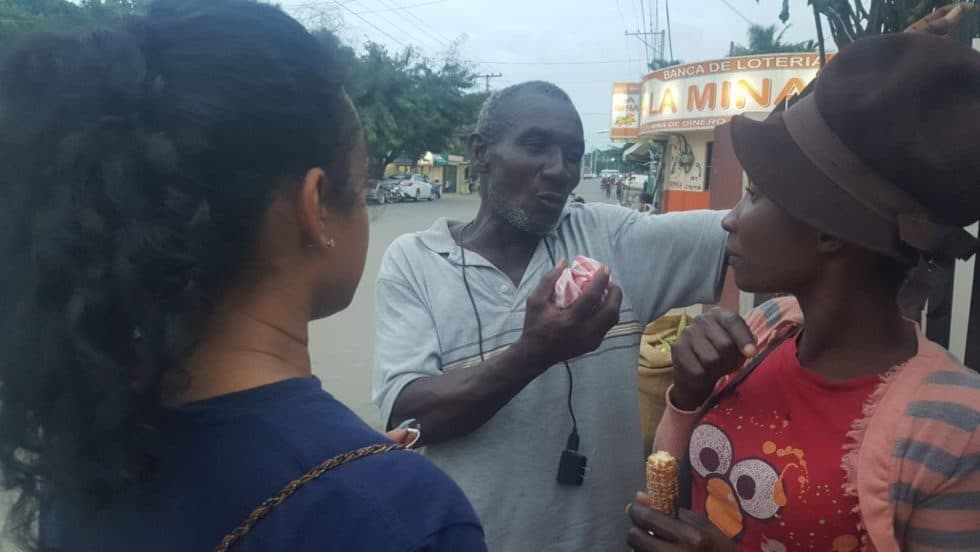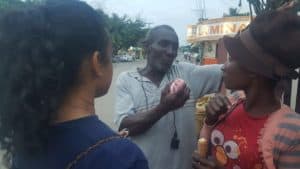 "[Marrero's] drive for seeking out and obtaining meaningful internships in her area of interest is impressive," said Matsuzaki. "During the summer of 2018, she obtained a competitive internship at the United Nations Permanent Mission of the Dominican Republic in New York. The following year, she interned at the UN Commission on Genetic Resources on Food and Agriculture in Rome."
It wasn't always so easy, Marrero said. When she first began at Trinity four years ago she had to overcome language barriers and exam endurance. However, she refused to accept the challenges as setbacks. She continued to push herself and use her multilingual language skills as an asset. Marrero speaks English and Spanish, and says she speaks basic-modern Greek and Italian, as well. Later, she chose to concentrate on global politics and comparative politics.
"It was the perfect fusion for what has been my independent research on border conflict and women and women empowerment in Latin America and the Caribbean," she said.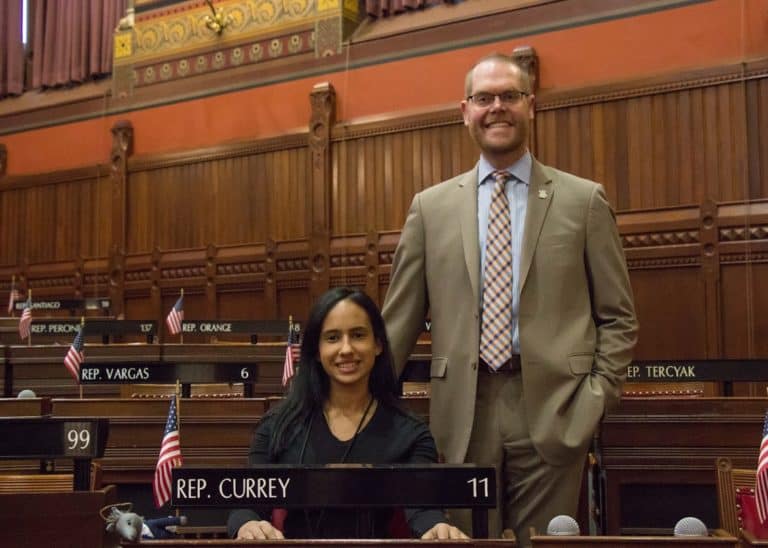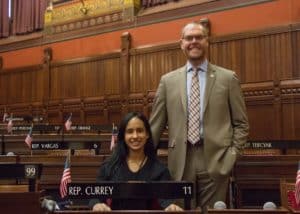 Marrero, who is enrolled in the honors program in the Political Science Department, has designed a research project seeking to explain varying levels of female political participation in countries with similar socioeconomic conditions. Having already completed extensive fieldwork in multiple Caribbean countries this past summer, she is pushing forward with plans to do more research this winter.
"Yisbell is guided by a strong moral compass and is truly driven by the desire to make a difference in the New York Dominican community where she grew up, as well as beyond," said Matsuzaki. "She works tirelessly, balancing on-campus jobs and her academic commitments—she is among the hardest working student I have encountered at Trinity—because she is committed to becoming a role model, especially for young women of color.
"Investing in her education and training is therefore not just about helping this one talented and hardworking individual, but also about advancing the career of someone who is committed to challenging structural injustices in the United States as well as the Dominican Republic," he added.
Marrero has been recently recognized as a 2020-2021 American Political Science Association (APSA) Minority Fellow. The APSA Minority Fellows Program (MFP) is a fellowship competition for individuals from underrepresented backgrounds applying to or in the early stages of doctoral programs in political science. ASPA awards up to 14 funded fellowships in the amount of $4,000 each.
The organization chose Marrero for her "analytical skills that surpass the classroom space." Her volunteer work, such as her work in Puerto Rico following Hurricane Maria, academic achievements, and leadership roles made her a great candidate for the honor.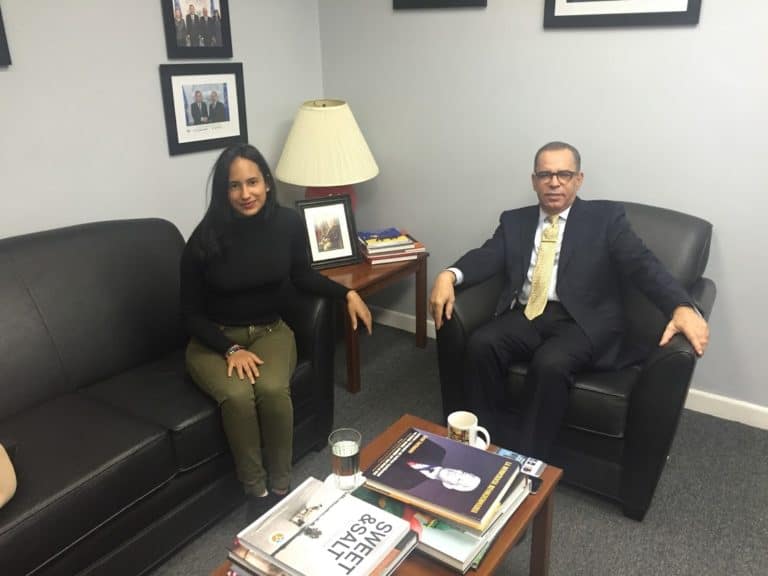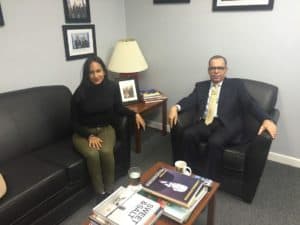 "I feel like a scholar. It's been a reinvigorating and motivational boost to keep my head up and finish [my college studies] off strong," said Marrero. "Every professor that I have gotten the opportunity to take a course with up to now has taught me so many skills that are applicable to the real world. [They] have made me break through the surface level of analyzation; a form of thought that has established my character as not only a student but as a human being, as well."
Seth Markle, associate professor of history and international studies, said, "[Marrero] has truly taken advantage of her liberal arts education. She has worked tremendously hard over the past three years conducting fieldwork in the Caribbean, interning at the United Nations, studying away in Europe, and researching for her senior honor thesis. I've never met a student so laser-focused and self-determined."
After graduation, Marrero plans to pursue postgraduate studies. She hopes to land in a program in Washington, D.C., New York, or California.
Previously, Marrero has been awarded the Posse full-tuition leadership scholarship, Gates Millennium Hispanic Scholarship Fund, and the Dominican Day Parade, Inc. Scholarship, among others. She has completed internships with the Hispanic Federation, Morgan Lewis & Bockius Law Firm, The Permanent Mission of the Dominican Republic to the United Nations in New York, and The Permanent Mission of the Dominican Republic to the Food and Agriculture Organization, and World Food Programme, in Rome, Italy.