Back to News
Trinity Named a Top Producer of Fulbright U.S. Scholars
Academics
posted
by Kathy Andrews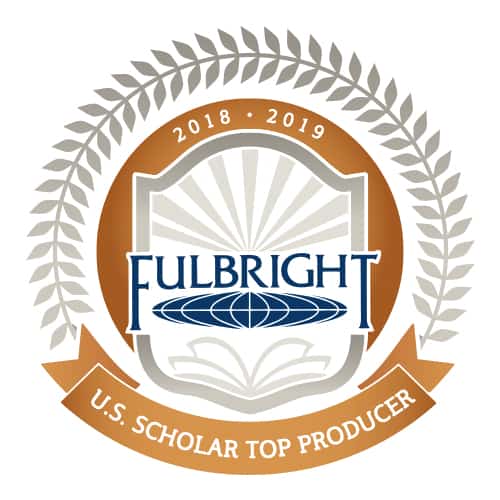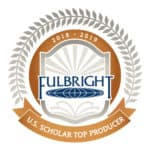 Hartford, Connecticut, February 11, 2019 – Trinity College has been recognized as a Fulbright U.S. Scholar Program Top Producing Institution for the 2018–2019 academic year and is at the top of the list among bachelor's institutions. Each year, the U.S. Department of State's Bureau of Educational and Cultural Affairs announces the top-producing institutions for the Fulbright Program, the U.S. government's flagship international educational exchange program. The Chronicle of Higher Education publishes the lists annually.
Three Trinity faculty scholars were awarded Fulbright awards for 2018–2019—the highest number awarded to any baccalaureate institution in the nation. Among the bachelor's institutions recognized this year as top producers of scholars, Trinity tied with Colgate University and Middlebury College, which each also had three Fulbright Scholar awards.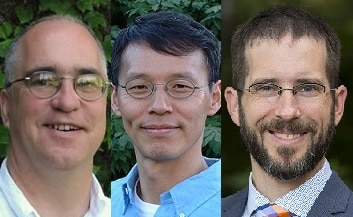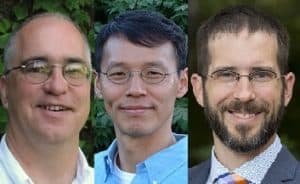 Trinity's 2018–19 Fulbright Scholars (shown here, from left to right) and their overseas host institutions are:
Kent D. Dunlap, Charles A. Dana Research Professor of Biology—Gulbenkian Institute, Lisbon, Portugal
Peter A. Yoon, Professor of Computer Science—Jimma University School of Electrical and Computer Engineering, Ethiopia
Justin Fifield, Visiting Assistant Professor of Religious Studies—Postgraduate Institute of Pali and Buddhist Studies at the University of Kelaniya, Sri Lanka
Tim Cresswell, Trinity College dean of the faculty and vice president for academic affairs, said, "Trinity is honored to be among U.S. institutions producing the greatest number of Fulbright Scholars this year. We are proud of the research and teaching our professors are engaged in, thanks to these prestigious awards, which support both educational exchange and international understanding. The goals of the Fulbright U.S. Scholar Program are very much in keeping with Trinity's core mission, which includes engaging members of our academic community as global citizens in the wider world and experiencing the real-world relevance of their liberal arts education."
Since its inception in 1946, the Fulbright Program has provided more than 390,000 participants—chosen for their academic merit and leadership potential—with the opportunity to exchange ideas and contribute to finding solutions to shared international concerns. More than 800 U.S. college and university faculty and administrators, professionals, artists, journalists, scientists, lawyers, and independent scholars are awarded Fulbright grants to teach and/or conduct research annually. The Fulbright U.S. Scholar Program operates in more than 125 countries throughout the world.
The Fulbright U.S. Scholar Program is a program of the U.S. Department of State, funded by an annual appropriation from the U.S. Congress to the Bureau of Educational and Cultural Affairs and supported in its implementation by the Institute of International Education.
The Fulbright Program also awards grants to U.S. students and teachers to conduct research and teach overseas. In addition to Trinity's faculty scholars this year, a Trinity student was awarded a Fulbright grant for 2018–19. Alicia Abbaspour, who graduated from Trinity in May 2018, received an English Teaching Assistantship (ETA) through the Fulbright U.S. Student Program to travel to Malaysia for 10 months to teach English to secondary school students. Abbaspour, who came to Trinity from Indiana, completed a double major in international studies and English literature and a minor in French studies.
Kristin Magendantz is Trinity's Fulbright Scholar Program liaison for faculty and Anne Lundberg is the adviser for the Fulbright U.S. Student Program.
Read more about Trinity's 2018–19 Fulbright awardees here and here.