Hartford, Connecticut, May 7, 2019 – Trinity College's newly enrolled Class of 2023, numbering 618 students, will bring exceptional academic strength and diversity to campus, including the largest-ever cohort of first-generation students—17 percent indicated they would be the first in their family to graduate from college.
The yield rate for the class—the percentage of accepted students who choose to enroll—was up slightly to 31 percent, the highest in at least a decade. The yield rate jumped from 22 percent in 2015 to 30 percent in 2016 and had held steady since then.
The academic quality of the student body continues to increase; the number of students in the incoming class who are at the top of Trinity's academic rating scale is the highest in at least 10 years.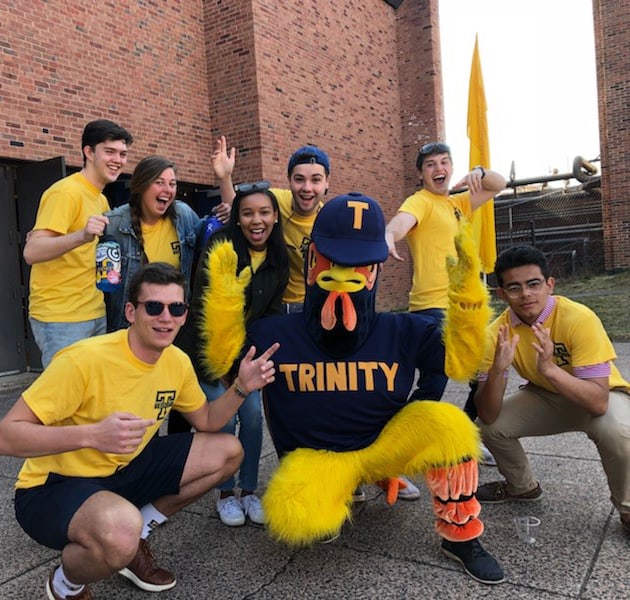 "One of the greatest joys of doing this work is seeing the extraordinary amount of talent and passion that young people of this generation have," said Angel B. Pérez, vice president for enrollment and student success. "I continue to be inspired by the students who apply to and enroll at Trinity. I know they will be change agents and influencers on our campus, in Hartford, and in the world," he said.
The incoming class is 53 percent men and 47 percent women. American students of color, including multiethnic students, are 22.5 percent of the enrolled class. The new students come from 33 U.S. states, plus the District of Columbia and Puerto Rico. Fifty-five percent are from outside New England.
Fourteen percent of the class are international students, and, with the arrival of this class, 77 countries will be represented at Trinity, reflecting the greatest global diversity in the college's history.
The incoming class includes four Presidential Scholars, Trinity's most prestigious academic distinction, granted only to a small number of students at the very top of the applicant pool. Along with many other scholarship recipients, 37 are 1823 Scholars—students with strong academic achievement and extraordinary personal character—and seven are Davis United World College Scholars, talented students from around the globe. The enrolled class also includes two Mastercard Foundation Scholars, one Bridge2Rwanda Scholar, and one Abu Dhabi Investment Authority (ADIA) scholar.
Trinity's overall acceptance rate this year was 33 percent. The precise enrollment—at Trinity and at most colleges—is expected to shift some over the next several weeks as students decide to take gap years or change their plans, a phenomenon known throughout higher education as "summer melt."
In Trinity's fourth year as a test-optional institution, 58 percent of the enrolled students chose not to submit standardized test scores. Research has shown that standardized test scores are not nearly as strong in predicting success in college as high school grades. In addition to assessing students' academic performance, the rigor of their courses of study, and their sustained extracurricular involvement, Trinity also evaluates students on a set of noncognitive traits—including grit, optimism, persistence, a willingness to take risks, and an ability to overcome adversity—that research has shown predict success in college. Students also are asked to submit with their applications an essay expressing their specific interest in studying and engaging with the liberal arts in an urban setting.
"I can't wait to welcome these extraordinary individuals to campus this fall," said Pérez. "Their experience and passion will impact us all, and I'm looking forward to watching them develop during their time at Trinity."