Back to News
Trinity College Launches New Program at Hartford Correctional Center
Hartford
posted
by Andrew J. Concatelli
A population in the correctional system long overlooked for educational services now has access to a Trinity College program.
This semester marks the first time that Trinity faculty members are teaching college classes at Hartford Correctional Center, the city's jail. Unlike a prison, which typically holds inmates after sentencing, a jail houses the accused who have not been convicted of a crime and those serving sentences of up to a year. People may spend months at HCC as their cases progress.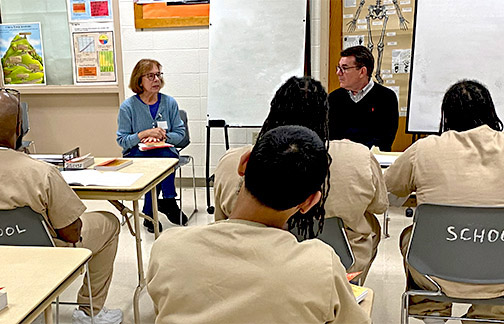 Damian M. Doran, deputy warden at HCC, said, "In my experience, educational programs are the best way to guide justice-involved individuals toward positive change that makes positive use of their time spent in our custody, and can also contribute to more productive outcomes upon release to the community."
The new program adds to Trinity's Prison Education Project (TPEP), which has made courses available to individuals incarcerated at York Correctional Institution for more than a decade. TPEP exists to reduce educational inequities, support incarcerated people, and help them succeed after release. It is part of Trinity's Human Rights Program, the first human rights program at a liberal arts college in the United States.
"Many colleges have started offering courses in prisons, but we realized that people in jails are left behind, including the folks right here at HCC, which detains about 800 people at any given time," said Anna Terwiel, assistant professor of political science and TPEP co-director. "There were already some GED classes and court-mandated programs at HCC, but there were no higher education opportunities before this one."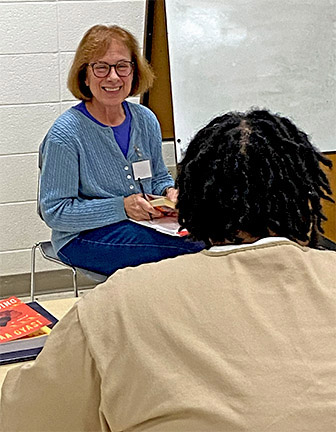 Terwiel added, "Trinity has a fantastic community of teachers and scholars, and right here in our city is an institution with a lot of people who have been deprived of access to higher education for a number of reasons, so this is a great opportunity to use the resources of Trinity to connect them with an education."
Because of the variable lengths of time people spend in the jail, two shorter, half-credit courses are offered per semester. "We know students are not going to complete a degree in the jail; that's not the goal," said Joseph F. Lea, visiting lecturer in human rights and TPEP co-director. "The goal is to start this process, to develop a transcript, and to have the students go on in their lives and take these credits wherever they go. If they are released, they can enroll in Connecticut State Community College—Capital Campus [formerly Capital Community College]. If they go to prison, the prison would have a program where they can continue their college education. It's the beginning of a pathway to education."
The goal is to have about 15 students enrolled in each course. "With our very first course offerings this fall, we didn't know what to expect, and we're very happy with how things are going. In our first semester, the level of interest has already gone up," said Lea, who is retired from the Connecticut Department of Correction. He co-founded the TPEP (formerly the Trinity Prison Seminar Series) in 2012, along with Professor of Theater and Dance, Emerita, Judy Dworin and Professor of English, Emerita, Sheila M. Fisher.
The first course offered this semester was an interdisciplinary literature and philosophy course called "Friends and Enemies," co-taught by Terwiel and Senior Lecturer in Language and Culture Studies Joshua King. "Post-Colonial Fiction," co-taught by Lea and Fisher, is currently underway two evenings per week.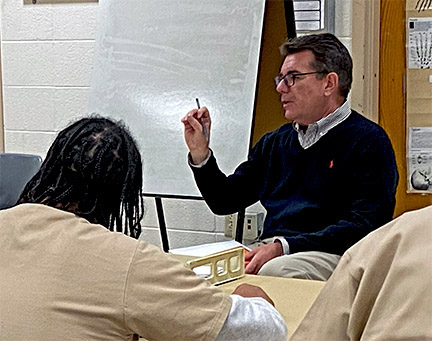 "We have come to realize that there's a significant demand for writing instruction," Terwiel said. "This spring, we have a writing-focused course lined up. Our goal is to develop a curriculum that meets our students' interests and needs. We knew nothing about our students at first. As we get to know them, we can be more intentional in our outreach to other Trinity faculty members."
The classes are offered to students in the jail with no tuition fees and with all course materials provided. The program is supported by grants, in-kind contributions from Trinity, and ongoing fundraising, at no cost to the DOC or to taxpayers, Lea said. Interested students apply by writing a short essay describing their interest in the program and their previous educational experience.
In addition to teaching courses at York and HCC, Trinity also offers its students many opportunities to learn about mass incarceration and related issues. Students may earn an experiential certificate in "Carceral Systems and Social Change" by taking two academic courses and engaging in one co-curricular experience outside of the classroom. For more information, click here or contact Benjamin C. Carbonetti, director of Trinity's Human Rights Program, lecturer in human rights, and the certificate coordinator.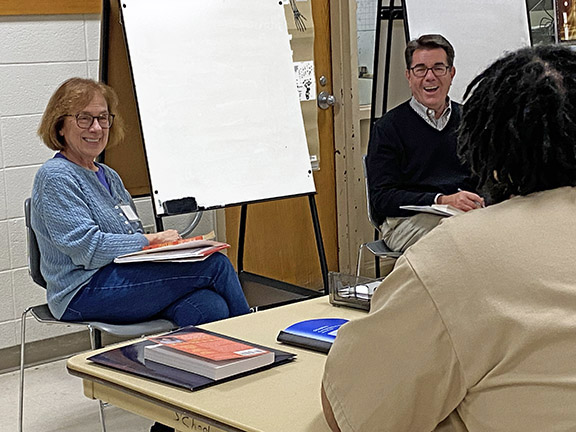 Carl Guerriere IDP'80, the director of the Center for Diversity, Equity, and Inclusion at Connecticut State Community College—Capital Campus, said that the partnership with Trinity and the DOC meets the needs of incarcerated individuals and provides a service to the community.
"A meaningful partnership is greater than the sum of its parts," Guerriere said. "This partnership has the potential to add benefit to all those involved—most importantly for the individuals who participate in the program at the HCC. I would like to see individuals start and eventually complete a certificate or degree program that enables them to earn a life-sustaining wage."
Doran, the deputy warden, said that engaging incarcerated individuals in programming like this helps them to think about how they can make meaningful changes that will reduce their risk for recidivism. He said, "Education changes lives, and it is our hope that the Trinity College program at Hartford Correctional Center will help its participants to make positive changes that will impact them, their families, and their communities."