Back to News
Trinity College is a Founding Partner of Startupbootcamp's MedTech Accelerator in Hartford
Hartford, Conn., April 24, 2019 – Startupbootcamp has announced the launch of its new MedTech Accelerator in Hartford, designed specifically to rapidly scale healthcare-focused technology startups. The MedTech Accelerator has been established to attract new talent and technology to Hartford, and will provide entrepreneurs with the support, resources, and industry and investor connections they need to help grow their business. The program will include a special emphasis on digital health.
Founding local partners of the MedTech Accelerator are Hartford HealthCare, Trinity College, UConn's School of Business and Technology Commercialization Services unit, and CTNext. The MedTech Accelerator will join Hartford's growing community of innovation and entrepreneurship assets, including Hartford's InsurTech Accelerator, also launched by Startupbootcamp in 2018. Both of these efforts were catalyzed by investment from CTNext, through the Hartford/East Hartford Innovation Place Program.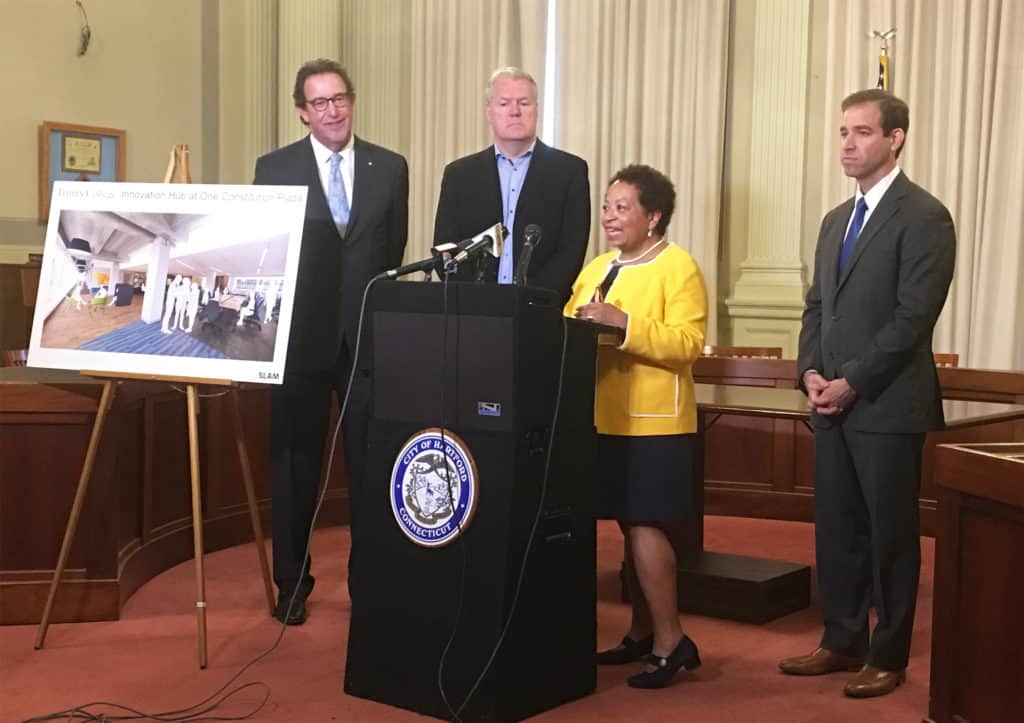 Each year, 10 startups will be accepted into the three-month intensive accelerator program in Hartford. Unlike almost any other city in the United States, Hartford has an extremely unique set of assets, which can be leveraged to create a world-class environment for emerging digital health companies. Startupbootcamp, and the program's partners will work with local stakeholders to create opportunities for participating companies to receive coordinated feedback from leading healthcare payers, providers, and research institutions in a very short period of time. As a result, digital health companies will find a place and program like no other – a center where they can receive fast, focused, and fundamental feedback that will help them develop products that will improve health, and patient experience.
To be eligible for the program, entrepreneurs must have a working prototype and have secured operating capital to fuel their current stage of growth from other sources.
"The launch of the MedTech Accelerator represents a major expansion of our innovation ecosystem and a major commitment to growth by some of Hartford's anchor institutions," said Hartford Mayor Luke Bronin. "Since we launched the InsurTech Accelerator less than two years ago, we've grown Hartford into a budding hub for innovators of all kinds faster than anyone imagined. Healthcare has been a strength of our region for a long time, and we want entrepreneurs who are changing the industry to grow their companies in our Capital City. I want to thank Startupbootcamp, Hartford HealthCare, Trinity College, UConn, and CTNext for their incredible partnership and for coming together to strengthen our innovation ecosystem."
The program will reach beyond Connecticut and leverage Startupbootcamp's global network of business acceleration resources and programs, including other Digital Health programs in Miami, and Berlin.
Alex Farcet, Co-Founder of Startupbootcamp said, "All of us at Startupbootcamp get up every day to support ambitious entrepreneurs and visionary corporations that disrupt industries and drive innovation. We are very proud to embark on this digital health ecosystem-building mission in partnership with Hartford HealthCare, CT Next, Trinity College, and UConn. We believe in the vision and can't wait to scout the globe for the very best startups so that we can bring them to Hartford to find new ways to improve healthcare and patient outcomes."
Quotes from participating partners:
Elliot Joseph, Chief Executive Officer, Hartford HealthCare, said, "Hartford HealthCare is proud to invest in the future of our region and our state with the launch of the Hartford MedTech Accelerator. Connecticut needs economic development – we need to grow our economy. Last year, a third of all venture capital investments were made in healthcare. It is time to bring those investment dollars to Connecticut. This investment will create technologies that will make life better for our state and the world, transforming our region and creating a launching pad for new digital-health ideas and products that improve the lives of the people we're privileged to serve."
Joanne Berger-Sweeney, Trinity College President and Professor of Neuroscience, said, "We are proud to be hosting the digital health accelerator in Trinity's new space at One Constitution Plaza, which will also house our key partnership with Infosys, serving as a hub for innovation and entrepreneurship for our students, faculty, and alumni—and a model of institutions of higher education partnering with the private and public sector for the public good."
David Souder, UConn School of Business Dean, said: "Using technology to improve both the effectiveness and affordability of medical care is one of the great opportunities of the next decade. Hartford brings together an ideal combination of industry and education partners to help pursue the opportunity, and we are excited that our students interested in entrepreneurship and data analytics will have the chance to contribute to this new initiative."
"The launch of the Digital Health Accelerator is a major milestone for Hartford and Innovation Places," said Glendowlyn Thames, Executive Director of CTNext. "This concept was one of the major reasons we chose East Hartford/Hartford as one of the state's four Innovation Places. It exemplifies our goals for the program, in that it draws on the Hartford region's existing strengths, talent and resources to create new development opportunities and inspire greater innovation."
About Startupbootcamp Digital Health
Startupbootcamp, the award-winning global network of industry-focused accelerator programs, has accelerated over 800 startups since launching in Copenhagen in 2010 and has operated 20+ programs in Europe, Asia, North & South America, MENA & Africa. The Digital Health vertical has been a focus of programs in Miami, Berlin and Chengdu China since 2015 and has accelerated over 60 global startups disrupting the healthcare industry and improving patient outcomes. For more information visit: http://www.startupbootcamp.org
Press contact:
Alex Farcet, Co-Founder, Startupbootcamp, Partner, Rainmaking Innovation Corp.
[email protected]
+45 2429 4000