Back to News
Trinity College Hosts Connecticut Forum's 'Conversation with Spike Lee'
Hartford
posted
by Hamna Tariq '20
Trinity College was the host and lead sponsor of "A Conversation with Spike Lee," presented by the Connecticut Forum at the Bushnell on November 9. This was a special event held in addition to the regular season of the Connecticut Forum, of which Trinity is an education partner. Cinestudio—the independent, student-run nonprofit movie theater located on Trinity's campus—was also a sponsor of the program.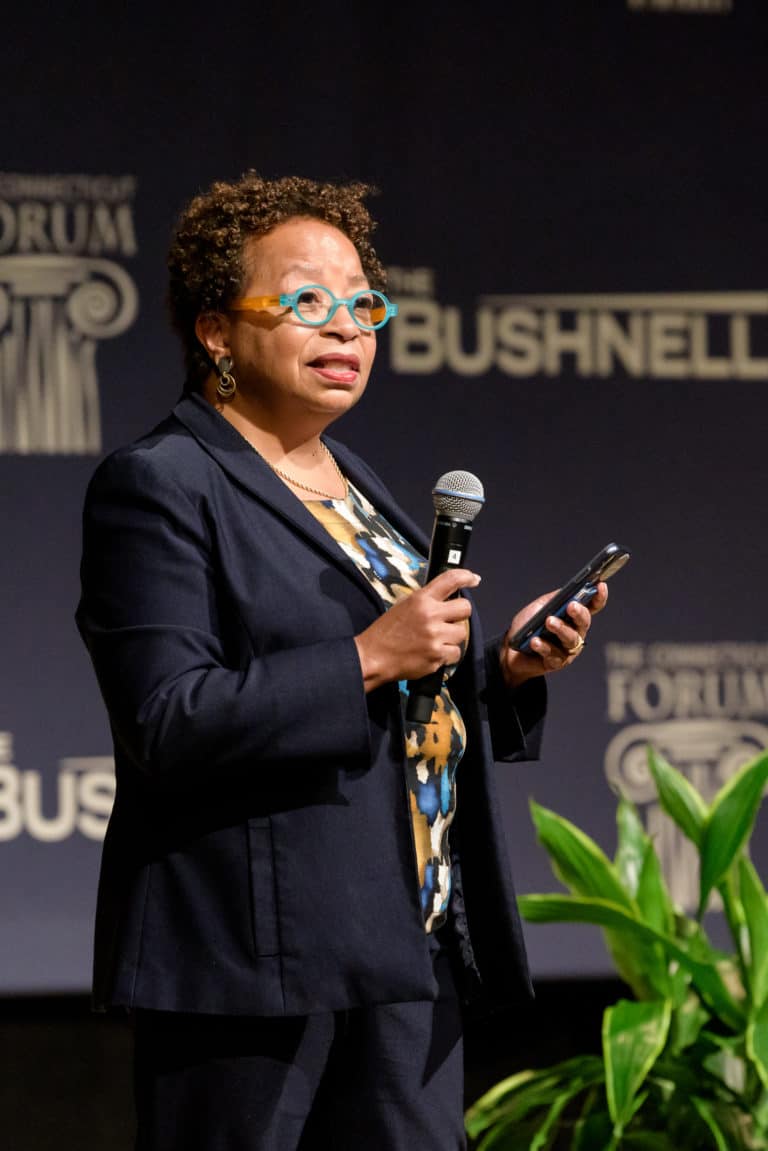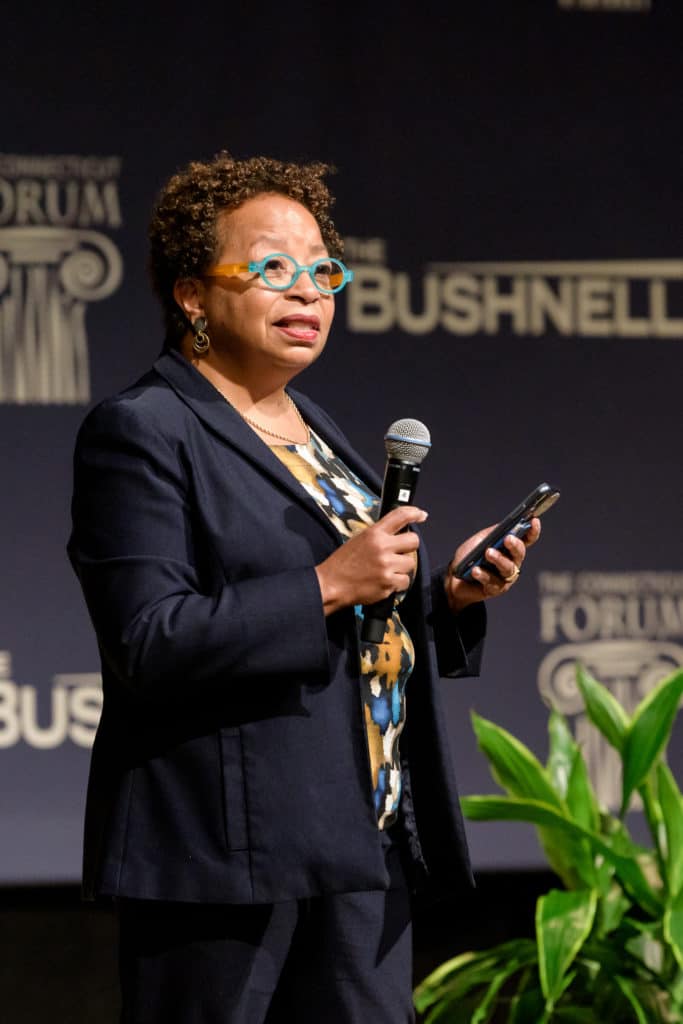 To begin the evening, Trinity College President Joanne Berger-Sweeney welcomed the audience, which included Trinity students, alumni, faculty, staff, and administrators. Berger-Sweeney thanked the sponsors and mentioned the importance of the partnership between Cinestudio and Trinity to the cultural history of Hartford. While sharing her experiences watching Spike Lee films, she said, "Lee's films capture the complexity of captivating nuances of the authentic black American experience like never seen before."
Moderator Allison Stewart, the host of WNYC's "All of It," in her introduction of Lee also shared her admiration of the legendary director, adding, "He produces provocative, moving, and uncompromising work."
The first question Lee answered was about how he initially got into the film industry. He said that after obtaining a camera from a friend by chance, he filmed scenes of Brooklyn, where he lived, and was encouraged by his professors to make a documentary and pursue filmmaking. When asked if he had ever encountered failure in his career, Lee described his experience with his first ever movie, which was never completed or released because he could not afford to put the movie together.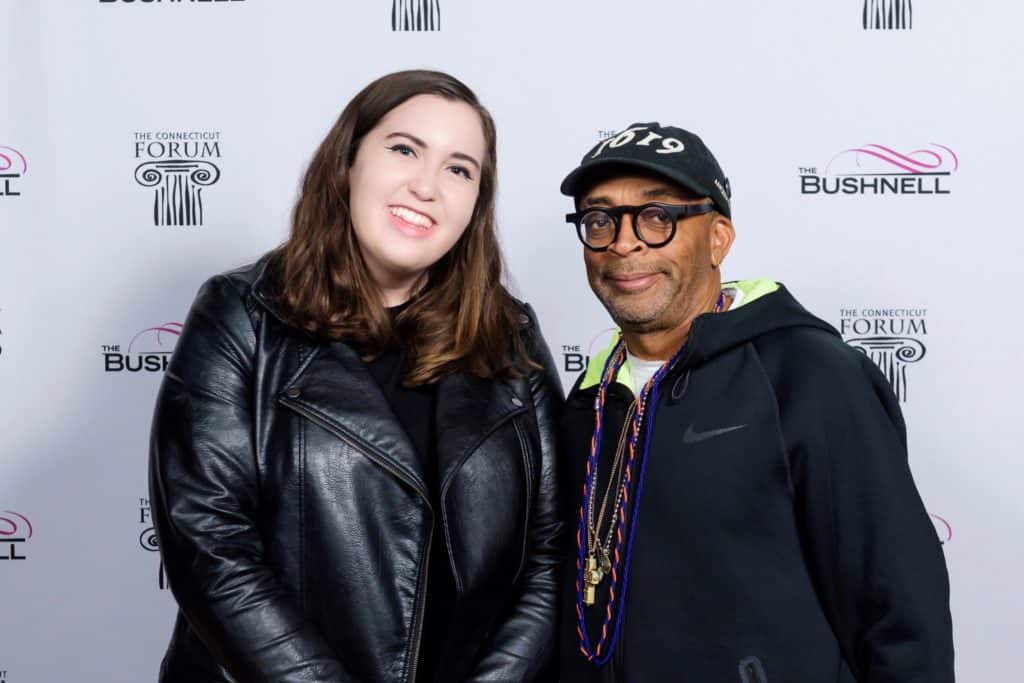 Film studies major Kyra Lyons '20, a manager at Cinestudio and student director of the Trinity Film Festival, felt that Lee's description of his start in the film industry was particularly relevant to students pursuing film studies. "Hearing Spike describe how he leaned on his experiences, specifically on the help of others, was both inspiring and reassuring," said Lyons.
While discussing his early years, Lee recounted the advice his mother had given while he was in school. "We had to be better than our white classmates. We had to over-excel," said Lee. He also looked back on his college years at Morehouse College and considered himself fortunate to attend an institution that has produced renowned change-makers including Martin Luther King, Jr.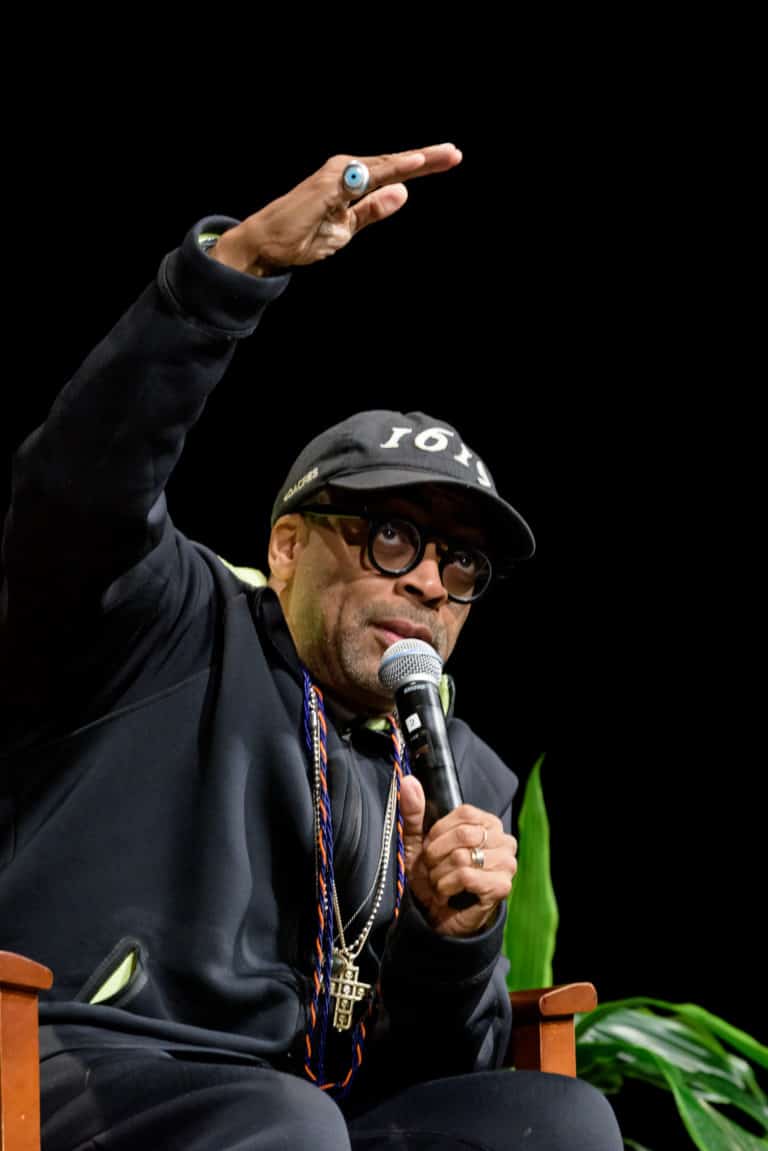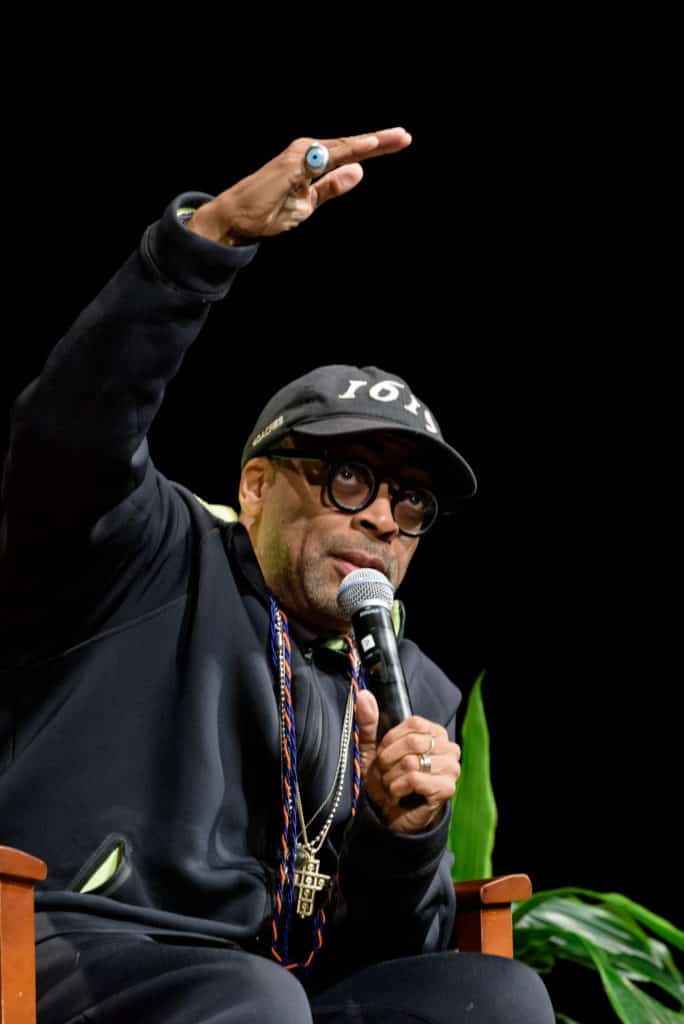 Clips from Lee's iconic movies were played for the audience and discussed throughout the evening. After the riot scene from "Do the Right Thing" was shown, Lee talked about the relevance the movie still holds today. "Not only does this movie remind us that people of color have suffered at the hands of police for decades, but it also addressed gentrification and global warming at a time when it was rarely discussed," he said.
Lee also highlighted the importance of music in cinema when talking about "Malcolm X" and "BlacKkKlansman." His description of his directing techniques was especially useful for those interested in film. Lyons particularly enjoyed the discussion of Lee's trademark double-dolly shot and use of culturally relevant music in film. "All these formal elements boiled down to the fact that Spike is a man trying to faithfully depict his experience of the world, to make folks feel seen and represented and also to educate others," said Lyons.
Lee left the audience with two pieces of advice. First, he suggested that filmmakers and actors not chase awards and accolades. He said, "I cannot let myself submit to anyone to validate my work." Secondly, Lee asked the audience to be cognizant of climate change and to work to prevent global warming from causing irreversible damage.
Lyons described this event as a "priceless experience" and "a once-in-a-lifetime opportunity" for herself and other students who were able to meet Lee backstage after the program.
One of Cinestudio's founders and executive directors, Peter McMorris '73, said that he found the event to be incredibly informative and interesting, especially Lee's comments on the film clips. "I hope Cinestudio can be involved with many more events like this," said McMorris.
To learn more about the Interdisciplinary Program in Film Studies at Trinity, click here.