Back to News
Trinity College Honors Retiring Faculty and Staff, Recognizes Others for 25 Years of Service
Hartford, Connecticut, June 6, 2018—Retiring members of the faculty and staff at Trinity College were honored recently at a luncheon, which also recognized employees who have completed 25 years of service to the college. The May 23 reception was held in the Washington Room in Mather Hall and included words of appreciation from President Joanne Berger-Sweeney and remarks from colleagues about the honorees.
The faculty and staff honorees who retired in 2017 or 2018 are: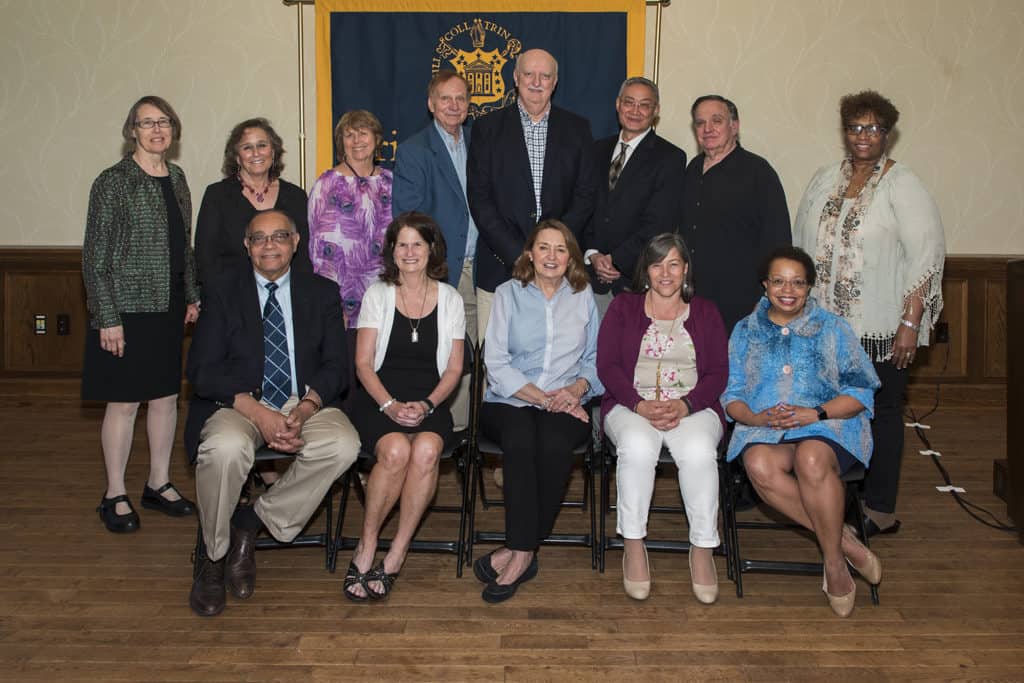 Carolyn J. Anderson, Office Coordinator, Mathematics Department
E. Kathleen Archer, Associate Professor of Biology
William N. Butos, George M. Ferris Professor of Corporation Finance and Investments
Kristina Cavalieri, Coordinator, Counseling and Wellness Center Services
Leslie G. Desmangles, Professor of Religious Studies and International Studies
Ellison Banks Findly, Scott M. Johnson '97 Distinguished Professor of Religion
John P. Georges, Professor of Mathematics
Joan D. Hedrick, Charles A. Dana Professor of History
Karen Kalbacher, Administrative Assistant, Athletics
Sandra F. Magee, Human Resources Specialist
Gerald Moshell, Professor of Music
Ralph O. Moyer, Jr., Scovill Professor of Chemistry, Emeritus
Robert F. Peltier, Principal Lecturer, Allan K. Smith Center for Writing and Rhetoric
Adrienne O. Quinn, Office Coordinator, Economics Department
Milla C. Riggio, James J. Goodwin Professor of English
John Rose, College Organist, Chapel Music Director, and Director, Trinity College Choir
Peter J. Sylvester, Network Support Specialist, Information Technology Services
Patricia Tillman, Associate Professor of Fine Arts
James G. Wen, Professor of Economics and International Studies
The faculty and staff honorees recognized for 25 years of service in 2018 are:
Lurdes Fernandes, Database Administrator, Access Control & Card Services, Information Technology Services
Sonia E. Lawrence, Women's Sports Equipment Manager, Athletics
Curt N. Leonard, Docutech Services Specialist, Central Services
George A. Suitor, Associate Professor of Physical Education and Head Cross Country Track Coach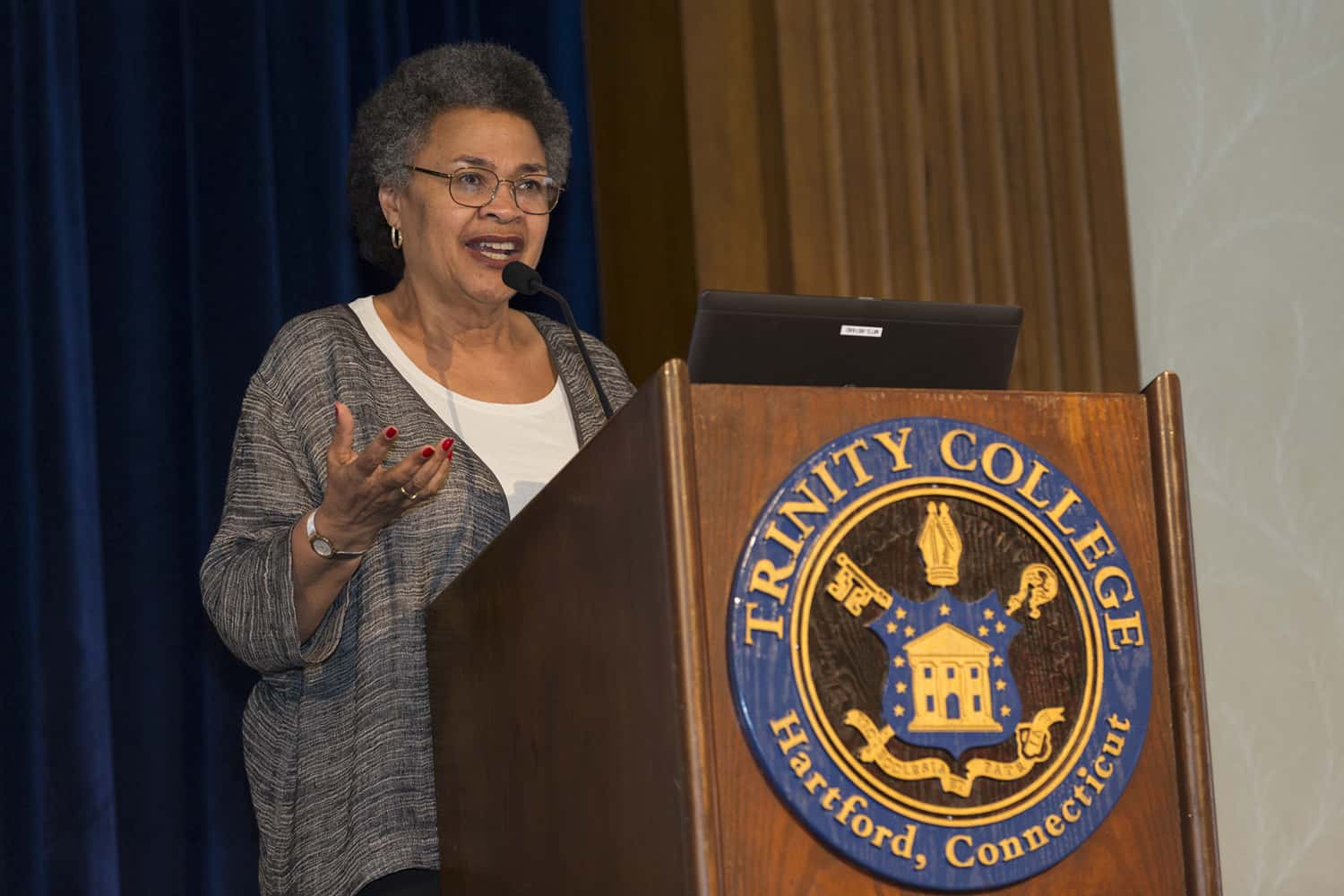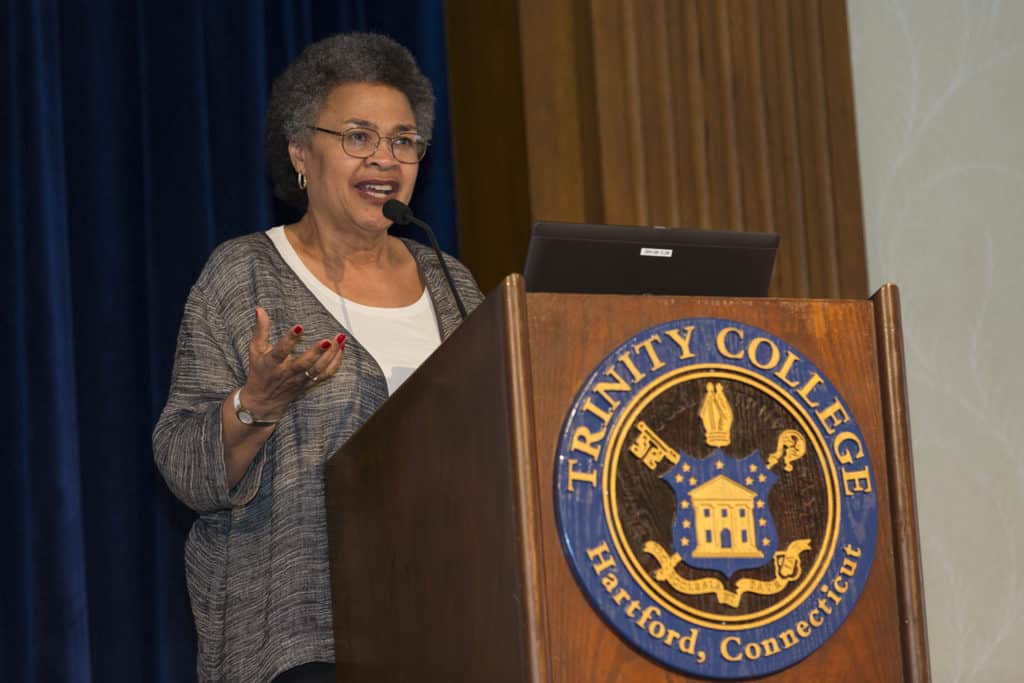 Karla Spurlock-Evans (left), the retiring dean of multicultural affairs and senior diversity officer, was honored at a separate reception on April 30, when Berger-Sweeney, faculty, staff, students, and alumni expressed their gratitude for the work Spurlock-Evans has done at Trinity. Spurlock-Evans joined the Trinity community as its first dean of multicultural affairs in August of 1999. As a member of the president's cabinet, Spurlock-Evans has played a central leadership role in advancing Trinity's goals for enhancing diversity and fostering a campus environment that respects and celebrates diversity in all its dimensions.
Photos by John Marinelli. To view the full Flickr album of photos from the luncheon, please click here.