Hartford, Connecticut, June 6, 2018 – Trinity College will hold Reunion Weekend 2018 from June 7 through 10, celebrating alumni whose class years end in 3s and 8s. The annual event is an opportunity for alumni, with their families and friends, to come back to campus to reflect and reconnect with each other and the college. More than 80 events and activities are planned, including popular Trinity traditions such as the New England-style clambake, class dinners, alumni- and faculty-led presentations, and the Parade of Classes.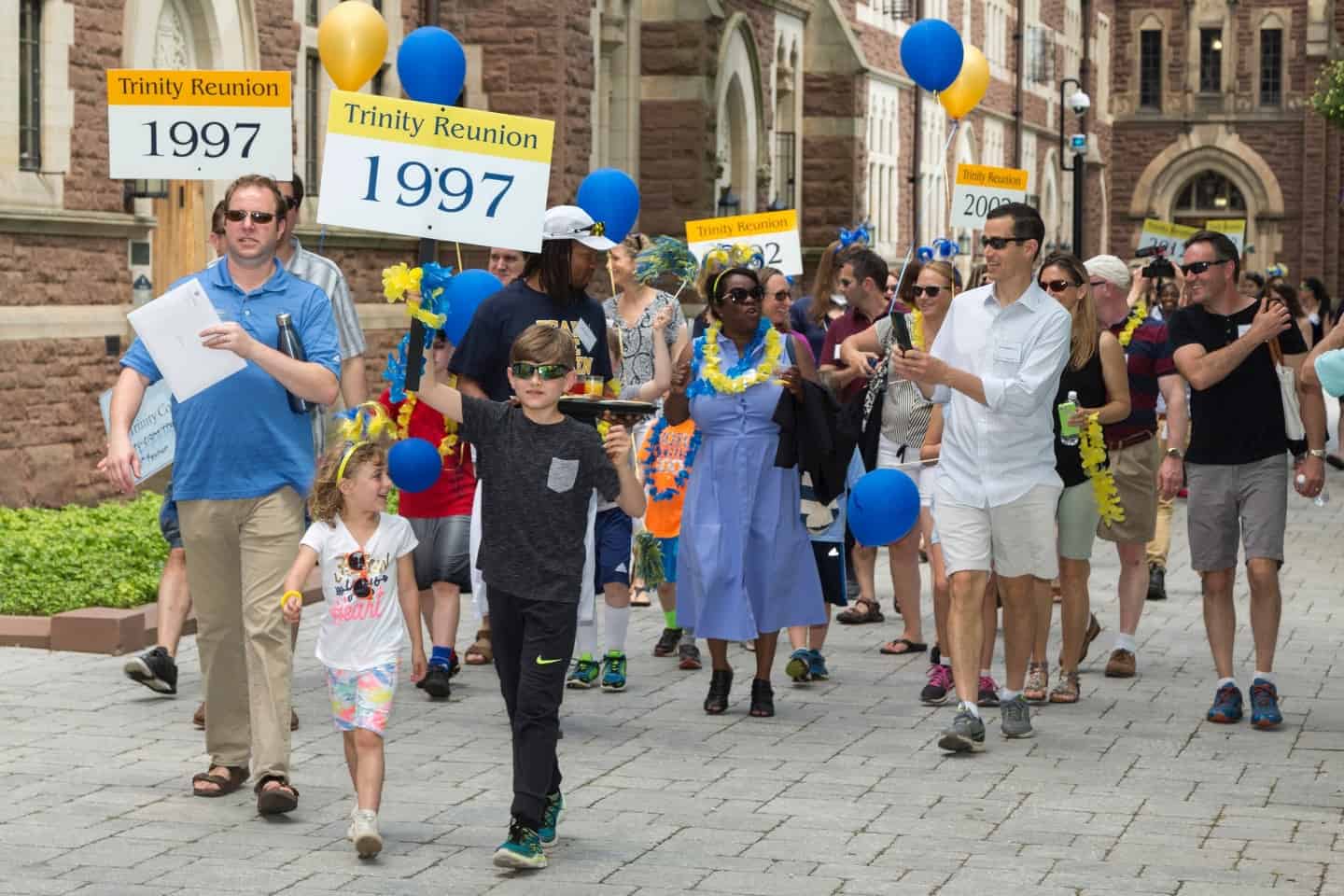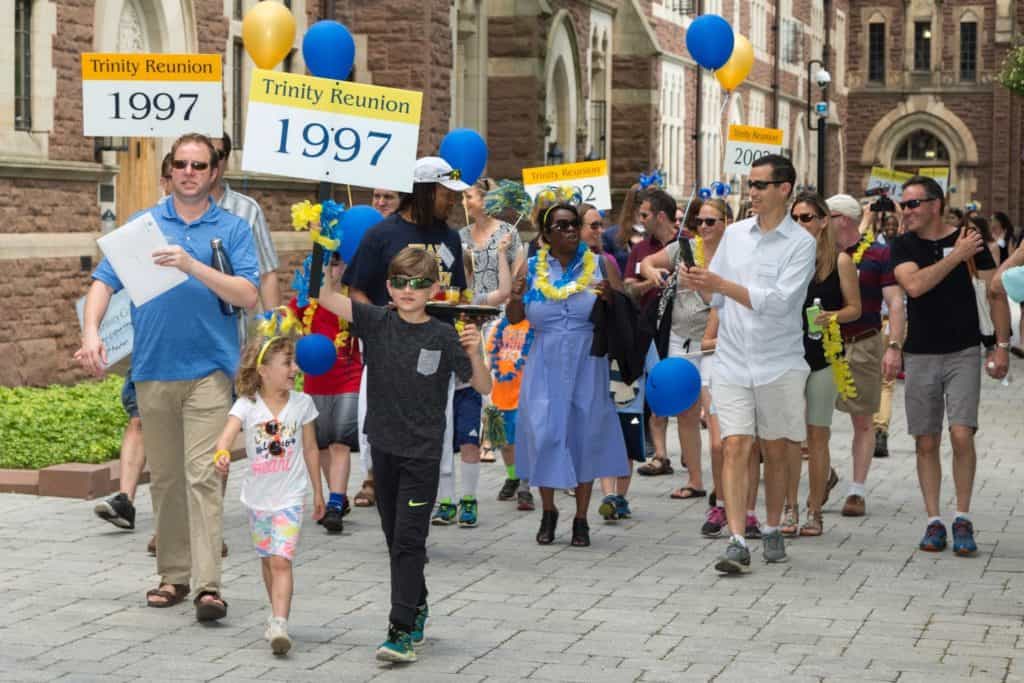 The Class of 1968 will be inducted into the Half-Century Club, and Walter Harrison '68, recently retired president of the University of Hartford, will receive an honorary doctor of humane letters degree during this, his 50th Reunion year. Members of the class also are invited to share and record their Trinity experiences—be they lighthearted or life changing—at the Class of 1968 Trinity Story Hour on Friday at 4:00 p.m., an event modeled after The Moth Radio Hour of NPR fame.
On Friday at 3:15 p.m., Michael Casey, vice president for college advancement, and Steve Gang, founder of Resonance Insights, will review the results of the recently conducted alumni survey. The event will be streamed live online and archived.
For the late-night crowd, alumni can join Ray Jones '97 for karaoke at Vernon Social on Friday from 9:00 p.m. to midnight.
Alumni and families can begin their Saturday morning at 9:15 a.m. with yoga or the Fun Run and Campus Stroll starting near the Cave Patio. At 3:00 p.m., Reunion guests are invited to join in the celebration of Karla Spurlock-Evans, dean of multicultural affairs, as she retires after nearly 20 years of service to the Trinity community.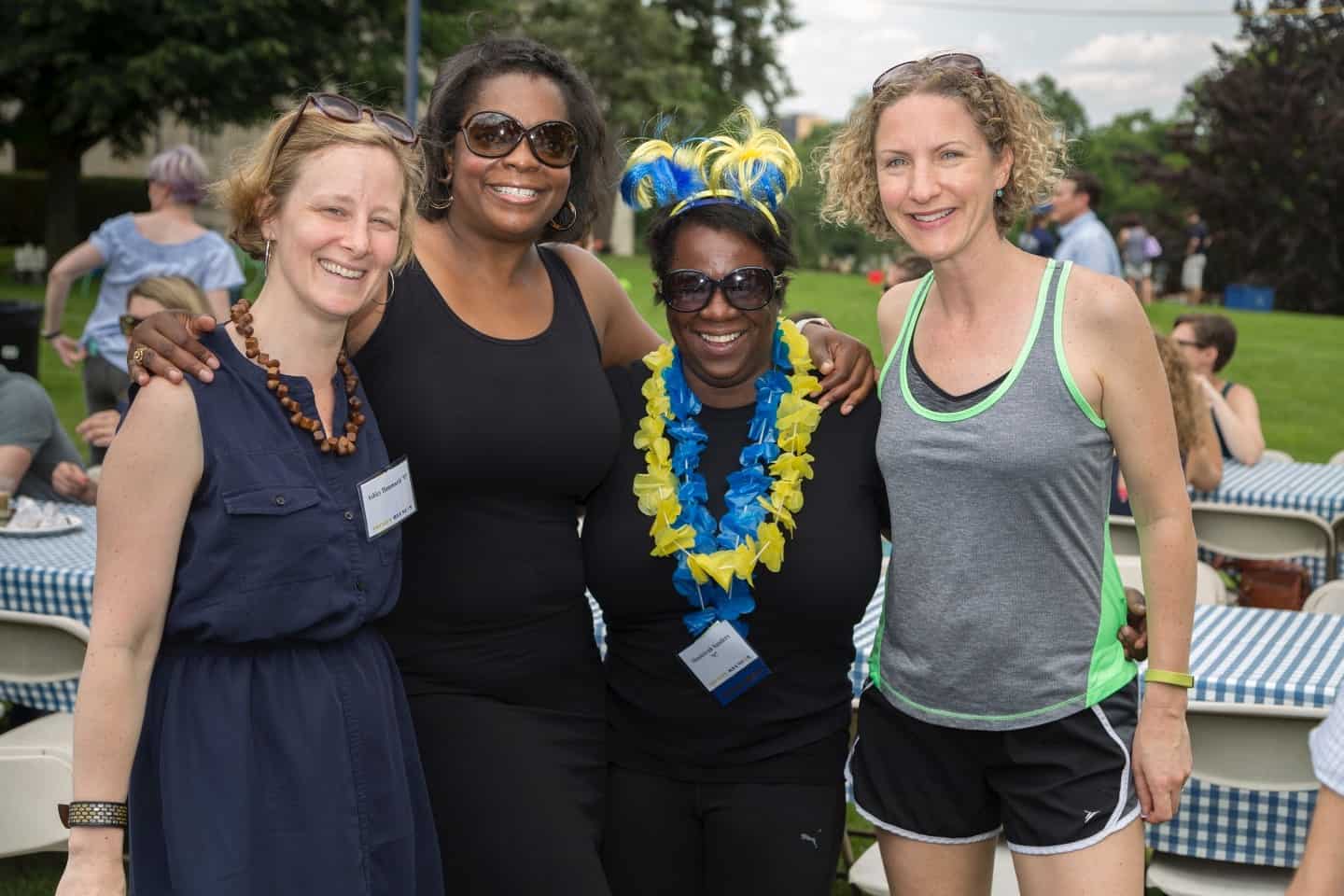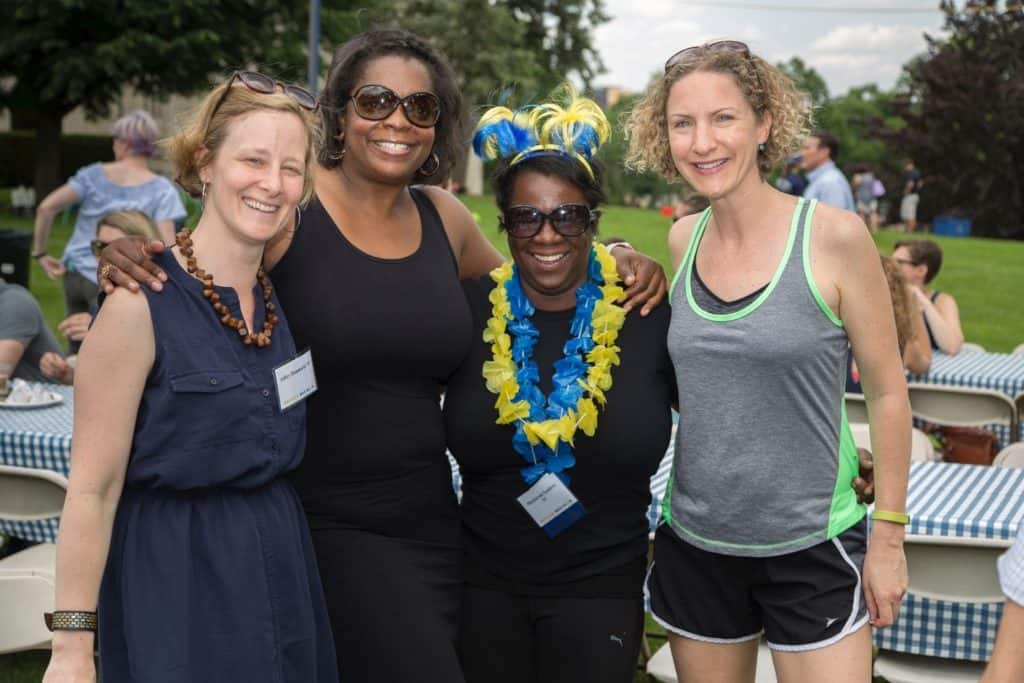 Golf-cart tours of the campus will be conducted during the day on Thursday and Friday. An additional highlight will be an open-house reception and tour at Trinity's newest location, the Liberal Arts Action Lab at 10 Constitution Plaza, on Saturday at 4:00 p.m.
With expectations of about 1,000 Reunion attendees, Steve Donovan, director of alumni relations, made a point to note the support of the Reunion volunteers and Trinity staff. "Trinity alumni are passionate and proud to call Trinity their 'home away from home,'" he said. "Volunteers and staff look forward to this weekend every year as we celebrate our alumni's commitment to one another and to Trinity."