Back to News
Trinity Alumni Lead the Way in Building Stronger Communities
Alumni
posted
by Tess Dudek-Rolon
Three Trinity College alumni gathered remotely on September 10 to discuss how they have used their liberal arts education to make groundbreaking change.
Rhoden Monrose '09, founder and chief executive officer of CariClub; Karraine Moody '01, chief executive officer of Hartford Area Habitat for Humanity; and Marvin Pierre '06, executive director of Eight Million Stories, participated in a Virtual Long Walk panel discussing their experiences as leaders of three different organizations that aim to create a more equitable world.
Abigail Fisher Williamson, Charles A. Dana Research Associate Professor of Political Science and Public Policy and Law and the director of the Center for Hartford Engagement and Research (CHER), served as the moderator. The discussion between the alumni included anecdotes about key influences from the Trinity community, broader issues stemming from the speakers' experience in the wake the pandemic, the murder of George Floyd, and ongoing discussions of social justice happening in the country.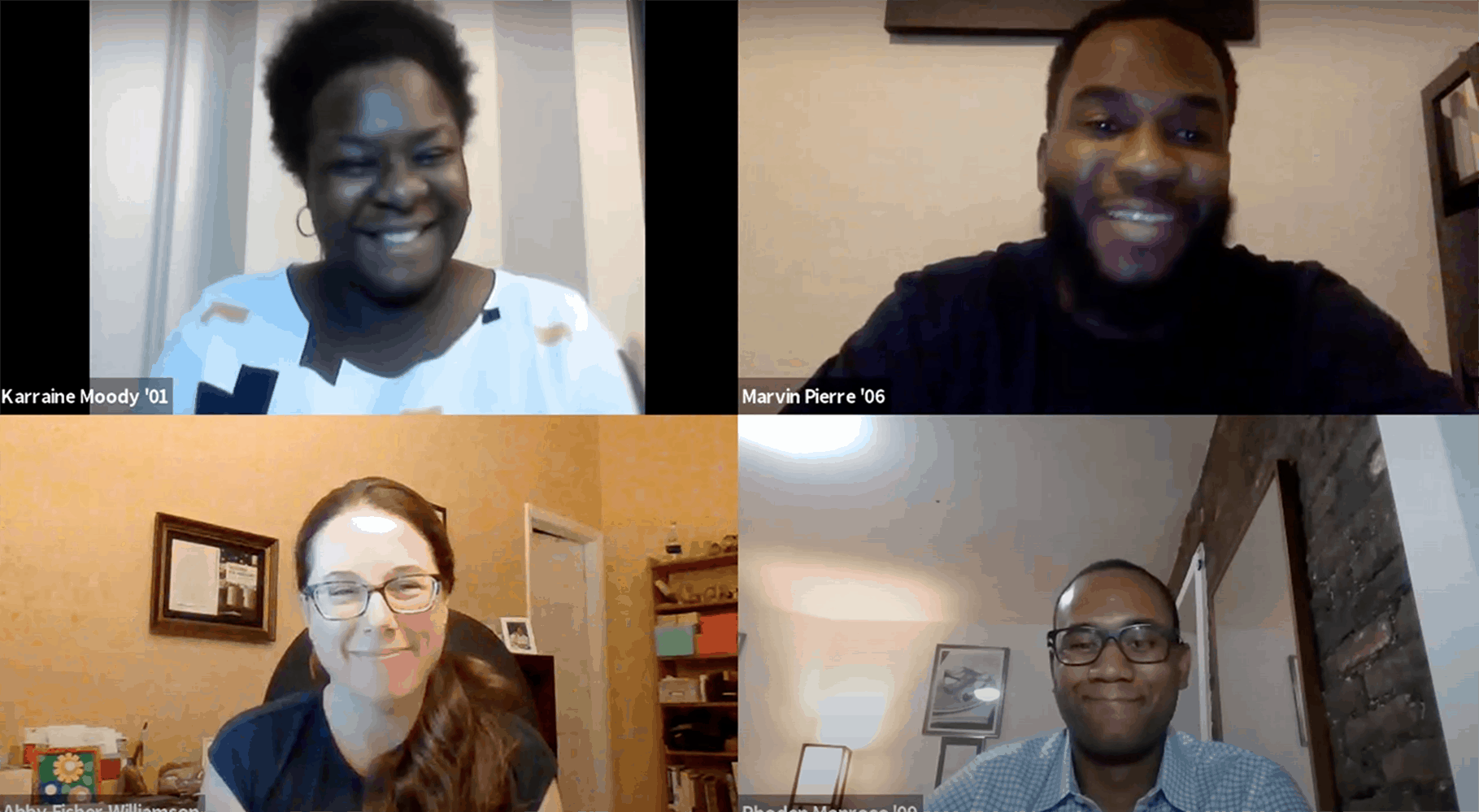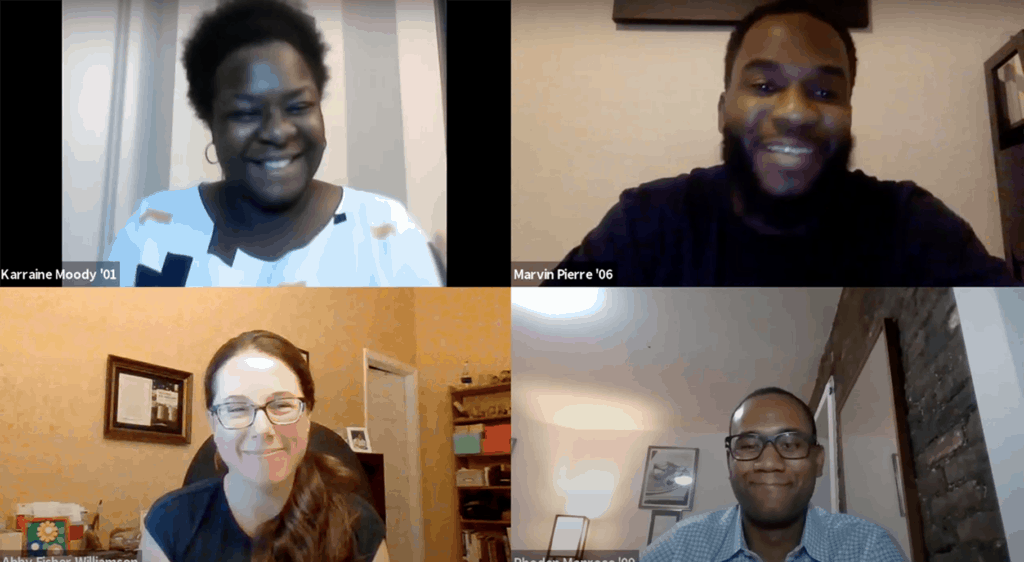 Each of the panelists hailed from different areas of the country—Houston, Hartford, and New York. Each has shaped their career to be in service of a larger public purpose, whether to support housing equity, interrupt the school-to-jail pipeline, or bring non-profits together with innovative board members who are ready to serve their missions.
The twin pandemics of COVID-19 and systemic racism were top of mind for the panel. Pierre leads an organization that serves Houston youth who have been involved in the criminal justice system or have other barriers to their education. "Both of the pandemics have impacted my work directly. We've seen a lot of kids regress as a result of moving to virtual learning… For disconnected youth, having access to caring adults is critical." Pierre said that his organization sees the end result of inequitable education. His experience confronting systemic racism has spanned a lifetime, he said—not just the past few months.
Moody also shared her deeply personal experience as a mother raising Black children in America, and as a leader of a community-based organization. The work she does, she said, has always been about addressing inequality. Like her two co-panelists, Moody worked in the corporate world before transitioning to human services. In doing so, she took a significant pay cut. She acknowledged the challenge of following her conscience, instead of following what was lucrative. "You have to fulfill a purpose," Moody said. Above all, Moody said it was finding fulfilment that guided her to her career, despite the risk. "You just make that leap of faith and you jump," she said.
Monrose took a similar leap of faith in founding his own company, which aims to increase participation in, and diversify, non-profit boards. After starting his career in finance, "I felt like I needed to pay the universe back for the fortune I had in life," Monrose said. His aim, he noted, was to find "passion, purpose, and practicality." Through CariClub, he is meeting that goal.
These three alumni shared the power of Trinity's liberal arts education to propel them not only to career success, but to work that creates a transformative impact for those around them. Along the way, they are building a legacy of Trinity graduates changing the world.
Watch the full Virtual Long Walk discussion below: