Back to News
'Then & Now' Event Highlights Women & Gender Resource Action Center's 'Herstory' with Exhibit and Panel
Trinity Community
posted
by Emily Wickles '20
As part of Trinity College's three-semester-long "Women at the Summit" programming celebrating 50 years of coeducation, the Women & Gender Resource Action Center (WGRAC) recently hosted a walk through its own "herstory" at Trinity. Held on October 2, "WGRAC Then & Now: 1970s to Present" included a reception in the Mather Hall Art Space and a dinner and panel discussion in the Terrace Rooms. The panelists who spoke about WGRAC's past, present, and future were: Associate Professor of Psychology Randy Lee '66, the director of Trinity's Counseling and Wellness Center; Diane Martell, director of the Women's Center from 1990 to 1998; Beth Miller IDP'00, M'03, Women's Center newsletter editor; Lucemy Perez '21, co-coordinator of the Masculinity Project; and Laura Lockwood M'95, the director of WGRAC.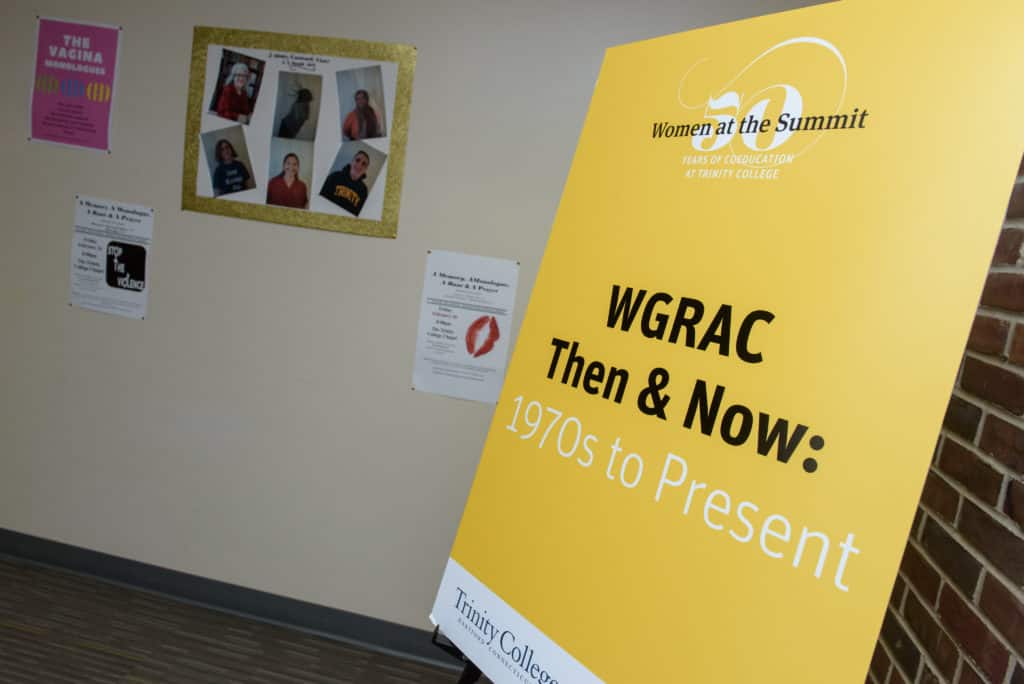 The exhibit in the art space that stretched throughout Mather's second floor to the WGRAC offices was called "A Walk through WGRAC's Herstory." It showcased 40 years of program posters, speakers, actions, flyers, organizing, literature, media coverage, photo albums, and policy work from WGRAC and Women's Center archives. Also included were Women's Center publications including the Feminist Scholarship Review, photograph albums, and personal reflections from WGRAC and Women's Center staff members. In 2006, the Women's Center was renamed the Women & Gender Resource Action Center (WGRAC) to highlight the more inclusive nature of its programs and student resources.
The panel discussion was moderated by Shakira Ramos-Crespo '02 and represented a variety of perspectives from Trinity's community, both past and present. The discussion addressed the evolving goals of the center, beginning with the question, "Why was the Women's Center needed?" and ending with, "What is WGRAC doing to ensure inclusivity and understanding of all genders?"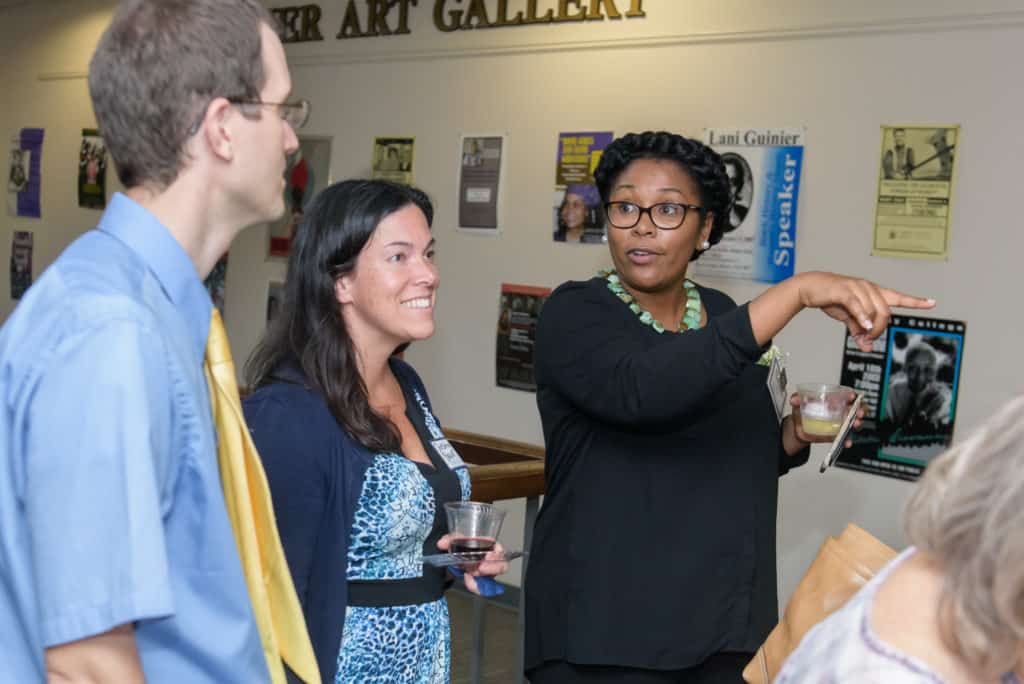 Diane Martell, who was the Women's Center director from 1990 to 1998, said, "Initially, the center facilitated integration for people who were excluded, and women were excluded in a variety of settings. Bringing students together from multiple backgrounds is a process." Today, WGRAC is a catalyst for change because it analyzes issues through an intersectional lens, the panelists said.
Randy Lee '66, the director of Trinity's Counseling and Wellness Center, shared his experience during the initial years of co-education. "There was the sexualization of women, an attitude that women were not equal academically, intellectually, or any other way. As a campus, opening a Women's Center signaled we needed to coalesce and bring women into our community," said Lee. An advocacy center was yearned for as the sexual revolution within society made students and faculty question themselves and their place in the world, Lee said.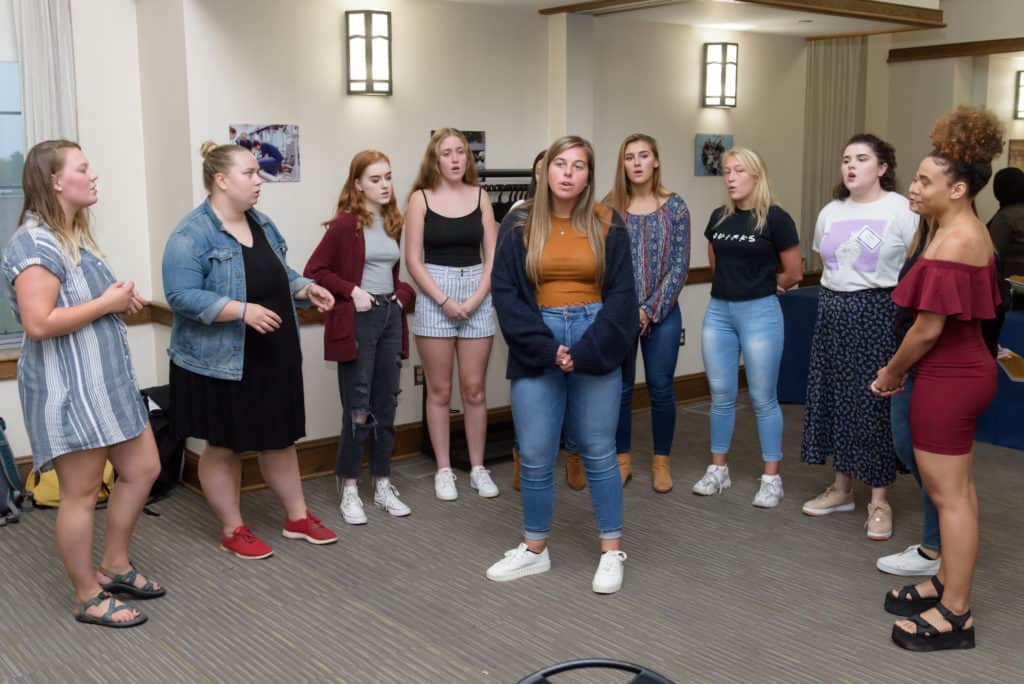 This "Women at the Summit" event highlighted WGRAC's history and resources in an effort to educate members within Trinity's community. Laura Lockwood M'95, the director of WGRAC, said, "It is my hope that students learned how the campus culture has changed for the better in terms of the respect and seriousness given to women-identified students, staff, and faculty. However, there is still quite a distance to go, especially as it relates to the intersections of gender, race, and sexuality."
Michaela Drucker '20, a human rights and political science double major, said, "I do believe that my experience as a woman on Trinity's campus is exceptionally better than before. While I think this is an improvement, the social climate here should continue to become more accepting." Drucker pointed out that WGRAC is home to a variety of organizations open to students on campus. WGRAC oversees five student organizations: Promoting Healthy Awareness of the Body (PHAB); IGNITE, which empowers women to take on leadership roles; Students Encouraging Consensual Sex (SECS); the Masculinity Project; and the Big Sister-Little Sister Program, which matches older female-identified students with incoming first-year students to ease their transition to Trinity. Additionally, WGRAC coordinates the Sexual Assault Resource Team (SART), which is a group of trained administrators, students, and staff.
Lucemy Perez '21, a current student and co-coordinator of the Masculinity Project, said, "The Masculinity Project encourages individuals to assess their relationship to masculinity and understand what healthy masculinity looks like both on and off campus." The program takes an intersectional approach to identity, meaning that one's race, class, and sexual orientation can impact sense of self.
Over the years a large focus of WGRAC has been the education and prevention of sexual misconduct, through creative programing by SECS, training, and policy work. Currently, WGRAC oversees the implementation of Green Dot, a campus-wide violence prevention strategy program which serves to shift social norms on campus. A Green Dot Team of trained faculty and staff is introducing the program to Trinity via student leader, faculty, and staff training and intensive bystander intervention education. For more information, click here.
WGRAC is continuing to evolve and support the needs of students on campus. Lockwood said, "I'm hopeful that students are learning that those in power—the dominant majority—do not cede or share their power without sustained and organized pressure, and that to enact social change, a broader coalition needs to persistently speak up, speak out, and organize. Students are learning that their voices matter; WGRAC is a vehicle for students to become empowered and exercise their voice and agency."
To learn more about the Women & Gender Resource Action Center, click here.
To learn more about Women at the Summit, click here.
See a video of the event below: