Back to News
'The Early Birds' Kick Off Trinity's Celebration of 50th Anniversary of Title IX
Alumni
posted
by Hanifa Darwish '22
This year, Trinity College and educational institutions across the country are celebrating the 50th anniversary of the federal civil rights law known as Title IX, which prohibits discrimination on the basis of sex in any type of federally-funded education program or activity—including athletics.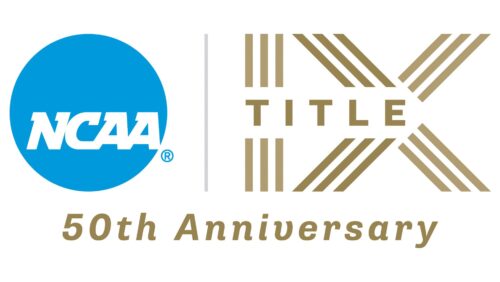 Held during Women's History Month, Trinity's first event in honor of this occasion was a virtual conversation called "The Early Birds." The March 31 program featured some groundbreaking female Bantams whose dedication was critical to the evolution and expansion of women's athletics at the college. View a recording of the entire program here.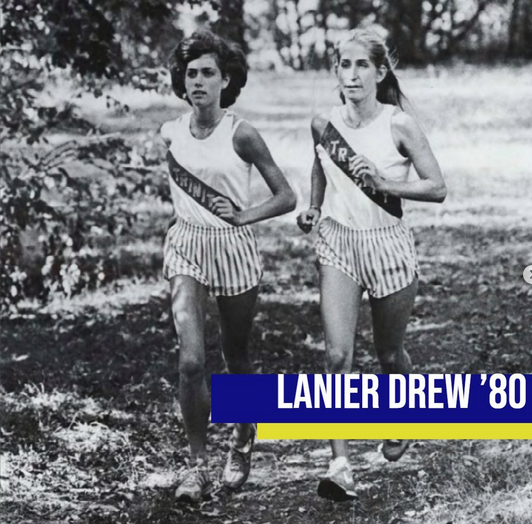 The panelists included three former award-winning female Bantam student-athletes: Lanier Drew '80, who was part of the cross country, swimming, basketball, softball, and track and field teams; Laurie Fergusson Plumb '80, who was part of the field hockey, squash, and lacrosse teams; and Kathy Ennis Britton '90, who was a member of the soccer, basketball, and softball teams. These women and others like them paved the way for Trinity's current athletes, who represent Trinity in New England Small College Athletic Conference (NESCAC) tournaments, as All-Americans, and as National Collegiate Athletic Association (NCAA) national champions.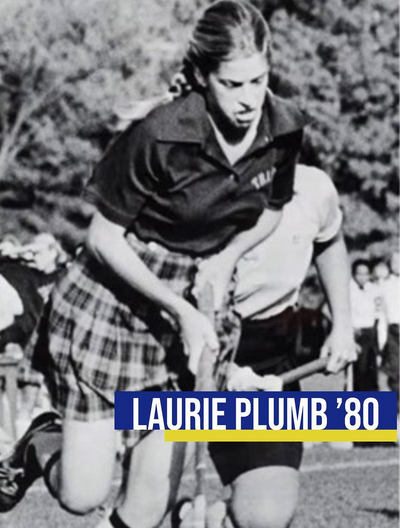 The open conversation, which centered around the early days of Title IX and the panelists' first-hand experiences, was moderated by Robin L. Sheppard M'76, Trinity College professor of physical education, emerita, former associate director of athletics, and former head coach of the field hockey and women's lacrosse teams. The event was introduced to the audience by the co-vice president of the Athletes of Color Coalition (ACC), Sydney Cross-Watts '24, who is also a member of the women's volleyball team.
The panelists began with a discussion of the impacts of Title IX's policies on the first female sports teams at Trinity. When Trinity didn't have a women's cross-country team, Drew ran every day with the men on their team. "I feel blessed that I was able to play five sports during those early years," said Drew. "But the main reason I came to Trinity was the coaches allowed me to play basketball and swim during the same season." Along with all her athletic contributions, she also earned junior and senior scholar-athlete awards.
Fergusson Plumb, who was the first female recipient of the AD Fraternity Middleton Award for Leadership and Sportsmanship, expressed her love for the present-day Trinity women's athletic teams. "It is hard to divide one's heart into three parts between the field hockey, squash, and lacrosse teams," said Fergusson Plumb. "It has been great to see how far the programs have come. It is just so exciting, and it makes my heart sing."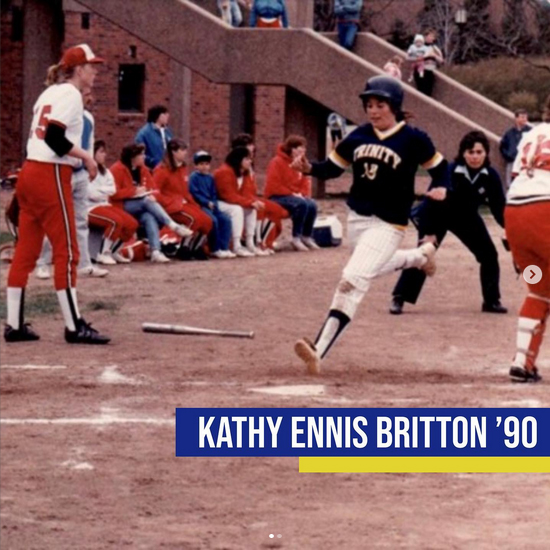 Britton, a three-sport captain, scholar-athlete, and Trinity Club of Hartford Award winner, said she felt valued and loved her competitive experience. She added that there were times when female athletes had to move forward despite a lack of resources. "We still had so much fun, and we really got our teams where they needed to be, even if it was through help and support from each other," said Britton.
Cross-Watts, in light of this event she helped organize, added, "It was important for us to recognize how far women's athletics has come at Trinity, as well as hearing the perspective of some of the women who paved the way for us current women athletes."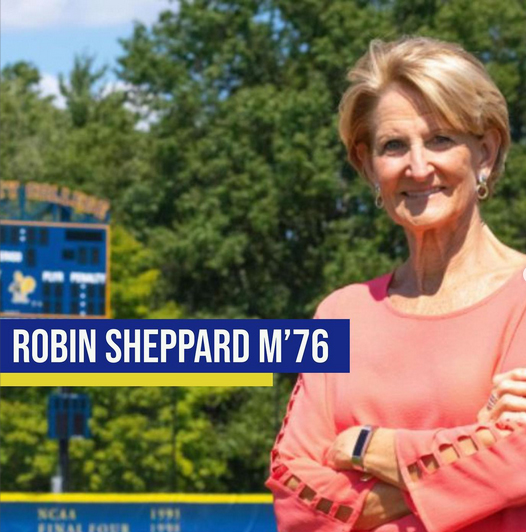 Sheppard wrapped the discussion by saying, "Title IX is 50 years old… and a work in progress. I know that equity and fairness continue to be Trinity's focus." She added, "All I can say is, I am confident that they are going to keep their eye on the ball."
Drew Galbraith, Trinity's director of athletics and chair of physical education, said, "The 'Early Birds' conversation was a wonderful start in celebrating our women athlete pioneers, some of whom started in 'informal sports' and limited varsity sports in the early 1970s. These women paved the way in creating more opportunities for women in athletics throughout the next several decades. Today, we have 15 women's varsity programs, to match the number of men's programs. However far we have come, we understand and acknowledge there is still a great deal of work to do in this area. We have also heard from our community, including student-athletes, alumni, faculty, staff, and parents." He added that the college has engaged with an independent law firm to conduct a full Title IX audit. "The firm will provide its findings and recommendations to the college to develop and enact short- and long-term strategies, with the goal of ensuring fair and equitable experiences for all of our student-athletes," Galbraith said.
Trinity's celebration of the 50th anniversary of Title IX continues with the virtual program, "The Power of Women Athletes: A Virtual Networking Night with Bantam Alumnae Athletes," with guest speaker Penny Sanchez '77, financial advisor at Edward Jones and Trinity basketball alumna. The April 26 event on Zoom begins at 7:30 p.m. and is presented by the Women's Leadership Council and the Athletic Department. Click here to register.
More virtual events are planned for May and June, in addition to an in-person gathering in the fall. For more information about this ongoing celebration, click here.
Trinity's Office of Title IX supports the campus community in creating and maintaining a safe environment. Title IX of the Education Amendments of 1972 (Title IX) is a federal civil rights law that prohibits discrimination on the basis of sex in educational programs and activities that receive federal financial assistance. If only one of an educational institution's programs or activities receives federal funding, all of the programs within the institution must comply with Title IX and its implementing regulations. Accordingly, Trinity College prohibits discrimination on the basis of sex in all of its programs and activities, including academics, employment, athletics, and other extracurricular activities. This prohibition includes gender-based harassment, sexual violence, and other sexual harassment. Compliance with Title IX is a community-wide responsibility. For more information or support regarding Title IX at Trinity, click here or email [email protected].
Watch a recording of "The Early Birds" conversation here: