Back to News
The Class of 1970 Reflects on 50 Years through Watkinson Library Online Exhibit
Alumni
posted
by Tess Dudek-Rolon
During their tenure at Trinity, the members of the Class of 1970 experienced a moon landing, the assassinations of Robert F. Kennedy and Martin Luther King, Jr., and the college's own transition to co-education. In 1970, the country was in the throes of a bitter war with Vietnam, and the anxieties of the draft and coming of age during conflict weighed on the minds of these young graduates.
Fifty years later, this group of Trinity graduates is again marking a milestone in an uncertain time. Though their in-person reunion was postponed, the Class of 1970 was recognized through a digital exhibit on the Watkinson Library's website.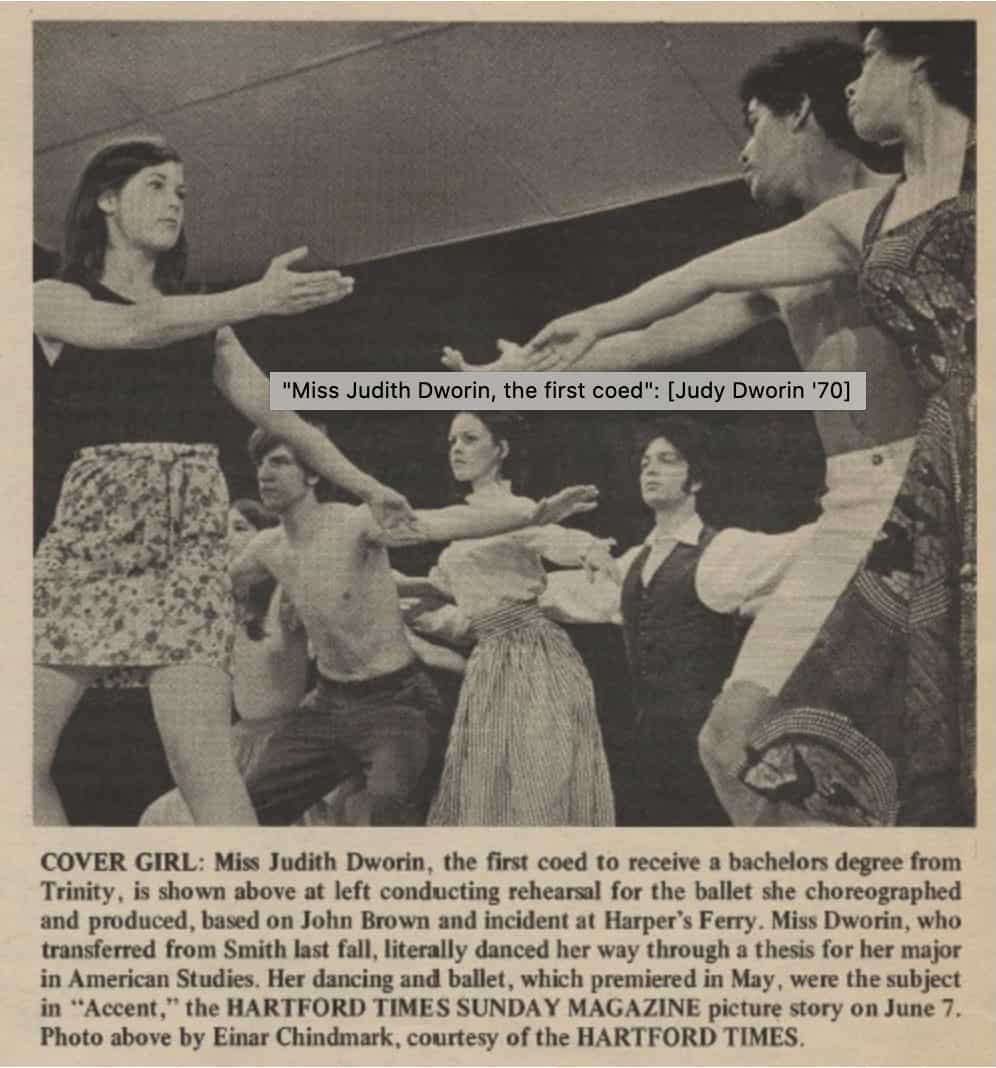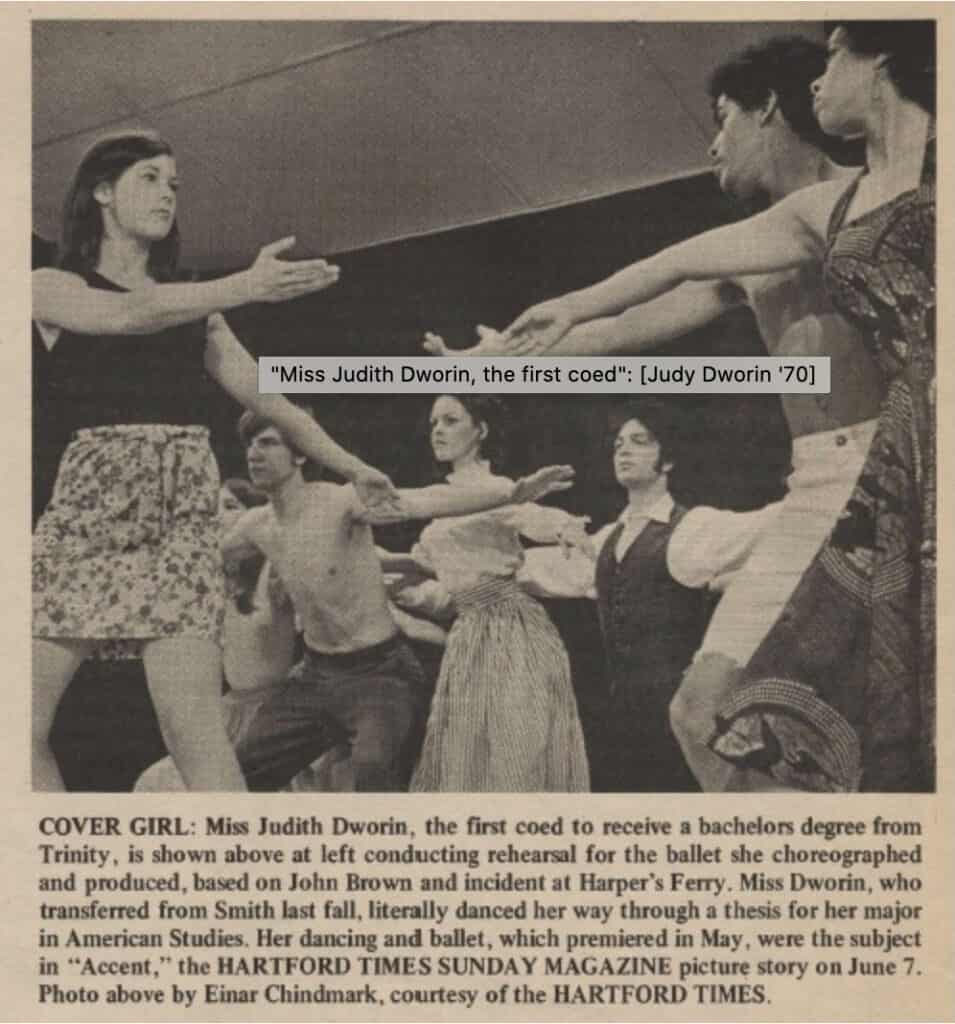 College archivist and manuscript librarian Eric Stoykovich had already been working with the 50th Yearbook Committee on finding photos, physical objects, and other materials to prepare for Reunion. When it became clear Reunion would have to be postponed due to the COVID-19 pandemic, Stoykovich took the opportunity to commemorate and celebrate the class digitally with some of the submissions he had already collected, as well as some new materials he uncovered. The result is a digital collection that showcases just how special this 50th Reunion class is. Stoykovich hopes that Bantams interested in this exhibit will branch out into exploring other parts of Trinity's history as well. "We have digitized a number of college publications, so there's lots of things people can dig into if they're interested," he said. "Not all liberal arts colleges have these resources that are online and available 24/7." This exhibit and more are available in the Watkinson Library Virtual Museum.
Richard Turk '70 knows how important it is to mark this reunion year, even if it can't be done in person. "There are usually very few 50-year celebrations we experience in life. High school and college are two of them, and if we are lucky, friendship and marriage," Turk said. The milestone represents a moment to acknowledge just how special it is to sustain these relationships. "I cannot speak for the whole class, but the Trinity College experience is lifelong and irrevocable and we can renew that experience every time we visit the campus," he said. "I look forward to seeing many from the Class of '70—and '71—in 2021."
Turk worked with his peers to put together the Class of 1970 yearbook in honor of their reunion. "I spent seven months collecting stories from my classmates of their time at Trinity, their life after graduation, and their concerns as undergraduates. I realized that we all had similar concerns, we were in midst of the Vietnam War as a nation, worried of being drafted, observing college unrest, the Kent State shootings. But we were also concerned for our future: would we go to graduate school, should we volunteer for Peace Corps or the military, would it be a good time to get married? I believe that our memories of Trinity made us who we are," Turk said. "We all led different paths to our careers and lifestyles, and although we felt in 1970 that the future was uncertain, I believe our experiences at Trinity made us ready for whatever was ahead of us."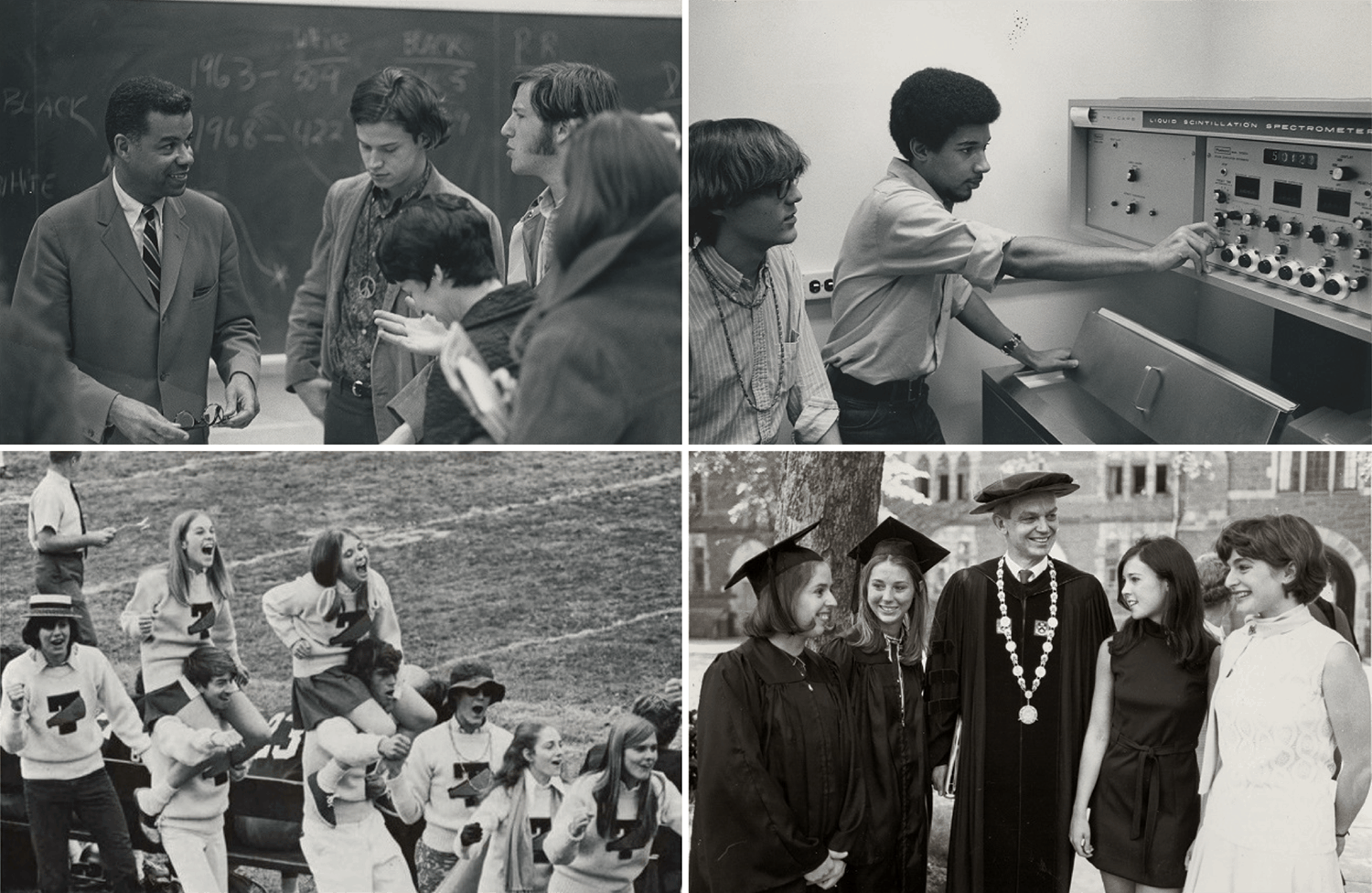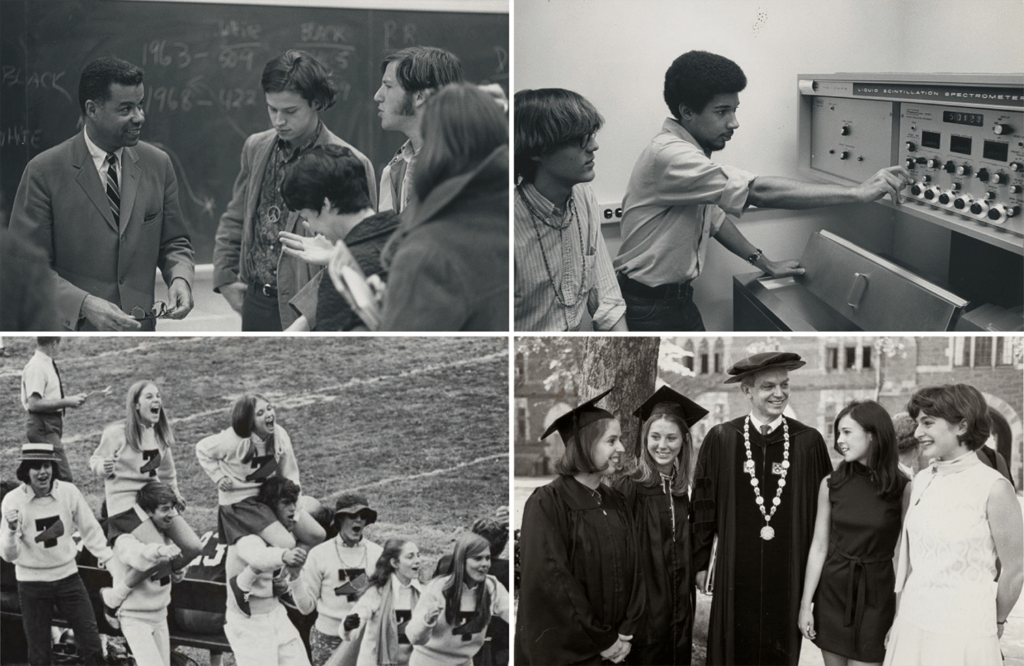 For Steven Bauer '70, the online exhibit sharpened his memories of things he remembered had occurred, but didn't recall in detail. "I'd forgotten details about the sit-in, and the exhibit brought it all back to me vividly," he said.
Bauer added that this period of social change is linked to his reflections on attending Trinity. "My years at Trinity are inextricably intertwined in my memory with the simple fact that I was in college from 1966-1970—the assassinations, the war, the marches, the music, Woodstock, the move toward co-education, the draft lottery. The sense of riotous social change was so pervasive that I sometimes think it was that, rather than the college, that contributed most to my education," he said. "Nevertheless, on the way back home after Commencement, I felt as though my heart had been ripped from my chest; I loved my four years in Hartford. I attended Trinity as a first-generation college student from a working-class family, and the education I left with extended beyond the classroom to the world."
"We were a unique class in a unique timeframe," said John Bonee '70, co-chair of the Class Reunion Committee. "The thing that has been amazing for our class is that we were the class that experienced the most change by the revolutionary era of the late '60s. When we came to Trinity, everyone had to put on a tie, we had to wear beanies and move the seniors' furniture. By the 1970s, everything had changed—we had the Cambodian invasion in the spring of our senior year, exams and theses for our majors were cancelled, people were getting their draft numbers by lottery, and some were ecstatic and some were seeing psychologists."
Now, Bonee observed, the graduates of the Class of 2020 also faced an unprecedented landscape upon their graduation. "It's almost like the revolution is all over again. There are some reverse twists of the philosophy of what's going on now and what's going on then. The sign of both times is upheaval," he said.
Bonee's fellow co-chair, Ernie Mattei '70, also reflected on the parallels between his class and the Class of 2020, and how his time since Trinity has given him perspective. "It was a difficult time, a time of uncertainty… I think that when you look at these things in the moment, you can justifiably be sad, angry, or upset," Mattei said. "When you put it in perspective of five, 20, or 50 years out… with a Trinity education and the support you've gotten from your family and college, this will be a little blip." Mattei said his time at Trinity was invaluable in his own life; he served in the military after graduating then proceeded to Georgetown Law. "Trinity gave me a lot of opportunities," he said. "I was the first person in my family who went to college. To go to a school like Trinity in my large family was something that was unbelievable."
In addition to marking the milestone for this class, Stoykovich also pointed out a parallel between the graduating class of 50 years ago and the Class of 2020. "To a certain degree, the political awareness of both of these classes, 2020 and 1970, is much higher," he said. For example, the Class of 1970 participated in a sit-in on campus in 1968. "It really shook President Jacobs to see the students as active in their own destinies on campus," he said. The central concern of the 1968 demonstration was creating more opportunity for African-American students by establishing scholarships. "Students filtered into Downes and Williams and held trustees there for four hours. After they let the trustees go, the students remained for another 24 hours or so to prevent the administrators from reoccupying the building for the next day entirely. There was no physical violence or otherwise."
After 50 years, each of the moments captured online illustrate what these alumni express—that though Trinity may change over time, the spirit of its students and alumni persists. Whether looking back on 50 years, or looking ahead to the next 50, each does so as part of a vibrant community. For this exhibit, the focus is on the Class of 1970. "But hopefully," Stoykovich said, "a student at Trinity today could come to the site and find something of value as well and see themselves 50 years hence—trying to inspire and educate those classes in the future."
To visit the "Celebrate the Trinity Class of 1970!" virtual exhibit, click here.
To learn how to contribute an object, photograph, and more to the Watkinson Library, click here.
Additional acknowledgments for this exhibit go to image collections librarian Nancy Smith, and digital media librarian Amanda Matava.