Back to News
Tennis Icon Chris Evert Opens Women's History Month at Trinity College
Athletics
posted
by Chandler Solimine '19
Tennis legend Chris Evert came to Trinity College to help kick off Women's History Month with a discussion about her legacy as a trailblazer in the world of women's sports. The March 1 event was part of Women at the Summit, Trinity's celebration of 50 years of coeducation. Evert was joined by Trinity Professor of Physical Education and Head Field Hockey Coach Anne Parmenter for a conversation in Mather Hall's Washington Room in front of a large audience of students, faculty, staff, alumni, and community members eager to hear more about Evert's legendary career.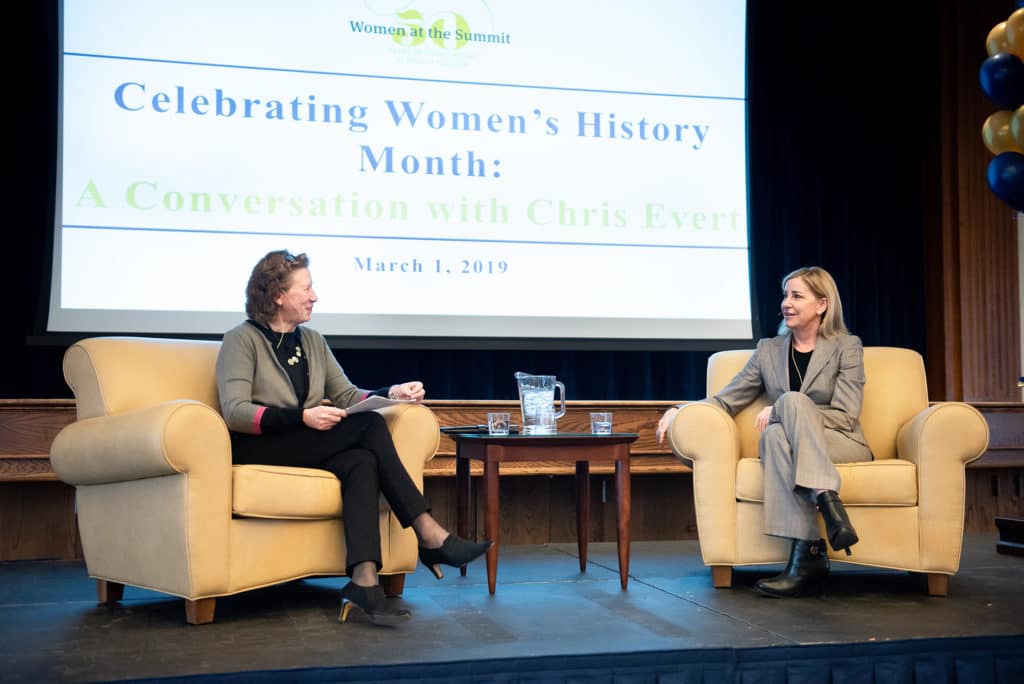 Evert's professional tennis career spanned from 1971 until 1989. She made her Grand Slam tournament debut at the U.S. Open at the age of 16 and won 18 Grand Slam titles throughout the course of her career. Evert was ranked as the number-one female tennis player in the world for five consecutive years between 1974 and 1978, and holds a .900 winning percentage—which remains the best in tennis history, male or female. She was also the first female athlete to earn $1 million in career prize money in 1976, was named the Associated Press Female Athlete of the Year four times, and was honored by ESPN as one of the "Top 50 Athletes of the 20th Century" in 1999.
At the start of the event, Trinity President Joanne Berger-Sweeney introduced Evert as "a path-breaker and history-maker as an athlete and a woman." Reflecting on her own experience growing up watching Evert compete, Berger-Sweeney recalled, "Everyone wanted to be Chris Evert, as she symbolized both strength and grace on the tennis court."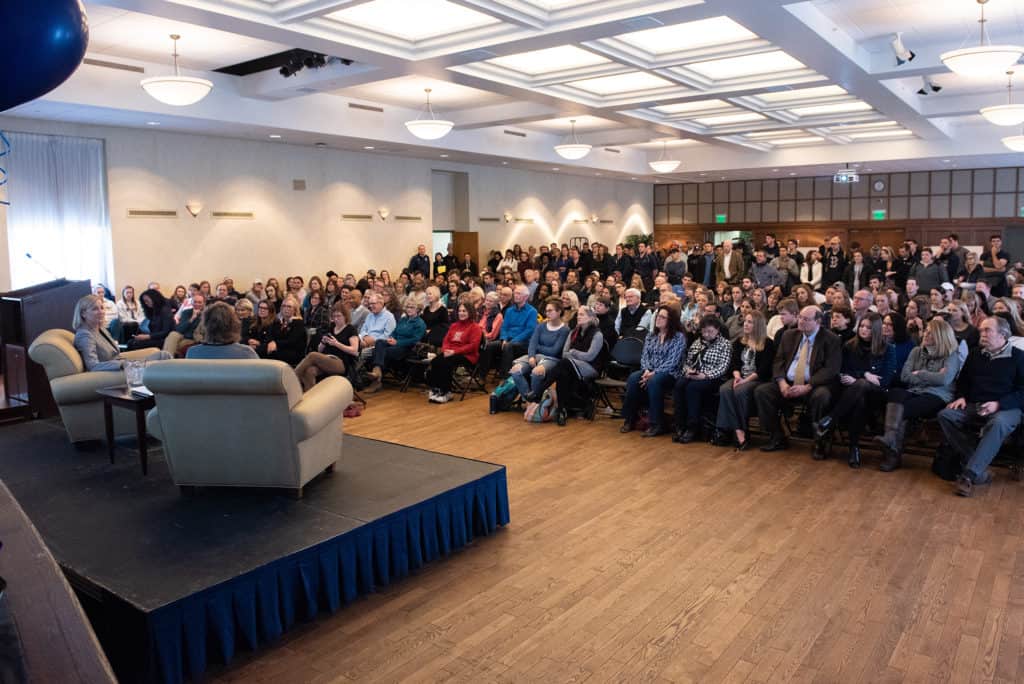 During the conversation, Evert spoke about how women's tennis in the '70s and '80s compares to the game today. Early in her career, Evert said, women's professional tennis was just beginning to take off, thanks to another tennis pioneer, Billie Jean King, and the establishment of the Women's Tennis Association in 1973. "Power has come to play so much more of a role today than it did back then. Women are getting stronger and hitting the ball harder. In my day, the sport was more about placement, efficiency, and balance," Evert explained. Off the court, things were very different back then, too, without the amount of money, sponsorship opportunities, and media attention surrounding women's tennis that there is today.
Evert recalled that the beauty of coming up as a tennis player in the '70s was the camaraderie amongst the players, even at the highest level of competition. Evert and Martina Navratilova, the legendary retired Czech-American professional tennis player, shared one of the greatest rivalries in sports history. In the span of 15 years, they competed in 80 matches—including 61 tournament finals—and between 1975 and 1987, one of the two held the number-one spot in women's tennis in all but 23 weeks. Despite the heated rivalry of the iconic duo, Evert explained the deep friendship they shared that continues to this day. "Martina and I were in it together. We would warm up together before even the biggest matches, giving each other the toughest shots to make sure we were both prepared. We'd eat lunch and hang out together at so many of the Grand Slam tournaments," she said. "Today, players travel and spend time at these big tournaments with their coaches, trainers, and hitting partners."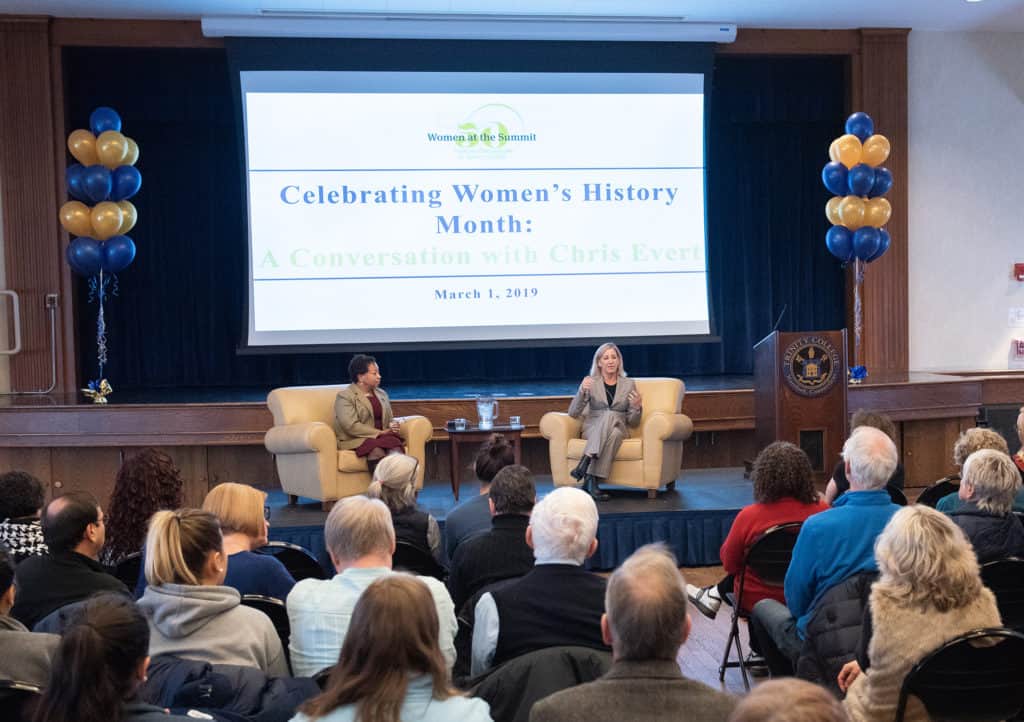 Audience members had the chance to offer questions, including what Evert saw as the key to her success. "I was not the fastest, the strongest, or biggest player, but I worked hard and I made it happen. I wanted it and I was hungry," she said. "My key to success was that I was in the moment. I valued every single point, whether it was the first or last of the match." One of the greatest pieces of advice that contributed to her success was given to her by her father, who also served as her coach. "He saw me getting mad and emotional early on, and he told me, 'If you show your opponent how upset you are, they'll only use that to their advantage.' That made me understand how important mental toughness and focus are to success. From there on out, I took that to heart and did everything I could to always control my emotion." Evert added that, even in professional tennis, the player who makes the fewest errors almost always wins the match.
Evert also offered advice to the female athletes in the room. "Athletes show their true colors when they're losing or not performing well, and it is so important to believe that it is never too late to turn things around. When things aren't going your way, you need to give yourself a pat on the back and tell yourself, 'I worked hard for this, so I deserve to be here and to be the best I can,'" she said.
In response to Evert's advice, Caroline Munn '21, a member of Trinity's field hockey team, said, "To listen to a female athletic pioneer was truly such an inspiration and it made me think about how I could put her advice into action on the field and in the weight room."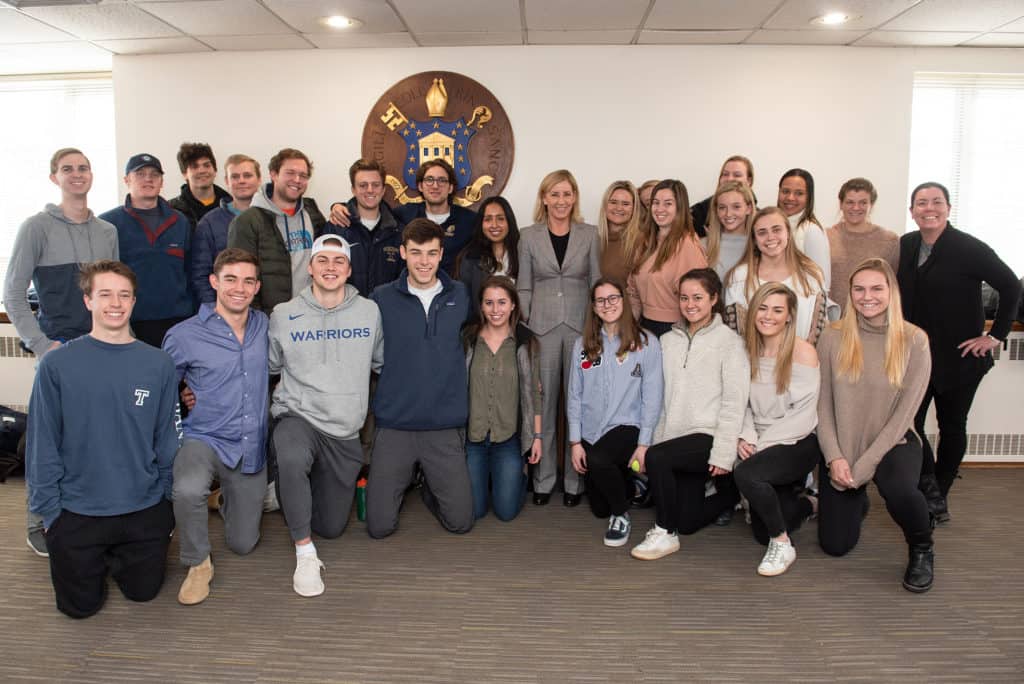 After the main event, Evert signed autographs, took photos with fans, and met privately with Trinity's women's and men's tennis teams. Women's Senior Tri-Captain Janie Weber '19 said, "Having Chris Evert on campus was such an inspiring opportunity. Obviously the tennis team was particularly excited about the event, but a lot of what she talked about was definitely applicable for every athlete. We had practice the next morning and everyone was in the best mood and definitely on their A-game in the wake of the event. We were all incredibly fortunate to have the opportunity to talk to her and hear her words of wisdom."
This event was sponsored by the Office of the President, Women's Leadership Council, Alumni Relations Office, and the Women & Gender Resource Action Center (WGRAC).
See more photos from this event here.
Watch a video of the event below.