Back to News
Talk by Daughter of Malcolm X Concludes Black History Month Celebration at Trinity College
Trinity College's celebration of Black History Month culminated on February 28 with a closing dinner featuring a talk by activist and author Ilyasah Shabazz, the daughter of Malcolm X and Dr. Betty Shabazz. Shabazz started her speech by addressing the misconceptions around her father's early days and describing the loving household in which he was brought up. "The truth of who Malcolm is should be known," said Shabazz. She emphasized the message of peace, freedom, and equality that her father promoted to those demanding their rights. She also touched upon the respectful relationship between Martin Luther King, Jr., and Malcolm X.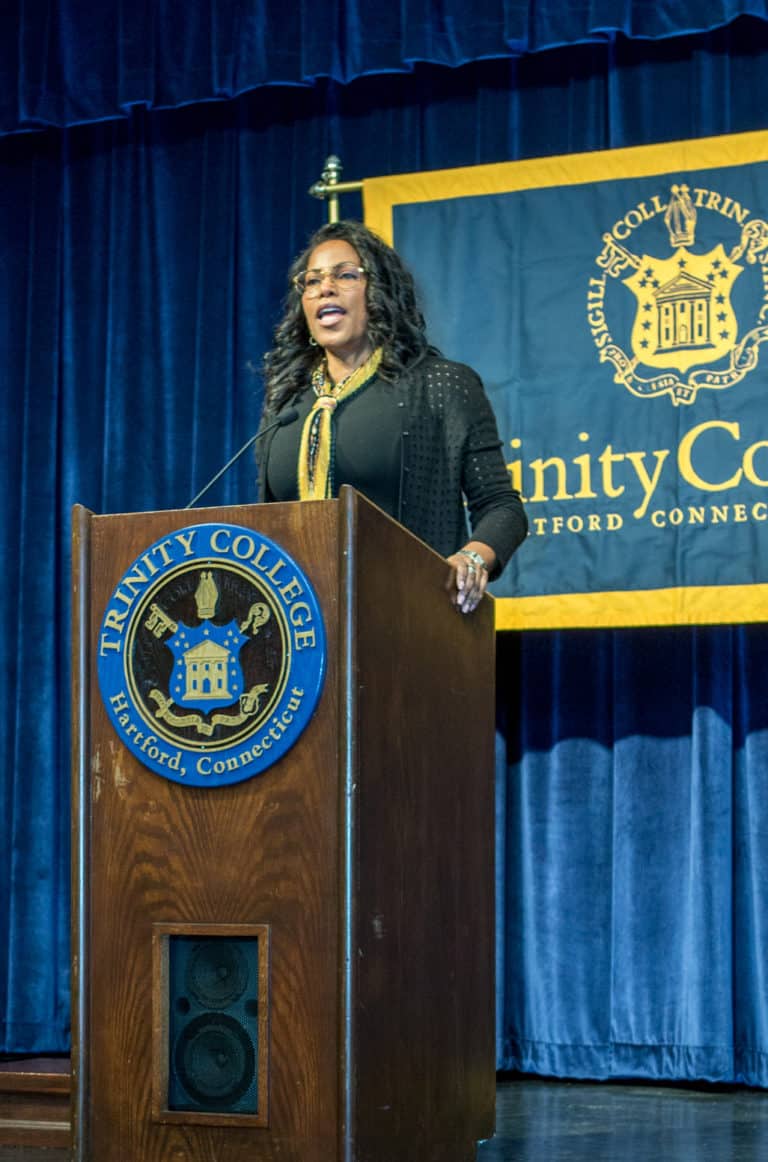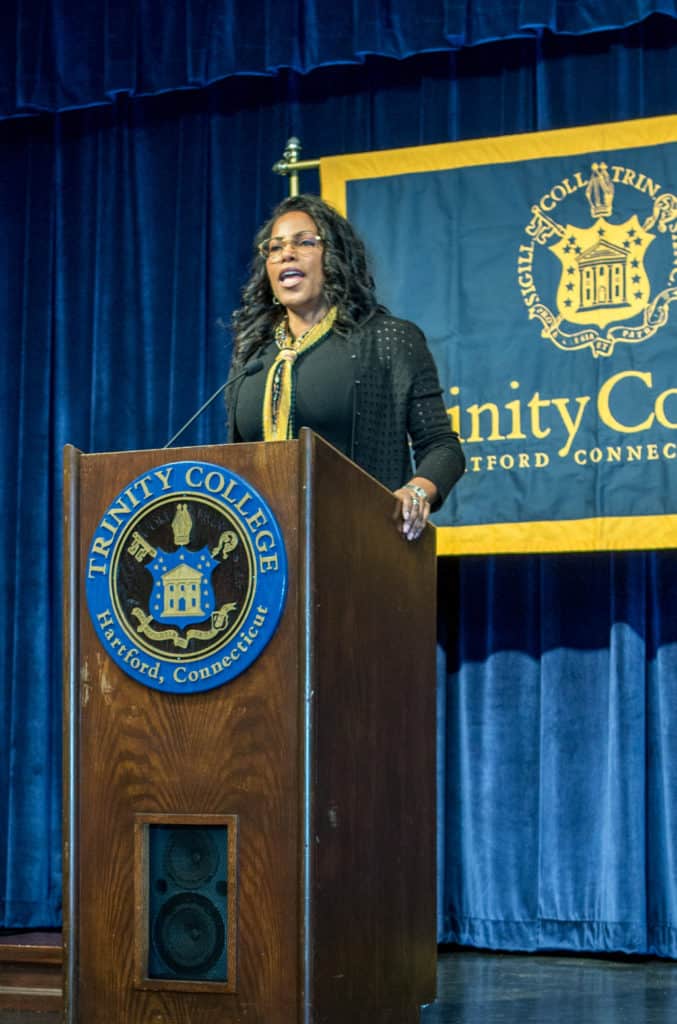 In her introduction of Shabazz, Trinity College President Berger-Sweeney recounted the time when Shabazz was the honorary speaker at Trinity's Baccalaureate ceremony in 2016. The president complimented her tenacious attitude before calling Shabazz to the stage.
Tanuja A. Budraj '21, treasurer of House of Peace, was thrilled to have Shabazz conclude the events for the month. "What better way to end Black History Month than with an icon for African-American rights?" said Budraj.
The month's calendar was filled with more than a dozen events, starting with a "Liberation Celebration" dinner on January 31. Budraj added that one of her favorite events was House of Peace's talk on "Black Identities in the Middle East and North Africa," which featured three professors in a panel discussion held in the Underground Café. Budraj also highlighted the Caribbean Student Association's "Love, Sex and Relationship" event on Valentine's Day. "It was great to see that they were able to take the Valentine's Day holiday and connect it to important conversations pertaining to black love," Budraj said.
Tyler Gibbs '19, who was recently honored at the Women's Appreciation Dinner organized by the Men of Color Alliance (MOCA) for her work as the president of Imani, Trinity's Black Student Union, said that "Black Jeopardy" was her favorite program of the month. "We had a great turnout and amazing engagement from the participants," said Gibbs. "This event required participation from everyone in Imani through the curation of the questions, so it was nice to know that everyone did their part."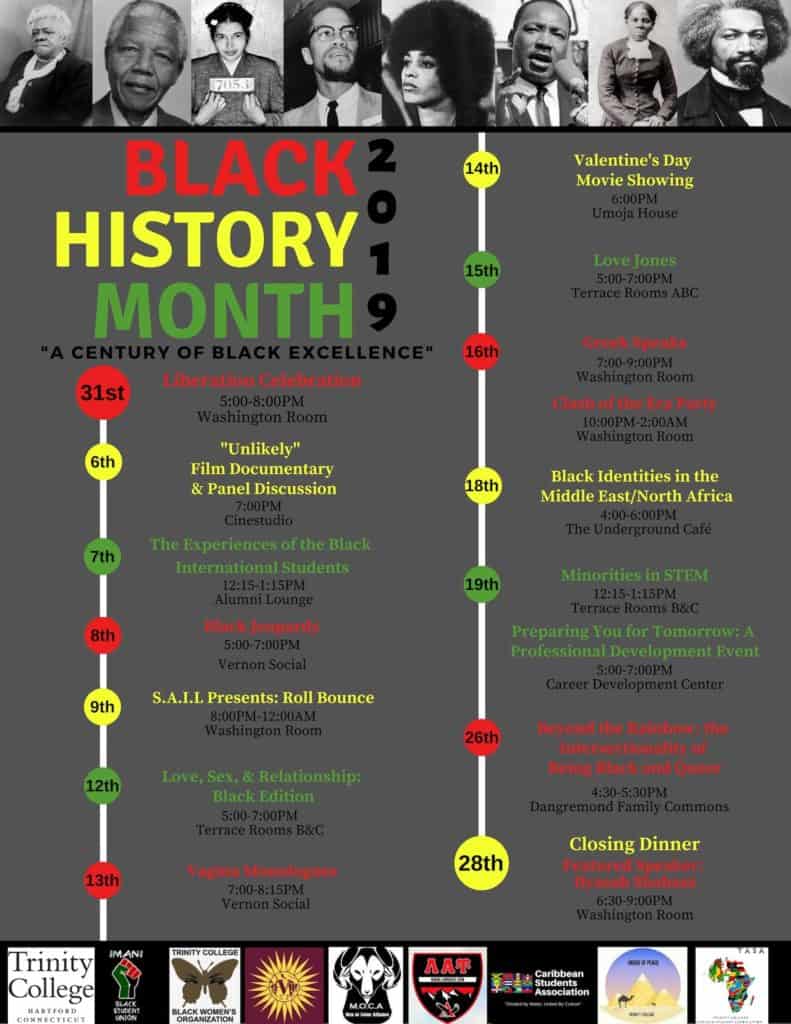 Gibbs noted the vigor and passion with which this year's Black History Month was organized and called it the best one in her four years at Trinity. "This shows that as students we are evolving and trying to cater to the student body in new ways," said Gibbs. Affey added that she appreciated that contributing organizations and cultural houses worked cohesively to plan 16 events that represented different aspects of black history.
Matthew Rivera '20, co-president of MOCA, described this month as one of happiness, fun, and unity that was made possible through the tireless work of event coordinators and the student-led Black History Month Committee. He was especially thankful for the efforts of Danyel Hudson '20, vice president of Trinity College Black Women's Organization, for acting as a catalyst for Black History Month programming at Trinity.
Bryan Nshimirimana '21, co-president of MOCA, said that the celebration of the month is an excellent way for the student body to learn about black culture and to stimulate intellectual discussions. "Trinity's on a great path to be more inclusive and diverse," said Nshimirimana.
Rivera added, "I hope we continue to celebrate black culture with this positive energy."
Explore the Gallery
Ilyasah Shabazz at Trinity College
Explore the Gallery
Ilyasah Shabazz at Trinity College