Back to News
Students Study and Explore the Unique Environment of the Galapagos Islands
Academics
posted
by Hamna Tariq '20
Hartford, Connecticut, July 10, 2018—Fourteen Trinity College students, most of whom are environmental science and biology majors, and two faculty members traveled through the Galapagos Islands from May 21 to June 1 to explore the unique ecology of the islands and to observe and implement environmental principles taught at Trinity. Assistant Professor of Environmental Science and Biology Amber L. Pitt and Thomas McKenna Meredith '48 Postdoctoral Fellow in Environmental Science Krista A. Ehlert organized the trip with the help of the non-profit Ecology Project International to allow the Trinity group to acquire professional knowledge and engage directly with the flora and fauna of these Pacific islands, which are a part of the Republic of Ecuador.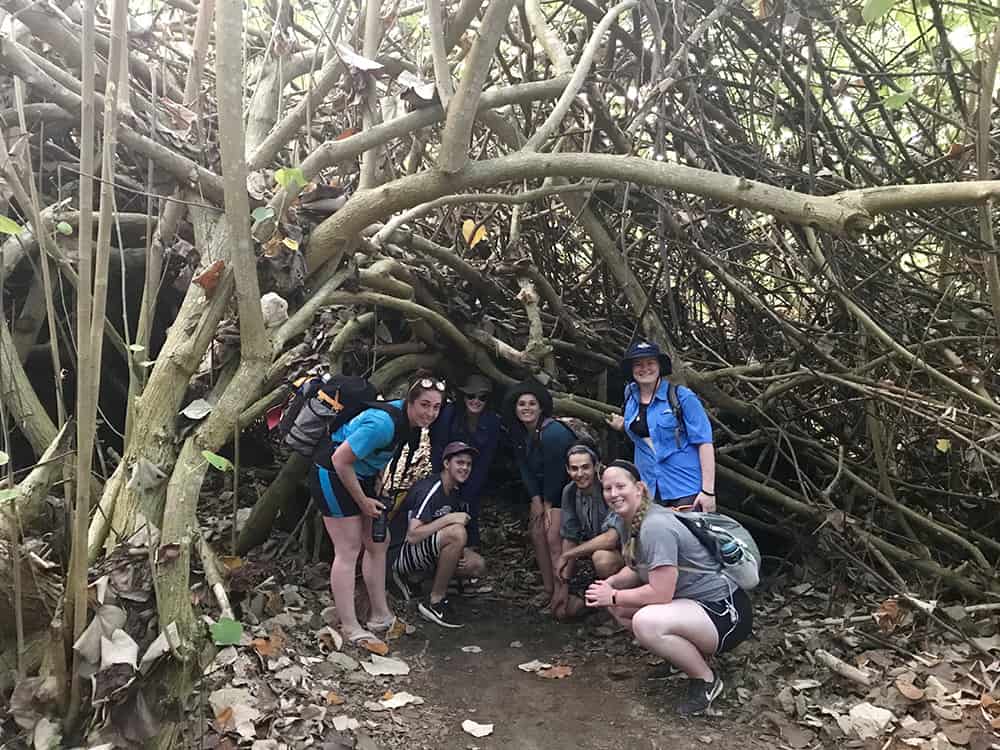 On each day of the trip, students participated in different types of ecological research as they journeyed through the group of volcanic islands. Pitt said, "Our trip could be considered as partial tourism and partial scientific research." Pitt said that students and faculty began their trip by monitoring and researching giant tortoises in the highlands along with Galapagos National Park scientists. The data collected was reported back to Galapagos National Park. This was followed by participating in an invasive plant removal project to restore habitats of endemic species.
Annie Carlile '20, an environmental science major, found snorkeling to be a particularly interesting experience. She said that Trinity students snorkeled on the coast to conduct marine life census surveys and population monitoring, which are essential to ensure the safety of local species. According to Pitt, census surveys involve documenting the species observed within a specified area. "In addition to determining the number and types of species present, this data can also be used to assess general ecosystem health because some species are more sensitive to habitat degradation than others," Pitt said. "That means if more sensitive species are found, the ecosystem is healthier, while if fewer sensitive species and more tolerant species are found, the ecosystem is impaired."
Carlile said that other highlights of the trip were the culturally-rich environmental science classes taught by local environmentalists. "We attended classes about the work and research we were currently doing," said Carlile. "We used critical thinking in order to engage the scientific process in a real-life scenario." Carlile added that two local tour guides who were experts on the ecology of the Galapagos, lifestyle of the locals, and the environmental regulations accompanied the Trinity group, allowing them to fully immerse themselves in the surrounding environment. Recent Trinity graduate Cassia Armstrong '18 is currently working on a film documentary chronicling the trip.
Becoming comfortable with the lifestyle and environment of the Galapagos wasn't an easy task for some students. For example, Pitt recalled the initial anxiousness about the lack of Wi-Fi and phone service in the islands. "We were largely disconnected," said Pitt.
Carlile found the language barrier to be a challenging hurdle to overcome. She said that she wished she and her fellow trip-goers had been fluent in Spanish, so they could have more easily interacted with local residents in the Galapagos.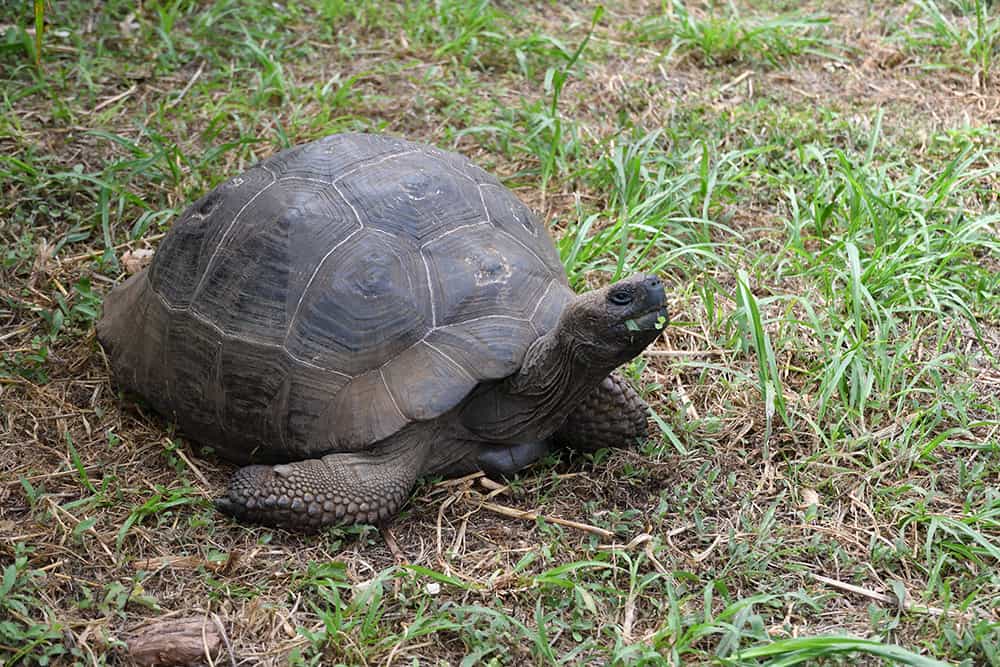 Before visiting the Galapagos, students had certain pre-conceived notions that disappeared when they started their journey. Carlile said she had initially assumed that the islands were entirely covered with rainforests. "I realized that wasn't true," she said. "These islands have so much ecological diversity. There are forests, deserts, coastal marine, and open ocean." She added that a meaningful interaction with a local high school student gave her a lot to think about: "The student told me, 'People think that we are poor, but if they only looked closer they could see that our lives are rich.'"
Students and faculty made note of the respect the local people had for their homeland. Pitt said, "I was impressed by people's environmental protection efforts. They try to live as eco-friendly as possible and if they're unable to do that, they often leave the islands." Carlile added that the strict regulations on careful interaction with the wildlife keep the Galapagos beautiful and safe for all living beings.
Now that they're back in the United States, the students who went on the trip want to implement what they learned in the Galapagos. Carlile said that she plans to get more involved with her local government's conservation efforts to help make a nationwide impact. "These issues seem daunting, but if you're able to change things even at a city level, the rewards can be huge," she said. Students are also planning on presenting their findings and sharing their experiences in environmental science events and courses in the fall semester.
See more pictures in the media gallery below.
Explore the Gallery
Images from the Galapagos Islands
Explore the Gallery
Images from the Galapagos Islands