Back to News
Robin L. Sheppard Examines Evolution of Women's Sports at Trinity as Part of 'Women at the Summit'
Trinity Community
posted
by Hamna Tariq '20
Robin L. Sheppard M'76—Trinity College professor of physical education, emerita, former associate director of athletics, and former head coach of the field hockey and women's lacrosse teams—spoke recently to the Trinity community about her 41 years with the college and about the history of women's sports at Trinity. The March 26 event, "The Evolution of the Female Bantam," was part of the Women at the Summit programming celebrating 50 years of coeducation at Trinity College.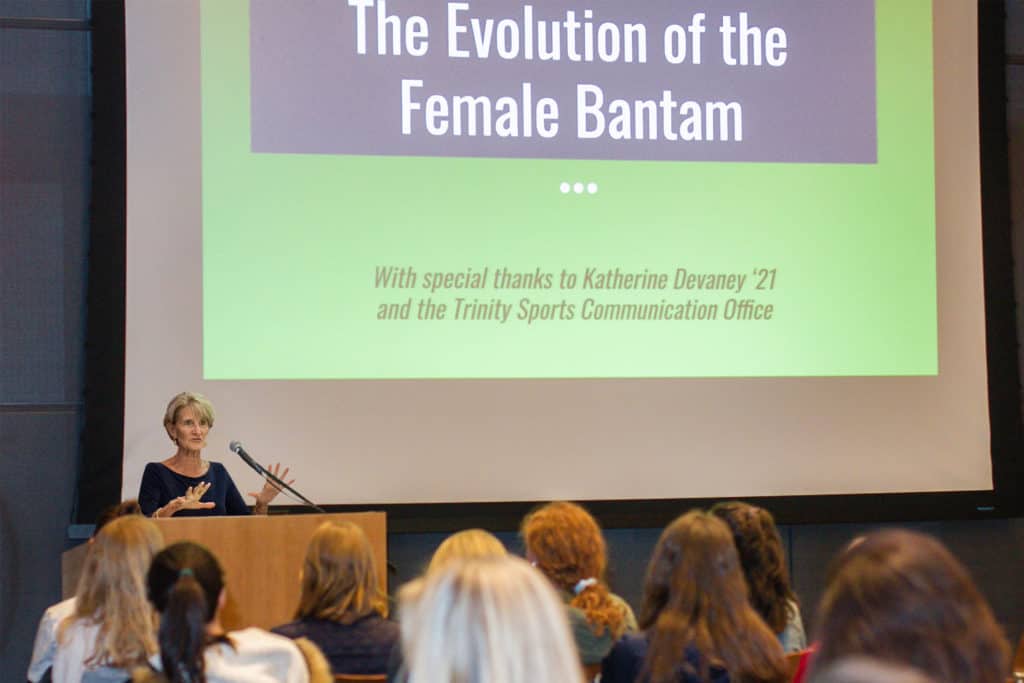 At the beginning of her presentation, titled "Coeds in Competition 1969-2019," Sheppard applauded former Trinity president Theodore D. Lockwood '48, H'81 for his momentous decision to make Trinity a coeducational institution. Sheppard, who first joined the Trinity community in 1974, recalled that, overall, there was solid support for women joining the college community, however, there were a few naysayers. "An article in the Tripod claimed that women came to college to find a husband; a faculty member commented that women were much less career-oriented; and an administrator suggested adding greeting cards and quality cosmetics to the bookstore."
Sheppard also quoted from a 1969 Trinity Reporter article that noted the Committee on CoEducation was firm in its belief that the number of male students at Trinity should never fall below 1,000—particularly in light of the need to remain competitive in football.
During her talk, Sheppard spoke of the obstacles that female student-athletes had to overcome, including a lack of staffing and resources. At the age of 22, Sheppard was named head coach of the field hockey, women's basketball, and women's lacrosse teams, taught physical education classes, and took graduate classes at night.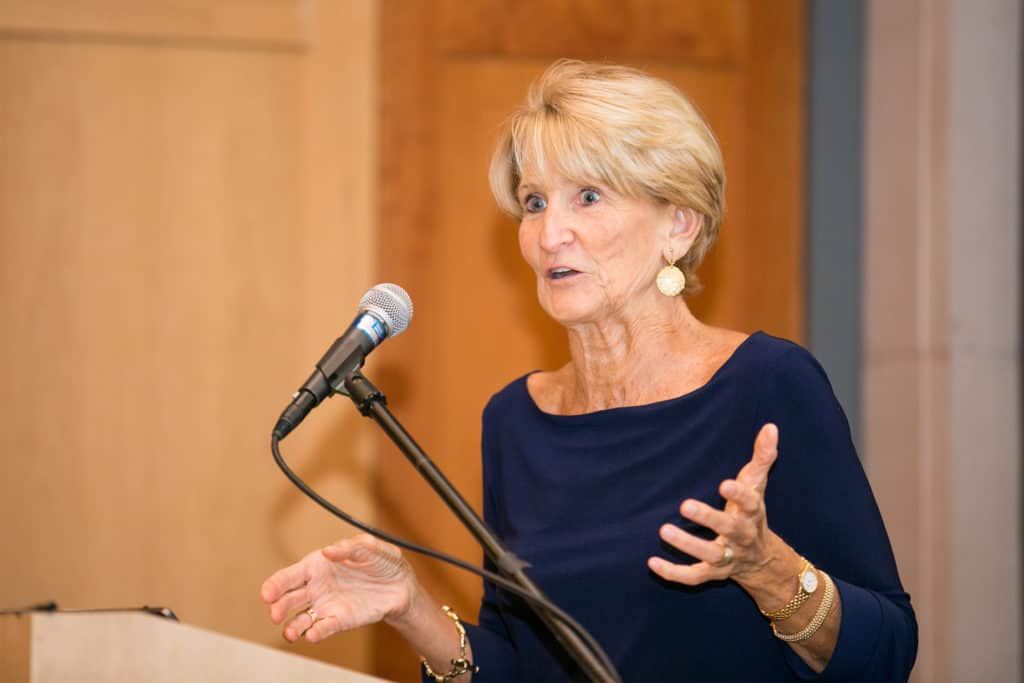 Sheppard applauded then-Athletic Director Karl Kurth for his commitment to creating, from scratch, a strong equitable sports program for women. The introduction of Title IX also helped to usher in several improvements. Among the significant steps forward: women's teams began receiving their own practice gear and quality equipment, as well as appropriate practice and game facilities, and the college started hiring experienced coaches for the female Bantam teams.
Sheppard paid homage to female Bantams who were involved in multiple sports when the programs were just starting up and needed support. She recalled stories of specific alumni who participated in more than one sport and excelled nevertheless, such as Lanier Drew '80. "She competed in both basketball and swimming, which are in the same season. If we were competing at home, I would sub her out of our basketball game and she would run to the pool, switch into her racing suit and enter her race. She'd dry off, jump into her basketball uniform, and head back to the court. That could happen two to three times per game and meet," said Sheppard.
At the end of her talk, Sheppard encouraged student-athletes to continue their relationships with Trinity by returning to visit and attend athletic events and by giving back financially to the college. "Come back and give back," she said. She also outlined her vision for the future: "We should focus on wellness and mental health, retaining female coaches, and creating a safe environment for LGBTQ+ athletes and coaches."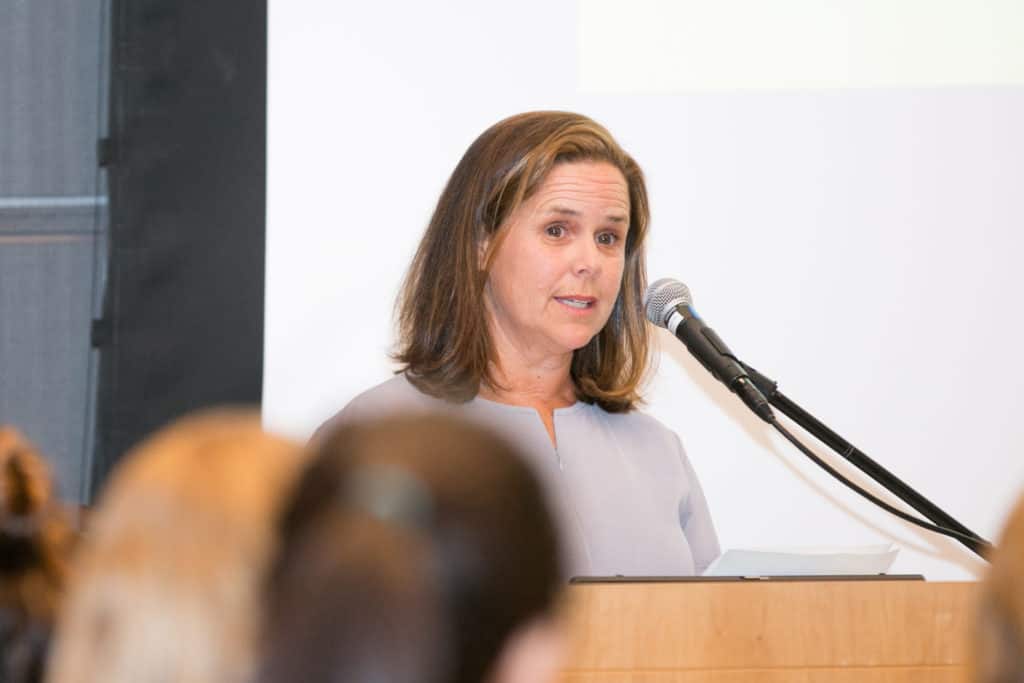 Sheppard was introduced to the audience by Virginia "Ginny" Vogel Yonce '87, who played varsity field hockey and lacrosse and received the Trinity Club of Hartford Award in her senior year as the most valuable female athlete.
Yonce praised Sheppard's impressive coaching career and the pivotal role she played in the ongoing success of Trinity's sports teams. "She was the driving force behind the evolution and success of women's sports at Trinity," said Yonce. She added that Sheppard positively influenced young women to properly balance all aspects of college life so they could make the most of their college experience.
After the talk, Laura Lockwood, director of Trinity's Women and Gender Resource Action Center, praised Sheppard for comprehensively summarizing the experiences of female Bantams in the early years of coeducation at Trinity. "Everybody at the college should hear this lecture to know what it was like for female college athletes 50 years ago," said Lockwood. She added that the talk was an excellent way to celebrate coeducation at Trinity, as athletics is a significant component of college life for many students.
Commenting on Sheppard's historical outline of women's sports at Trinity, Sarahi Lopez '20, a member of Trinity's squash team, said, "I'm glad to know that although the history of women's sports is relatively new here, women have still succeeded and produced great results."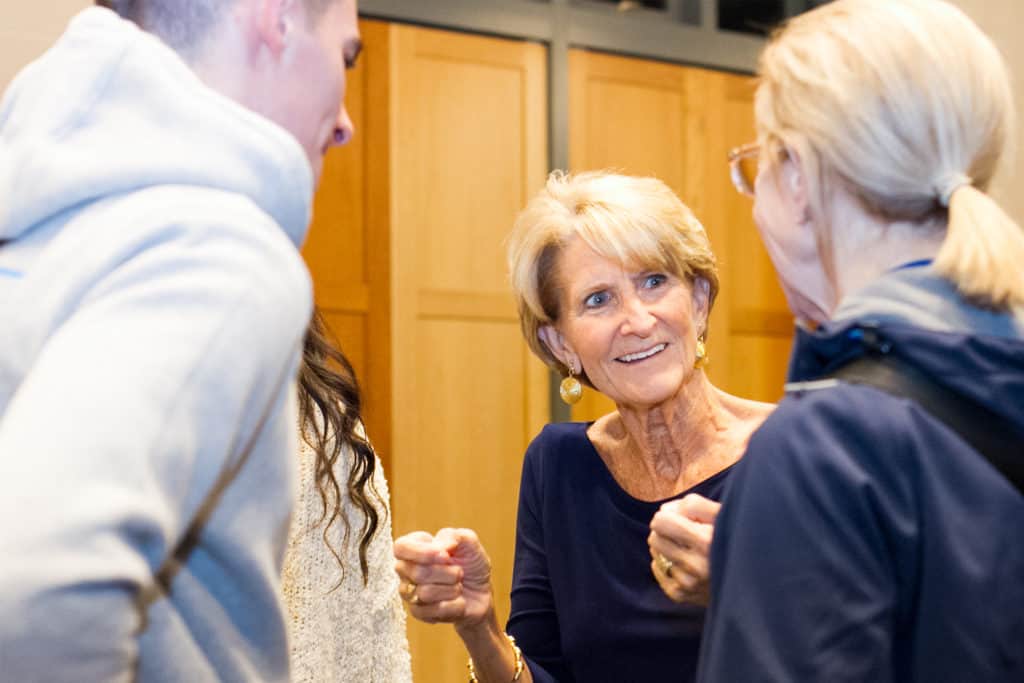 Sheppard also expressed excitement at the outstanding results female Bantams have achieved in the past half century. "The Women at the Summit 50th anniversary celebration gives everyone an important opportunity to salute all our women on campus and to recognize the accomplishments of the women who paved the way," said Sheppard.
The next Women at the Summit event will be "Stories from the Class of 1973: Trinity's First Four-Year Coeducational Class," on April 25 at 12:15 p.m. in the Raether Library and Information Technology Center's Joslin Family 1823 Room. The conversation will include Diane Brown '73, P'03, Karen Fink Kupferberg '73, P'07, and others.
Watch a video of the event below.