Back to News
Paul Winter Consort Performs with Trinity Student Ensembles
Academics
posted
by Kristen Cole
As a teenager, Eric A. Galm often plucked Paul Winter's album from his father's vinyl collection and turned on his record player. Over time, the album's grooves were well worn.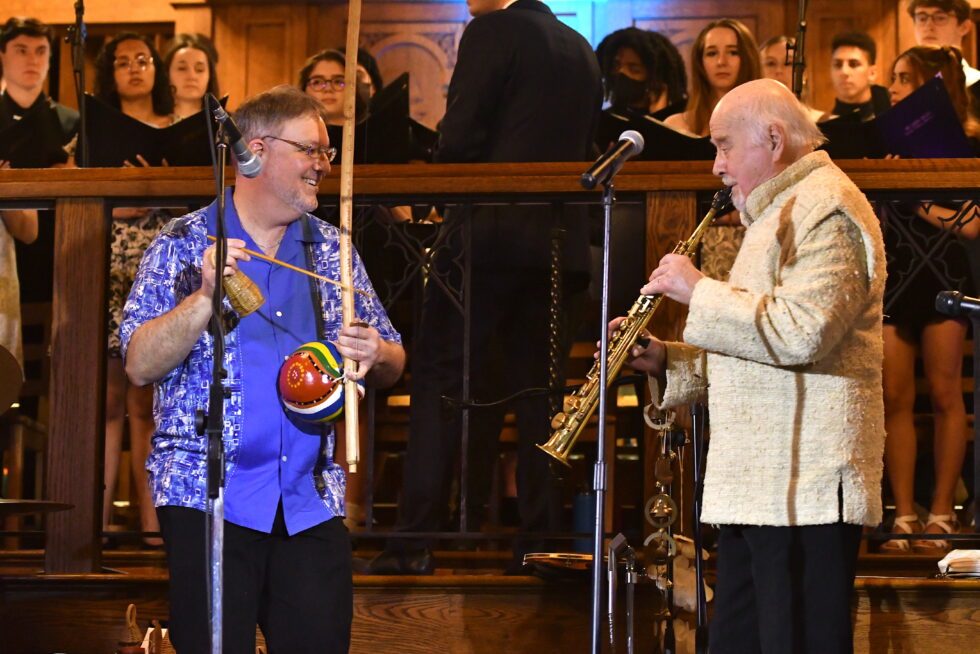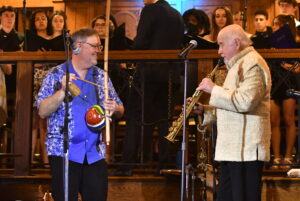 So it was that last May, Galm could be forgiven if he was pleased that a percussionist in Winter's group fell ill, leaving an opening just a day before a performance in Newburyport, Massachusetts. Galm, professor of music at Trinity College, received the call on Saturday and played with the Paul Winter Consort the next day.
"I was thrilled. When I went to college, I listened to his music on regular rotation on my record player," said Galm. "One of my goals was to be good enough to play with Paul Winter. Talk about a dream come true."
When the Paul Winter Consort played in the Trinity College Chapel on March 11, 2023, amplifying music that wove together sounds from nature with music from other nations and jazz, Galm again accompanied the group.
The audience was standing room only. Spectators from the local community and nearby states such as Maine, New York, and Massachusetts, came to campus, filling the pews and folding chairs, spilling onto the stairs to the pulpit, said Galm. Some passersby leaving Cinestudio overheard the music and stepped through the Chapel doorway to listen.
From the early days of Paul Winter's jazz sextet, which toured 23 countries of Latin America for the State Department and performed the first-ever jazz concert at the White House for the Kennedys in 1962, his performances have spanned the world.
The Paul Winter Consort tours and recording expeditions went to 52 countries and to wilderness areas on six continents. They played their song "Common Ground" to United Nations delegates.
In 1980, the dean of the largest cathedral in the world, St. John the Divine, invited Winter to become artist-in-residence. At that time, it became the center of a vital community of thinkers and seekers working on issues of ecology and environment and world peace. Winter wrote "Missa Gaia/Earth Mass," which is performed each year at the cathedral on St. Francis' birthday.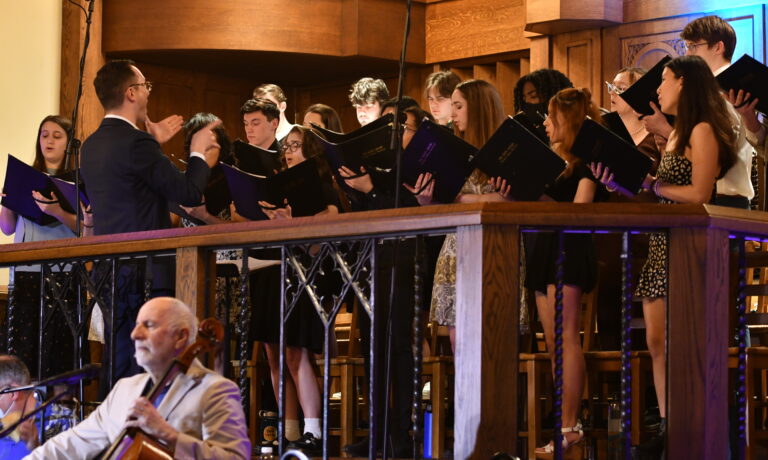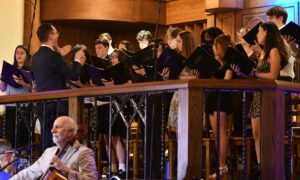 The event in Hartford wove the sounds of Trinity College students and faculty into the performance. That included the voices of the Chapel Singers under the direction of Christopher Houlihan '09, John Rose College Organist-and-Directorship Distinguished Chair of Chapel Music, and the Trinity Samba Ensemble under the direction of Galm.
The students responded with poise, precision, and musicality. "It was a transformational experience," said Galm. "It showcased the potential of a liberal arts education in providing opportunities not available elsewhere."
In the days afterward, Galm reflected on the reasons the performance was so extraordinary. And, he thought about the album:
"I'll have to see if I have his record in my office… if I pilfered it from my dad's collection."
Explore the Gallery
Paul Winter Consort at Trinity College Chapel
Explore the Gallery
Paul Winter Consort at Trinity College Chapel