Back to News
Panelists Discuss Women's Leadership and More at Latest Connecticut Forum
Hartford, Connecticut, October 1, 2018—Trinity College students, staff members, faculty members, and alumni recently attended a Connecticut Forum event to listen to leaders and activists discuss the evening's theme, "Women Rising: Redefining Power in 2018." The panel was moderated by journalist and author Alison Stewart at the Bushnell Center for the Performing Arts in downtown Hartford on September 20. Trinity is an education partner of the Connecticut Forum, which supports open dialogue, lifelong learning, and the free and active exchange of ideas.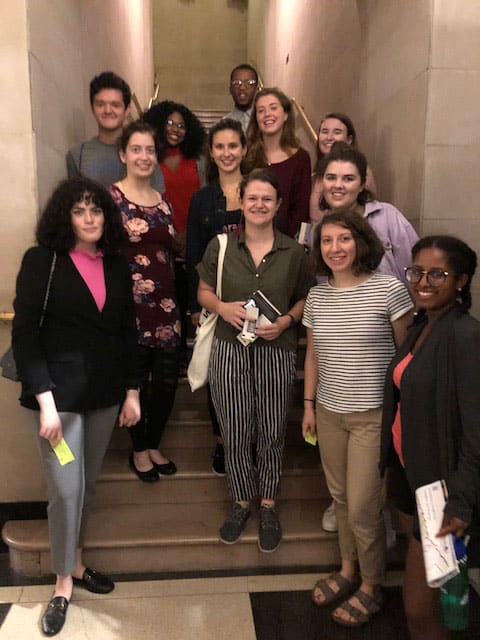 The conversation focused on topics including recent events in the women's movement, breaking barriers, diversity, and what can be expected on the road ahead. The three panelists were: Sallie Krawcheck, the CEO and co-founder of Ellevest, an investment firm specifically tailored towards advancing women and closing the gender investing gap; Cecile Richards, an activist and president of the Planned Parenthood Federation of America from 2006 to 2018; and Roxane Gay, a writer, professor, and the author of The New York Times bestselling book, Bad Feminist.
The moderator, Stewart, began by asking the panelists about overcoming political partisanship between women so they can work together and about the importance of putting women in roles of power, especially in Washington. Richards said, "If we don't know our history, we're doomed to repeat it… but it's a different day… there are voices of women we didn't have before." Gay added, "More and more women are able to narrate how they see the world… and that does matter."
As the panelists moved from politics to issues of diversity in the workplace, Krawcheck said that a quality that makes women powerful is that "they care about the why." She said that women are "driven by facts and statistics" and added that diversity makes business leadership perform better. "Research tells us in corporate America today to add a woman to a team… diversity outperforms meritocracy," Krawcheck said.
While offering advice to women in the audience, Richards said, "The most important thing we can to do teach young women is to vote." She also said that it is good to see "women standing up for other women and believing them" with movements such as #MeToo and Times Up. "Bring them in, let them speak," she added.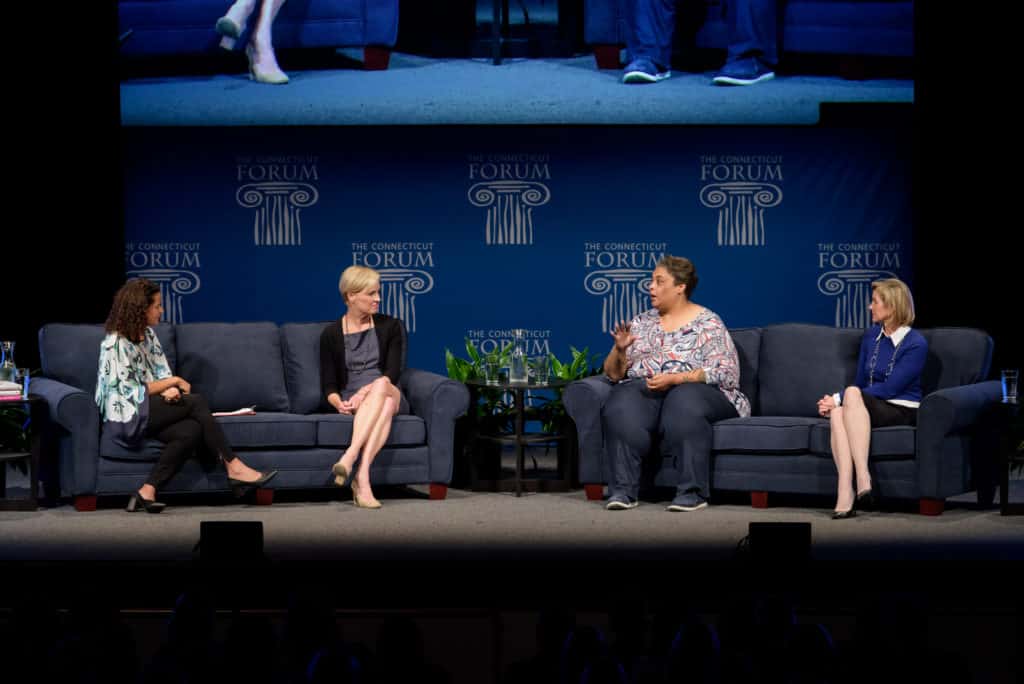 Gay also stressed the importance of believing women and finding ways to ensure women receive justice when they come forward. In the workplace, she said, she wants to see a removal of the "artificial constraints we place on women and success." She urged men and women alike, "Remove barriers and trust that we're just as capable as men on the job."
Krawcheck elaborated on gender issues in the workplace by calling for changing to biases and sexual harassment in the workplace. "Women are victim to so many things, but they put it away… now that we're talking about it, let's change it for the next generation," Krawcheck said.
Amanda Daddona M'15 shared one of her biggest takeaways from the forum: "I was really struck by Sallie Krawcheck's statement that often, women find that it is other women who are judging each other; we are our own worst critics. We need to find what is truly important to us, prioritize, and be okay with the fact that not everything is going to be accomplished perfectly, or perhaps even at all."
Claire Pritchard '20 said, "I was really inspired by all three women to keep working hard because it is possible to succeed and do really, really well as a woman. But it's also important to keep in mind all that we've been through and continue to go through and how much more we need to do for, for example, wage and opportunity equity."
The next Connecticut Forum event will be "Big Tech: What is the Future We're Building?" on November 16. For a full schedule of upcoming Connecticut Forum programs, click here.