Back to News
Nobel Committee Honors Trinity College Student for Essay
Student Life
posted
by Kristen Cole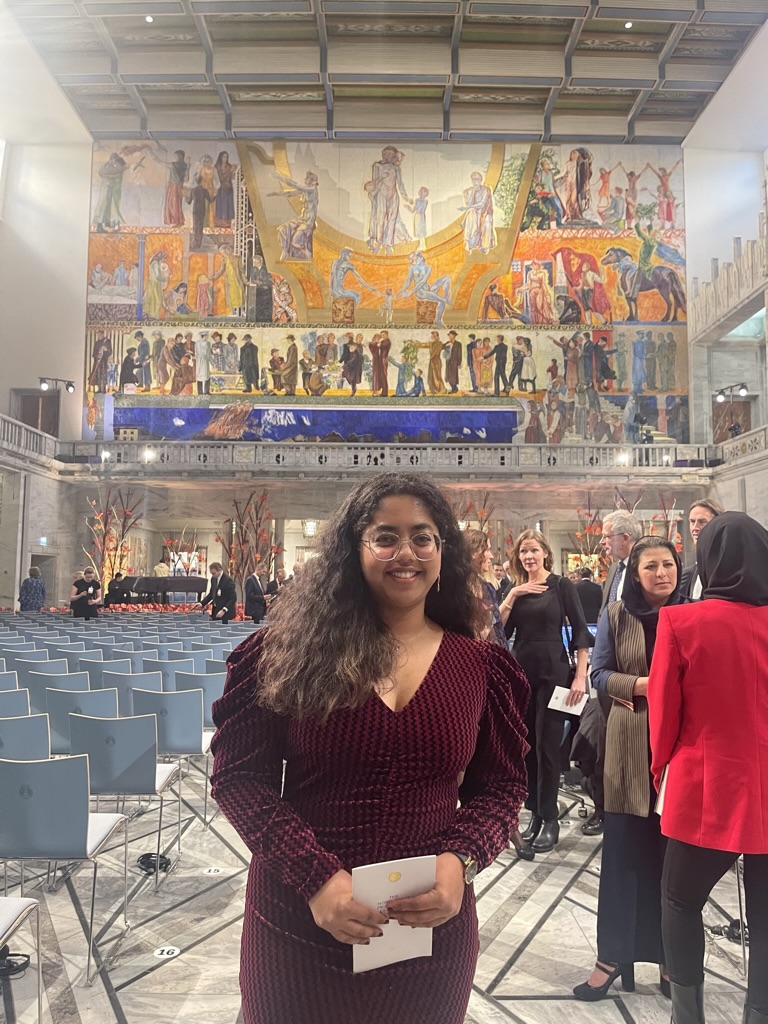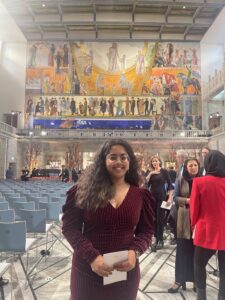 A Trinity College junior won second prize in an essay challenge held by the Nobel Peace Center last year, an honor celebrated during the 2022 Nobel Peace Prize ceremony in Oslo, Norway.
At the invitation of the Nobel Peace Center, Ashira Biswas '24 attended the December ceremony where the Nobel Peace Prize was conferred to Ales Bialiatski, a pro-democracy activist from Belarus, and two human rights organizations.
Biswas, a Trinity economics major and human rights minor, entered the Nobel Peace Prize Challenge 2022 with her essay on ameliorating the plight of manual scavengers in India.
The objective of the challenge is to engage students globally in the topic of the Peace Prize and to invite them to contextualize the challenges of the most recent Peace Prize to their own communities. The students can participate in either of two categories: essay or photography. This year's challenge shed light on the topics of peaceful co-existence, fraternity, and the protection of human rights.
"Your submission was both original in its form and carried a strong yet balanced voice in promoting dialogue in regard to promoting freedom of expression," noted the Nobel Peace Center in announcing Biswas' selection.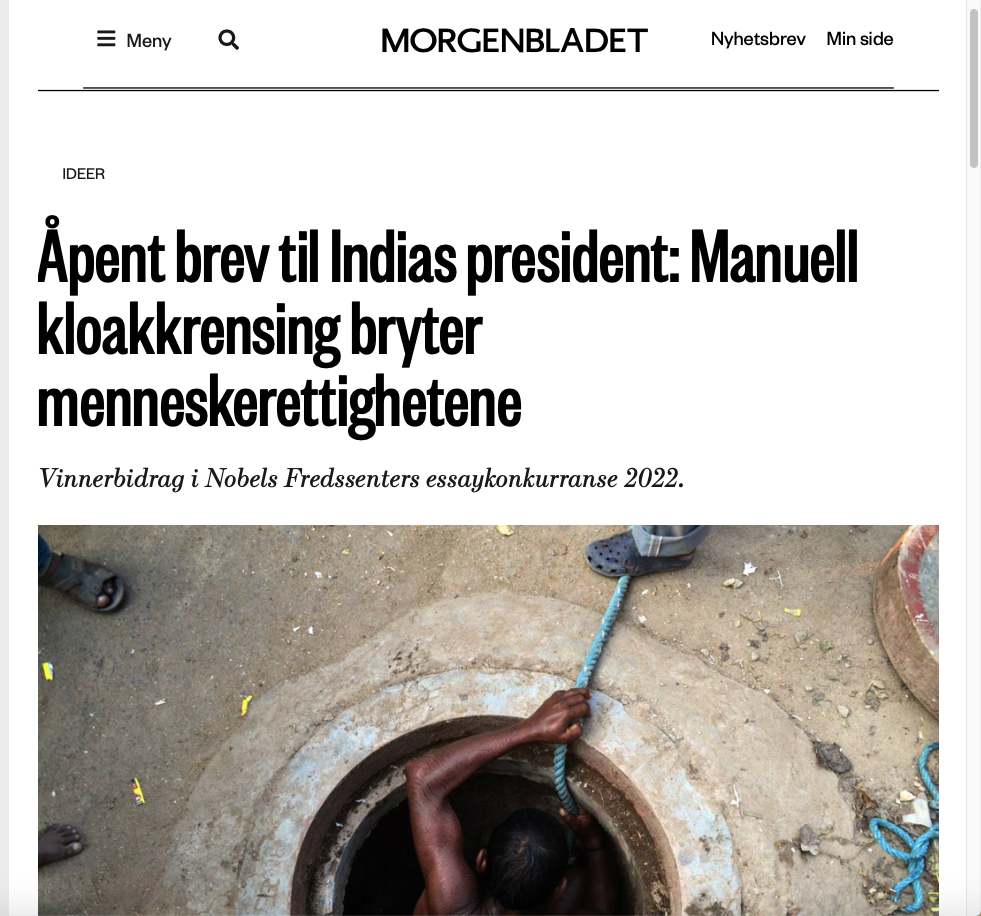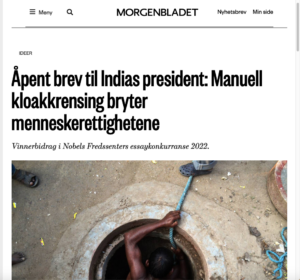 The Nobel Peace Center published Biswas's essay—a letter to the current president of India—in the Norwegian newspaper Morgenbladet.
In her essay about the people in India who manually clean sewage, Biswas noted that in 2021, there were more than 58,098 deaths from work, most of which occurred by suffocation from noxious fumes inside septic tanks.
"According to Oxfam 2019, 99% of sewage cleaners are Dalits, who occupy the lowest status in the oppressive caste hierarchy," wrote Biswas. "India's macro-economic growth is also being impeded because the true economic potential of Dalits to the national economy is being stunted."
Currently in England as a visiting student at The University of Oxford, Biswas has attended St. George's British International School, Rome; Sanskriti School, New Delhi; Tehran International School, Tehran; and the United World College of India, Pune. At Trinity, she is the recipient of the Andrew Forrester '61 Scholarship for Entrepreneurial Students, a Davis United World Scholar, and a Faculty Honors student.
Biswas submitted her essay to the Nobel Peace Center in the form of a communication to Droupadi Murmu, India's 15th president. The full text:
Respected Hon'ble President Murmu,
We sincerely felicitate your recent presidential electoral victory in July 2022 that pays homage to the values of India's founding principles viz. representation and inclusion. Your identity as India's second female President and first female Adivasi President has given marginalized communities hopes of a future sans glass ceiling limiting their potential.
As President of the largest democracy of the world, we respect your apex national position to facilitate transformative policy priorities and directions towards solving humanitarian issues in India and ensuring well-being of all your citizens. In this respect, I am writing this letter with deep concern regarding one of India's festering issues which gravely violates human rights: viz. Manual Scavenging.
More than 58,098 deaths (an average of 159 deaths per day) from manual scavenging have been recorded across India in 2021 alone, most of which occurred from suffocating on noxious fumes inside septic tanks. According to Oxfam 2019, 99% of sewage cleaners are Dalits, who occupy the lowest status in the oppressive caste hierarchy. As manual scavenging continues, children are losing their fathers, wives are becoming widows, and India is losing innocent and hardworking citizens. Such tragedies are impacting hapless families and the small monetary compensation given to them may be seen as mere tokenism to such brazen injustices. India's macro-economic growth is also being impeded because the true economic potential of Dalits to the national economy is being stunted.
Such high death rates mentioned above indicate that 'The Prohibition of Employment as Manual Scavengers and their Rehabilitation Act 2013', is incapable of making much difference and there is a need to revise policies. Furthermore, section 7 of the above Act specifies that a person who has protective gear is not considered a manual scavenger, thus offering a loophole for employers to exploit. The lack of defining specificities of what entails 'protective gear' implies that employers can give merely a pair of gloves or boots to the worker and circumvent the spirit of the Act. We may consider strengthening the legal deterrence by prosecuting the unscrupulous employers of criminal culpable homicide under section 304 of the Indian Penal Code.
I have witnessed exploitation of Dalits sewage cleaners when I visited and stayed with them in Hyderabad in March 2020. I also learnt that even those employed by government agencies were not provided any protective gear, which not only stripped them of dignity but was also extremely hazardous. I was deeply moved by this and subsequently as a high-school student of United World College of India (UWC-India) in Pune, initiated a fundraiser that collected $2276 during the Covid-19 pandemic, which was used to purchase protective gears for the Hyderabad sewer workers.
Modern Indian society should acknowledge that the prevailing practice of cleaning human excreta exclusively by Dalits is a gross violation of human rights. Such arrangements continue to be a constant psychosocial aggression towards that community.
In the current year which marks 75 years since India's independence, let us harness the power of all legitimate stakeholders to create a fair socioeconomic architecture based on mutual respect and understanding. We have a responsibility to ensure the right to equality, non-discrimination, security, and well-being of one another. We may acknowledge that the overt and subtle oppression of Dalits is an antediluvian form of racialism that debilitates the potential of that community to aspire for a better life. I understand that this may be a very challenging task and so I request Hon'ble President to intervene, voice concerns or potential obstacles to overcome, and provide an appropriate framework to the urgency of acting upon this humanitarian issue.
In view of the above, I request a meeting with Hon'ble President Madam Murmu to discuss concerns about this serious human rights issue and delineate a roadmap for ameliorating their extreme plight. In order to involve appropriate stakeholders in the deliberations, I propose to include a Dalit sewage worker along with Mr. Bezwada Wilson, an Indian human rights activist for Dalits, Ramon Magsaysay Awardee and convener of Safai Karamchari Andolan, with whom I am in personal contact with since January 2020 when I had organized a seminar for him at UWC- India in Pune. Such a dialogue among significant stakeholders could galvanize viewpoints to discuss feasible and effective legislative and executive policies.
I am certain that with Your kind intervention Hon'ble President, along with the cooperation of various tiers of the state and central government, judiciary and civil society, we can ensure that no Dalit is ascribed or compelled to do the demeaning and life-threatening profession of cleaning human excreta.
Yours sincerely,
Ashira Biswas