With her summer internship at Bravo, theater and dance major Noelle Lucien '20 explored the behind-the-scenes world of TV production and saw what a career in the entertainment industry could be like. Here, she reflects on her summer at 30 Rock: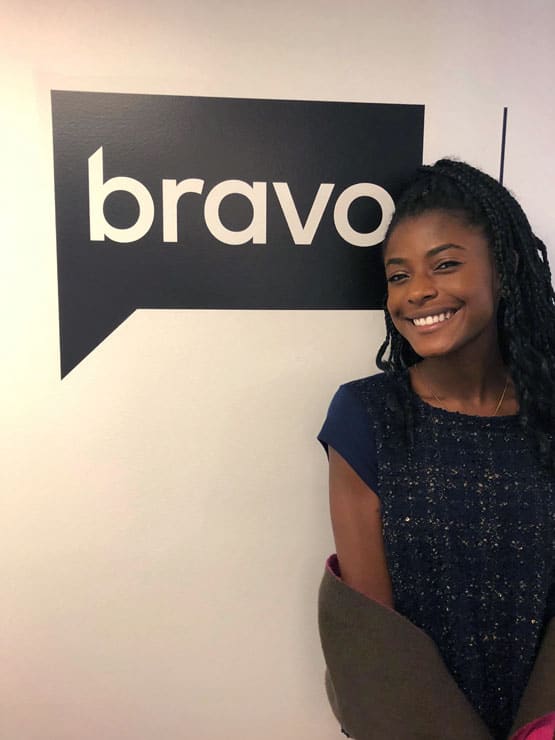 Over the summer, I had the opportunity to work at the NBCUniversal cable network Bravo in New York City as a Production and Development intern. Prior to this internship, I had no knowledge of what went on behind the scenes in the television industry; I did, however, have some knowledge of what happened on screen, and wanted to learn more.
Ever since I was a young girl, my passion has been the performing arts. While my brothers were at sports practice, I would spend hours and hours at my youth performing arts school studying theater, voice, and dance. Acting was always my favorite, and my family has consistently encouraged me to pursue that career path. I've continued this journey at Trinity College as a theater and dance major with a concentration in media and performance and through my participation in numerous dance organizations and last spring's play, The Lincoln Vaudeville.
When searching for summer internships, it was a challenge to find an opportunity that would expose me to professional acting while also giving me a level of responsibility similar to my on-campus job in Trinity's Office of Communications. Looking for a step in the right direction, I called my cousin who works at a well-known production company, and she suggested that I try looking for an internship with the Cable Entertainment division at NBCUniversal and learn about production, to see if I would be interested. I applied for a position at Bravo, had an interview at the iconic 30 Rockefeller Plaza in January, and then got the internship in late spring. Although I had no idea what would be in store for me this summer, I knew that I was going to have an amazing learning experience.
Once in New York for the summer, I met Maddi, the other Production and Development intern. While most of our days were spent (per our supervisors' instructions) watching endless hours of Bravo reality television, every week we were sent out on numerous adventures for the coordinators or the executives in our department. We were also given the opportunity to watch numerous cuts of shows before they were mastered and offer our opinions on them, and even give our suggestions for potential digital series the network may consider developing.
A big part of my internship was setting up for the meetings that the New York and L.A. offices were having to discuss shows (new and old) that were currently in development or in production. Producers and staff members gave their feedback on every aspect of a project, ranging from digital and photography teams, to finance and marketing teams. I was able to get an inside look into what goes on behind the scenes of a show and how much hard work and money are required to successfully get it on TV.
One of the most important things that I did during my internship was to cover a desk, which essentially entailed taking over administrative responsibilities while coordinators were on vacation. I did this for about four out of my 10 weeks there. I was taking care of the phones, scheduling calls, responding to emails, making sure the executives got to their meetings properly, and handling the mail. Although it was a nerve-wracking task, I was excited to be supporting some of the most important people at the network.
Throughout the summer, the Bravo interns were expected to work on a project on our own time. We were put into four groups of four, assigned different networks (two were given Bravo and two were given Oxygen) and were told to come up with not only a show concept, but also the marketing, digital, advertising, and programming strategies to support it. While that task was already daunting enough, we knew that at the end of our internship we would have to present our idea in front of a panel of executives who would vote on whichever show they believed to be the best.
My group created a show concept for Bravo called "Summer Sitters," which would follow the professional and personal lives of nannies of the wealthy. It would be like "Vanderpump Rules" meets "Below Deck Med" meets "The Real Housewives" (all Bravo shows). Since so many young people babysit and since so many families are hiring nannies, we believed that a show about nannies would be extremely relevant and interesting. My group didn't win, but it was such an amazing opportunity to be able to present work like that in front of important people in the television industry.
This summer was one of the most important summers of my life. I was able to connect with so many influential people and begin to make a path for myself in the TV industry. While I don't know exactly how I'll get to where I want to be in life, this summer helped me network with people who are now extremely invested in helping me get started. I am so happy with how this summer turned out and wouldn't change a thing about it.