Back to News
Members of Trinity's First Four-Year Coeducational Class Reflect on a Time of Change
Alumni
posted
by Katie Cort '19
Continuing its celebration of "Women at the Summit" to mark 50 years of coeducation, Trinity College recently hosted "Stories from the Class of 1973," a conversation featuring four members of the first four-year co-educational class. The April 25 discussion with alumnae Diane Brown '73, P'03, Karen Fink Kupferberg '73, P'07, Joyce Krinitsky '73, M'76, and Patti Mantell-Broad '73, P'06 centered around their decisions to attend to Trinity, the challenges of being among the first female students, and their reflections on this time of great change.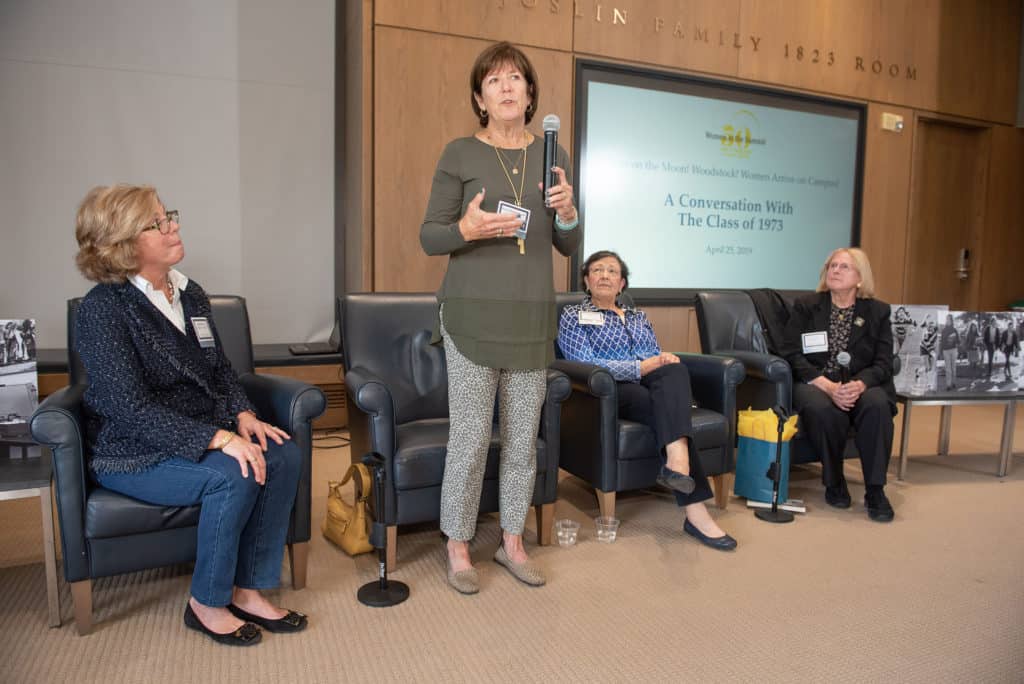 Several other members of the Class of 1973—both men and women—were also present and contributed to the discussion, which was lively, revealing, and representative of the first co-educational class at Trinity. Classmates who attended the gathering came from across New England, New York, and even Oregon, and enjoyed the chance to share laughter and stories from their time together on campus.
Brown began the discussion by talking about how her college experiences informed her career path. Serving as a board member of several institutions, Brown said that Trinity increased her confidence, as she is often the only woman in the room. "My four years at Trinity definitely impacted the past 50 years of my life, professional and personal," Brown said. "When I decided to come to Trinity, there was no such thing as a 'Trinity woman.' When I went to work as a securities analyst at an insurance company after receiving an MBA, it was the same thing; I was the only woman. It served me well to already be familiar with that feeling," she said.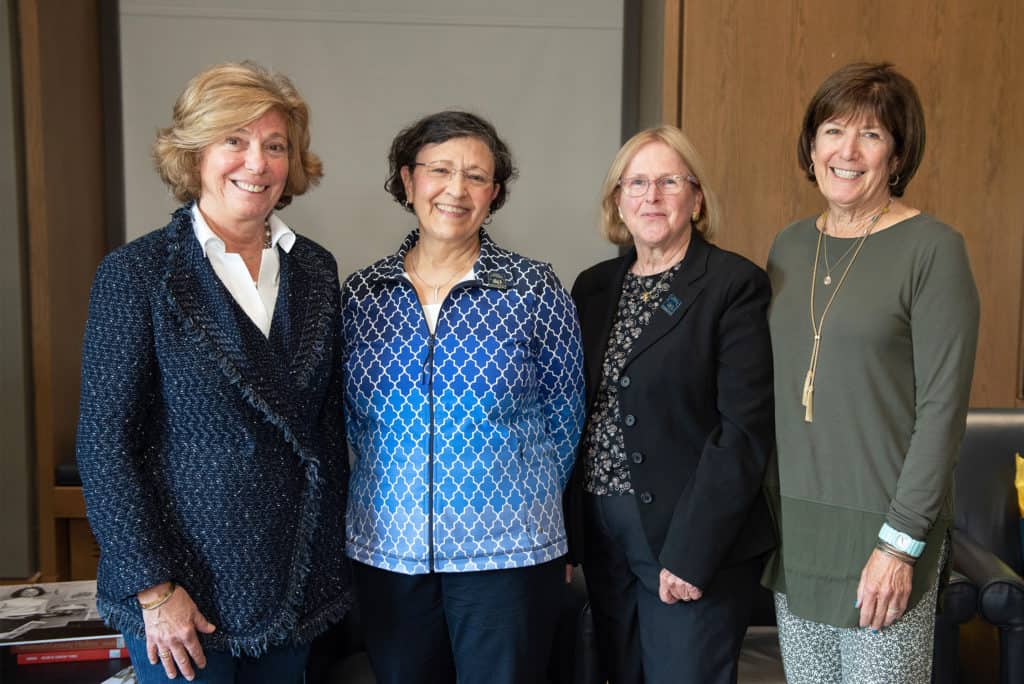 Mantell-Broad agreed with Brown and explained that after Trinity, she became an educator and taught for 39 years at the Watkinson School in Hartford and at Simsbury High School. "Education has been a huge part of my life," said Mantell-Broad, who also earned two master's degrees. Mantell-Broad mentioned that although being a woman at Trinity was often difficult, many of her influential history professors helped both women and men succeed in the major. "I owe a lot to the History Department because they really helped me speak up, form critical thinking skills, and learn how to write well," she said. Mantell-Broad later added that the coeducational experience of those first four years was challenging, as the culture of the college needed to be re-identified. "The times—'69 to '73—were turbulent, watershed years in our country, and everything that happened, happened at Trinity as well; we all went through it and grew our voices from these experiences," she said.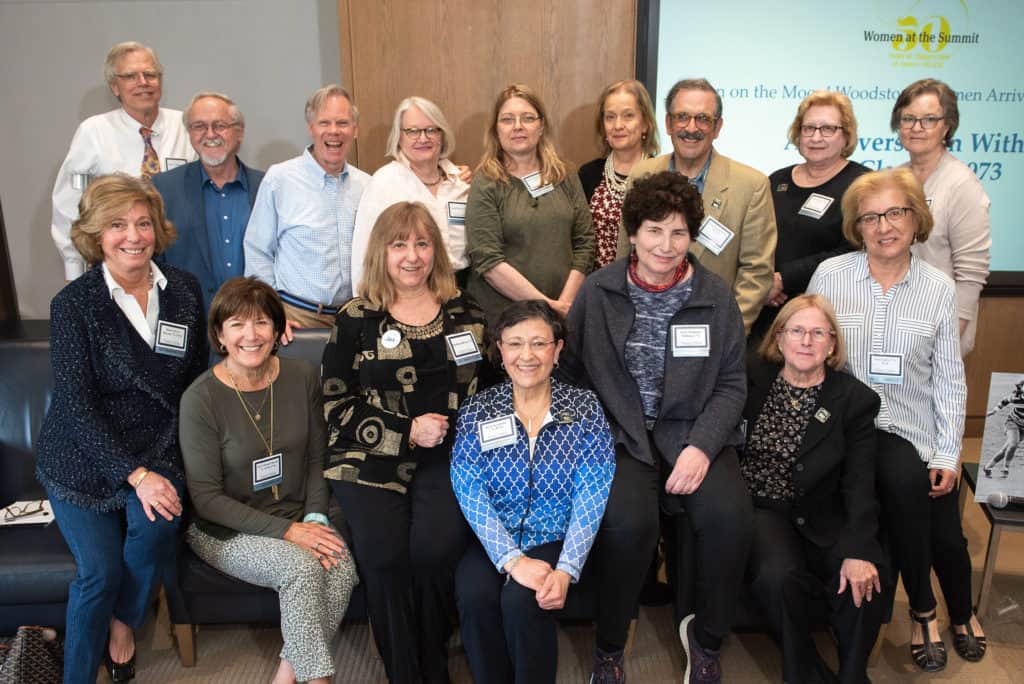 Krinitsky was a history major like Mantell-Broad and said her time at Trinity gave her a perspective that later informed her advocacy work. "Whether it was trying to organize and unionize teachers or whether it was my involvement with politics, it was not uncommon for me to be one of only one or two women in the room, or in the minority opinion," Krinitsky said. "Subconsciously, I didn't care because, as Diane [Brown] referenced, we already survived that for several years. I was not afraid to be the only person advocating for something. I always thought, 'I'm going to sit at a table with the men… I did it in college, and I'll do it again.'"
Kupferberg, who was Trinity's first female math major, said, "I did have some classes where they would ask me, 'What's the female point of view?' It was tough taking on the responsibility of an entire gender. Like everyone else, Trinity prepared me well because I was so used to being the only female in the room." In 1975, 44 years ago, at the age of 23, Kupferberg worked on Wall Street as a securities analyst for E. F. Hutton, and then spent four decades in senior executive positions in corporate America. She also was actively involved with profit and nonprofit organizations and served 12 years on the Board of Fellows at Trinity. "You need to get the audience's attention and be persistent, and not give up," Kupferberg said. She is now retired and enjoys spending more time with her grandchildren.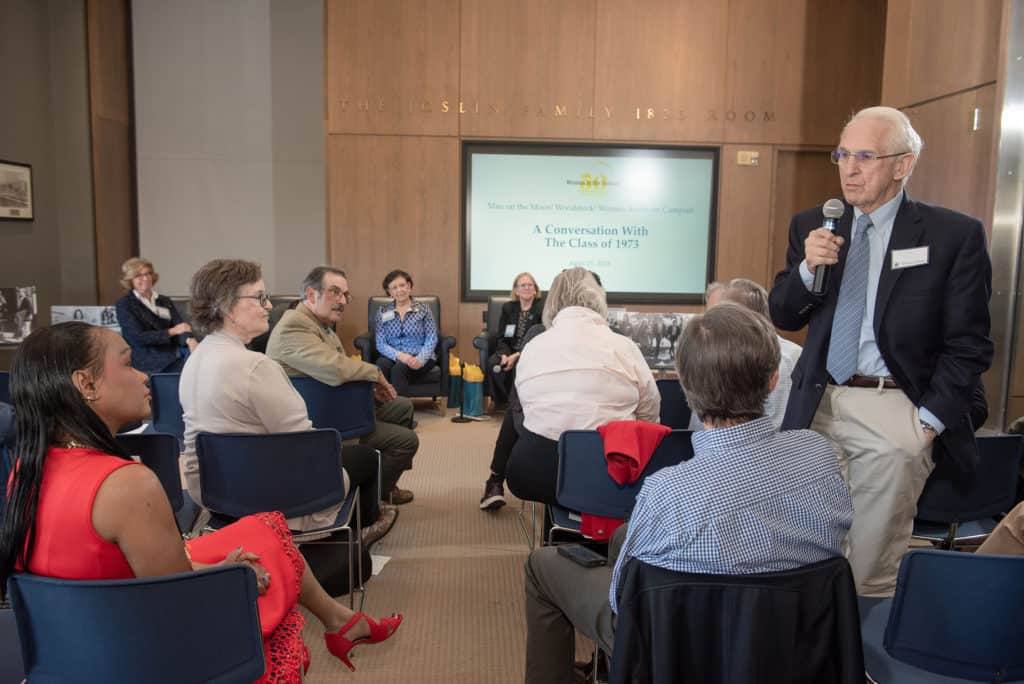 Former Trinity president and Professor of History, Emeritus, Borden W. Painter, Jr. '58, H'95 attended the discussion and spoke about the changes at Trinity and in the world during the 1960s and 1970s. "While the decision to accept women was occurring, so was the change to an open curriculum. As people have already alluded to, it was a huge time of transition, and transitions are hard. We were accepting students of color, we were going co-ed, and the Vietnam War was taking place. My recollection is that I was in favor of going co-ed because we got rid of some of the not-so-smart men and took a lot of smart women, which was a very good move," he said.
All of the speakers said that the change to coeducation at Trinity was positive and that the college would not have been as successful if it had not happened. Krinitsky said, "The reality is that the reason this college thrived is because it went coeducational and it got in on the ground floor of this movement. If you were to look back, schools who did not make that move slipped, and colleges who waited until it was too late did not thrive."
Trinity is commemorating the 50th anniversary of coeducation at the college with a three-semester-long set of programming, special occasions, and content for the entire Trinity College community. The spring 2019 semester is focused on "Yesterday," the fall 2019 semester will be focused on "Today," and the spring 2020 semester will focus on "Tomorrow." In addition to on-campus events, The Women's Leadership Council will host a series of women and leadership events off-campus.
Email womenatthesummit@trincoll.edu to share ideas and join in the celebration. More information on the programming can be found here.
Watch a video of the event and see more photos below.
Explore the Gallery
Stories from the Class of 1973
Explore the Gallery
Stories from the Class of 1973