Back to News
Latest Connecticut Forum Event Gets Students Thinking about Future of 'Big Tech'
Hartford
posted
by Arianna Basche
Hartford Connecticut, November 27, 2018—Trinity College students taking courses in computer science were among the audience members at the latest Connecticut Forum event, "Big Tech – What is the Future We're Building?" Trinity is an education partner of the forum, which supports open dialogue, lifelong learning, and the free and active exchange of ideas.
The event brought together a panel of three experts to discuss the future of technology at Hartford's Bushnell Center for the Performing Arts on November 16. Among the panelists were Jaron Lanier, a computer scientist and pioneer of virtual reality; Nicholas Thompson, editor-in-chief of Wired; and Sherry Turkle, a professor at MIT's Program in Science, Technology, and Society with an expertise in digital culture.
Moderator John Dankosky, Connecticut Public Radio host and executive editor of the New England News Collaborative, kicked off the discussion by asking the three panelists which recent technological innovation they were most excited about. Thompson responded with quantum computing, Turkle was interested in the medical applications of wearable technology, and Lanier was enthusiastic about the potential for virtual reality as a tool to educate people, understand algorithms, and potentially even build empathy.
As the evening went on, the conversation shifted back and forth between the positive and negative ways technology influences lives at the personal and societal level. "Should we get rid of all social media?" asked Dankosky. Turkle and Thompson urged the audience to use it with caution, but Lanier said that people should delete all of their social media accounts, adding that the broken business model has led to dysfunction. "Right now, anytime two people connect online, it's financed by a third person who hopes to manipulate them," Lanier said. He advocates for deleting accounts until there is no longer a business incentive to leave social media users open to this manipulation.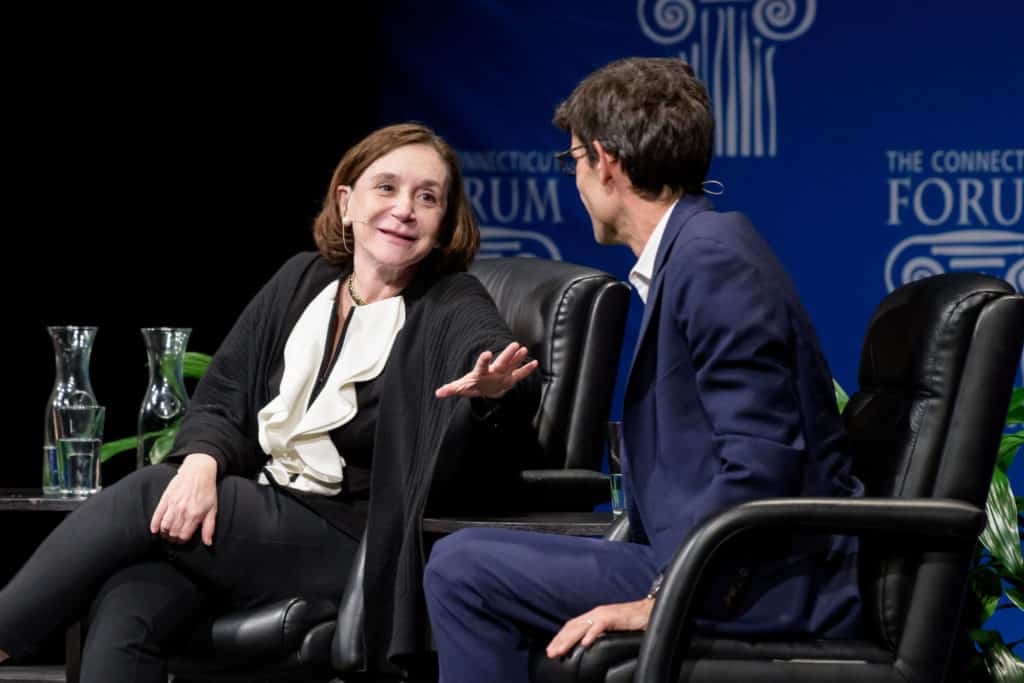 Turkle, however, believes a fix is possible. "If you take the longer view, you could say that this is very, very new days [of the internet]," she said. "We started in a direction. It went very badly—in ways that really took us by surprise." But, she said, we can correct course. "Democracy is on the line."
Dankosky asked if people in Silicon Valley are thinking to themselves, "I may be on the wrong side of history here." Thompson replied, "The biggest change in Silicon Valley in the last year and a half is questioning, 'What have we wrought with these creations?'" He said that a platform like Facebook was intended to make the world a more open, connected place, but it also may help perpetuate tribalistic tendencies.
Trinity student Zorawar Moolenaar '20 enjoyed hearing the panelists critically assess the role technology plays in society. "Technology has so much potential for good," he said. "But at the same time, [the panelists] are also very cautious about recognizing that there are a lot of disadvantages to these same technologies as well."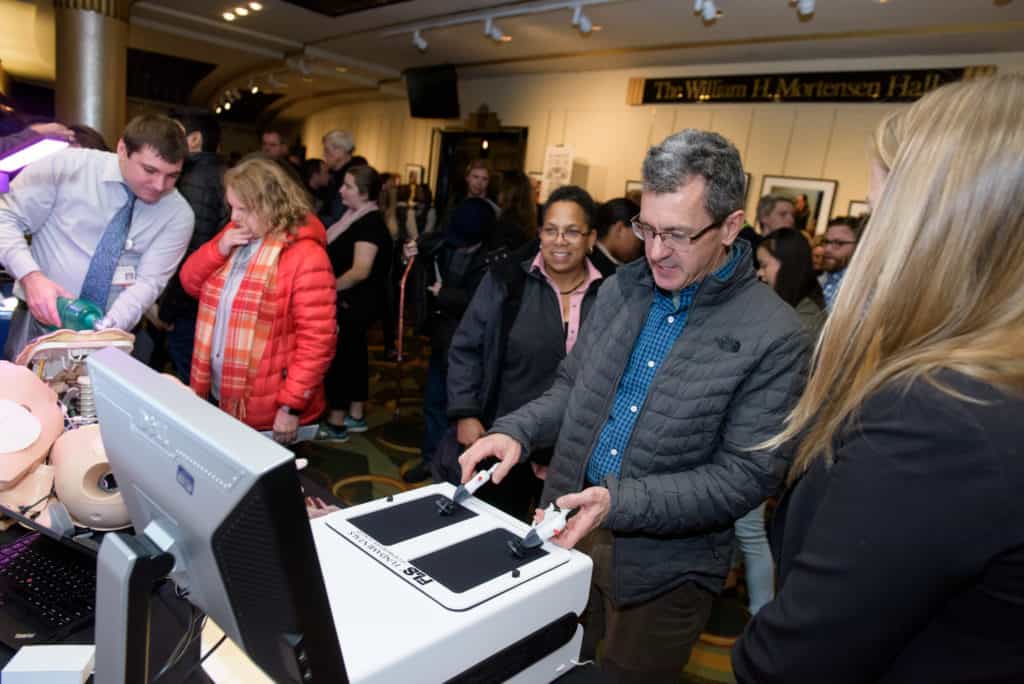 Moolenaar, who is a computer science major, also appreciated the opportunity to hear from experts who have been working in tech since before he was born. "Jaron Lanier actually coined the term, 'virtual reality,'" he noted. "[Lanier] was saying, 'We were looking at it from very optimistic point of view when we were 20. And now we've grown up and seen this mature.' … They're coming with so much experience and background."
The issues raised by the panelists, Moolenaar added, illustrate how vital it is for computer scientists to be thoughtful about the effects of their innovations. Moolenaar said that he recognized how interconnected the study of science is with the study of the humanities, noting that technology influences politics and all kinds of human activities. "You can do tech for tech; but technology is essentially a tool for humanity," he said.
The next Connecticut Forum event will be "An Evening with Neil deGrasse Tyson" on December 3. The season also includes "America and the World: Diplomacy and Leadership in an Age of Disruption" on March 9, 2019, and "Photo Wonders: The Life and Work of Extraordinary Photographers" on May 11, 2019. For a full schedule of upcoming Connecticut Forum programs, click here.