Back to News
John Quiñones Kicks Off Latine Heritage Month at Trinity College
Student Life
posted
by Marshall Montner '23
John Quiñones, host of the ABC television show, What Would You Do?, came to campus on Friday, September 17, to help commence Latine Heritage Month at Trinity College. Members of the Trinity community gathered in Mather Hall's Washington Room to learn about Quiñones's personal and professional journey and how he ultimately used education as a tool to build his legacy as a Latino. But first, he had to break many barriers on his way to becoming the first Latino correspondent at ABC News.  
Quiñones shared that he came from humble beginnings, including working the fields as a migrant farm worker. As a Mexican-American, he grew up in a Spanish-speaking household with his mother, a housecleaner, and his father, a janitor, neither of whom spoke English. Quiñones did not start learning English until the first grade. He noted some of the struggles he faced, such as being chastised for speaking Spanish in public.
Since age 13, Quiñones dreamt of pursuing journalism. The government anti-poverty assistance program, Upward Bound, enabled him to become a first-generation college student. However, when applying to journalism jobs in his home state of Texas, he was met with rejection due to limiting quotas for Latine journalists. While he felt like giving up, he persevered and went on to earn his master's degree in journalism at Columbia University. Eventually, Quiñones was recognized with seven Emmy Awards.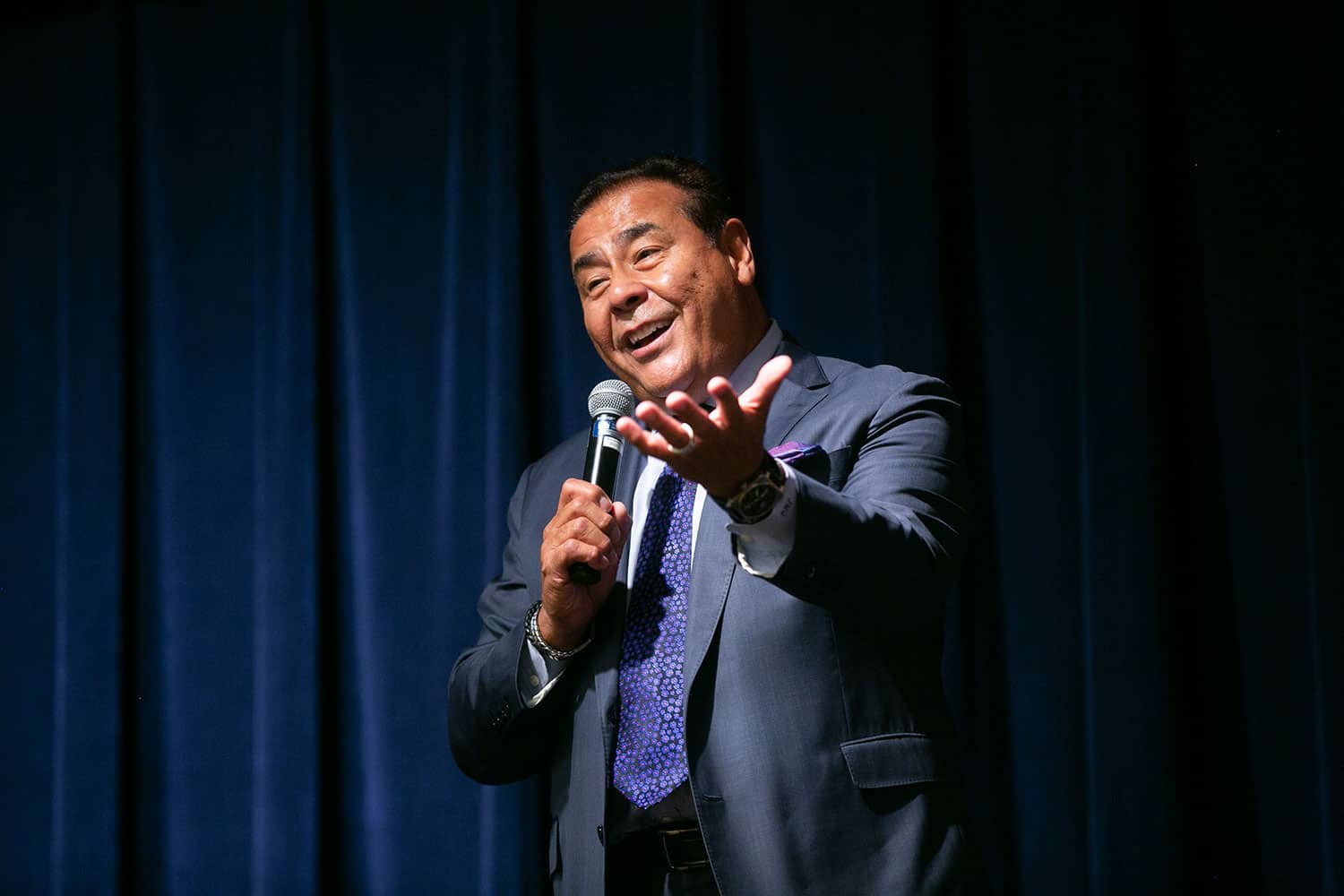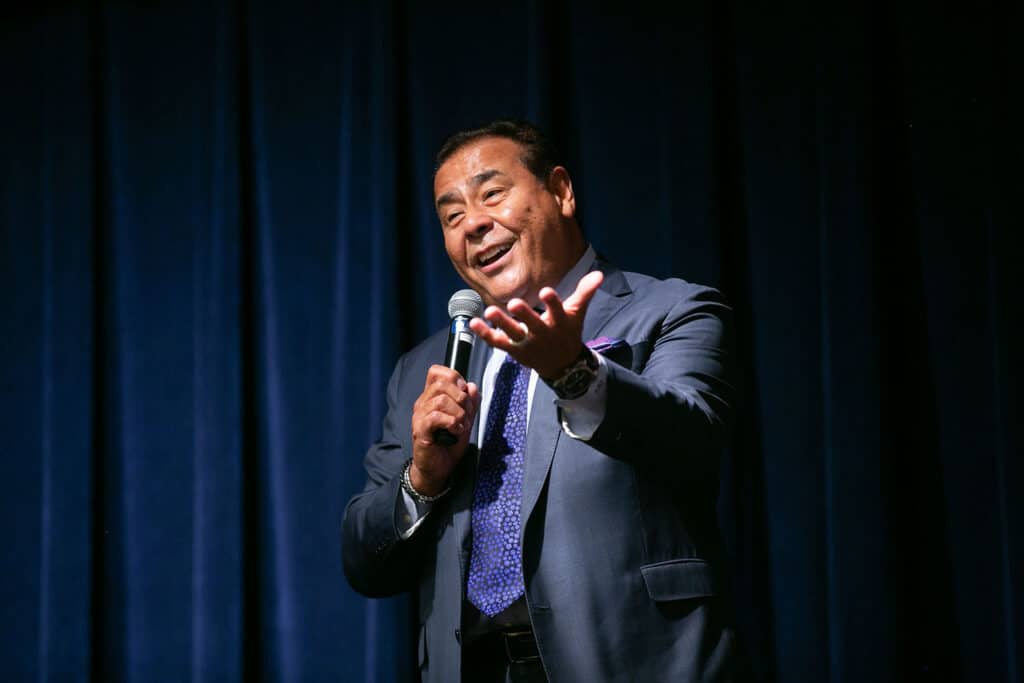 Quiñones called on the audience to be "active bystanders, and not just passive observers." "Put yourself in the shoes of the victim," said Quiñones, who noted that Latines and others who face adversity are often most willing to be compassionate with others, because they know firsthand what it is like to be discriminated against. "We need to give a voice to the voiceless."  
On his show, What Would You Do?, Quiñones uses social experiments to illuminate current social and political issues in America. Hidden cameras capture how ordinary Americans react to injustice. To date, there have been more than 1,000 scenarios presented in the show's 14 years of filming. In the words of Quiñones, "Do you step in or step away when no one is watching? Silence is complicity."  
"I love my job because I've been blessed to shine a light on issues in America—to show people what people don't want to see or even don't think exist," said Quiñones. Through What Would You Do?, Quiñones is able to, as he put it, "hold a mirror to American society." He stressed how his show is more important now than ever before because of how divided the country is. 
Dolores Marcial Modesto '23, who attended the talk, shared her perspective on the impact of Latine Heritage Month, which is observed from September 15 to October 15.  "It's a month where [Latine] people are recognized for the achievements they have contributed to this country. It's a month where it makes me realize that, as a first-generation college student, I can also do it, because people like me have done it before." 
Another attendee, Karina Amador '23, said, "The month highlights the fact that we [Latine people] are more than stereotypes, status, class, etc. We are human beings, we are individuals, and we are proud of our heritage." 
Director of Multicultural Affairs Carol Correa de Best said, "We have the responsibility, as a community, to educate ourselves and others and be responsive to all needs. During Latine Heritage Month, amongst other topics, we explore race, ethnicity, gender and what it means to further or establish legacy. In addition to [asking] 'what would you do?,' in building our legacies, we should always question, 'what can I do to promote diversity, equity, and inclusion?'"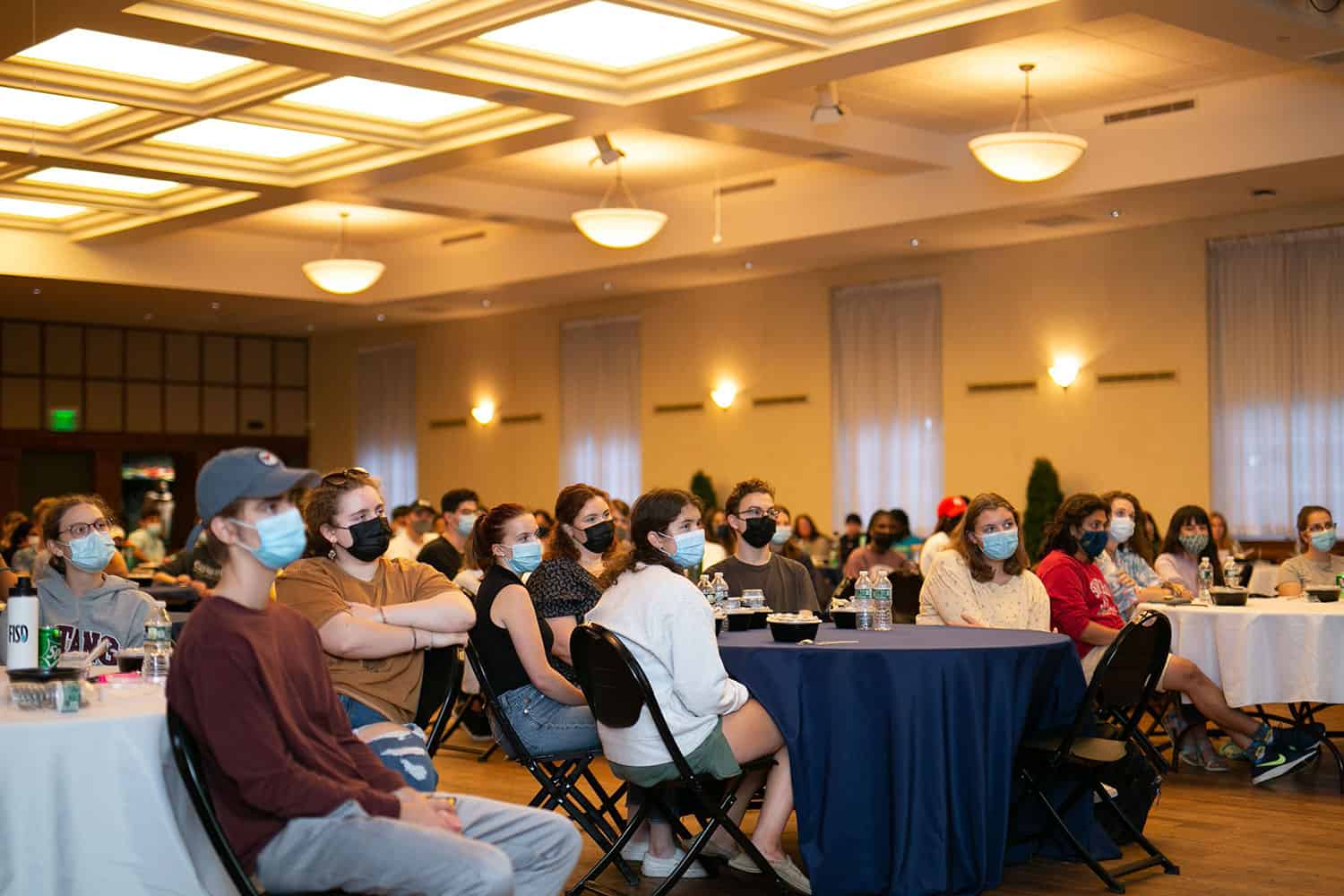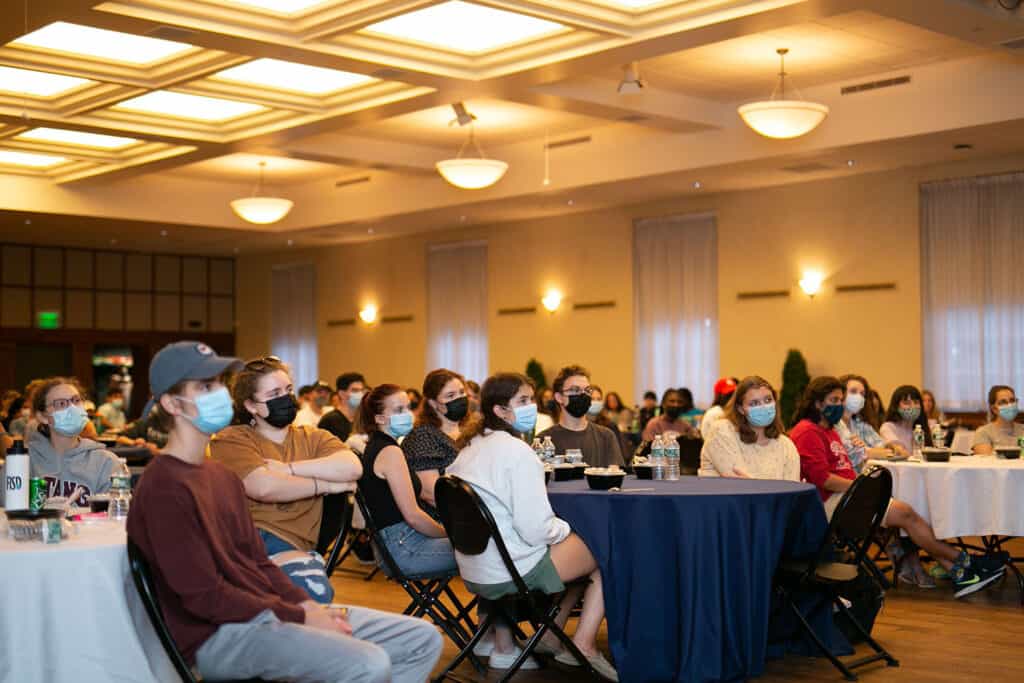 Quiñones also expressed to the audience how important it is to promote the ideals of diversity, equity, and inclusion, emphasizing them as values that his parents instilled in him. "The most important thing is always having a good heart," he said. "Next time you witness any kind of injustice and a little voice in the back of your head says 'do something'—not because you're going to be on national TV or get money but because your corazón says—you should do it."  
The talk by Quiñones left many students inspired to build their own legacies as Latines. After the event, Marcial Modesto '23 said, "I thought it was very interesting that he took his time to tell us how he rose to the top. It gave me hope because of the similar backgrounds we have. I can imagine how many other students he inspired in just one hour."  
The event was sponsored by the Latine Heritage Month Committee, formed by the Multicultural Affairs Council of the Student Government Association (SGA) and the Office of Multicultural Affairs. The committee consists of several organizations on campus, including La Voz Latina, the Caribbean Students' Association, Lamda Alpha Upilson, Lambda Pi Upsilon, and the International House. 
Latine Heritage Month Committee member Karolina Barrientos '22 said that when it came to selecting the speaker, students representing the organizations that make up the Latine Heritage Month Committee decided they all felt "some sort of connection to Quiñones."  
Click here for Trinity's Latine Heritage Month poster listing additional events. For more information and resources about Latine Heritage Month, visit Trinity College Library's Latine Heritage Collection to access a collection of books and podcasts as well as a music playlist curated by La Voz Latina. Also, to read a timely op-ed essay by Dean of the Faculty and Vice President for Academic Affairs Sonia Cardenas, "Who is Latinx and What Does It Mean?," visit Diverse: Issues in Higher Education.  
 Photos by Sarah McCoy