A hallmark of every Trinity Alumni Reunion is the chance to rekindle longtime friendships as classmates reconnect with each other, as well as to meet other alumni celebrating their own milestone Reunions.
Two alumni who exemplify a talent for and dedication to cultivating and maintaining Trinity friendships—The Rev. Michael Schulenberg '63 and Daniel Korengold '73, P'09, '12, '14, '18—met for the first time at Reunion 2023 and now share a special bond as recipients of a relatively new alumni award, the Michael A Schulenberg '63 Alumni Fellowship Award.
The award named for Schulenberg dates to April 2, 2022, when he was surprised to learn of its debut while at the Trinity College Chapel for the dedication of the Class of 1963 Chapel of the Perfect Friendship. Unbeknownst to Schulenberg, his classmates and Trinity College Alumni Association (TCAA) leaders had arranged to unveil the new award and honor him as its first recipient, noting that, going forward, the award would provide an annual opportunity to recognize a 50th Reunion celebrant "who has demonstrated the qualities of fellowship, loyalty, and community-building during their time at Trinity and after graduating."
Schulenberg's award citation read, in part: "You understand how to nurture longstanding friendships so that they grow and develop along with the changes that can happen over the course of 50 years." Schulenberg said that after he was asked to lead a committee tasked with putting together the Class of '63's 50th Reunion yearbook and classmates began sharing reflections on their journeys, he began to realize that perhaps his class had been destined from the start to make a lasting impact at the College.
Among his classmates' 50th Reunion yearbook entries, one penned by Bruce Hill '63, who has since passed away, noted that then-President Albert Jacobs had informed the class in their first days on campus, "Your class has been especially recruited." Schulenberg said Hill spoke of his Trinity first-year adviser having stated, "The Class of '63 was specially chosen to bring about change at Trinity."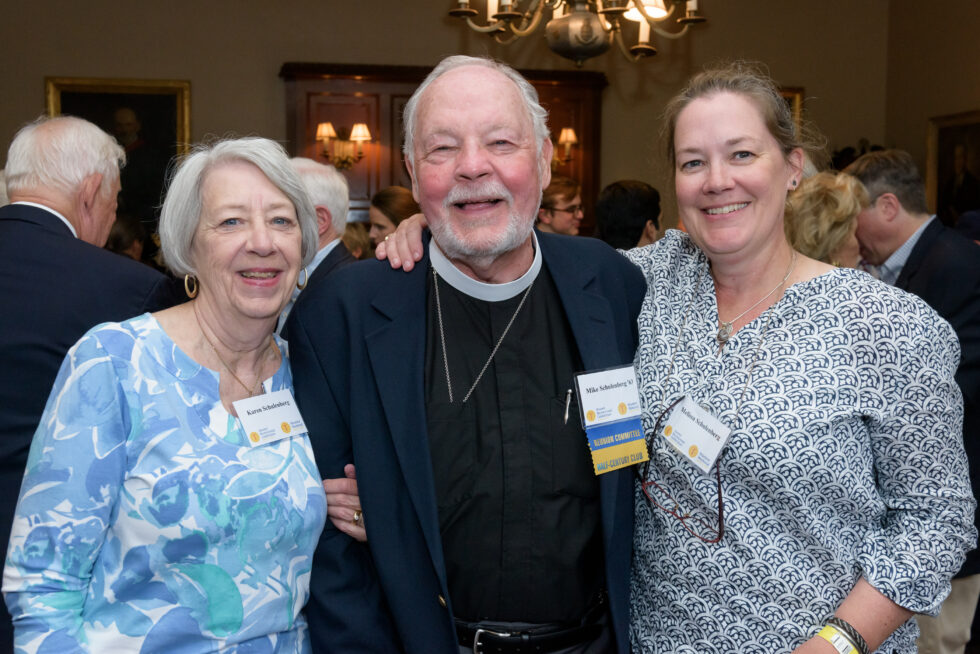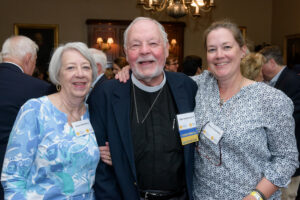 An economics major at Trinity, Schulenberg earned a bachelor of divinity degree from Episcopal Theological School in Cambridge, Massachusetts, before serving four churches as a parish priest over nearly 34 years. He retired from active ministry in 2002, and in 2005 published a book, Getting to the Promised Land without Spending Forty Years in a Wilderness. More recently, he wrote "A Unique Moment in Time" for Trinity's Bicentennial as part of the 200 Stories project, about his time as a member of the Alpha Chi Rho fraternity, including his adventure adopting a baby fox.
Schulenberg and his wife, Karen, are the parents of two, grandparents of two, and recently became great-grandparents of one. "Perhaps that great-grandchild will choose to attend Trinity," he said. Born and raised in Red Wing, Minnesota, Schulenberg had never been east of Wisconsin before he came to Trinity. As a student, he was selected for a number of leadership roles, including serving as captain of the football team; president of his fraternity; a member of Cerberus, the sophomore honor society; and as a junior adviser. As an alumnus, he has been a class agent, participated on Reunion committees, and served as class secretary.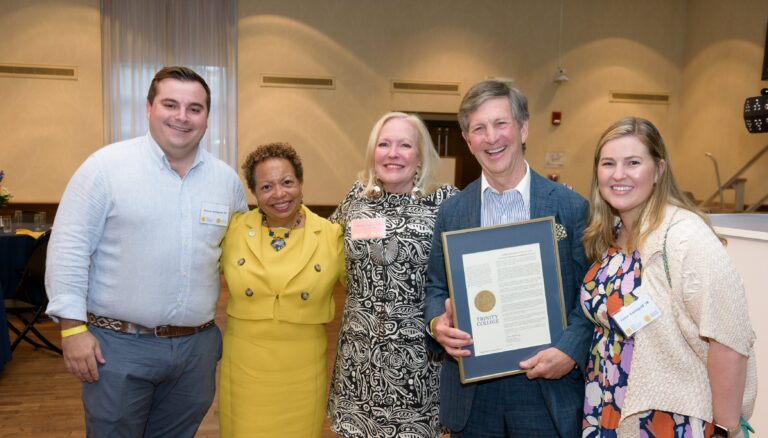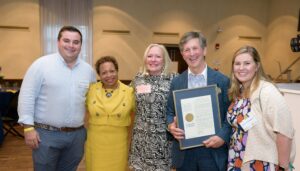 On June 9, Korengold was honored at the 50th Reunion dinner of the Class of 1973. His classmates were delighted to witness the surprise on his face as President Joanne Berger-Sweeney revealed that she was presenting him with the Michael A Schulenberg '63 Alumni Fellowship Award. Adding to the special moment, Korengold's youngest daughter, Hannah "Greer" Korengold '18—on campus for her 5th Reunion—had slipped into the Washington Room at the appointed time, hiding behind some greenery so as not to tip off her father that something special was forthcoming.
Later that evening, Korengold had a chance to stop by Hamlin Hall, where the Class of 1963 was celebrating its 60th Reunion, enabling him not only to meet Schulenberg, but to be invited to share impromptu remarks with the group of alumni a decade his senior, who were glad to get to know the new recipient of the fellowship-focused alumni award established in their classmate's name.
Korengold said, "I spoke to Reverend Schulenberg and the Class of '63 about how honored I was to receive this award. I also told them how all four of my kids attended Trinity, how the first three met their spouses on campus and that my youngest also met her boyfriend at Trinity, and they've been dating ever since. I call it the 'clean sweep' story," he said with a laugh.
Coincidentally, Korengold, like Schulenberg, was born in Minnesota. At Trinity, Korengold majored in psychology and was a member of Alpha Delta Phi and the College's baseball and football teams. Today he is the chairman of seven automobile dealerships and a partner in an additional 25 dealerships in greater Washington, D.C. About the ways in which he stays involved with Trinity, Korengold said he and his wife, Martha Dippell P'09, '12, '14, '18, have been pleased to host events for the College. One, which was part of the 2019 celebration of 50 years of coeducation at Trinity, was especially meaningful, he said, noting that his own Class of 1973 will forever be known as Trinity's first four-year coeducational class.
Korengold and his wife have established endowments with several organizations, including Washington Performing Arts, the National Museum of Women in the Arts, and the Boys and Girls Clubs of Greater Washington. He and his family also helped establish the Betty Lou Ourisman Breast Cancer Center at Medstar Georgetown University Hospital, and, in 2004, he received the National Service to Youth Award from the Boys and Girls Clubs of America.
Korengold's Trinity volunteer roles have included serving as a class agent and an admissions volunteer, on the Board of Fellows and the National Alumni Association (now the TCAA), and as president of the Trinity Club of Washington, D.C.—of which his daughter Kathryn "Lizey" Korengold Bernstorf '12 is the current president. In 1993, he received the College's Alumni Medal for Excellence.
"As I get older and I see the future is not as long as it's been in the past, I realize how much I enjoy helping Trinity and other organizations that I give time and financial support to," Korengold said. "And, with all my kids going to Trinity, I feel like I know more Trinity people than anybody."
Now, having marked their respective Reunion milestones, Korengold and Schulenberg both intend to continue encouraging classmates and others to treasure their Trinity relationships. Both men attest to the value of celebrating meaningful, lifelong friendships that began at Trinity and putting in the time and energy to maintain, deepen, and appreciate those relationships.
Said Korengold, "Friendships really are important and if you can rekindle them or continue them, it's a good feeling. I love when people come up to me and say, 'Remember when we used to do such-and-such 50 years ago?'"
For Schulenberg, the fact that his class created the Class of 1963 Scholars program years ago—it was launched in 1988 at their 25th Reunion—is one important way they have achieved a lasting impact at the College. Of that program, through which the Class of '63 has helped bring talented students to Trinity year after year and supported them through mentorship, he noted there are now 34 alumni and eight current scholars.
Said Schulenberg, "In 10 years, there will be fewer members of our class making it to Reunions, but there's an ever-growing group of '63 Scholars who can work with the thought, 'What does it mean to be specially chosen, to effect change; change at Trinity and change in the world that we're embracing as we leave Trinity?' And so that story continues and it has a life of its own."
Read more here about Reunion 2023 and the Alumni Bicentennial Celebration held June 9-12.