Back to News
Here or To Go? Trinity Introduces Reusable Takeout Containers
Student Life
posted
by Kristen Cole
Trinity College students with an appetite for takeout now have the option of taking meals to go from Mather Dining Hall in reusable containers.
As part of the Sustainability Action Plan, Trinity introduced a new system of reusable takeout containers at its central dining location this semester in partnership with Chartwells Dining Services. Coordination between an app and QR codes track the containers, enabling students to return containers and take new ones when they swipe their meal cards.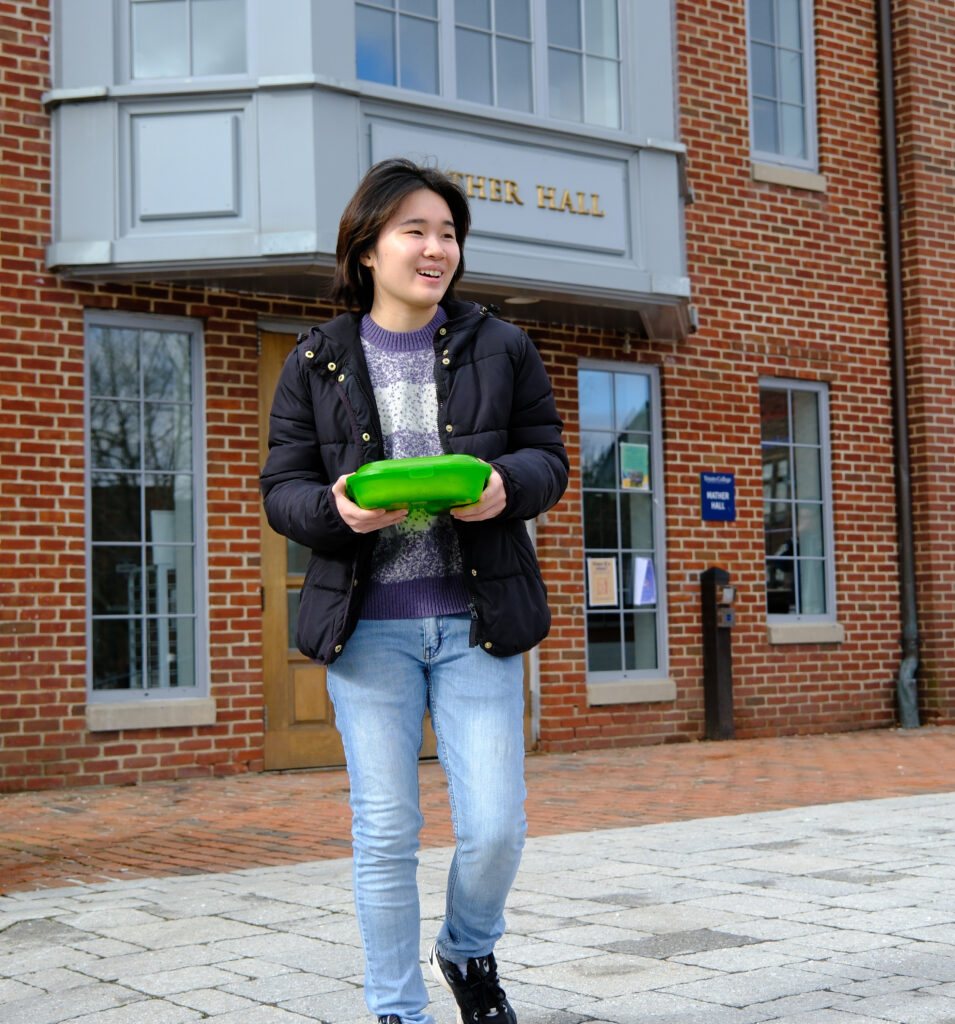 Hayley Berliner, Trinity's sustainability coordinator, staffed a table in Mather Hall this week to promote the program to students returning to campus from winter break.
"Some students already had the app downloaded and just walked in and picked up their container," said Berliner. "Everyone seems excited about it. Some just don't yet know when they'll use it."
Expansion to other eateries such as The Cave and The Bistro is something that Trinity will consider if the program is successful, she added.
The program is operated by reUser, a company founded by two Wesleyan College alumni, and launched in response to a change in student dining expectations that occurred during the pandemic.
When COVID was spreading most rapidly, many colleges and universities—including Trinity— temporarily closed indoor seating and opted for grab-and-go services. Unfortunately, that dining option frequently relied on single-use containers, said James Wilson, CEO of reUser.
"Many saw mountains of waste a week with disposable packaging," said Wilson. "But places couldn't trust customers would bring back packaging."
Wilson partnered with his first-year roommate to develop the app that would link a student's return of the container to that individual's ability to take out another. They also created a push notification mechanism to remind students when the container is out for a prolonged period, or at the end of a semester.
The reUser program uses Preserve containers made from at least 50 percent recycled plastic. Trinity received about 3,000 containers from Preserve, based in Waltham, Massachusetts.
Since earning his undergraduate degree in economics at Wesleyan in 2017, Wilson has built up reUser, which aims to help universities, hospitals, and corporate campuses save money and reduce their environmental impact with the takeout container management.
And a year after Wesleyan introduced the app, Wilson's alma mater is expanding the program to a second campus dining location.