Back to News
Hartford Teachers Engage in 'Robot Battle' with Trinity College Students
Academics
posted
by Kathy Andrews
​Hartford, Connecticut, July 6, 2018—Seven Hartford elementary and middle school teachers spent part of their summer on the Trinity College campus, preparing to do battle—robot battle, that is.
The teachers availed themselves of a two-week Innovation Places "Teach the Teachers" professional development opportunity, made possible through Trinity's involvement in CTNext, a state-funded program to boost economic growth and innovation. Trinity is a key partner in the Hartford/East Hartford Innovation Places Planning Team, one of four groups selected by CTNext in 2017 to receive state funding.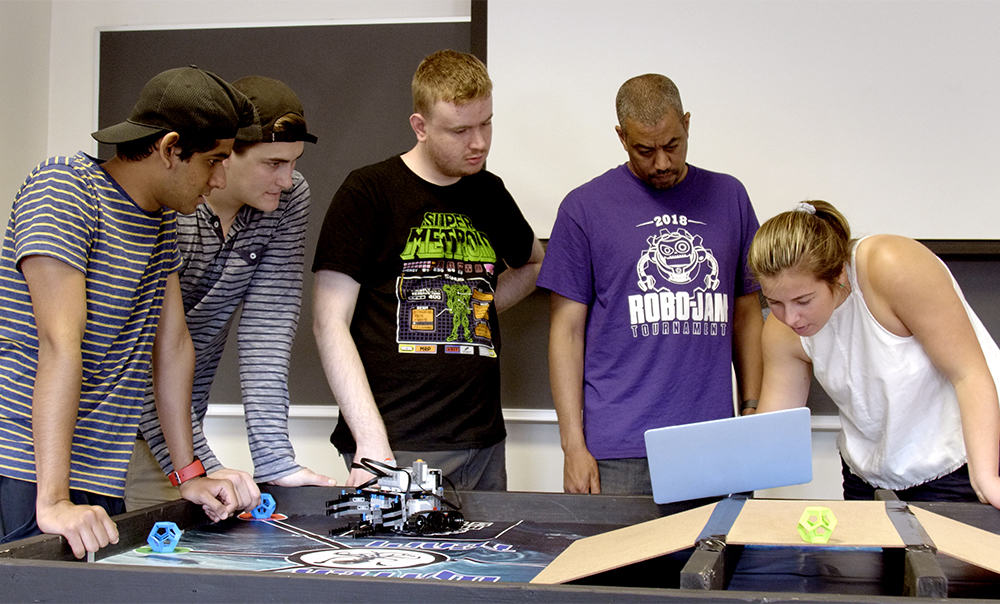 ​​Guided by Trinity Professor of Engineering John Mertens and local robotics and coding instructor Corey Pace, the program enlisted Trinity undergraduate engineering students in leading the teachers through a robotics curriculum and helping them practice teaching it. The teachers took turns at the front of the classroom, teaching the robotics and computer programming lessons, while fellow participants played the role of elementary or middle school students asking challenging questions. The program, which ran June 18 through June 29, culminated in a robotics battle, in which the newly trained teachers showed off the robots they created using LEGO MINDSTORMS EV3 kits and competed against the Trinity students.
Upon completing the two-week course, the teachers received the LEGO robot kits to bring back to their classrooms. The short-term goal of the program is to prepare the teachers to teach their students how to design, build, and program their own robot creations. Participating teachers came from five Hartford public and magnet schools: Asian Studies Academy at Bellizzi, Alfred E. Burr Elementary School, Classical Magnet School, Covenant Preparatory School, and Grace Academy. Beginning this fall, the teachers will expose their students to robotics through a combination of their regular curricula and after-school robotics clubs. A winter robotics conference at Trinity will bring the teachers back to campus, and they plan to bring other area teachers to the conference, too.
The longer-term goal of the program, said Mertens, is to get younger students excited about education and interested in robotics and other STEM (science, technology, engineering, and math) subjects, to encourage them to consider incorporating these fields into their future educational and career plans.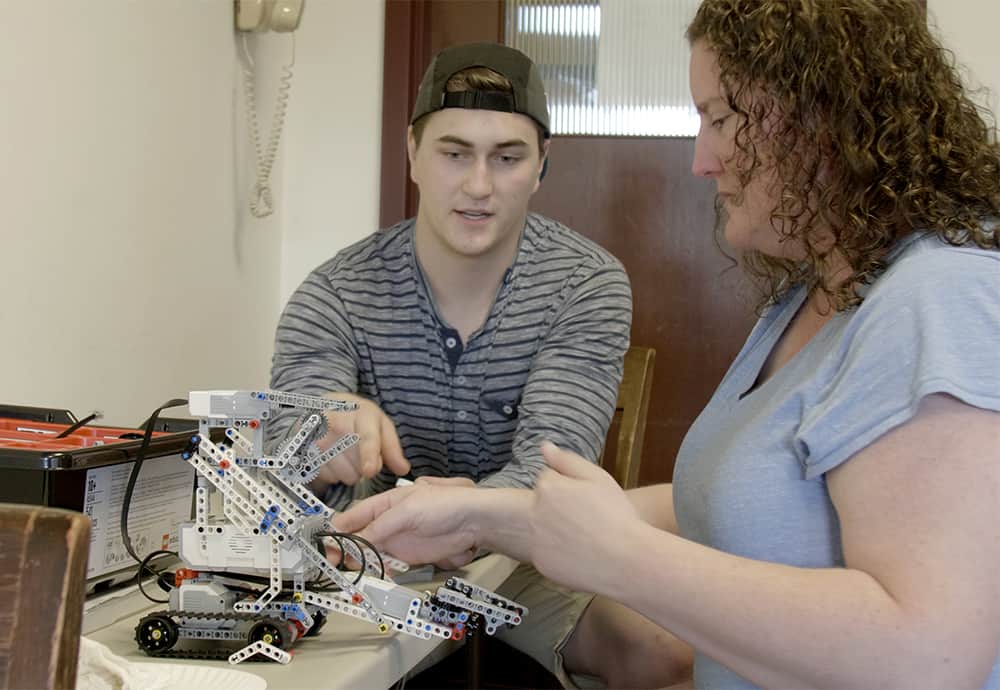 The Trinity engineering students who participated in the Innovation Places "Teach the Teachers" program were Kirk Boyd '21, Aedhan Healy '21, Rahul Mitra '21, and Hannah Zukowksi '21. Zukowski said the opportunity to help train the teachers was a highlight of her summer. "I enjoyed being able to aid in their growth in skill and passion for robotics. Every day, they were eager to learn how to improve their robots. I'm excited to see the great things Hartford students will be able to achieve thanks to their dedicated and passionate teachers."
Trinity's Engineering Department has a tradition of teaching robotics and drawing robot enthusiasts to campus, notably through the college's annual International Fire Fighting Home Robot Competition, which marked its 25th anniversary this year with 70 teams participating from seven countries. The teachers who completed this summer's "Teach the Teachers" robotics program will be encouraged to participate with their students in Trinity's spring 2019 robot competition.
Also, for several years, Trinity has sponsored with the Connecticut Chapter of the American Association of University Women (AAUW) a daylong Tech Savvy event in the spring, designed to attract girls from sixth through ninth grade to the STEM fields. As well, Trinity's five-week summer Dream Camp program and after-school Dream Camp programs during the school year include robotics classes for middle-school students, led by the college's engineering students.
Trinity is one of just a few highly selective liberal arts colleges that offer a B.S. in engineering and a B.A. in engineering science. Learn more about the Engineering Department here.