Back to News
Hamna Tariq '20 Named Trinity College's First Stimson Center Junior Fellow
At 23 years old, Hamna Tariq '20 has already accomplished a lot. While at Trinity College, Tariq was an advocate for the education of girls in her native Pakistan and was invited by Together for Girls to speak at the UN Commission on the Status of Women's Conference in 2017; she published papers with faculty in the Center for Urban and Global Studies (CUGS); was a head resident advisor and a presidential fellow for Trinity's International Studies Program; was active in the Asian American Student Association (AASA) and the Women & Gender Resource Action Center (WGRAC); conducted summer research at the Wilson Center in Washington, D.C.; and she was one of Trinity's 50 for the Next 50, an honor bestowed on women who will have a lasting impact on the next 50 years of Trinity College.
Recently, Tariq was named a 2020-2021 Henry L. Stimson Center Junior Fellow in Washington, D.C. Tariq is the first Trinity College student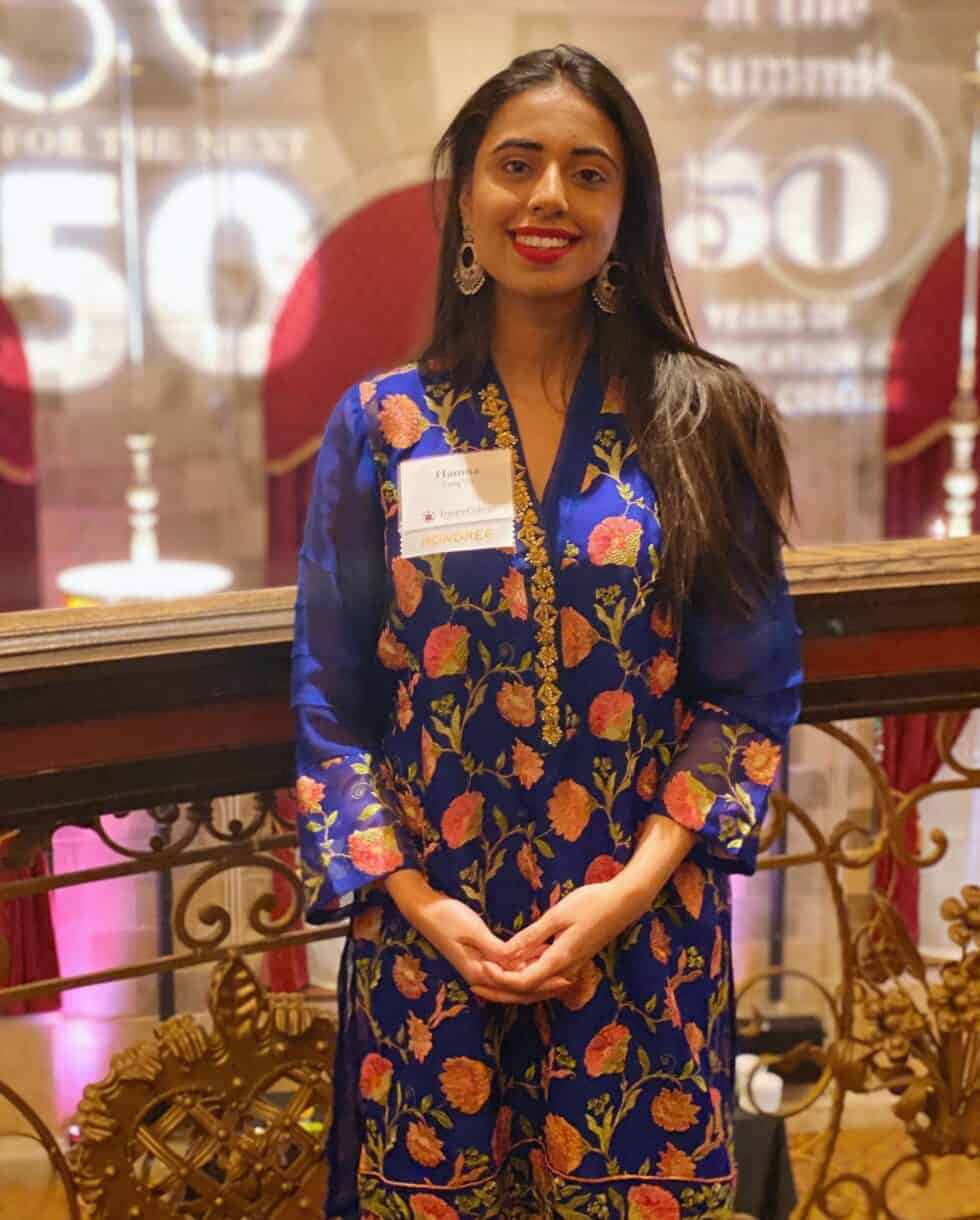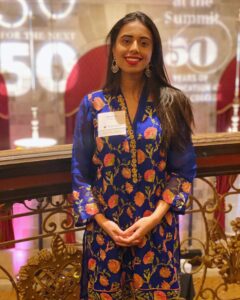 to be bestowed with this honor. According to the Stimson Center, the fellowship is a year-long program that offers recent graduates the opportunity to support the Stimson South Asia Program's policy-relevant research and project-based work. Junior fellows receive a salary of $37,000 for the full year, as well as health insurance and transit benefits for the duration of the fellowship.
"The Stimson Center is the leading voice in critical and balanced debate on South Asian nuclear and political dynamics," said Tariq, who was an international studies: global studies major and urban studies minor. "As someone who grew up in Pakistan and has experienced the effects of political instability, nuclear threat, and economic downturns directly, I believe that not only can I learn from this program, but can also contribute significantly to it."
Tariq will work on various projects as a junior fellow. She will support efforts to research, analyze, and inform policymakers about the evolving dynamics of deterrence, conflict risks, military modernization, and great-power competition in South Asia. As Tariq was also a writer in Trinity's Office of Communications, she will put her skills to work by editing written pieces on the program's online policy platform, South Asian Voices. In addition, she will assist with activities and events held by the program, provide research guidance, and represent Stimson at scholarly and political convenings.
"We are thrilled to welcome Hamna to Stimson. Her outstanding academic record, regional expertise, and language skills will make her an excellent addition to our South Asia Program team," said Elizabeth Threlkeld, a fellow and deputy director of the South Asia Program at the Stimson Center.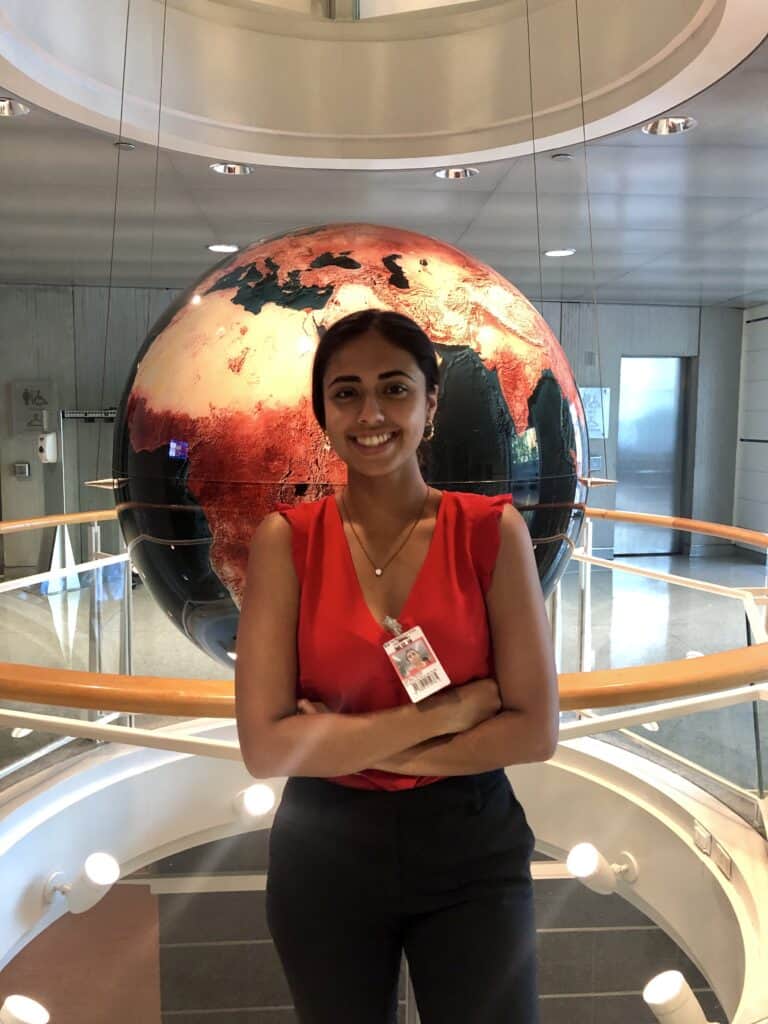 To prepare for the Stimson Center, Tariq said she polished her research writing skills and learned how to refine her research ideas with the help of faculty in the Center for Urban and Global Studies and the International Studies Program. She discussed research ideas with professors, utilized the vast collection on South Asian nuclear policy, and frequented the Center for Student Success and Career Development. Tariq also took advantage of many opportunities Trinity offered, including the Cities Gateway Program, a program where students learn about contemporary urban issues through hands-on engagement; studied abroad in Barcelona; and earned a Henry Luce Foundation research grant from CUGS. For students interested in the Stimson Center fellowship, Tariq said it would be important to also be academically invested in nuclear policy in South Asia, saying prior research experience in the field is key.
"Trinity provided me with the space and confidence to organize creative and intellectual events and to encourage discussions on controversial topics," said Tariq. "The Asian-American Student Association, which I presided over my senior year, organized and facilitated the first conversation about Kashmir to allow students to express their unique concerns on regional policies, safely and respectfully. Trinity's academic, intellectual, and social environment pushed me to think outside the box and for that I am eternally grateful."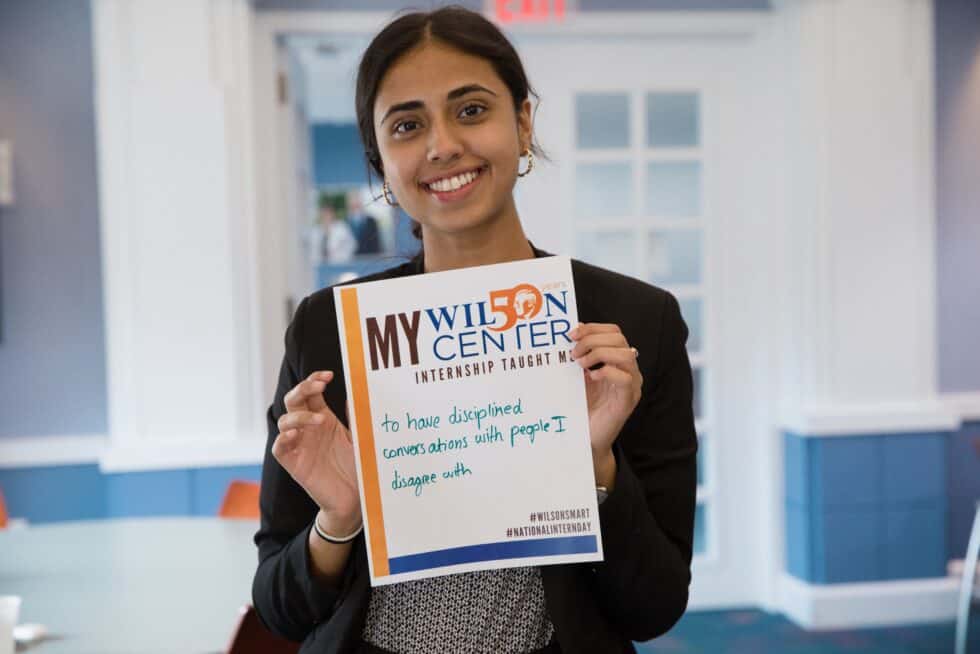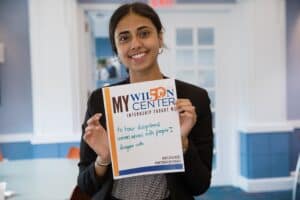 Following the Stimson Center fellowship, Tariq plans to work in Washington, D.C., for at least two more years and then attend law school or graduate school.
"Not only are Hamna's academic credentials and research experience a superb match for the Stimson Center, but she also demonstrates deep personal commitment to the issues and challenges of the South Asia region," said Anne Lundberg, Trinity's director of fellowships. "The Stimson fellowship is truly a win-win: her colleagues will benefit immensely from Hamna's expertise and research skills, and she will launch what I predict will be an exciting career in international affairs."
For more information about the Stimson Center fellowship programs and other fellowship opportunities, contact Lundberg at [email protected].