Hartford, Connecticut, August 1, 2018 – President Joanne Berger-Sweeney has announced the appointment of four new trustees to the Trinity College Board of Trustees. All four of the new trustees are alumni; one is the parent of two alumni and one received an honorary degree from Trinity. They are:
•    Peter S. Duncan '81, P'13, '14 of Rye, New York
•    Walter Harrison '68, H'18 of Wellfleet, Massachusetts
•    N. Louis Shipley '85 of Andover, Massachusetts
•    Adrian Lo '12 of Hong Kong
Peter S. Duncan '81, P'13, '14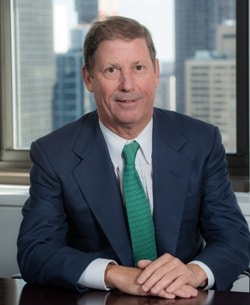 Peter Duncan has more than 30 years of experience in commercial real estate acquisition, financing, repositioning, management, and leasing, all at George Comfort & Sons, Inc. He is the controlling partner of the company and its president and CEO. Since taking over leadership of GCS in the early 1990s, he has acquired and redeveloped most of the company's owned properties, totaling more than $5 billion in value. He is integrally involved in the leasing and renovation of all of the company's assets.
Duncan is a licensed commercial broker in New York and New Jersey and is a member of the Real Estate Board of New York (REBNY) and board member of both the Realty Foundation of New York and Phipps Houses, as well as other not-for-profits.
Duncan earned a B.A. in American studies from Trinity. He and his wife, Chris, reside in Rye, New York, and have three grown children, including Hadley '13, Parrish '14, and Peter.
Walter Harrison '68, H'18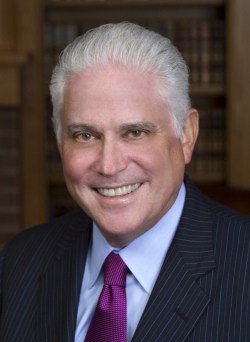 Walter Harrison served for nearly 20 years as president of the University of Hartford before retiring in 2017. His career in education began as a member of the English faculty at Johannes Gutenberg University in Germany, then at Iowa State University, and later at Colorado College, where he moved into administration. At the University of Michigan he served as vice president of university relations and secretary of the university before returning to Connecticut in 1998.
Harrison has served on numerous boards, including those of Saint Francis Hospital and Medical Center, Hartford Promise, and Capitol Squash, located on Trinity's campus. He also has held several positions in the National Collegiate Athletic Association (NCAA), including chair of the NCAA Committee on Academic Performance.
Harrison earned a B.A. with honors from Trinity, an M.A. from the University of Michigan, and a Ph.D. from the University of California, Davis, all in English. Trinity honored him in 1998 with its Alumni Medal for Excellence, and this past spring, the college awarded him an honorary doctor of humane letters degree. He and his wife, Dianne Mintz Harrison, reside in Wellfleet, Massachusetts.
N. Louis "Lou" Shipley '85

Lou Shipley is a technology CEO and lecturer at Harvard Business School and MIT Sloan School of Management. As CEO of Black Duck Software from 2013 through 2017, Shipley led the company's transformation into a global software security leader. In 2017, the firm was acquired by Synopsys, Inc., the world's 13th-largest software company.
Earlier in his career, Shipley was CEO of Reflectant Software (acquired by Citrix Systems) and VMTurbo (now Turbonomic). He joined his first software start-up, Avid Technology, in 1990 and lived in Japan while managing Avid's Asia Pacific business. Shipley currently writes and comments regularly on technology and business topics and serves on the boards of CustomerGauge, FairMarkIT, Teamworks, Rekener, and Alchemista.
Shipley earned a B.A. in economics from Trinity, where he was a member of the men's ice hockey team. While at Trinity, he studied at the London School of Economics. He went on to earn his M.B.A. from Harvard Business School. Shipley and his wife, Amanda Clarke Shipley, have three children and reside in Andover, Massachusetts.
Adrian Lo '12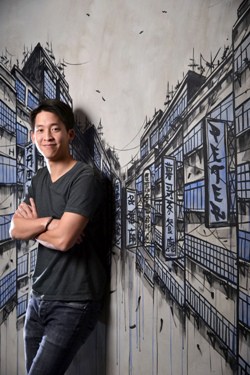 Adrian Lo is managing director of Foodjoy Concepts, where he founded, operates, and manages two KASA restaurants in Hong Kong, and of Foodjoy Solutions, where he manages a venture investment portfolio specifically focused on sustainability. Lo also serves as an executive director at the Shui On Investment Group, his family office. He sources and manages strategic investment opportunities and manages the existing investment portfolio. In addition, Lo works closely with Shui On Land Development, a premier real estate developer based in Shanghai, to bring the top overseas retail and food and beverage brands into the Chinese market.
Prior to starting his own venture, Lo worked at Maxim's Group, the largest restaurant conglomerate in Hong Kong, as a management trainee. He was among the first employees to help expand the company's business into northern China.
Lo earned a B.A. in international studies: Asian studies, with a focus on international politics, from Trinity. He has a keen interest in sustainability and environmental issues and is working to help Hong Kong, where he lives, become a more sustainably run city.
A full listing of the Trinity College Board of Trustees can be found on the College's website here.