Back to News
Elizabeth Sockwell '21 Leads Memorial Tree-Planting Effort with Passion and Persistence
Trinity in the News
posted
Trinity College graduating senior Elizabeth Sockwell '21 doesn't take no for an answer. The history major knows it can take a lot of tenacity to get work done, and Sockwell's 4C Tree Project is an example of her persistence paying off.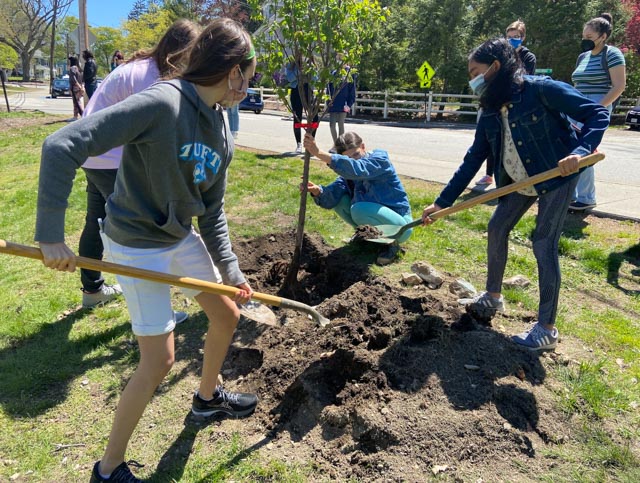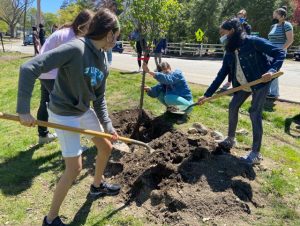 In October 2020, the Trinity student created the 4C Tree Project in Newton, Massachusetts, to honor those who have lost their lives due to COVID-19. The project 4C, spearheaded by Green Newton's Environmental Youth Leadership Program, stands for "Capture, Carbon, Commemorate COVID-19."
Sockwell said when she first approached people about this idea, she heard from a lot of naysayers who didn't believe the project would get funding or attention. Those people were wrong. To date, the project has raised more than $45,000 and garnered attention from the Boston Globe, The Patch, The Heights, and Boston 25 News … to name a few.
"This project was bigger than me. I had to continue pushing forward; it was about uplifting people," said Sockwell. "This project was about doing something important. I wanted people to feel like their loved ones would be memorialized."
The Green Newton website explains why the 4C Tree Project chose to plant trees in honor of those lost to the virus. Among the reasons were the practicality of trees and their environmental benefits, in addition to trees symbolizing life, connection, strength, and ancestry.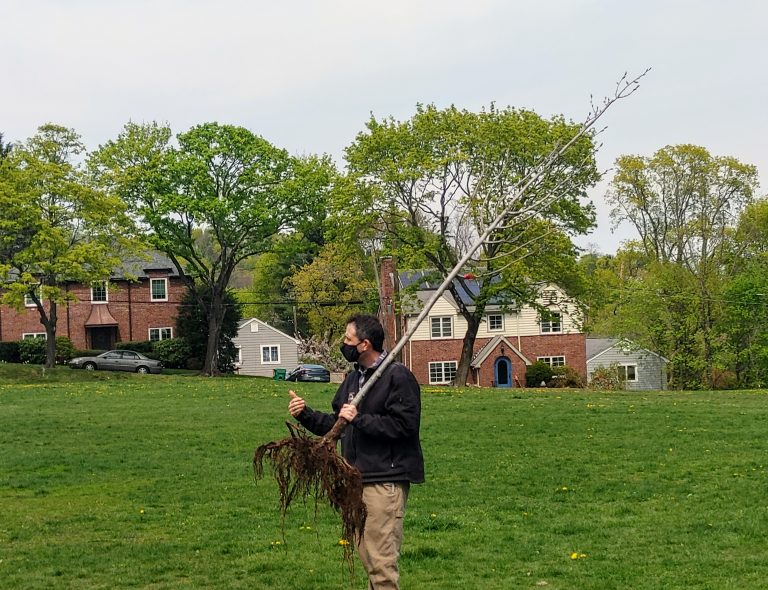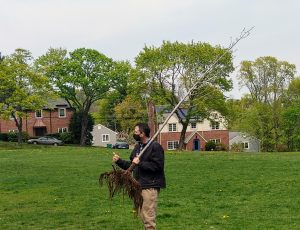 "Trees are simply beautiful, and everyone can benefit from them," said Sockwell.
Marc Welch, the City of Newton's Urban Director of Forestry, said, "What drew me to this project right away were two things: Our community has had a history of street tree loss over the past 40 years or so, and anything we can do to get more trees planted is highly needed. Elizabeth's drive and determination were amazing, and I couldn't help but want to assist with this project. She was able to use her passion … and create a lasting, positive impact."
For Newton South High School senior Yoshi Futai, the decision to get involved was simple. She said she heard about the project through her school's sustainability class. "The project is important to me because it connects my passions in sustainability with the community," said Futai. "Our town has felt the impacts of the virus and to be part of a project where we are able to commemorate the lives lost to COVID-19 and restore our local tree canopy at the same time means a lot to me and the 4C Tree members."
To get the project off the ground, Sockwell also worked with Green Newton President Marcia Cooper. Sockwell needed to set goals, prepare for fundraising, and learn about urban sustainability and urban forestry.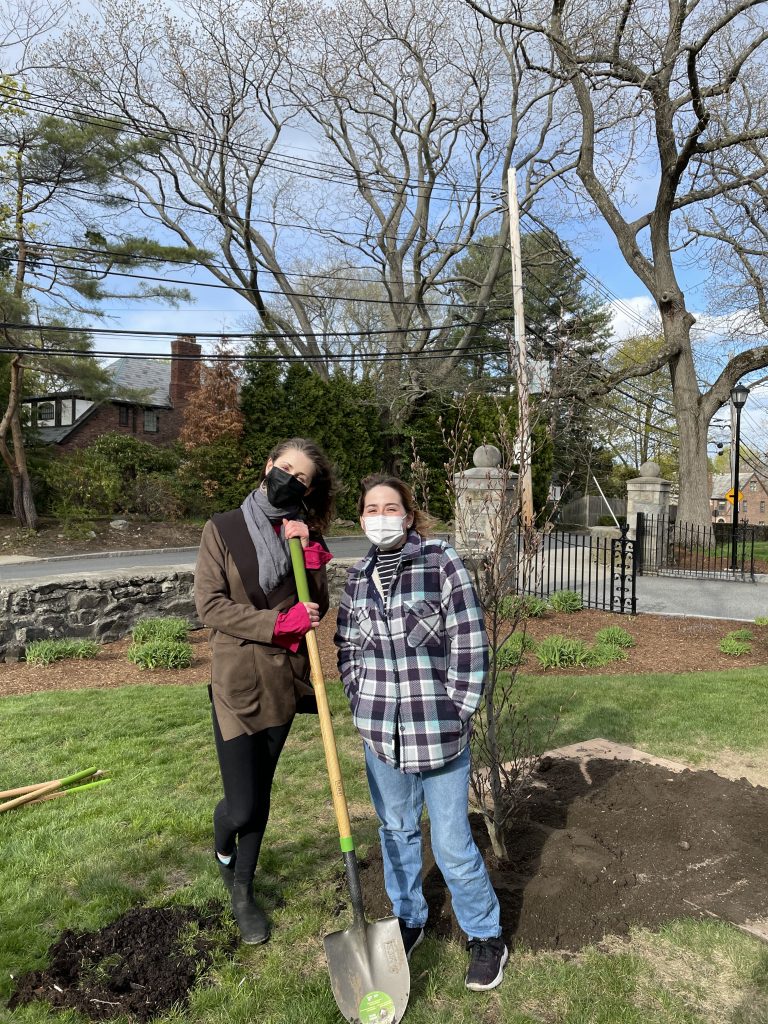 "During this pandemic, I had to remain indoors, but I love interacting with people. I'm a total extrovert," said Sockwell. "However, I learned that if you have a computer or your phone, you can still make changes happen. You can achieve tangible results. That empowered me and moved me. I found people in my city that care."
Sockwell said she began with Cooper and the Youth of Green Newton to start campaigning for the task. They began with sending out postcards to city councilors, neighbors, and friends to make people aware of the 4C Tree Project. The first postcards had a goal of about 10 trees, with each tree costing around $150.
"I felt a tree planting project to honor lives lost to COVID-19 would be uplifting to our community in such a difficult time," said Cooper. "Initially, we had no idea how we could make it happen, and so I explored the possibility with leaders of my environmental group, Green Newton."
Cooper said the collaboration between Sockwell, her team of students and Green Newton leaders, as well as the support of Newton's forester helped contribute to the project's success. Currently, the city crews are in the process of planting 130 trees this spring, with extra funds being raised to plant more than 100 trees in the fall of 2021.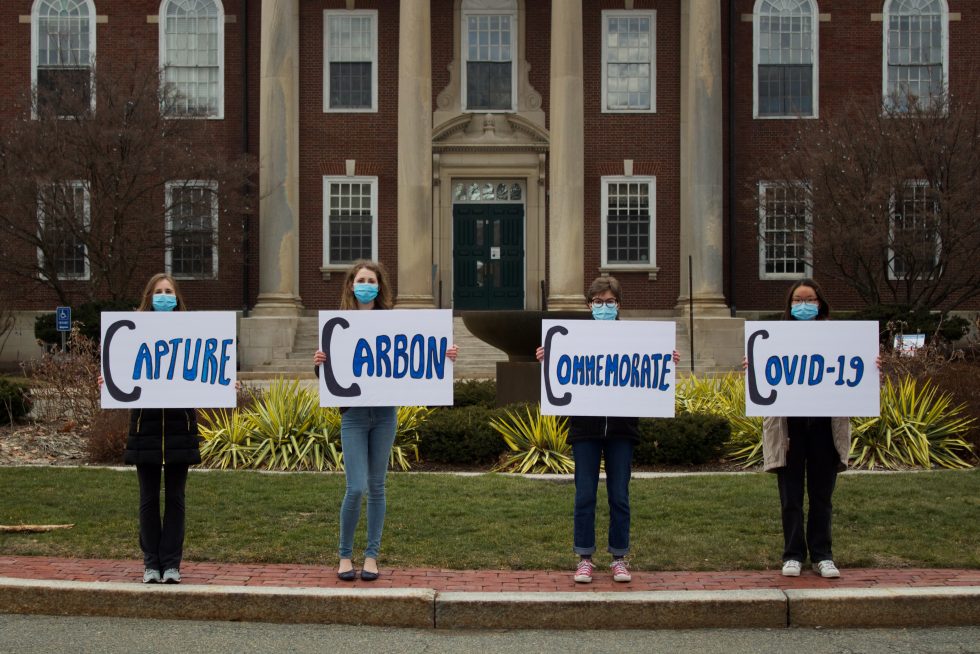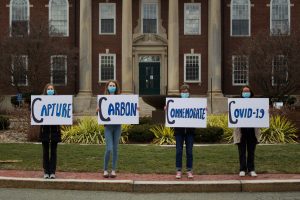 "The way I see it, older generations ought to listen well to ideas that are proposed by college students and teens and assist them in making good ideas become a reality," said Cooper.
To donate to the 4C Tree Project, go to Green Newton for more information.