Back to News
Connecticut Public Reports on Trinity Students' Analysis of Hartford Schools Integration
Trinity in the News
posted
Jacqueline Rabe Thomas M'17, who earned her master of arts in public policy at Trinity College and is now an investigative reporter with Connecticut Public's Accountability Project, returned to campus in the spring 2022 semester to report on the work that students were doing in an Educational Studies class.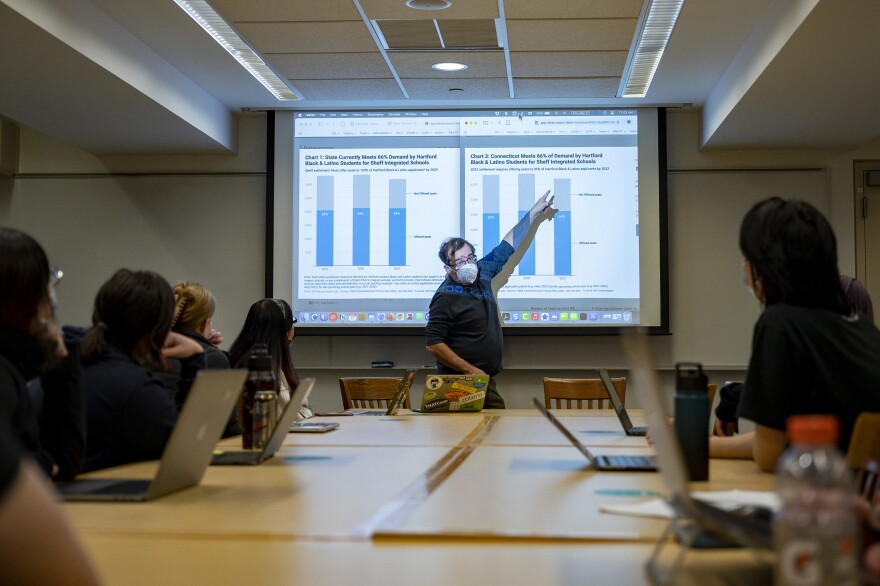 Following up on the January settlement agreement of the 26-year-old Sheff vs. O'Neill Hartford schools desegregation case, students in Professor of Educational Studies Jack A. Dougherty's "Cities, Suburbs & Schools" course created data visualization graphics to illustrate the current state of Hartford school integration.
The Connecticut Public story published by Rabe Thomas on May 11, "Trinity College Students' Analysis Finds State Far from Promises Made to Desegregate Hartford Schools," says, "Students spent a semester taking the 87-page Sheff v. O'Neill agreement filled with hard-to-digest numbers and legal jargon and translating it into a few graphics to help the public understand how far the state is from the agreement's goal." Quoted in the story along with Dougherty are students Maria Vicuna '24 and Victoria Asfalg '23.
Click here to read (or listen to) the full story, and to see some of the charts created by the students.