Back to News
CNN Legal Analyst Joan Biskupic Receives Trinity's Moses Berkman Memorial Journalism Award
Announcement
posted
by Grace Culver '19
Joan Biskupic, a CNN legal analyst who has covered the U.S. Supreme Court for 25 years and has authored several biographies of Supreme Court justices, offered a recent lecture at Trinity College called, "Covering and Uncovering the Roberts Supreme Court," detailing her experience as a political journalist, analyst, and author. Biskupic was honored as the recipient of the college's 2018 Moses Berkman Memorial Journalism Award, which recognizes the careers of outstanding journalists. Professor of Religion in Public Life Mark Silk, director of the Leonard Greenberg Center for the Study of Religion in Public Life at Trinity, presented the award to Biskupic in Mather Hall's Terrace Rooms on November 15.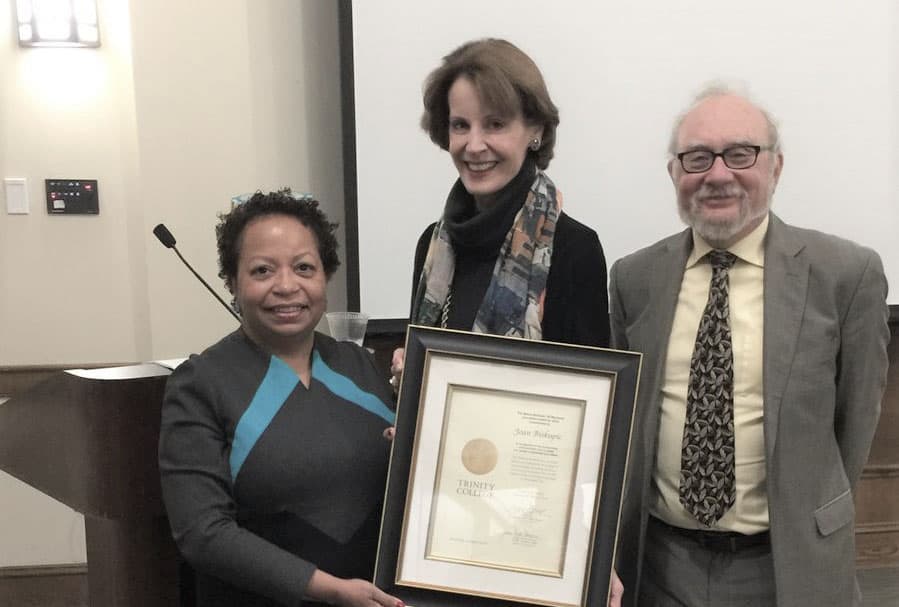 Biskupic is a graduate of the Georgetown University law school and has worked as a visiting law professor at the University of California, Irvine, and as editor-in-charge for legal affairs at Reuters. Prior to joining CNN in 2017, Biskupic was the Supreme Court correspondent for the Washington Post and USA Today.
Trinity College President Joanne Berger-Sweeney introduced Biskupic and her lecture. "Over the course of three decades, Americans have relied on Joan Biskupic's work to understand the role and work of a central institution in our lives: the United States Supreme Court. She has not only covered its decisions with clarity, accuracy, and insight, but also helped Americans grasp the views, personalities, and interactions of the justices who are the final interpreters of our laws," Berger-Sweeney said. "In an era of violent partisanship, Joan Biskupic is even-handed, thoughtful, informative, insightful, and interesting."
During her lecture, Biskupic spoke about how she seeks to make the Supreme Court accessible to all people. She said, "The possibility of illuminating the Court for two million readers all across the country seems like a terrific challenge. I've always believed that the Supreme Court was something that I wanted to bring home to everyone, not just the lawyers in Washington or the people in powerful positions."
Biskupic's various positions over the course of many years have allowed her to develop a context-rich perspective in her work, she said. Beyond her work at CNN, Biskupic writes biographies of Supreme Court justices, providing a critical human sense of who the Supreme Court justices are and how they work together. In her lecture, she discussed her forthcoming biography of Chief Justice John Roberts, The Chief: The Life and Turbulent Times of Chief Justice John Roberts. She said, "I want to leave my readers with a better understanding of John Roberts, and an understanding of how journalists gather information; I tried to illuminate this most mysterious branch of government as well as this enigmatic chief justice."
Biskupic noted how Roberts, as the 17th chief justice of the U.S. Supreme Court, has cultivated a certain image. "People deserve to understand this man… Justices aren't political, they're ruling on law, not their own experiences," she said. She was determined to get through to Roberts in order to understand him and the origins of his views. Biskupic talked about how her process of obtaining information is all about discovery and how she did not hold back from asking him all of her questions. Biskupic also mentioned the mutual skepticism and frustration in obtaining information as a biographer. "I felt I came to understand the gap between appearance and reality that exists up there," she said.
Dan Berman '01, assistant managing editor for CNN Politics, was among those in attendance. "I'm glad students had a chance to hear about the future of the Supreme Court from one of the top journalists covering it, and meet Joan to talk shop about CNN and the future of journalism," Berman said. "The timing couldn't be better as we continue to fight for freedom of the press, and eyes turn toward the Supreme Court's new conservative majority led by Chief Justice John Roberts."
The Moses Berkman Memorial Journalism Award is supported by The Moses and Florence Berkman Endowed Fund at Trinity College, in honor of the late Moses Berkman, Class of 1920. Berkman was a journalist who served the Hartford Times as a political correspondent, columnist, and editorial writer from the early 1920s until his death in 1956. The award is given every two years by Trinity's Program on Public Values.