Back to News
Athletic Giving Week Sparks Competition in Alumni Community and Celebrates Student-Athletes
Athletics
posted
by Tess Dudek-Rolon
The Trinity community once again showed its strong support for student-athletes during the third Trinity Athletic Giving (TAG) Week, held February 8-15, 2021. This annual initiative focuses on connecting Trinity Athletics with its network of alumni, families, and friends through a fundraising competition. The different athletic teams competed for the highest total of dollars raised and the largest percentage of alumni and parent participants. This year, TAG Week saw a 45% increase in online gifts over the previous year and a total of 1,435 unique donors.
"TAG Week has become a tradition for us in Athletics," said Director of Athletics Drew Galbraith. "It's a time we can connect with our alumni and parent community and build support for our hard-working student-athletes and coaches. Plus, we're always game for a little friendly competition."
One special feature of this yearly fundraising initiative is the opportunity for those alumni and parents who were athletes or are parents of Trinity athletes to feel like they are joining in the competition. Bantam sports get a boost on their rosters when TAG Week comes around, because the weeklong competition inspires graduates and families alike to feel like part of the team.
TAG Week Committee Co-Chairs Andrew Rathmann-Noonan '09 and Virginia Vogel Yonce '87, P'23 helped lead the way in this effort by motivating 56 alumni and parent volunteers to help bring some Bantam spirit to the friendly competition. The results were nothing short of a victory for athletics: more than $465,000 was raised for student-athletes during TAG Week, more than double last year's total. Of the 23 teams that participated, 18 met their goals during the competition, earning extra funding for their athletes.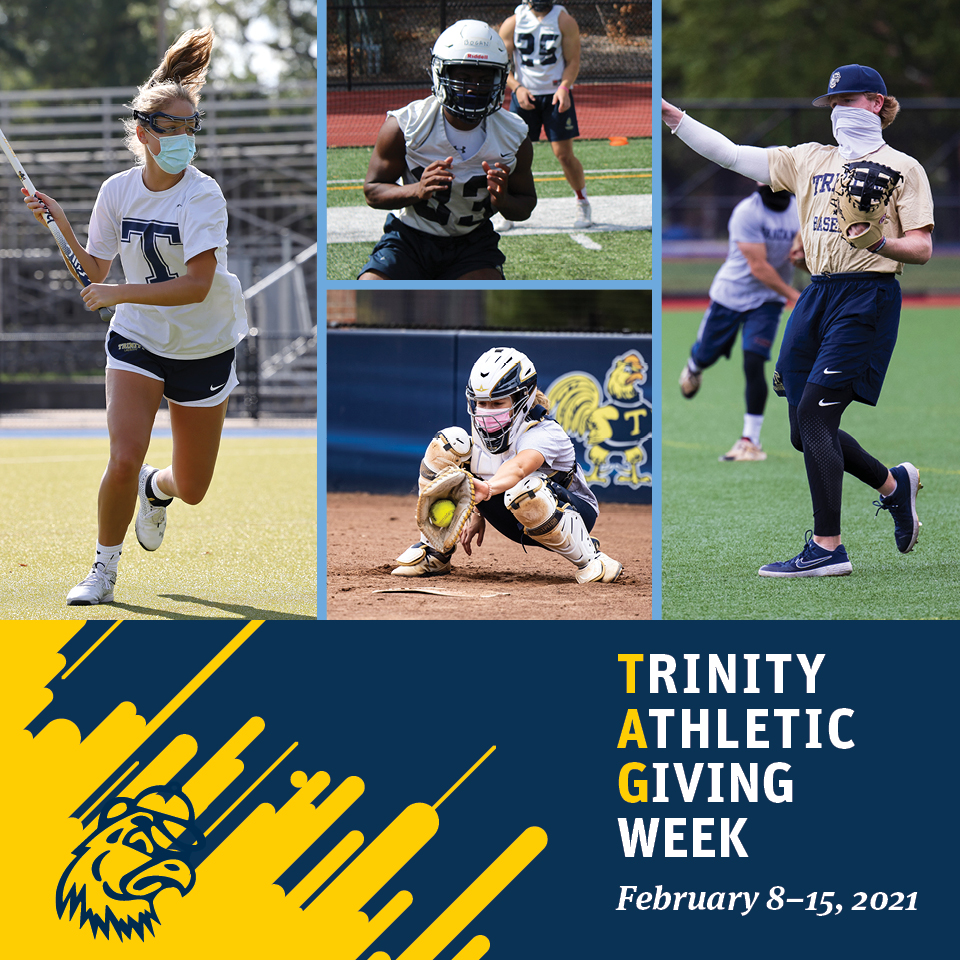 Rathman-Noonan emphasized that supporting athletics is of critical importance, particularly this year. "Now more than ever, TAG Week is about coming together as current and past Trinity College student-athletes to support the teams and communities that cultivated lifelong friendships and incredible experiences. I'm proud to once again participate in a successful TAG Week," he said.
Thanks to the generosity of athletics supporters, Trinity athletics teams have had a vital boost of resources. In particular, the winning team that had the highest donor participation—women's soccer—and most funds raised—men's ice hockey—will have an additional $2,500 added to their budgets this year as a prize.
The commitment to Bantam sports in Trinity's community is buoying, particularly after a difficult year when many athletes saw their regular competitions curbed by the COVID-19 pandemic. With another TAG Week in the books, Trinity student-athletes have once again been reminded that their teams extend far beyond the walls of Trinity into a global network of alumni and families. As Vogel-Yonce put it, "When alumni and families come together to support our athletes, we're investing in something we love, and an important part of life at Trinity."
Read more about TAG Week 2021 and click here to contribute your gift to Trinity College.