Back to News
Associate Professor of Music Eric Galm to be Named Honorary Citizen of Itabira, Brazil
Academics
posted
by Alexandra Fischbein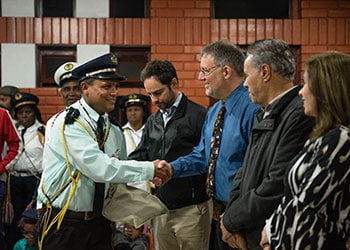 Hartford, Connecticut, August 10, 2018 – "It's amazing what tangible results can emerge from just one idea," said Eric Galm, associate professor of music and founding producer of Trinity's annual Samba Fest, reflecting on a recent trip to Itabira, Brazil.
Galm, who has lived, studied, and traveled extensively in Brazil and wrote his dissertation on Brazilian music, was invited in July to visit the Itabira City Council chambers to present his research. During his visit, he learned that, this fall, he will be named an honorary citizen of Itabira.
Galm said the strong connections that have developed between Trinity and the people of Brazil have a lot to do with an appearance at Samba Fest 2015 by Meninos de Minas, a musical group and social project involving young people, ages 8 to 18, from the Minas Gerais region of Brazil. Members of the group learn musicianship and instrument craftsmanship skills to help them prepare to enter the workforce. Inspired by the young performers and the musical and cultural traditions they embrace, Galm produced a brief documentary video about Meninos de Minas.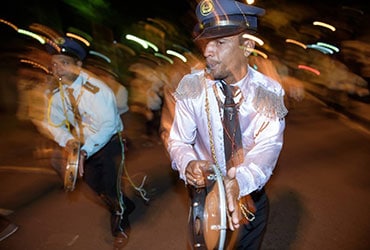 After completing the video project about Meninos de Minas in 2015, Galm developed a research project to further explore how these young musicians relate to the religious, historical, and cultural aspects of the Congado Mineiro, an Afro-Brazilian drumming and singing religious tradition that, Galm noted, has been practiced since long before Brazil's abolition of slavery in 1888. This research was formally presented in May during Samba Fest 2018 in a conference titled "Rhythmic Reflections: Exploring Community through Brazilian Music."
Galm said the idea behind the Rhythmic Reflections conference was to share his research and the musical traditions with Trinity College students, faculty, and staff, as well as the Greater Hartford community, which includes a sizable Brazilian population. The conference included a photography exhibition, Minas, Afro-Gerais: Roots and Connections of Tradition, showcasing the roots and extensions of Afro-Brazilian culture from Minas Gerais. The conference concluded with a grand Congado Mineiro procession across Trinity's campus from Austin Arts Center to the Trinity Chapel. From the mid-1500s to today, processionals such as this have taken place throughout Brazil and have traditionally served as a coronation ceremony to inaugurate an annual community leader. (Read more about Samba Fest 2018 and the music conference.)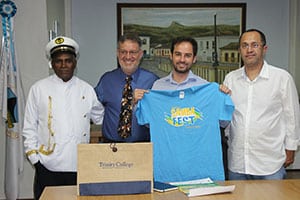 A highlight of Galm's July visit to Brazil was when all 11 of the Congado groups in Itabira—approximately 300 participants in total—processed from the Itabira City Hall to the Carlos Drummond de Andrade Cultural Foundation, where the groups received new official uniforms. Also in attendance, and recognized by city officials in an award ceremony, were several Brazilian performers who participated in Samba Fest 2018 and the Rhythmic Reflections conference at Trinity. Hartford-based photographer Monica Jorge, whose images of Samba Fest 2018 were featured in a photographic exhibition, Afro Mineiro Roots—Drums in the World and the Congado from Itabira, also attended the gathering in Itabira.
Galm said that seeing Jorge's photos of Samba Fest on display and witnessing the massive procession through the city of Itabira just a few months after participating in a similar procession across Trinity's campus demonstrated, on an international scale, the value of bringing visibility to common popular musical traditions. Galm noted that the research that led to the July celebration in the city of Itabira would not have been possible without support and encouragement along the way from the Latin Grammy Cultural Foundation, the City of Itabira, the Secretary of Culture of the State of Minas Gerais, and Trinity College.