Back to News
An Animated Conversation with Kristine Belson '86, President of Sony Pictures Animation
Trinity College alumna Kristine Belson '86, the president of Sony Pictures Animation, has fond memories of watching films at Cinestudio, the celebrated arthouse theater on campus that played a role in her journey from Hartford to Hollywood.
"Cinestudio was hugely important. I have amazing memories from there. It's an incredible theater and it's remarkable that the campus has it," Belson said during her recent Virtual Long Walk conversation with Trinity College President Joanne Berger-Sweeney.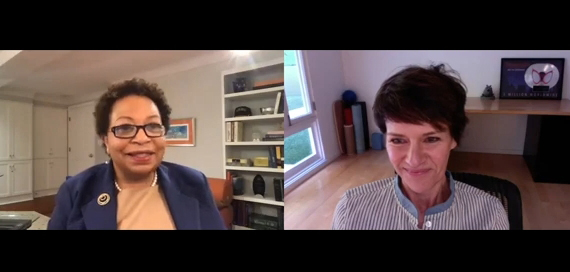 In the remote hour-long discussion on November 19, 2020, titled "From Hartford to Hollywood: An Animated Conversation with Kristine Belson '86," the alumna spoke about how she came to Trinity (Cinestudio was a contributing factor) and how she got into the film industry, eventually becoming the leader of one of Hollywood's most innovative animation studios. She also talked about how her Trinity professors and classmates influenced her, and shared her perspective on the changing media business and why animation continues to capture imaginations worldwide.
Watch the full conversation below or click here.
As the president of Sony Pictures Animation, features and series, Belson is responsible for spearheading the studio's strategy and growth, as well as overseeing the development and production of all theatrical, serial, and short form content on the Sony Pictures Animation slate. The studio most recently collaborated with filmmaker Matthew A. Cherry on the short film "Hair Love," which won the Academy Award for Best Animated Short. The studio's latest feature release, the critically-acclaimed "Spider-Man: Into the Spider-Verse," was the winner of the Academy Award for Best Animated Feature.
Belson joined Sony Pictures Animation in 2015 after spending nearly a decade at DreamWorks Animation, where she produced the Academy Award-nominated animated feature, "The Croods." Belson also served as executive producer of the Academy Award-nominated film, "How to Train Your Dragon." Belson joined DreamWorks Animation with over 15 years' experience developing and producing live-action and animated films for the Jim Henson Company, Columbia Pictures, Turner Pictures, and 20th Century Fox.
See more Virtual Long Walk presentations here.