Back to News
Alicia Camuy '22 Receives Prestigious Barry Goldwater Scholarship
Announcement
posted
by Emma Sternberg '21
Trinity junior Alicia Camuy '22 has been selected to receive the Barry Goldwater Scholarship from an estimated pool of more than 5,000 students from across the country. The scholarship is one of the most prestigious awards for students interested in pursuing careers in the natural sciences, mathematics, and engineering. Camuy—a clinical/cognitive Neuroscience major interested in neuropsychology—was chosen for this honor by the Barry Goldwater Scholarship and Excellence in Education Foundation.
"This scholarship, especially as a first-generation college student, is a huge foot in the door for me," said Camuy. "It will afford me the opportunity to do the research I love and help me attend a Ph.D. program after I graduate from Trinity."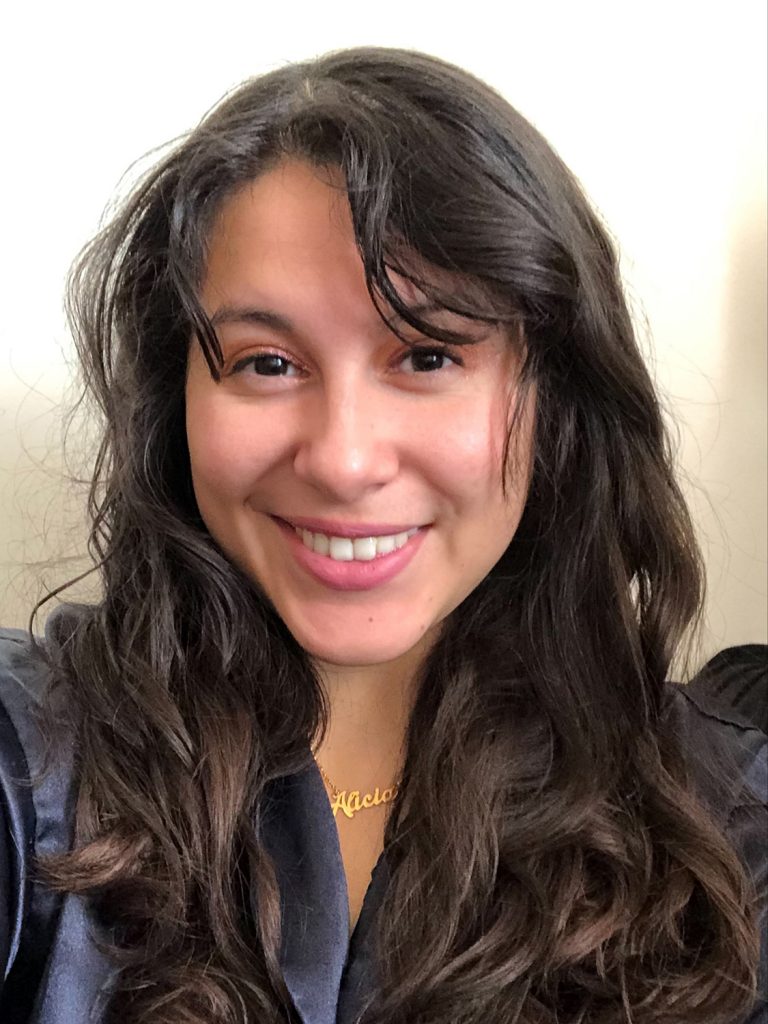 While Camuy is already looking ahead toward her studies after she graduates next spring, she reflected on what originally brought her to Trinity. "I am from Chicago, and in high school I participated in the National Hispanic Institute, which helped connect me with Trinity so I could visit the campus and learn about the school," said Camuy. "I came to find out that the people at Trinity are friendly and willing to offer so many resources to students. Even before I decided to attend Trinity, I could feel how supportive the community was."
In her first year, Camuy was a part of the Interdisciplinary Science Program (ISP), an academic program for first-year students that links scientific disciplines to their connections in the world.  Through ISP, Camuy had the opportunity to participate in research with Charles A. Dana Professor of Psychology and Neuroscience Sarah Raskin. "Dr. Raskin has been a pillar of support throughout all my time at Trinity," said Camuy. "Her lab was my number-one choice when I selected research positions for my second semester in ISP."
In Raskin's lab, Rehabilitation of Memory for Individuals with Neurological Diagnoses (ReMIND lab), Camuy has been researching Memory for Intentions Screening Tests (MIST), which evaluates perspective memory, or the ability to remember to carry out a future task. "Through my research, I have discovered that the MIST assessment isn't necessarily appropriate for all populations, specifically Spanish speakers. As a result, I applied for a Student Initiated Research Grant (SIRG), initiated the Institutional Review Board (IRB) process, and created new assessments on my own," said Camuy. "I appreciate how much respect Dr. Raskin shows for her students and the freedom she gives us to take initiative on our own research. She gives us agency and ownership of our projects.  Everything she does is to empower us, especially to empower underrepresented groups on campus and in the Hartford community."
Raskin said, "Alicia is one of the brightest, most intellectually curious and creative students I have had in my time at Trinity. Her interest in the cultural impact on cognition informed my research program and moved my research in a new direction. Her research is creative and well-designed and will have an impact on the field of neuropsychology and on both the English- and the Spanish-speaking communities."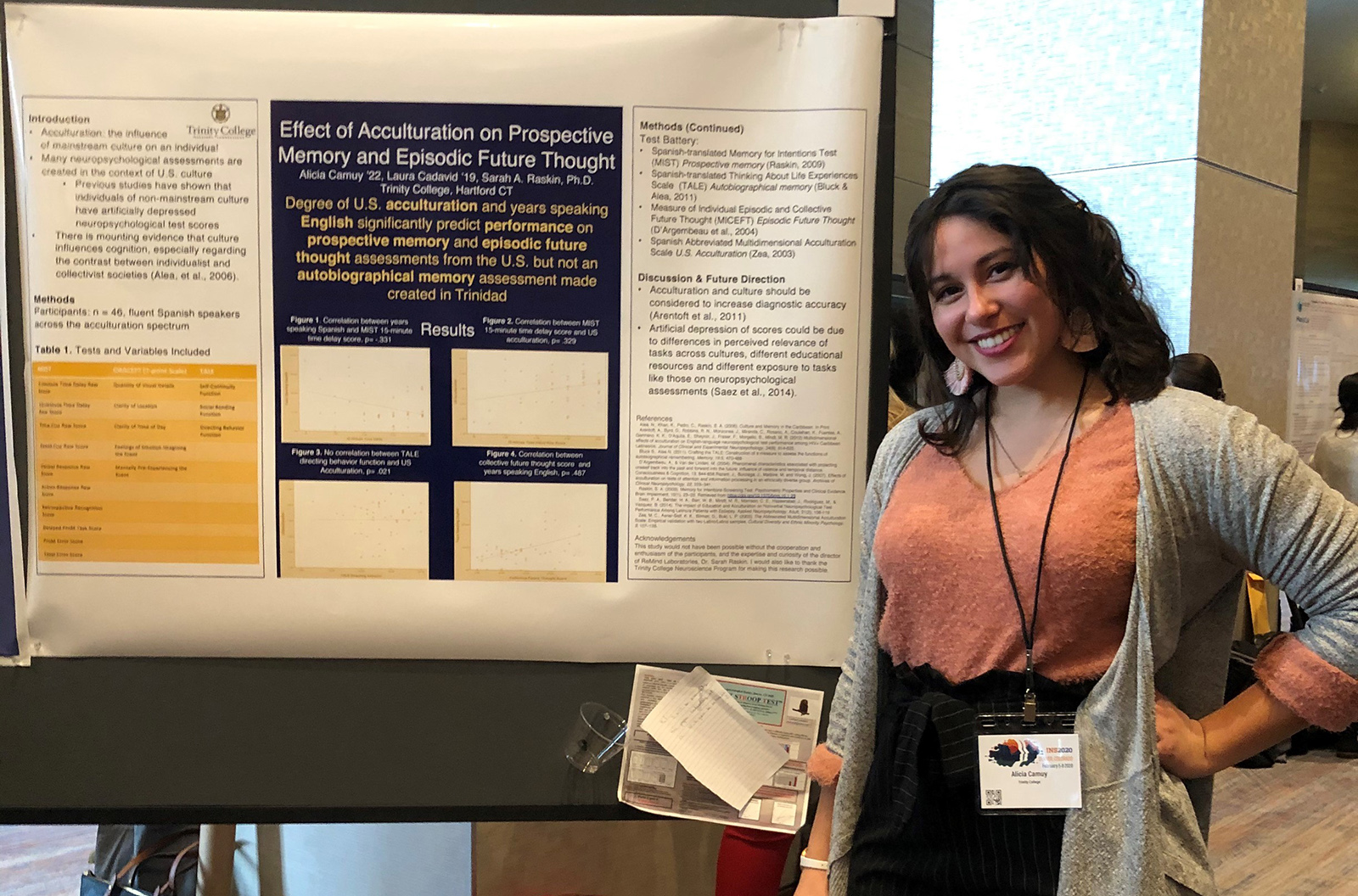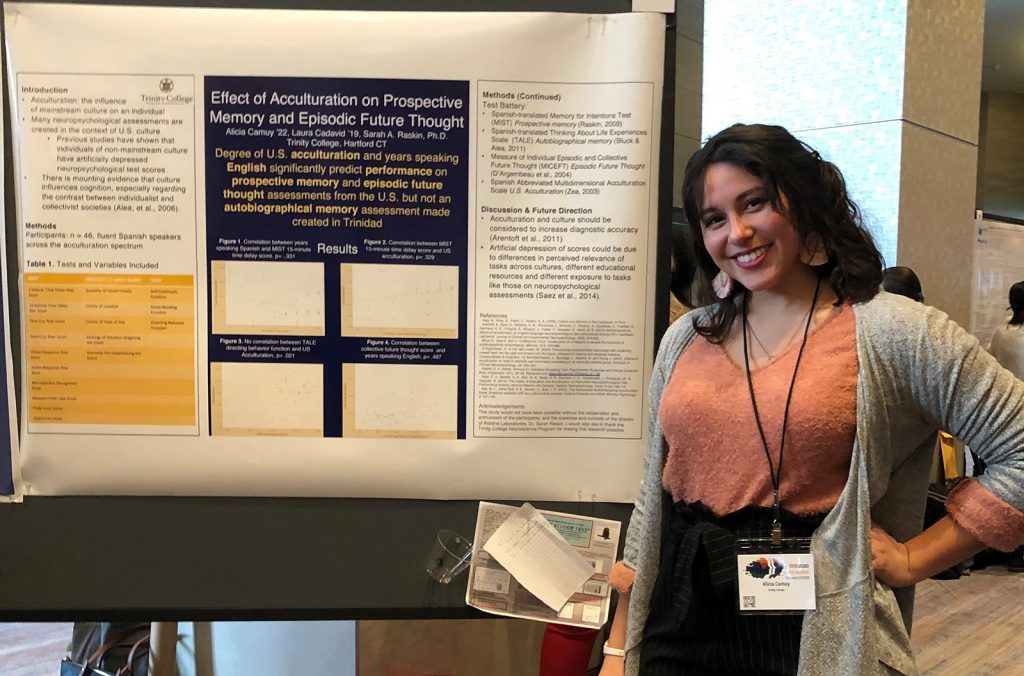 Center for Interdisciplinary Science Director Alison Draper, who also leads the ISP at Trinity, added, "Alicia has presented at national conferences and is already networking with top researchers in her field. She is passionately interested in the work she is doing, she already has the resume of a researcher, and she has all the personal characteristics of someone who will be an intellectual leader in their field."
In addition to her extensive neuroscience research, Camuy appreciates taking courses across many disciplines at Trinity. "While I am Neuroscience major, I appreciate the liberal arts experience," said Camuy. "I have taken courses in Hispanic Studies, Theater and Dance, and in Anthropology, in addition to my STEM classes."
Camuy is also a leader in many of her involvements outside of her coursework. She is the community connectivity chair for La Voz Latina, founder of Trinity's Multicultural Affairs Council, a first-generation peer mentor, a big sister in the Big Sister-Little Sister program, and a student worker at Trinfo Café.
Next fall, Camuy will also be the first-year mentor for ISP. Draper said, "Alicia was the mentor for the first-year seminar in Costa Rica in fall 2019 and has also agreed to serve as the mentor for ISP next year. So in addition to her own excellent work, Alicia has been actively pulling others along with her."
Camuy is enthusiastic about continuing to develop her research and follow her passions. "When we are little, science is so often presented as facts that we already know," said Camuy. "However, I've begun to learn that science is a lot about what we don't know. I am learning how to be skeptical and how to explore the fascinating unknowns of the world and want to continue to do so in my future."