Hartford, Connecticut, June 13, 2018—Trinity College will host the 69th annual Plumb Memorial Carillon Concerts and the 44th annual Chamber Music Series as a part of its 2018 Summer Music Series. The series will run weekly on Wednesdays throughout the summer, rain or shine, starting on June 27. The Summer Music Series is free and open to the public. Parking will be available on Summit Street and Vernon Street. The carillon concerts will run each Wednesday from June 27 to August 1 and will take place at 7:00 p.m. on the Main Quad, which is beside the Trinity College Chapel. Starting on July 11, Chamber Music Series concerts held inside the Chapel will precede the carillon concerts at 6:00 p.m.
The Chamber Music Series, which began in 1974, is currently under the direction of Robert Edward Smith, Trinity College Chapel composer in residence. Funded partially through private contributions, this music series presents regional, national, and international chamber music ensembles to the Hartford music audience.
For the carillon concerts, listeners convene outside the Chapel on the quadrangle to enjoy the music of the 49-bell carillon, one of approximately 200 such instruments in North America. Many fans of the carillon series enjoy bringing picnics to these outdoor concerts.
Trinity's Summer Music Series will kick off on June 27 with a concert by Trinity College Carillonneur Ellen Dickinson.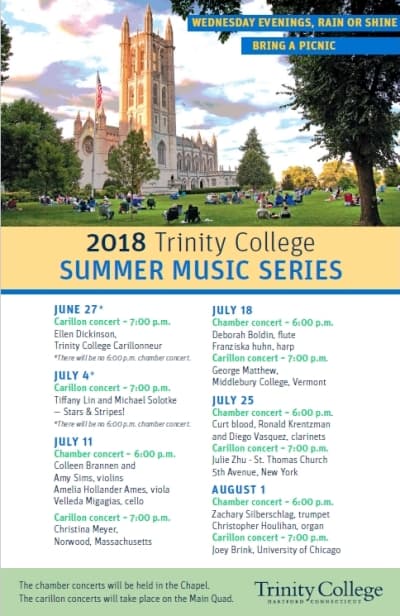 The complete schedule for the series is below:
June 27
Carillon Concert – 7:00 p.m.
Ellen Dickinson – Trinity College Carillonneur
July 4
Carillon Concert – 7:00 p.m.
Tiffany Lin and Michael Solotke – Stars & Stripes!
July 11
Chamber Concert – 6:00 p.m.
Colleen Brannen and Amy Sims (violins), Amelia Hollander Ames (viola), Velleda Migagias (cello)
Carillon Concert – 7:00 p.m.
Christina Meyer – Norwood, Massachusetts
July 18
Chamber Concert – 6:00 p.m.
Deborah Boldin (flute), Franziska huhn (harp)
Carillon Concert – 7:00 p.m.
George Matthew – Middlebury College, Vermont
July 25
Chamber Concert – 6:00 p.m.
Curt blood, Ronald Krentzman and Diego Vasquez (clarinets)
Carillon Concert – 7:00 p.m.
Julie Zhu – St. Thomas Church 5th Avenue, New York
August 1
Chamber Concert – 6:00 p.m.
Zachary Silberschlag (trumpet), Christopher Houlihan (organ)
Carillon Concert – 7:00 p.m.
Joey Brink – University of Chicago
For more information on the summer concerts, call 860-297-2012. The Trinity College Summer Music Series is made possible in part by the generosity of loyal donors. It is only through such support that these performances are able to remain free and open to the public. For more information on how to support the series, contact Carol Darr in Trinity College's Advancement Office at 860-297-2339 or carolyn.darr@trincoll.edu.