The 10th annual Trinity Film Festival (TFF) will resume its tradition of premiering short films at Cinestudio, the beautiful independent movie theater on the campus of Trinity College, and will also feature selected shorts online at www.trinfilmfestival.org for a limited time. The festival, which welcomes some of the most talented undergraduate filmmakers in the world to Hartford each spring, was forced to pivot to a virtual event in 2020 due to the COVID-19 pandemic. Learning from that successful experience, and with the support of Xfinity as the 2021 presenting sponsor, this year viewers will be able to view selected student short films online starting May 3, culminating in a live awards ceremony announcement on May 8.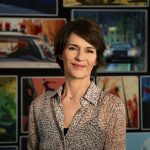 The festival awards over $4,000 in cash prizes to top student filmmakers, as judged by a panel of industry professionals. New to the judging panel this year is Oscar nominated producer and president of Sony Pictures Animation, Kristine Belson. "I am thrilled to be a part of such a prestigious event that celebrates the future filmmakers of the industry," she said. Belson, a Trinity College alumna, will be joined on the panel by two-time Academy Award-winning writer and producer Brian Hayes Currie, Hartford-based filmmaker Pedro Bermudez, and longtime Cinestudio Executive Director Peter McMorris.
A new initiative unveiled this festival season is a BIPOC Excellence in Film Award. In a statement on the festival website, the TFF organizing committee said, "We acknowledge the substantial systemic barriers and hurdles that BIPOC artists face when navigating our industry and we want to be part of the solution. This is why we've created a new award for 2021 specifically to celebrate works of Black, Indigenous filmmakers and filmmakers of color." This award will be presented live, virtually, along with the other awards on May 8.
The public will have the opportunity to vote online for their favorite productions, and all selected shorts will also be featured on Xfinity's local On Demand platform across New England. "We believe in supporting the communities where our customers and employees live and work, and, like Trinity, are committed to ensuring a culture of diversity, equity and inclusion and helping the local arts scene flourish," said Brian Ferney, Vice President of Sales and Marketing for Comcast's Western New England Region. "Partnering with Trinity Film Festival to foster student filmmaking not only expands our diverse programming offerings but is an example of how our technology connects people to what's important to them."
The organizing team of the festival is made up almost entirely of undergraduates at Trinity College. John Michael Mason, who founded the festival in 2012, acts as festival Executive Director and currently serves as Board Chair for Cinestudio, Inc. Showtimes for the independent theater can be found at www.cinestudio.org.