Joining Forces to Support Refugee Scholars
Amid new U.S. immigration policies and threats to academic freedom around the world, Trinity College is among 11 U.S. institutions of higher education that have joined to form The New University in Exile Consortium (The New UIE Consortium), affirming a commitment to providing a haven for refugee scholars.
The New UIE Consortium is led by the New School in New York City, which will host a public launch event on September 6, 2018, at 6:00 p.m., featuring a discussion between David Miliband, president and CEO of the International Rescue Committee and former foreign secretary of the United Kingdom, and Kati Marton, Hungarian-American author and award-winning journalist.
Trinity College Dean of the Faculty and Vice President for Academic Affairs Tim Cresswell said, "The practice of academic freedom by scholars around the world has often proved threatening to those who seek unquestioned rule. It is not surprising, therefore, that many great scholars, from Albert Einstein to Theodor Adorno, have also been exiles. Trinity College is delighted to be part of this important project finding homes for scholars in a troubled world."
The New UIE Consortium includes the following schools: Barnard College, Brown University, Columbia University, Connecticut College, Georgetown University, The New School, George Mason University, Rutgers University-Newark, Trinity College, Wayne State University, and Wellesley College.
Each institution will provide space and resources to support its hosted scholars. As the administrative base for The New UIE Consortium, The New School will work to foster an intellectual community among the scholars and their host institutions through joint programming.
The New UIE Consortium takes its name and mission from the first University in Exile (UIE) founded by The New School for Social Research in 1933. Created as Hitler was rising to power—a period in which Jews and those deemed politically hostile were purged from German universities—the original UIE provided a safe haven for scholars whose careers and lives were being threatened by the Nazis. It stood as a bulwark against brutal policies that undermined the independence of thought and research upon and for which universities are founded.
"In bringing scholars from Turkey, Iran, Syria, and other countries impacted by authoritarian regimes and conflict, The New School continues to uphold its mission—and the legacy of the University in Exile—by promoting and protecting academic freedom, tolerance, and free and open inquiry," New School President David Van Zandt said. "We are honored to be joined in this bold and courageous effort by other leading academic institutions across the country."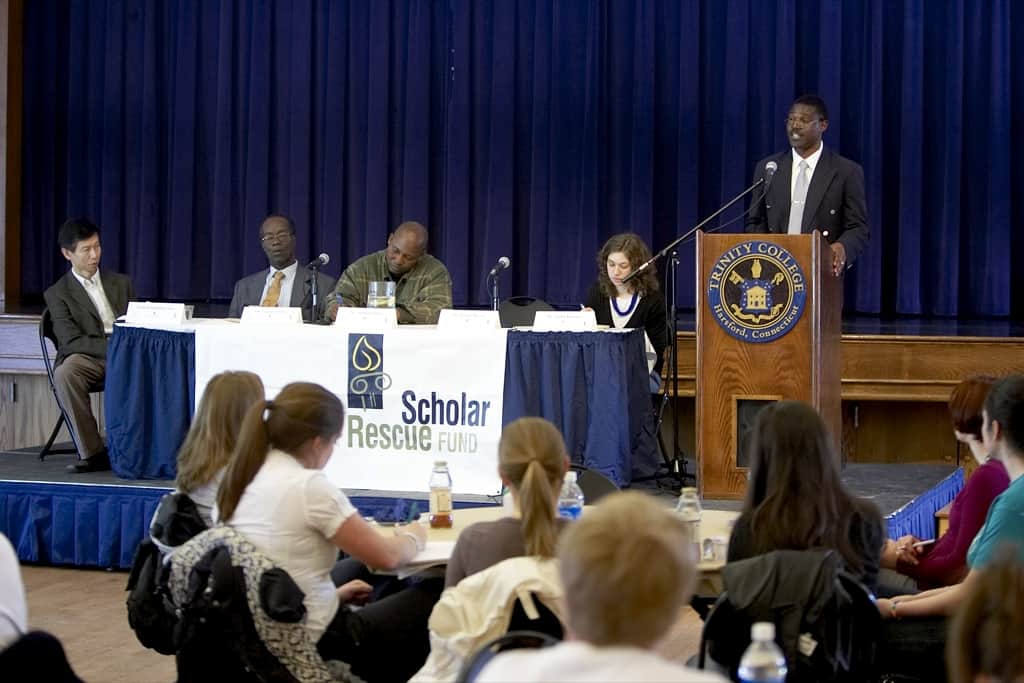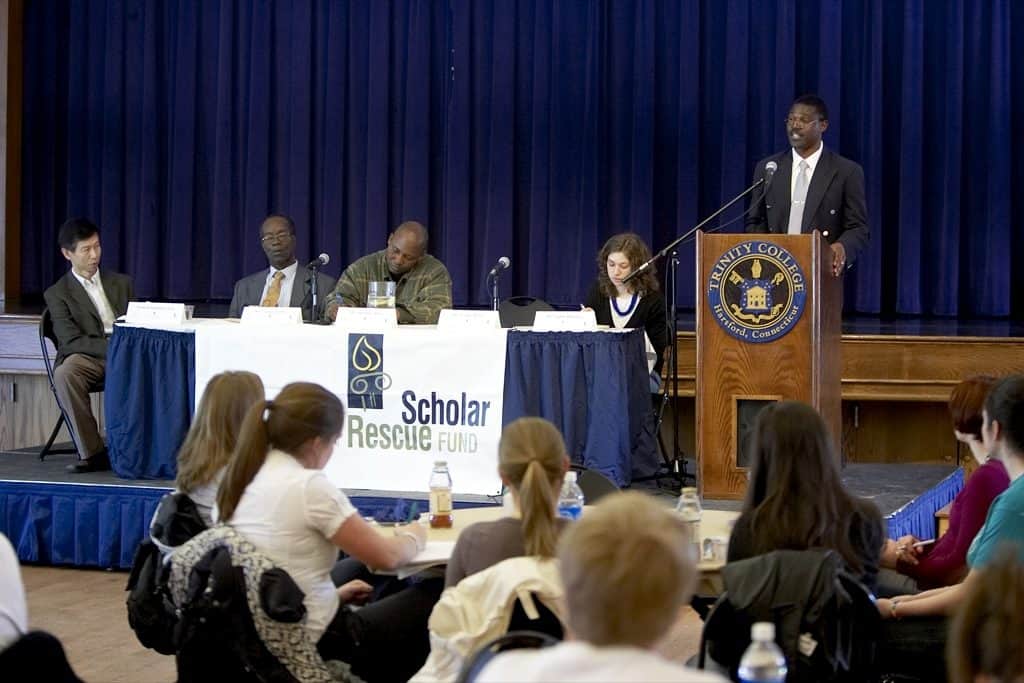 Since 2008, Trinity College has provided a refuge for scholars suffering severe and targeted threats to their lives and/or careers because of their academic work in their home countries. Trinity has hosted seven scholars to date: two from Iran and one each from Belarus, Iraq, Uzbekistan, Zimbabwe, and, currently, a scholar from Turkey. Their fields of study have included environmental science, history, political science, sociology, urban and regional planning, and watershed management. During their one- or two-year stays at Trinity, these scholars have carried out their research projects, advanced their academic careers, and made teaching and other contributions to the Trinity community, benefitting many students.
Trinity's scholar rescue program is a one-year fellowship supported by the International Institute of Education's (IIE) Scholar Rescue Fund and the Scott Michael Johnson '97 Memorial Fund, which was established by a former chairman of Trinity's Board of Trustees, Tom Johnson '62, Hon. '05, P '97, and his wife, Ann. They initiated the fund in honor of their son Scott, a member of the Trinity College Class of 1997 who lost his life in the World Trade Center on September 11, 2001.
Trinity's scholar rescue program is overseen by Xiangming Chen, dean and director of Trinity's Center for Urban and Global Studies (CUGS) and Paul E. Raether Distinguished Professor of Global Urban Studies and Sociology, who was honored by the IIE Scholar Rescue Fund with its Beacon Award in 2016 for his "exceptional commitment to providing safe haven to threatened scholars."