The More Personal the Storytelling, the Better
Ian Harnarine, visiting assistant professor of film studies at Trinity, recently returned to campus after debuting his short film "Caroni," at the Toronto International Film Festival (TIFF) in September. As a Trinidadian growing up in Toronto, Canada, he found that channeling his personal history into his pursuits as a filmmaker is essential to his creative process. Spending his formative years in a diverse city, but never really seeing his reality reflected on the big screen, Harnarine quickly discovered that the more personal the storytelling in film, the better.
Harnarine, who was a physics and astronomy major as an undergrad at York University, discovered film studies thanks to a Humanities requirement course called "American Film." The exposure to thought-provoking and relatable storytelling propelled Harnarine toward his eventual career path, and he still applies the life skills he learned as a physics major, like problem-solving and collaborative teamwork, to his film pursuits.
Back from his success at TIFF, Harnarine shared his favorite parts of the festival and what students can expect to learn in his future courses at Trinity.
What inspired your short film "Caroni," which premiered at TIFF?
"Caroni" was inspired by the many nannies in New York City, many of them West Indian, who push strollers filled with white babies through upper-middle-class neighborhoods. Walking past these women, I've wondered about their stories, their lives in New York, and those left behind in their homelands. The film began as a challenge from Imagine Science Films and Labocine, asking filmmakers to reimagine evolution in its natural and artificial form.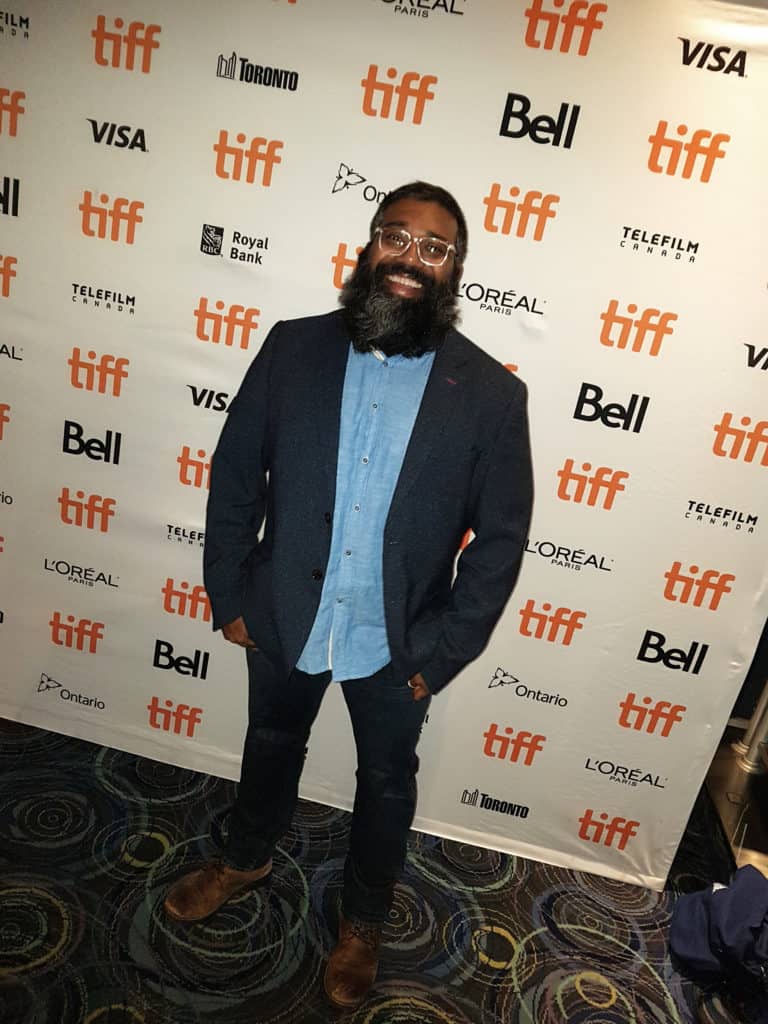 What was it like to have "Caroni" premiere at a popular film fest like TIFF?
It was a big surprise to get "Caroni" accepted because the film is really small and kind of strange, compared to my regular work.
What was the process leading up to the premiere?
Upon acceptance, I had to make a digital cinema package, a specialized type of file that movie theatres use. I also had to make an electronic press kit, trailer, and get still photos for publicity. All of those things take a lot of time and money, and with such a small movie made by a small group of people, I ended up doing a lot of that work. Also, leading up to the festival and during the festival, there's a lot of media interest, so a lot of interviews are done. Those take a lot of time because they happen in studios, on the streets with reporters, via Skype, over the phone, or even just email. As time-consuming as they are, they ultimately spread the word about the film.
Can you describe your favorite part of being in a theater where people are experiencing your work for the first time?
"Feeling" the room. You'll hear people laugh at the right moments, or let out "awwwws" exactly when you wanted them to happen. But, then there are moments when the crowd reacts in a way that was unexpected–those are special moments, too.
How do your experiences as a filmmaker translate into your classes at Trinity?
I try to bring a very contemporary perspective to the classroom, whether it is films that I screen in class or my recent times in the industry. But more importantly, I try to make it possible to make movies and to demystify the process. I didn't grow up in a house of cinephiles, my parents were not wealthy, there were no artists in my family growing up, and I thought art was what rich white people looked at in galleries downtown while sipping wine. Ultimately, that's what I'm hoping for my students: to see that they can do it.
Will you have any involvement with the Trinity Film Festival?  What can students look forward to from you in coming semester?
That's the plan! Trinity's festival seems to be such an important event on campus for students and the larger community. I can't wait to experience it and help in any way that I can! And in the future, I'd love to teach about Caribbean cinema and science in cinema (not science-fiction cinema).  I'm still learning about Hartford and its various neighborhoods, but I know Hartford is home to the third largest Caribbean community in the U.S., and that excites me. That is a group that I hope to engage with more.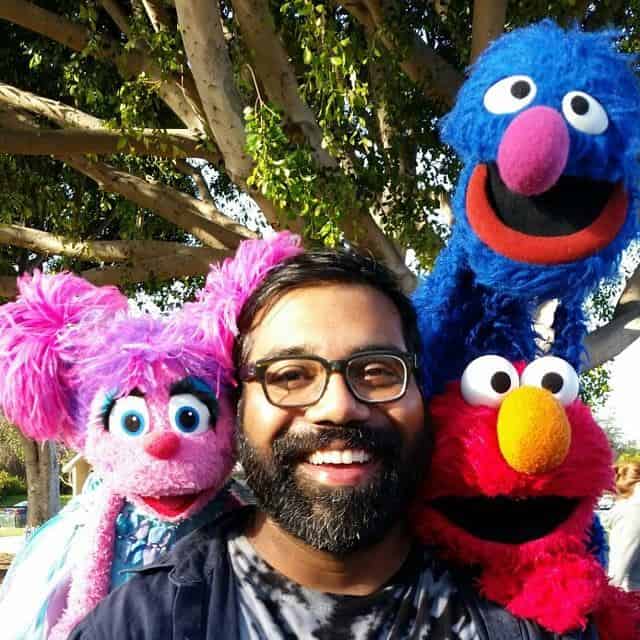 What can audiences expect to see from you in the future?
I did co-write a screenplay with Spike Lee about UConn Professor Ronald Mallet. It's the true story of Professor Mallett and his quest to build the world's first time machine. There's a bit of heavy physics in it, but really it's an incredible father-son story. That's what's important!
I'm also getting ready to shoot some more work for "Sesame Street," which is always fun. It varies from project to project, but I usually work on the segments shot outside on the streets, or the short films about letters and numbers. Sometimes there are lyrics to a song that we have to do a music video for. That's what happened with "Amazing," which was the launch video for "Sesame Street's" autism initiative. I ended up getting nominated for an Emmy for my work on that project. Other than that, I'm in the process of adapting a novel called Soucouyant and developing some other ideas.
Written by Kelly Ann Oleksiw M'15