Honored to Serve Trinity and His Hometown
Jason Rojas M'12 balances his time working at Trinity College and representing the 9th Assembly District at the Connecticut State Capitol in downtown Hartford.
Jason Rojas M'12, Trinity College's chief of staff and associate vice president for external affairs, recently was sworn in for his sixth term as the representative of Connecticut's 9th Assembly District, which includes parts of East Hartford and Manchester. In October 2018, the Democrat won the Connecticut Conference of Municipalities' 2018 Municipal Legislator of the Year award for his "outstanding accomplishments in protecting the interests of local communities."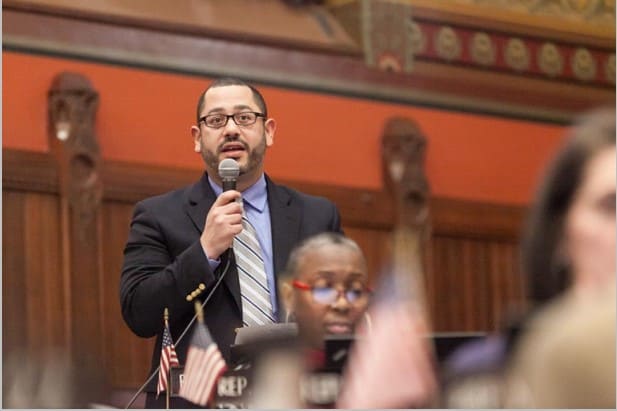 Rojas serves as the House chair of the General Assembly's Finance, Revenue and Bonding Committee and as a member of the Planning and Development Committee. "It has gone by so fast; it's amazing," Rojas said of his time as a state representative. "I started when my daughter was 1½; she's now 12, and I also have a 10-year-old and an 8-year-old."
As a native of East Hartford, where he lives with his family, Rojas said he is proud to represent his hometown area and acknowledged that it comes with a special sense of responsibility. "I've spent my whole life there [East Hartford]," he said. "When I go out campaigning and knocking on doors, I am talking to people I went to school with or people who know my family, people who know my wife's family," he said. "There is a certain burden elected officials carry because you can't separate yourself from the humanity of the job."
Rojas said that while he represents only a small area of the state, he recognizes the responsibility he has for the well-being of residents from all over Connecticut. "I want to make things right for East Hartford and Manchester but also balance that with the responsibility I have to the entire state," Rojas said. "As much as I represent East Hartford and Manchester, I am a statewide policy maker, and not everything that I do has direct benefits for the communities I represent."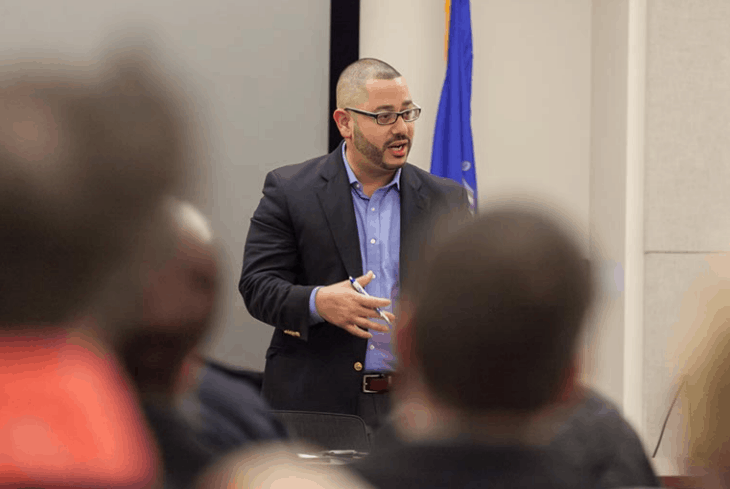 At Trinity, Rojas has long been active in the local community in Hartford. "Because I was director of community relations for seven years before becoming chief of staff, I was a key point of contact for community and neighborhood issues," Rojas said. "I maintain long-standing relationships with neighborhood leaders and residents, attend many community events, and serve on the boards of Billings Forge Community Works, Southside Institutions Neighborhood Alliance, and the Boys & Girls Club of Hartford, three nonprofits that are key partners in our neighborhood."
These involvements result in some overlap in Rojas's roles in government and at Trinity. "I regularly work with the mayor of Hartford on major state policy issues as well as on community and neighborhood redevelopment projects," he said. "I serve with Hartford's eight-member legislative delegation while working with the city council on an array of neighborhood priorities. Those relationships provide a direct line of communication so we can effectively address issues of mutual concern and interest. They are demanding and exciting jobs, and I love the opportunities I have to serve Hartford as well as my hometown."
As Trinity's chief of staff, Rojas said, his primary responsibility is to support the president, with a particular focus on managing the significant demands on her time.  "I am part of a small group of dedicated professionals who work to ensure that the Office of the President is responsive to the needs of all of the college's internal and external constituent groups," he said. "My job is to work with members of the President's Cabinet, students, faculty, staff, and the community to make sure we are executing the president's vision for the college," he said.
Rojas earned a B.A. in history from the University of Connecticut and an M.A. in public policy from Trinity. He began doing community relations work for the college in 2007 and said that while there is always room for improvement, he is very proud of the positive relationship the college has with the community. Area leaders he has known for years "hold Trinity in the highest regard; many love Trinity and appreciate how involved students are in the life of the city," he said.
Trinity has an even stronger relationship with the community now than when he started, Rojas noted. "We have faculty, staff, and students who engage with the community every day on academic and co-curricular initiatives. Hartford and our urban location are central components of our new mission statement and strategic plan. We regularly welcome the community to campus and our students to participate in the many social, cultural, and co-curricular activities that the city has to offer," he said.
Rojas said he values his role on campus and enjoys the atmosphere and the opportunity to work with and mentor students. In addition to his administrative duties, Rojas also runs a pre-orientation program for first-year students and takes part in a legislative internship opportunity for students to work at the State Capitol. "I've met first-year students on their first day at Trinity, had them serve as an intern for me at the capitol, and watched them step on the Luther-Roosevelt stone at Commencement," he said. "There's a really great feeling about watching young people grow, reach their goals, and move on into the working world."
Trinity provides a great academic environment, Rojas said, which fuels his passion for his job. "I enjoy coming to work every morning," he said. "I am really proud to work at Trinity."
Written by Daniel A. Garcia '17