Donors Recognized at the Crescent Center for Arts and Neuroscience
Trinity's Crescent Center for Arts and Neuroscience (CCAN) and the donors whose contributions made the building possible were celebrated at an official dedication event at CCAN on Friday, October 19, 2018.
Along with many of the arts and neuroscience students and faculty who frequent CCAN for classes, research, and creative and collaborative pursuits, members of Trinity's Board of Trustees were among the celebration's attendees.
"I'm delighted to have the opportunity to personally thank many of you for your leadership and philanthropy in making this a reality," said Cornie Parsons Thornburgh '80, chair of the Board of Trustees. Thornburgh recognized all of the donors responsible for funding Trinity's newest building dedicated to academic pursuits: Alexander Levi '67 and Victory Levi; John Robson '70; and foundation partners: the Edward C. and Ann T. Roberts Foundation, the William and Alice Mortensen Foundation, and the Maximilian E. & Marion O. Hoffman Foundation.
Trinity President Joanne Berger-Sweeney, a neuroscientist by training, joined Thornburgh in welcoming students, alumni, faculty, and friends to the space dedicated to encouraging collaboration and creativity across multiple disciplines. In her remarks, Berger-Sweeney acknowledged the faculty and staff members as well as students whose efforts were instrumental in planning for the building, which opened in fall 2017. "You have helped build a bridge between the arts and neuroscience and created a space for students and faculty to collaborate. Thank you for bringing this space to life," said Berger-Sweeney.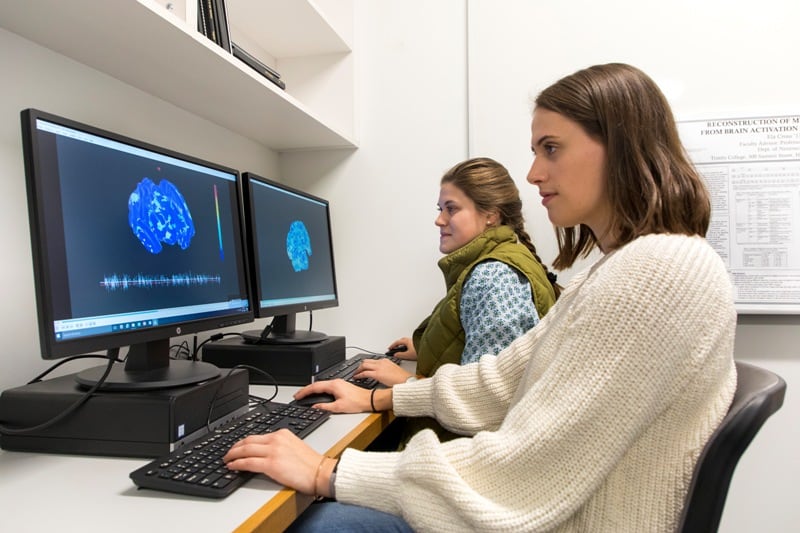 Alexander Levi '67, for whom CCAN's neuroscience wing is named, noted that the combination of arts and neuroscience may not have been a predictable pairing for everyone but said that, for him, it represented a perfect fit. "Although I studied clinical psychology, I grew up in a family where the arts were highly valued. My parents endowed a sculpture garden at the Baltimore Museum of Art, my sister was a former dancer, and my wife, Victory, is involved in the arts." Levi lauded the work of all involved in the arts and neuroscience disciplines and the sense of spontaneity both disciplines call for. "Neuroscience is the most exciting way to explore that. It's a natural for me."
In the Brain Exploration Lab just around the corner from the entrance of the newly dedicated Levi Neuroscience Wing, neuroscience majors Madeline Grossman '19 of Medway, Massachusetts, and Emily Wertheimer '20 of Simsbury, Connecticut, examined the dynamics of neural activity in the brain.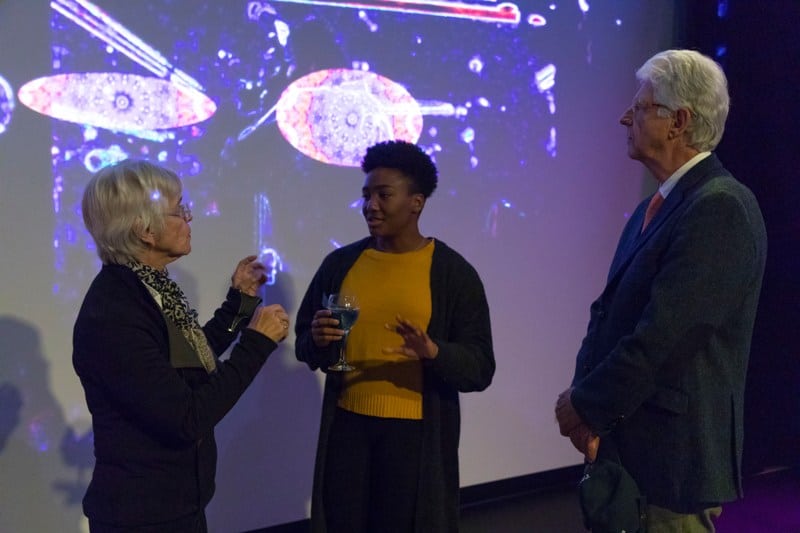 Annastazia Chin '22, of Kingston, Jamaica, met guests at the door of the Interactive Media Studio at the north end of CCAN. The studio, flooded with color, resembled a hologram projecting three-dimensional images. Chin pointed out a small camera mounted on a laptop at the back of the room. Through a program called Isadora, objects appeared to move forward and backward simultaneously. Chin, who plans to major in computer science and minor in theater and dance, explained the experience as "color inversion—incorporating all aspects of art and motion."
In recognition of their support, Alexander and Victory Levi, John Robson, and Lisa Curran, representing the Edward C. and Ann T. Roberts Foundation, were presented with original prints by Craig Schneider, Charles A. Dana Professor of Biology, that exemplify the bridging of neuroscience and the arts. An unexpected moment brought applause when Robson received his gift. "This is very special because Craig and I were classmates at Duke University." The print, from Schneider's recent CCAN gallery show Forms Most Beautiful and Wonderful, is a digital representation of one of the biology professor's archival seaweed specimens that underpin his scientific work—an abstract and fitting representation of the connection between the arts and neuroscience.
To see pictures from the event, visit our Flickr gallery.