Assistant Professor of Religious Studies Gabriel Hornung '07 is enjoying his new role on campus as an alumnus and a professor.
Gabriel Hornung '07 knew his family would be excited if he came to Trinity. After all, both of his parents and his uncle are Bantams. And while he didn't feel any pressure to follow in their footsteps, he was sure he had made the right decision when he came to the college in the fall of 2003.
Little did Hornung know then that one day he would walk down the Long Walk as a faculty member in the Religious Studies Department. "I am teaching a class that I took as a first-year, 'Biblical Tradition,' which is an introduction to the New and Old Testaments," said Hornung, now assistant professor of religious studies. Yet, he added, "I had no intention of studying religion when I entered Trinity."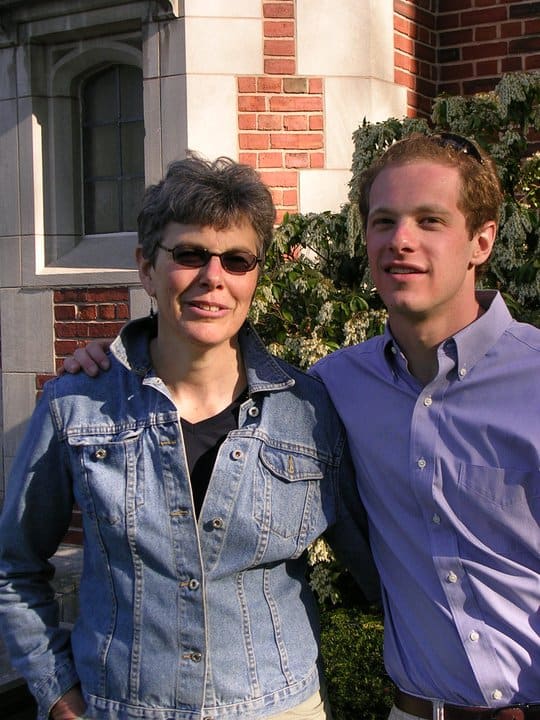 Hornung said his upbringing reflected his own faith of Judaism. His father's parents survived the Holocaust, and growing up, Hornung felt the ripple of the atrocity but did not fully understand its effects, including his grandparents' escape.
Rattling around in Hornung's head as he began college was this "sort of fascination" with his family's religion. He believed that a "subconscious, not-so-fully-aware impulse and desire" pushed him toward taking courses that might give him some clarity about this part of his background that he didn't fully understand. "Of course, the irony is that isn't what the academic study of religion is about. But I think that's what originally pulled me toward studying religion and its force on society," he said.
Hornung has committed his academic career to the study of religion, earning an M.A. in biblical studies from Yale Divinity School and a Ph.D. in the Hebrew Bible from Harvard University.
"Studying religion from an academic perspective actually is quite an interesting thing," he said. "Religion often operates in spaces where argument or historical re-creation doesn't fully get at the force of an experience. One must explain phenomena that are trying to operate outside of straightforward logical thinking by using logical arguments."
Hornung said that when he was an undergraduate, the faculty in the Religious Studies Department helped him develop as a student. "I began to learn how one thinks and the discipline of seriously learning something, the ability to recognize one's own weakness and working through it, and the wisdom to play to your strengths," he said, adding that he cherishes the memories of faculty with whom he built relationships, most notably Larry Lyke, former assistant professor of religious studies, and Ellison Findly, Scott M. Johnson '97 Distinguished Professor of Religion, Emerita.
Hornung's developing intellectual curiosity spurred him to take more classes with Lyke and Findly. "The dedication, wisdom, and time offered by the faculty intrigued me as I was a freshman and sophomore getting more interested in studying religion," Hornung said. "I try to do that now with the excellent group of first-years I have. I feel a serious responsibility when teaching the class that I took."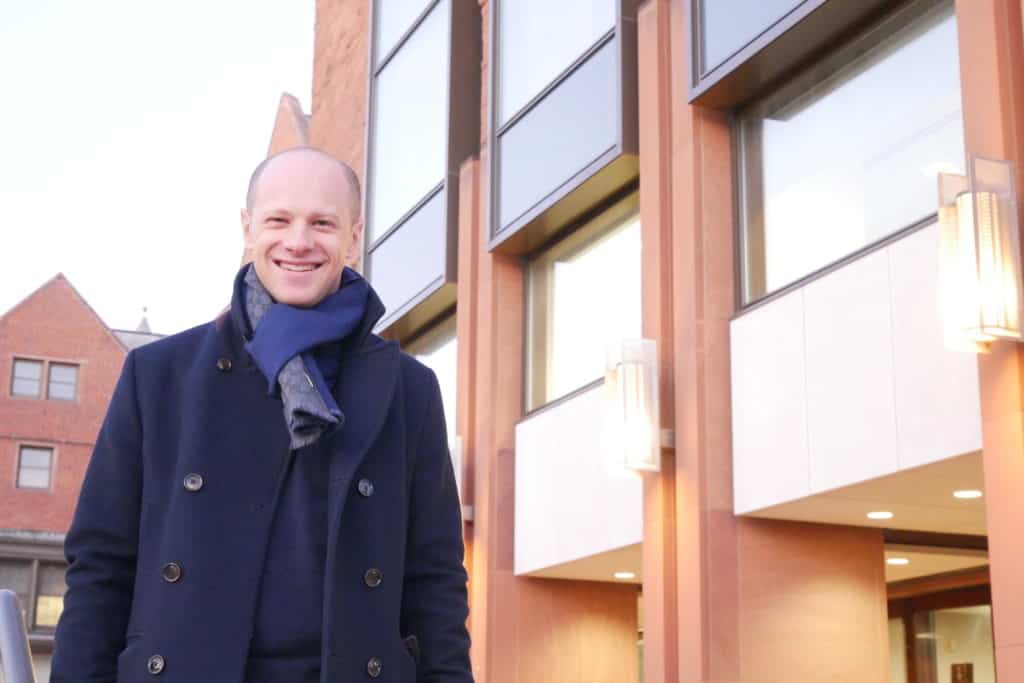 Hornung's research focuses on the theological dimensions of the Hebrew Bible, as well as the New Testament, ancient Judaism, and early Christianity. He is particularly interested in how the historical study of the biblical text can shed light on the distinct and often competing voices of the Hebrew Bible. His courses include "Introduction to the Hebrew Bible," "New Testament," "The David Story," "Short Story in the Hebrew Bible," "Christianity in the Making," and "Jesus," in addition to his first-year seminar.
Hornung said he feels lucky to be a part of a collegial department. "I really like my colleagues," he said. "They are cool, smart, and kind people, a good group that I look forward to seeing every time I come to work."
Among his favorite aspects of being a faculty member at Trinity is the ability to work closely with students. "I enjoy the chances to work one-on-one with students, getting to see them grow and develop," he said. "It's a truism that, as a teacher, you learn far more from your students than they dream of learning from you. But in my case, it really is true!"
Hornung also said that he sees an increasingly diverse and multifaceted student body. "From the pedagogical perspective, it's not just the increasingly different number of faces that is important, but also diverse backgrounds," he said. "An important part of a college experience is to expose oneself to a greater range of ideas, cultures, and ways of thinking."
Hornung noted he often has flashbacks as he walks from meeting to meeting, thinking of when he lived in Vernon Place or the good times he had in Cook Hall. He said that he is grateful for the friends he made as a student. "I was lucky enough to find at Trinity those people who were fun and creative and who exposed me to different modes of thinking," he said.
Written by Daniel A. Garcia '17