Class of 2018 Alumni Achieving Their Post-Graduation Goals
Since they graduated from Trinity College last spring, alumni from the Class of 2018 have secured opportunities to work, study, and volunteer around the world. Recent data gathered from 87 percent of the members of the Class of 2018 showed a 95.2-percent positive outcome rate, meaning that most graduates have achieved their post-baccalaureate goals of employment, graduate studies, military or volunteer service, and other pursuits.
These young alumni now work in a wide variety of fields: banking and finance; the arts; medical research; technology and software engineering; legal work; real estate; healthcare and insurance; public policy and nonprofits; marketing and public relations; education; and more. Their employers include the New York City Ballet, the Southern Poverty Law Center, NBC Universal, Morgan Stanley, Travelers, Hachette Book Group, the Cleveland Clinic, and dozens of other nationally- and internationally-known companies and organizations. Also among last year's graduates are a professional golfer and soccer player, as well as a Secret Service agent-in-training.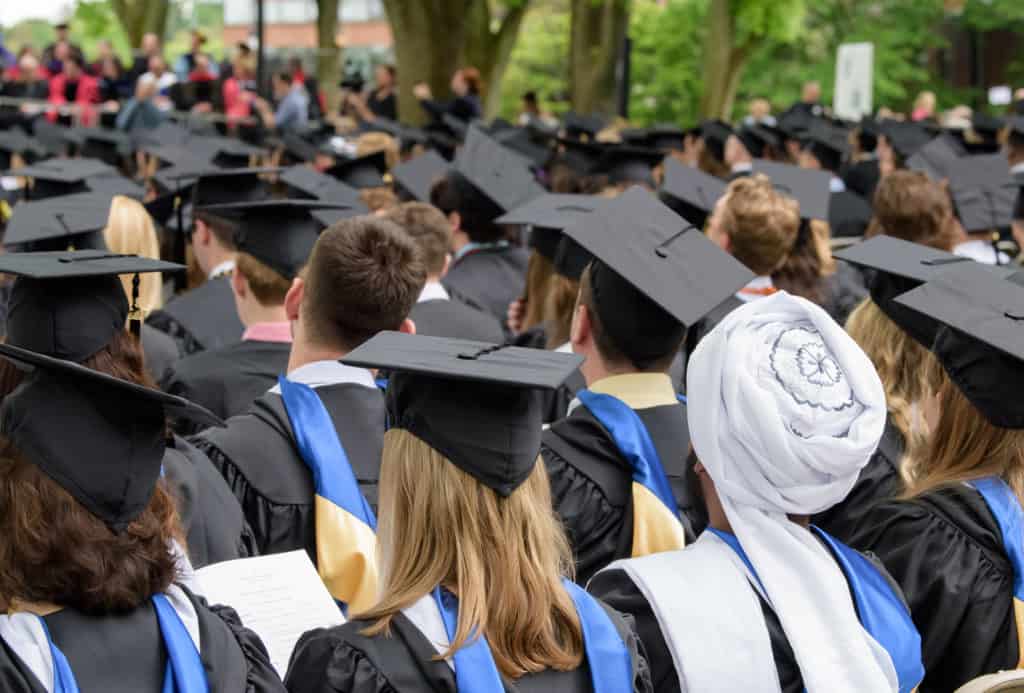 Some Class of 2018 graduates are continuing their studies by pursuing advanced degrees at Columbia University, the University of Cambridge, and Yale School of Medicine, among other institutions. Still others are dedicating a year of service by working with organizations including the Peace Corps, City Year, and Teach for America.
Joseph Catrino, director of career development in Trinity's Center for Student Success and Career Development, said that the college stays in touch with young alumni following graduation. "We try to help people who do not know what their next steps may be," Catrino said. "When you graduate, your time with us is not done. It's a lifelong relationship."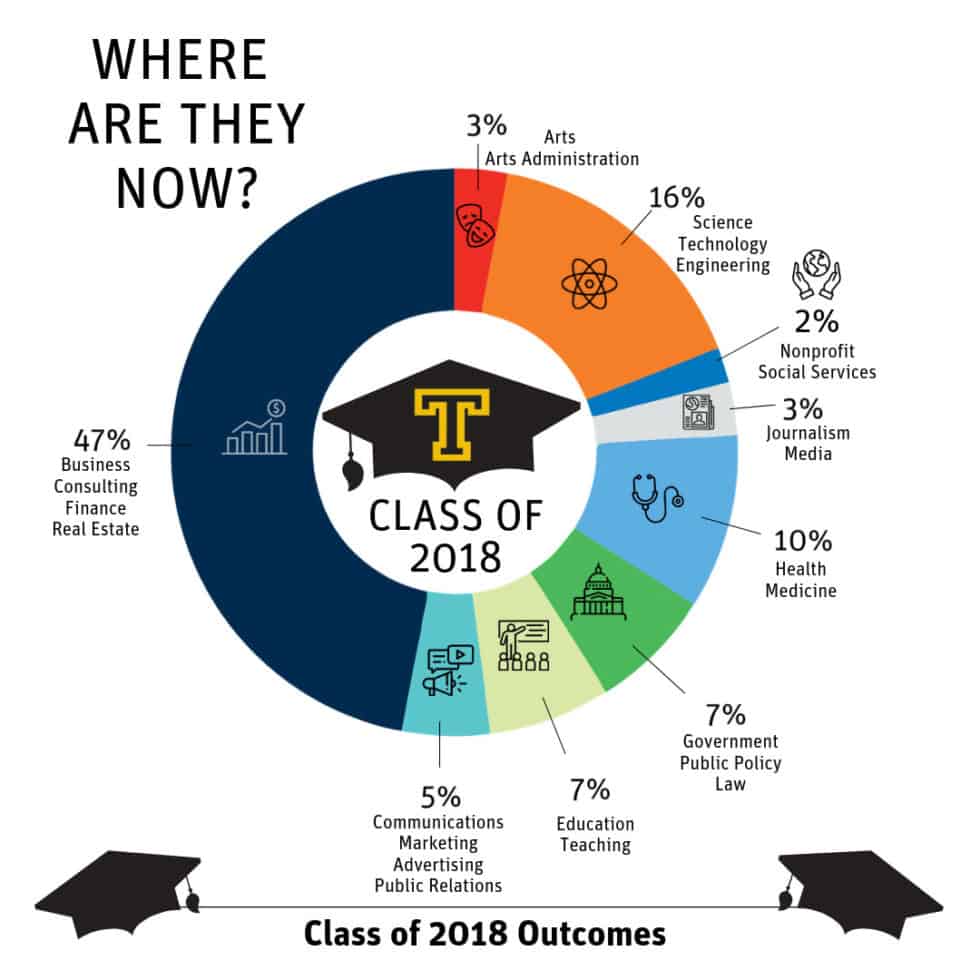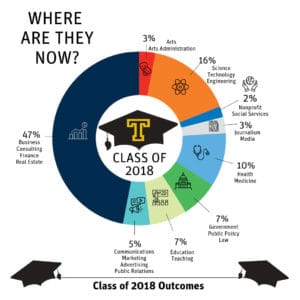 Catrino said that a liberal arts education allows for students to engage in experiential learning while at Trinity, which can help leverage their professional careers. "A liberal arts education gives you the versatile skills that you can use to pivot across different industries," Catrino said. "The ability to do any kind of club or activity here on campus—in addition to community service, summer science research, and internships—allows students to build robust backgrounds and that ultimately translates to positive outcomes."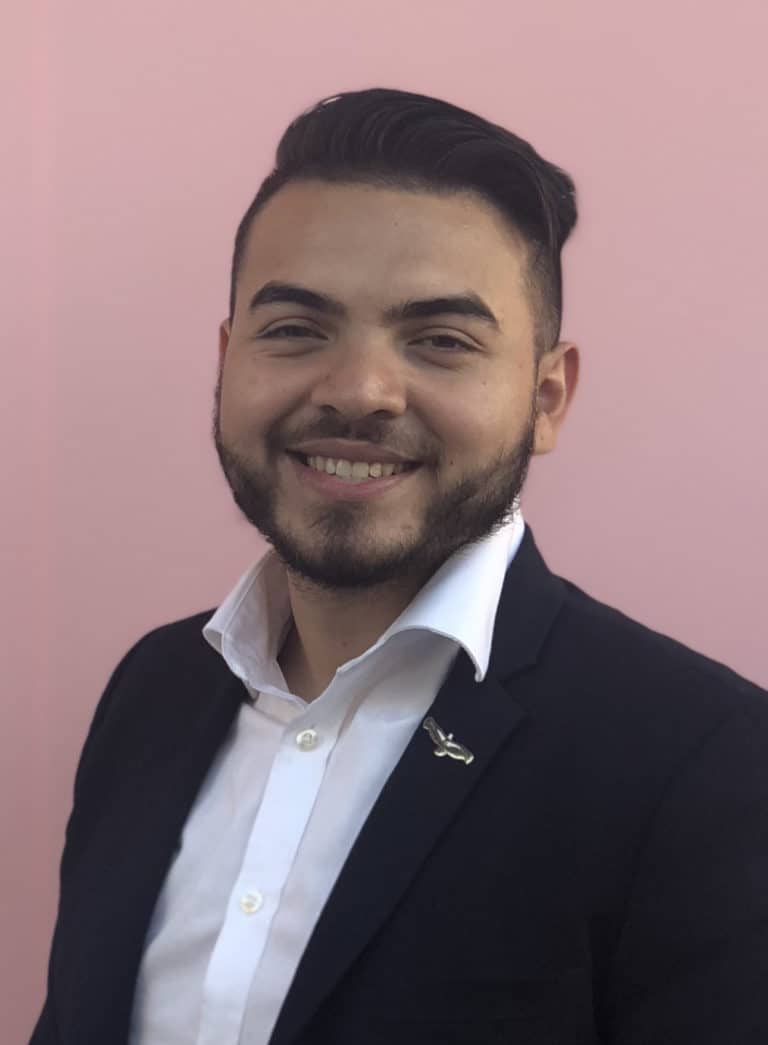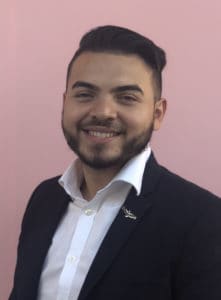 Now an account manager for Facebook in Chicago, Henry Chavez '18 (left) said that the experience of being a student worker at Trinfo.Cafe while at Trinity first introduced him to the idea of working for a technology organization. "I really liked the concept of helping people with computer literacy skills," said Chavez, who double-majored in political science and urban studies. "Trinfo.Cafe opened my eyes to having a valuable role at a technology-based company, without necessarily needing coding skills."
Chavez added that the Center for Student Success and Career Development encouraged him to prepare for his job search by looking at his experience at Trinity as a whole. "The office helped me with reflecting on my time at Trinity freshman year to senior year, and with learning how to craft my experiences into a comprehensive story," he said.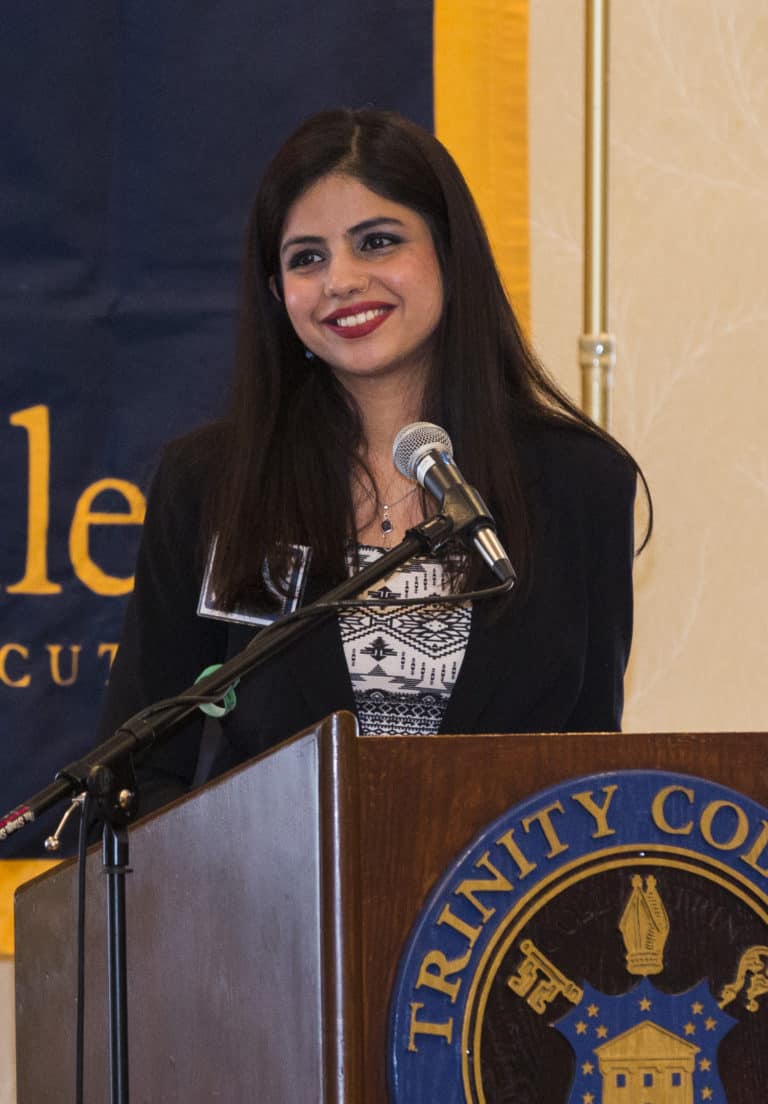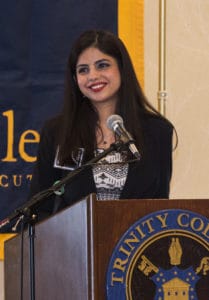 Noor Malik '18 (right), who majored in political science and international studies with a minor in philosophy and human rights, is currently pursuing an M.S. degree in global governance and diplomacy at the University of Oxford. Malik said that opportunities at Trinity provided new experiences and prepared her for graduate school. "Studying abroad in Spain and South Africa and doing the River Cities Program over the summer gave me international experience and broadened my understanding of the issues that I cover academically," she said. "I also interned at the World Affairs Council, which was helpful in gaining insight on pertinent topics in global affairs."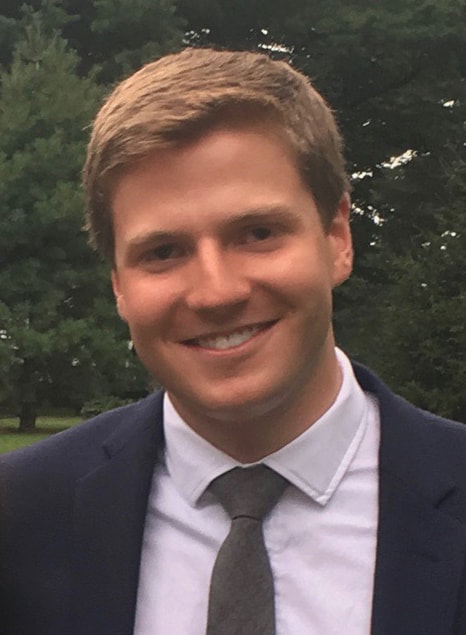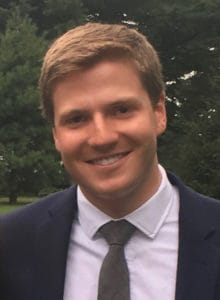 To Kyle McGrath '18 (left), experiential learning at Trinity was an essential step on the path toward his professional career as a marketer for the private equity investment team at HarbourVest Partners in Boston. "The courses I was able to take as a psychology major at Trinity gave me business exposure and exposure to real-world experiences, which helped set me apart. I was able to take certain seminars and internships for credit, which improved my writing skills and interpersonal skills," he said.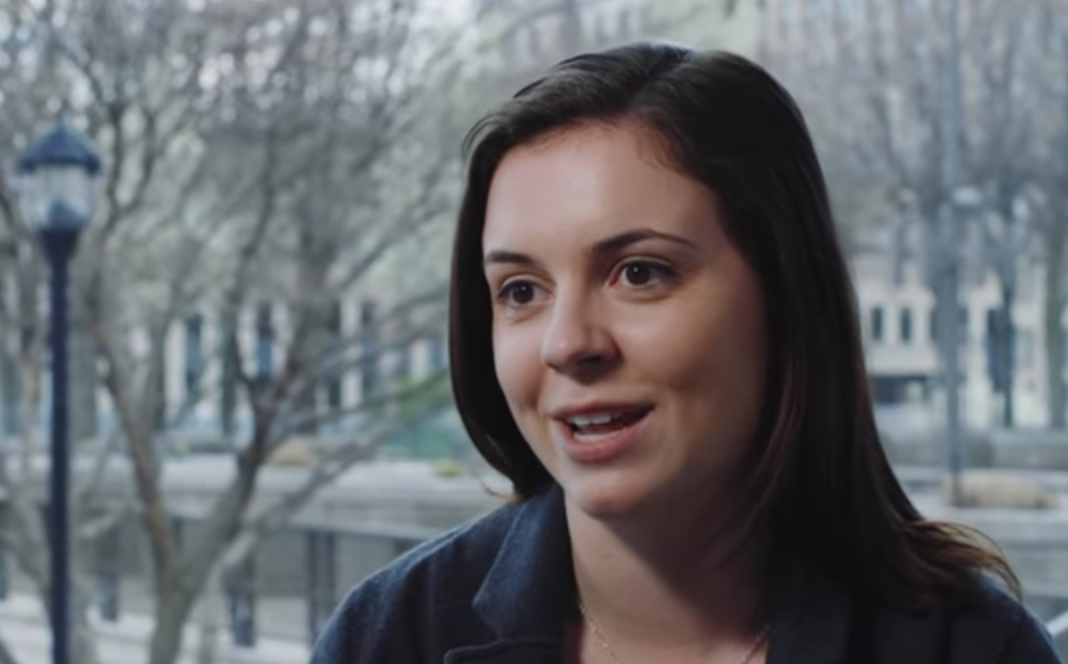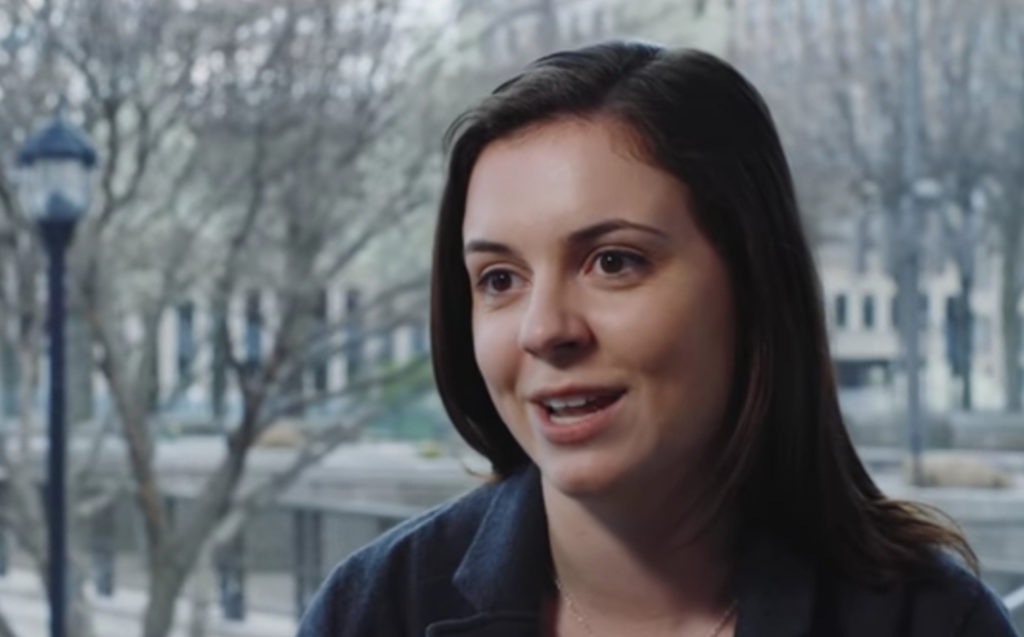 Jane Bisson '18 (right), who works at Cultural Care Au Pair as a public relations and communications manager in Boston, said that the courses she took at Trinity have been useful for her current work. "The skills you learn in a liberal arts setting—like writing, analysis, asking the right questions, conducting research, and even time management—are important, and given that I work closely with the government relations team at my job now, the knowledge of political science that I learned at Trinity has been helpful," Bisson said.
Bisson said she utilized the Center for Student Success and Career Development not only to review her professional documents, but also as a networking resource. "The key is knowing how to reach out to people through your network, even if you have never met them in person," Bisson said.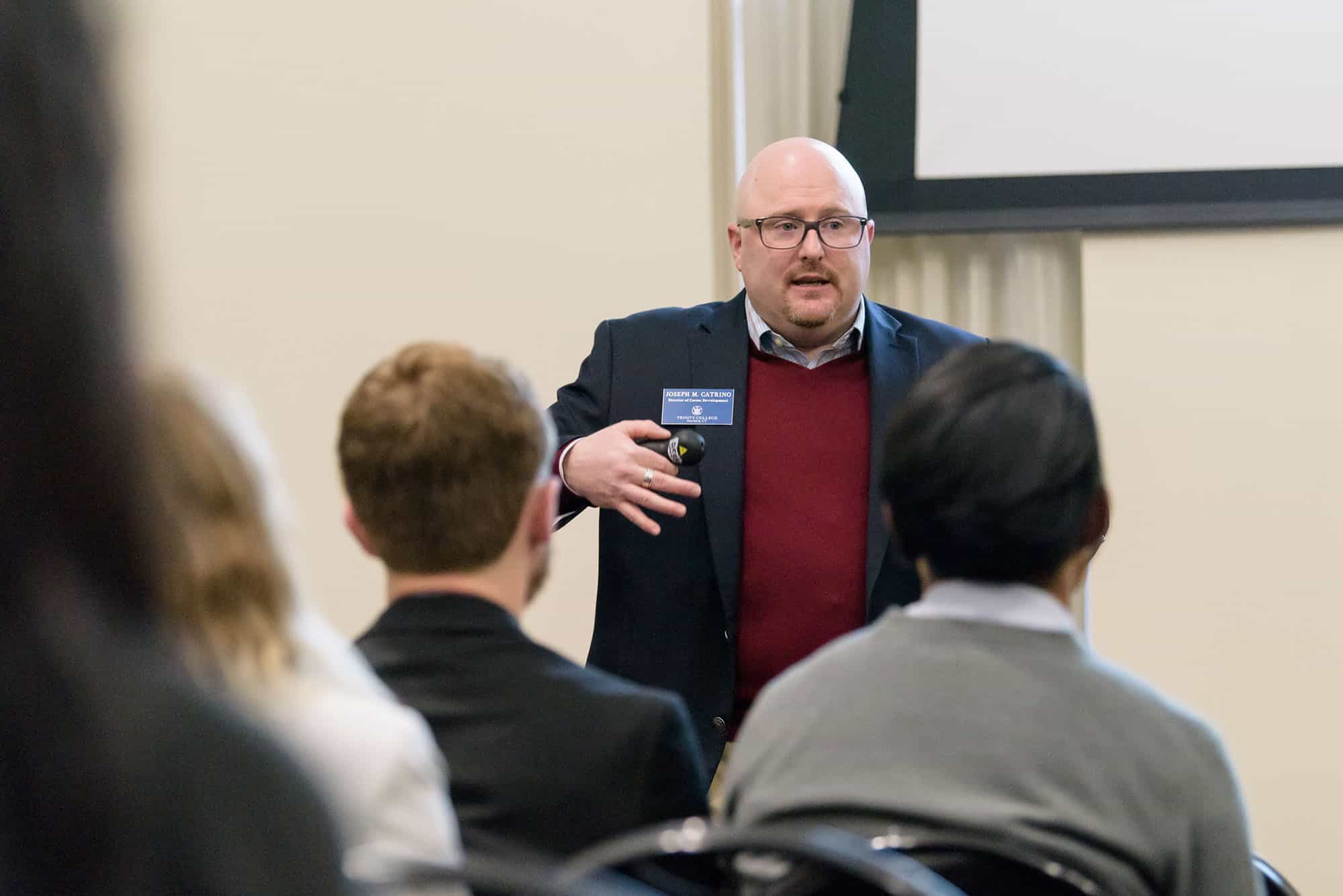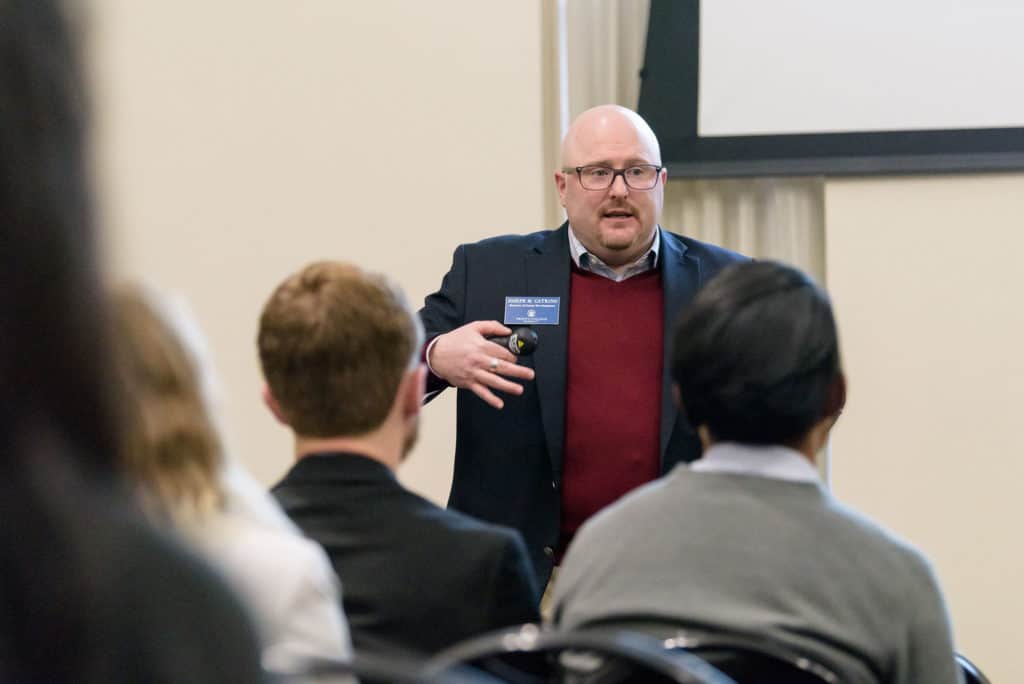 Catrino said that one way for students to make professional contacts is through the new Bantam Career Network (BCN), which was introduced this semester. BCN is an online mentoring and networking platform for alumni and students that functions like a private, Trinity-specific LinkedIn group. "The Bantam Career Network has enormous potential for our alumni and students," Catrino said. "The network here is strong and always willing to help."
As the alumni journey continues for members of the Class of 2018, Catrino said he anticipates seeing similarly high levels of success from the soon-to-graduate Class of 2019. "We are already getting word of positive outcomes from current seniors who are getting into graduate school or lining up jobs," he said.
To learn more about the Center for Student Success and Career Development at Trinity College, click here.
Written by Katie Cort '19