Back to News
Trinity Student's Summer Internship at Investment Firm Brings Career Path into Focus
Academics
posted
by Andrew Concatelli
Hartford, Connecticut, August 23, 2018—Trinity College student Alejandra M. Pardos '20 has a paid, for-credit summer internship in New York City at Match Point Partners, a small investment and advisory firm that works with early-stage healthcare, tech, and digital health companies. To receive academic credit, she meets bi-weekly with Visiting Assistant Professor of Economics and Public Policy Cindy Jacobs and completes written assignments and readings related to the field of the internship. Pardos—who is from Zaragoza, Spain, and has lived in the United States for the past five years—is double-majoring in economics and interdisciplinary computer science and plans to minor in urban studies at Trinity. On campus, she is vice president of The Stella Society and is a member of the Honor Council and the Investment Club. Below, Pardos (pictured) talks about what she's learned during her summer internship: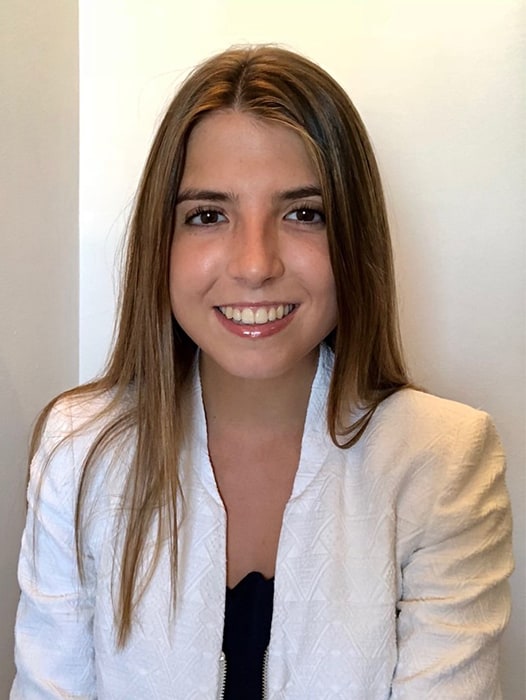 Why did you choose this internship?
I chose this internship because it is a great opportunity to get involved with the investment banking and healthcare industries. I am very interested in the deals Match Point Partners works on. Last year I interned at a healthcare service company and, given my interest in finance, this is a great way to merge both interests in one internship. I found this internship through the Center for Student Success and Career Development at Trinity. They suggested it as a great opportunity for students interested in finance and gave me some tips and great advice for the interview.
What are your daily responsibilities?
My daily responsibilities include assisting in research, due diligence, client preparations, and administrative matters. I also work on deal teams with junior and senior bankers and I am involved in preparation of deal memoranda, model preparation, and deal process management.
What's the most challenging part of this internship?
The hardest part of the internship is to keep up with current events and everything that happens in the healthcare and tech markets. In order to be able to work successfully at a firm like this, it is crucial to understand the arena in which the firm's clients operate. Most of them are early-stage innovative companies and I have to be able to understand how they can affect the market and how could they possibly change market trends.
Does this internship experience connect with your academic focus at Trinity?
During my time at Match Point, I have been able to connect much of the terminology used in the office to economics courses I have taken at Trinity. It has been great to observe how many of the concepts and ideas I have learned in class take place in the real world.
How is this internship experience useful to you?
My internship at Match Point has been extremely helpful given my career interests. I started the internship with very little knowledge in finance or the healthcare market, and after my work experience, I feel like I have learned and worked on many projects that will help me in the future. In this internship, I have had to do market and company evaluations for clients, which has helped me improve my analytical and research skills. Throughout the summer, I have also refined my communication and presentation skills. Working on many different stages of diverse projects has given me a broader understanding of the various pieces and tasks that frame a deal, and I have become better at multitasking.
What do you hope to take away from your experience this summer?
I hope to gain a more comprehensive understanding of investment banking and the responsibilities of someone working in that field. I also hope to further learn how the different branches of healthcare interact with each other in the market and how current policy and economic trends might affect these interactions.
How has this internship influenced your career path plans?
I knew I wanted to pursue a career in finance before this internship, but I wasn't sure what exactly I wanted to do. After interning at Match Point, I know that I want to focus on an investment banking career, ideally in the healthcare sector.