Trinity College students and members of the staff, faculty, and the Hartford community recently gathered at Cinestudio for a panel discussion about how to help students successfully complete their education. Moderated by Robert Cotto, Jr., director of urban educational initiatives at Trinity, the panel included Roxanna Booth Miller, co-executive director of Hartford Youth Scholars, and Richard Sugarman, president of Hartford Promise. Hartford Youth Scholars is a program that supports Hartford children ages 12 through 18 in their educational experience. Hartford Promise is a scholarship funding program that grants eligible students a four-year college fund.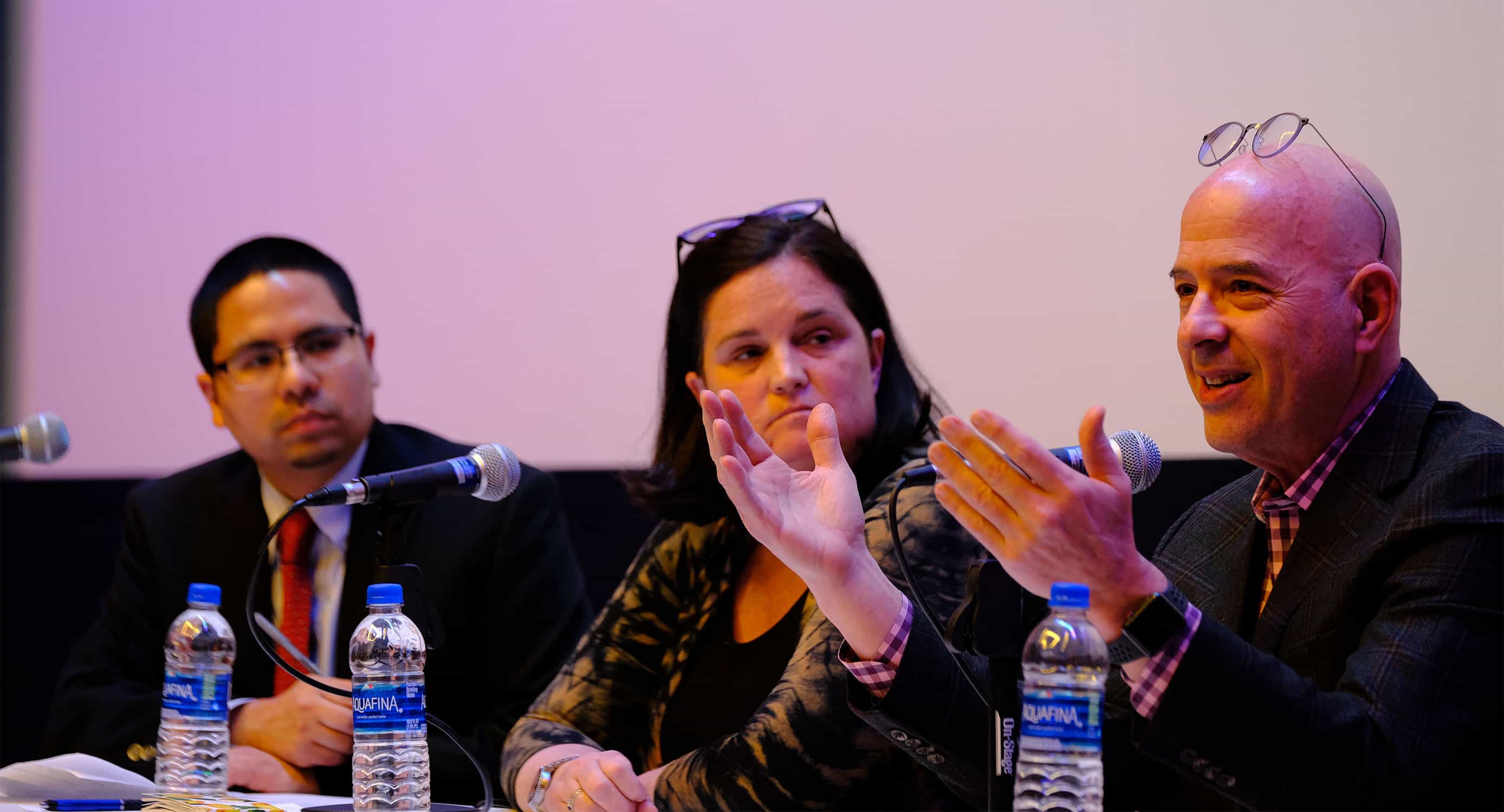 The February 6 panel discussion followed a screening of the documentary film, Unlikely, which investigates the barriers students face in their pursuit of a diploma and a career. The film—which was written, directed, and produced by Jaye Fenderson, a former admissions officer at Columbia University—profiles five individuals who dropped out of college and later re-enter the college system in hopes of completing bachelor's degrees on the way to a better future. According to Fenderson, 50 percent of college students who start college never finish, making America's graduation rate among the lowest in the world.
Cotto began the conversation by asking the panelists about their initial reactions to the film. Miller said, "I got chills at the end, just seeing all those students [graduate], which is the same feeling I get watching Hartford Youth students get their high school or college diploma."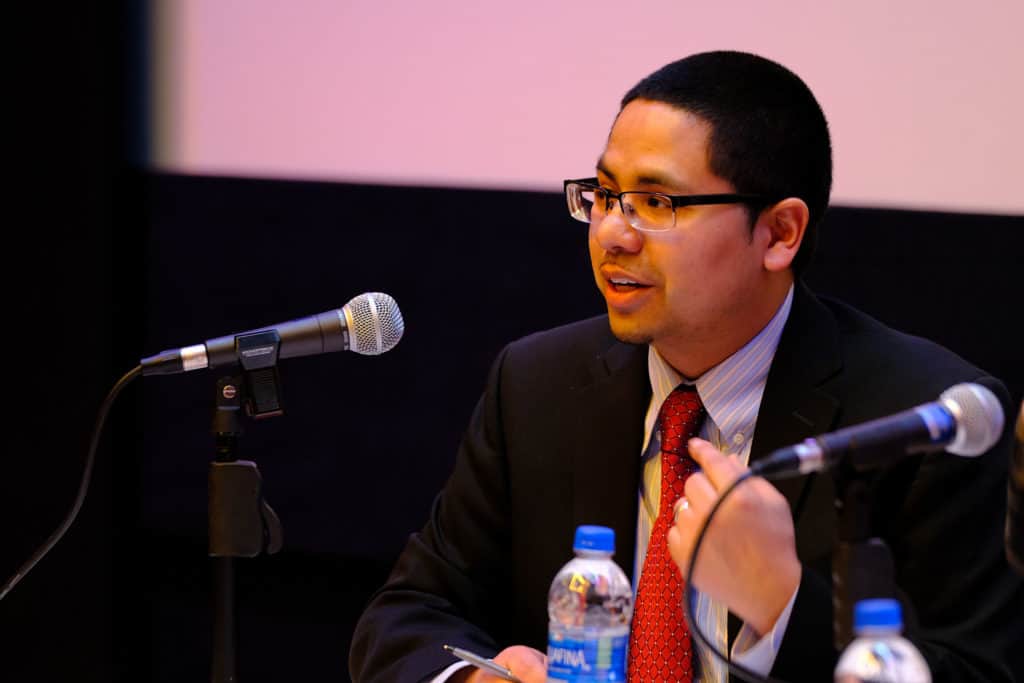 The panelists said that the film connects directly to their work in supporting equal opportunities for education. Miller said, "Hartford Youth Scholars works with students on a continuum starting in sixth grade. We're located here on the campus of Trinity College, which we consider incredibly important because over the next 10 years of support, we reinforce the message that you belong on a college campus, and potentially this college campus. You are welcome here, and your aspirations and dreams should not be limited by anything."
Sugarman said Hartford Promise provides scholarships for Hartford high school students to improve their chances of attending college. "If you are a Hartford resident throughout high school, attend a Hartford public high school, have a 3.0 GPA and 93 percent attendance, you have earned the Hartford Promise, which is $20,000 to any college in the country," Sugarman said. "We wanted to open up all the doors of possibilities, just like we would want for our own children."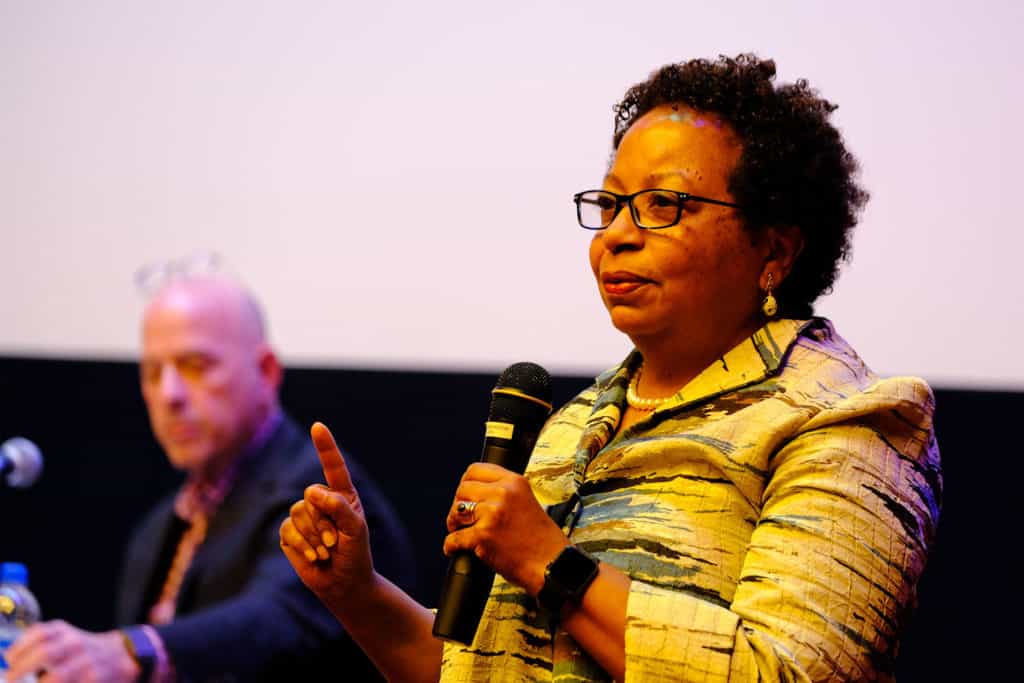 Trinity College President Joanne Berger-Sweeney also spoke during the program about how Trinity is working to reduce barriers for those wanting to apply for and receive an education at the college. Some steps taken include making the submission of standardized test scores optional, waiving application fees for first-generation students, and eliminating the need to reapply for college financial aid every year. Berger-Sweeney said, "Particularly for students who don't come from a family of higher education, an important thing when they arrive is to create that sense of belonging. We created a Division of Student Success, which provides support for students from the moment they walk onto campus and helps particularly in the early part of their career, before they have major academic advisors. We recognize the importance of those first two years."
During the open-mic portion of the discussion, Matthew Rivera '20 expressed his fears that people will forget about this issue. He said, "We may think about it for a week or two, but the sad reality is that we won't feel like we can create change on our own. Use the power and privilege you all have, and start investing in the Hartford community. Start to invest in our youth."
To learn more about Trinity's Division of Enrollment and Student Success, click here.