Back to News
Trinity Group Travels to Puerto Rico to Understand the Ongoing Hurricane Recovery
Academics
posted
by Hamna Tariq '20
Hartford, Connecticut, July 5, 2018—Eighteen Trinity College students traveled to Puerto Rico in late May to observe the psychological effects of hurricanes and to provide support to those impacted by Hurricane Maria. Accompanied by faculty and staff members, the group visited 13 Puerto Rican cities and towns—including San Juan, Aguadilla, Mayaguez, and Guayama—over the course of eight days.
The service trip from May 21 to 29 followed nearly a year of fundraising activities on campus coordinated by members of La Voz Latina (LVL), according to Yisbell Marrero '20 and Giana Moreno '20, LVL community service chairs for 2017-18. Marrero and Moreno noted that advisers Carol Correa de Best, associate director of multicultural affairs, and Aidalí Aponte-Avilés, lecturer and language coordinator in language and culture studies, were instrumental in helping organize the trip.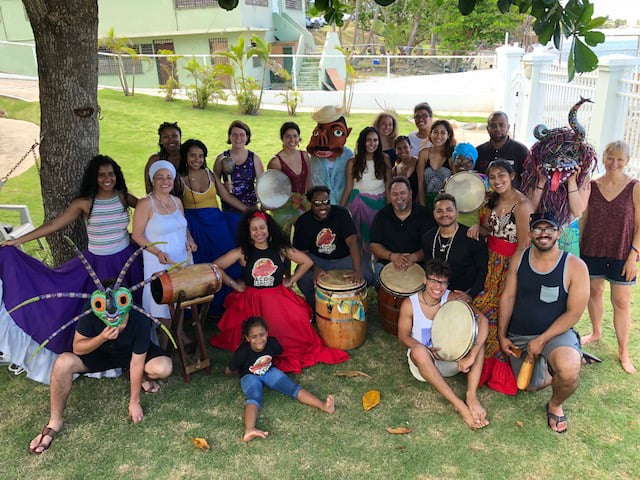 Participants volunteered in a variety of ways as they traveled across the island. They visited a home for senior citizens in Guayama and assisted workers there by cleaning and running errands for them. They provided care packages and spent time with the residents and learned about their personal experiences and perseverance during and after the hurricane. They also rebuilt a fence at an animal shelter and deep-cleaned a playground at an orphanage, where they created activities for the children and adopted a garden that they plan to visit on future service trips.
The group also visited Casa Pueblo, an environmental nonprofit and community center based in the mountain town of Adjuntas. Casa Pueblo, which develops sustainable methods of electricity production, provided and installed solar lamps and emergency solar systems to thousands of homes in areas that were completely without power since the hurricane last fall. It does not receive government funding and relies instead on private donations.
Marrero said that the students conducted advance research on the organizations they volunteered with, to educate themselves on the mission of each organization. "We wanted to learn, not to teach," Marrero said. Silvia Nunez '21, LVL community service chair for 2018-19, noted that the Trinity group did not make the trip out of a sense of pity; their efforts were focused on providing support, with respect and appreciation for the self-reliance of the people.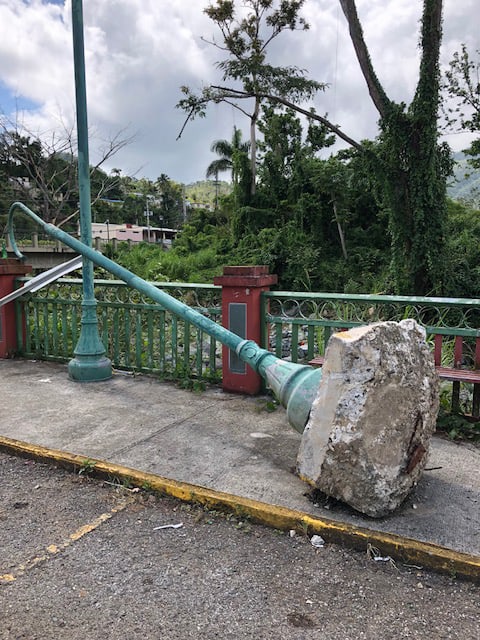 The Trinity contingent visited the University of Puerto Rico (UPR) in Rio Piedras, where university students gave presentations on community work they've carried out to help residents prepare for future hurricanes. The UPR students explained the benefits of autogestion—whereby workers manage their own workplace—and discussed some of the drawbacks of "voluntourism."
Marrero said the UPR students' presentations were thought-provoking and the self-reliant attitude they conveyed was admirable. "They helped us understand what collective behavior is and how they are working towards reconstructing a collective mentality," she said. Marrero noted that she and other Trinity students came away with a sense of how important it is to support efforts for people to be self-sufficient.
Trip-goers observed the ongoing efforts and resilience of Puerto Ricans collectively rebuilding their communities. "You see their pain, but they still have hope," said Monique Daley, training and program coordinator for Trinity's Women & Gender Resource Action Center (WGRAC), one of the staff members on the trip.
Jennifer Chavez '19, president of LVL, said that she thought it was incredible how Puerto Ricans on and off the island are helping one another to not only recover from the hurricane, but to prosper even more. "There was a clear sense of solidarity on the island, strangers coming together through their shared identity," Chavez said. "While their efforts are inspiring and innovative—showing Puerto Ricans' strength, intelligence, and solidarity—we must not forget that many are still suffering from the hurricane and from prior conditions."
Digital Scholarship Coordinator Christina Boyles joined the Trinity group as part of her research project, "Hurricane Memorial: Remembering Maria & San Felipe," which she is conducting with students this summer as part of the Public Humanities Collaborative, funded by the Andrew W. Mellon Foundation. According to Boyles, "This project highlights the United States' racialized response to hurricanes in Puerto Rico since its annexation in 1898."
Puerto Rico and Hartford have a strong connection, as about 35 percent of the city's population identifies as Puerto Rican, and students believe that Trinity has a role to play in helping Puerto Ricans who have settled in Hartford after fleeing their homeland due to the hurricane. Marrero said she hopes that LVL can host discussions to help build bridges with Puerto Ricans in Hartford—especially now that LVL has experienced a tiny portion of the loss due to the current situation on the island—and to promote organizations that are engaged in relief efforts in Puerto Rico.
To learn more about Trinity's ongoing support of Puerto Rico, click here.