Back to News
Fine Arts Class Finds Creative Connections with Subjects and Spaces During Pandemic
Academics
posted
by Kelsey Brown '23
The COVID-19 pandemic led students enrolled in a fine arts class at Trinity College to get creative when considering the subjects and spaces for their artwork. Assistant Professor of Fine Arts Lynn Sullivan encouraged students in her "Sculpture and Ideas" class to make reflective art at a time when they couldn't all work together in a studio during the fall 2020 semester.
"When we were remote, the class pivoted to consider the dorm room and windows as a site for locating art," Sullivan said. "Many students chose to reflect on their experiences of being on campus during a pandemic in ways that were full of humor, patience, and hope. Their spirit was inspiring." Some of the student work connected to ideas of social distancing and public engagement, while other students explored fictional or inspirational imagery to help process unusual times, she said.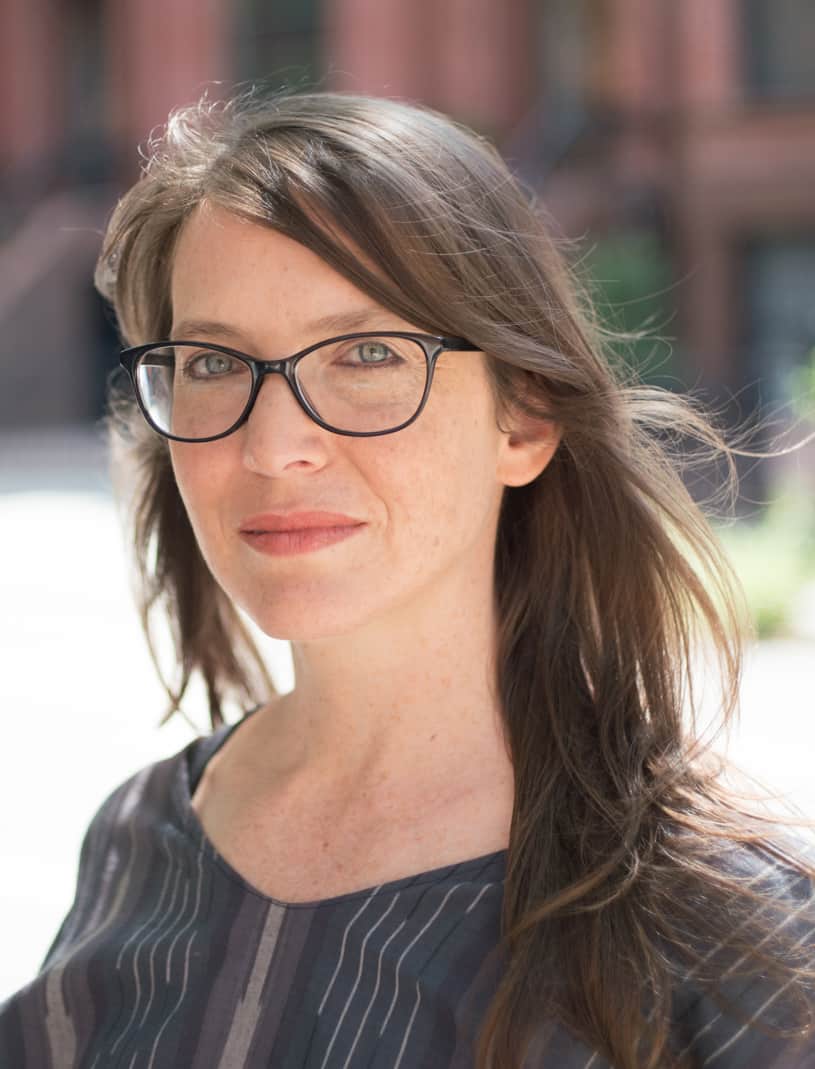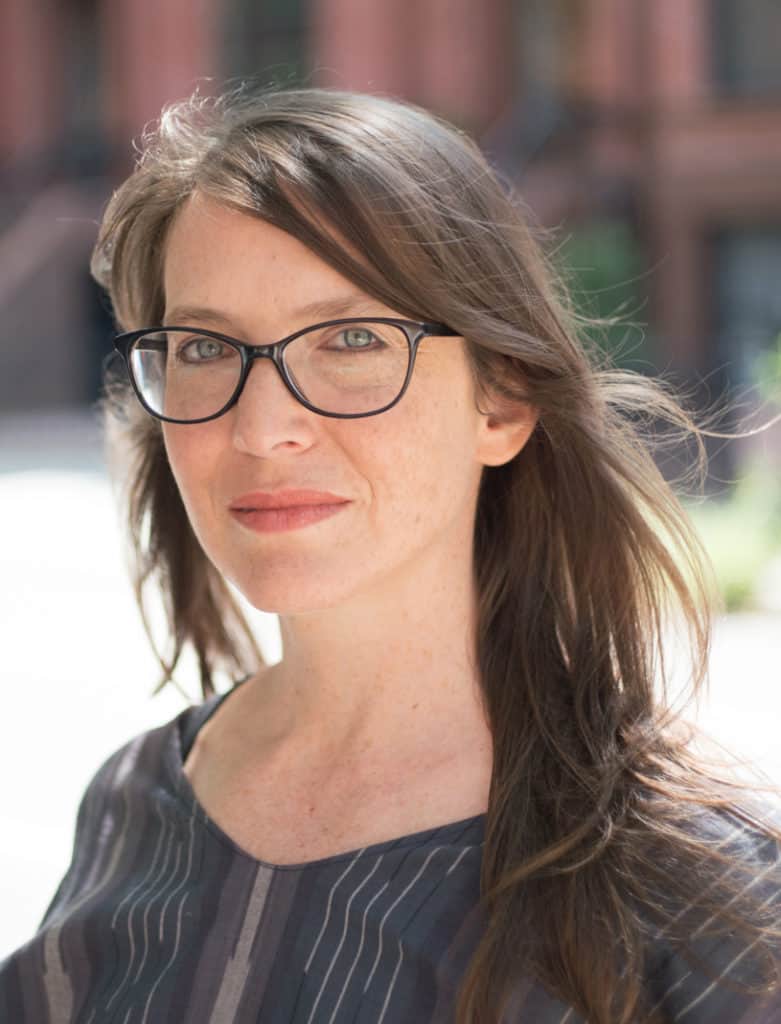 "I met with students on Zoom for part of class to talk and to show images, then we met in Wiggins Sculpture Studio. To make it as safe and healthy as possible, I moved class outside to the courtyard. I moved tools outside and we worked there," Sullivan said. "It's a shift for me that's different, yet I might do it again in the future." Sullivan taught the course in person, but the structure was changed considerably to follow social distancing guidelines, and the class briefly met entirely remotely when the campus alert level increased.
The new structure of the course changed how the students and professor interacted. "Teaching last semester in person required more one-on-one working with students, since we could not gather in a close group," Sullivan said. "While working this way slowed down the pace of the class, it opened up more varied conversations, and at times enabled more in-depth collaboration."
Even with some physical limitations in place, students still found ways to connect with one another. Ford Filandro '21 enjoyed the "Sculpture and Ideas" course in part due to the collaborative efforts of his classmates. "I would ask a classmate if they would help me cut some wood for my project. Everyone helped each other, and it was almost like we were all working together on each of our projects," Filandro said.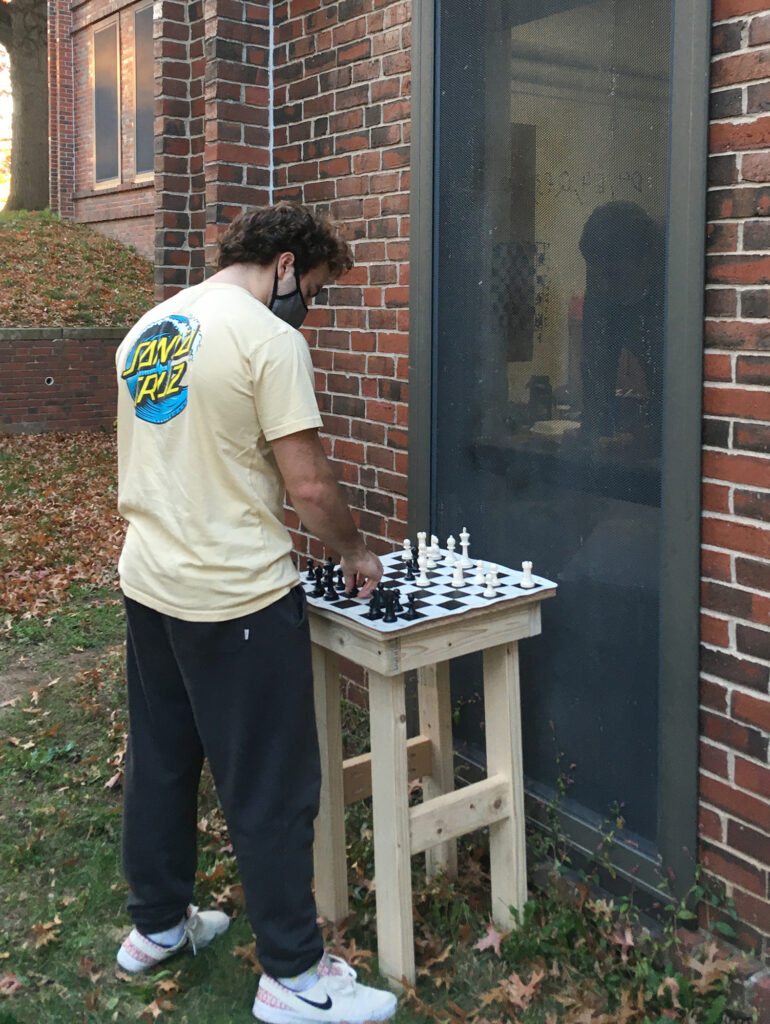 The students were assigned two big projects: casting and construction using woodwork; and finding materials in a student's dorm to create a piece of art. In both projects, the students were given the liberty to create pieces particular to the spaces in which they worked. "This is a big component of the class: site-specific work, thinking about space, moving through space and installing work in specific places," Sullivan said.
Filandro, as vice president of the Trinity Chess Club, created a final project that allowed safe interaction during a game of chess played through a closed window, with the table set up outdoors. "I play poker and chess, so I wanted to incorporate them into my final project. I bought a cheap chess mat on Amazon and I thought, 'What if I made a table for the mat to go on?' I told Professor Sullivan, and she knew exactly how to do everything," he said. "She showed me how to cut the wood to make sure it didn't chip, how to drill through the wood to avoid splintering… she's awesome."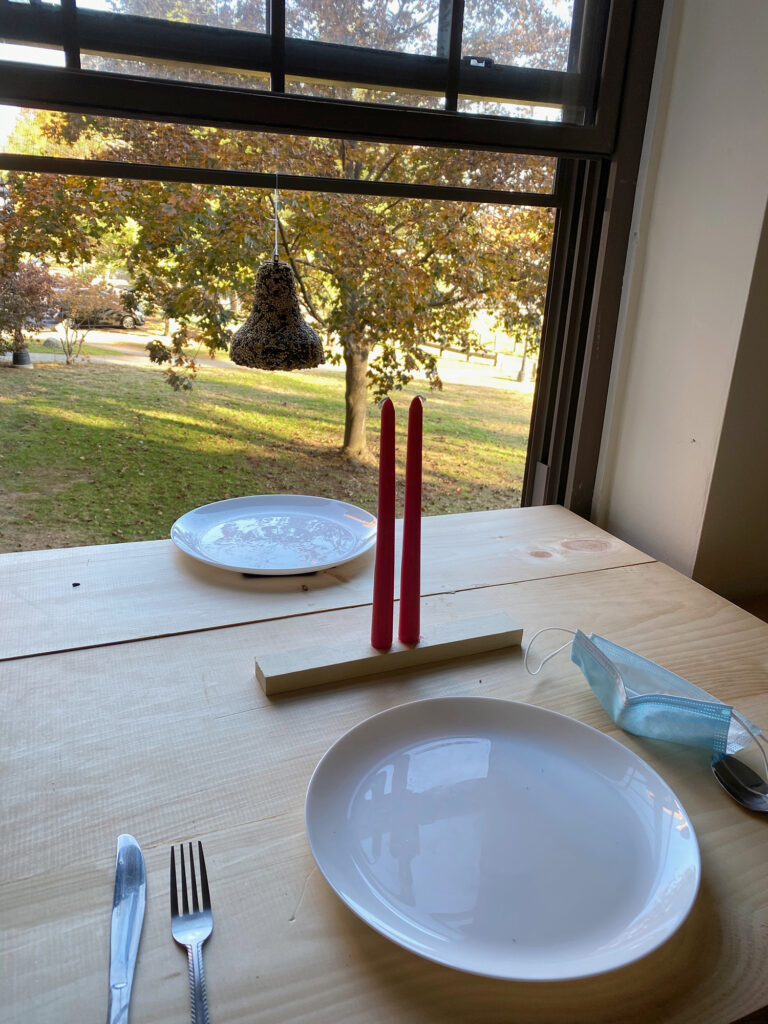 Another "Sculpture and Ideas" student, Keelyn McNamara '23, created a work focused on her personal space to reflect a mode of coping in challenging times. "At that point, we were quarantined in our rooms for about two weeks, and my whole rationale was this longing to have a connection with someone or something while in isolation," McNamara said.
This was McNamara's inspiration for creating her final project, a table anchored to the windowsill of her dorm room that would act as a place to share a whimsical meal with the birds outside of her window. "It's kind of a crazy, silly idea to have dinner with a bird, but I was constantly looking out of my window, and the only interaction I would see was among the wildlife and the birds. I thought it would be really cool to bring nature into the room and then have a connection with freedom," McNamara said.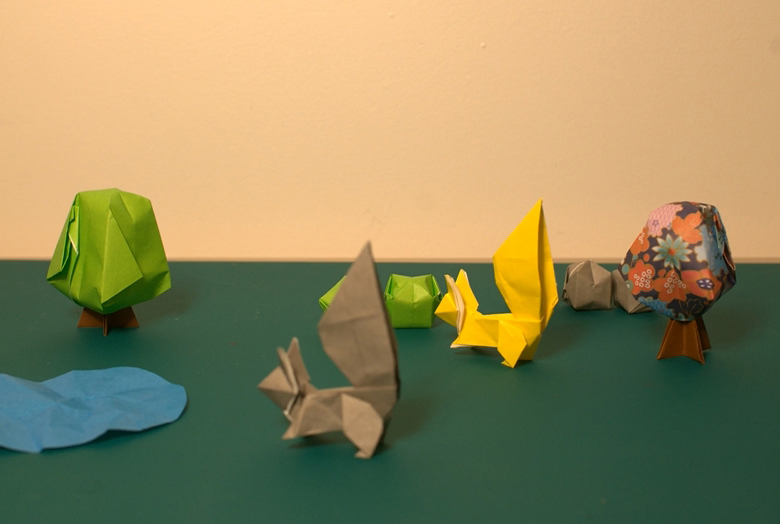 Digesh Chitrakar '22 also brought various elements of nature into his final project, which was a stop-motion video using origami to depict a fictional landscape featuring butterflies, trees, and squirrels. "Everything was so confined inside of my dorm, so I really wanted to bring in outside elements — that's where the butterflies and other animals came in," Chitrakar said. "The stop-motion animation makes it livelier and adds an element of fantasy."
Chitrakar highlighted the role that Sullivan played in helping to create this visual narrative. "She was very supportive of our ideas. Whenever we posed an idea, she pushed us to think more about it and ultimately make our projects better," Chitrakar said. "In a class that is really hands-on, requires a lot of tools, and was overall very challenging to execute during COVID, Professor Sullivan handled it incredibly well and she was always available."
To learn more about arts programs and departments at Trinity College, click here.