Back to News
Connecticut Gubernatorial Candidates Discuss Climate Change during Forum at Trinity
Trinity College's Program on Public Values recently hosted "Climate Change and Connecticut," a forum in which Connecticut gubernatorial candidates discussed issues related to the environment. The July 16 forum held in Mather Hall's Washington Room was co-sponsored by more than a dozen Connecticut environmental groups, including the Connecticut Chapter of the Sierra Club, 350 CT, and the Connecticut League of Conservation Voters. In attendance were candidates Joe Ganim (Democrat), Oz Griebel (Independent), Rod Hanscomb (Libertarian), and Ned Lamont (Democrat). All qualified candidates for Connecticut governor were invited to participate. John Dankosky, executive editor of the New England News Collaborative, moderated the forum.
Mark R. Silk, director of Trinity's Leonard Greenberg Center for the Study of Religion in Public Life and professor of religion in public life, opened the forum, calling climate change "the most serious challenge to civilization in our time." After Silk's opening remarks, candidates gave two-minute opening statements, which were followed by a discussion led by Dankosky and questions submitted in writing from the audience.
During the 90-minute discussion, candidates expressed their views on different topics related to climate change, including energy efficiency, renewable versus non-renewable energy, electrical transport, and utility costs.
Hanscomb said that he supported the use of natural gas over diesel oil or wood because, he said, "natural gas is 20 percent cleaner than diesel oil and 200 times cleaner than wood." Lamont, however, said that he believed that any investment in natural gas infrastructure is a waste of money and that money should be invested instead in renewable sources of energy such as wind and solar power. Ganim agreed and said that he is proud of his predecessor as the mayor of Bridgeport, who created a solar park in the city.
The effects on utility costs by using energy-efficient methods of producing electricity were also debated by the candidates. Griebel said that, if elected, he would push for increasing renewable energy and cutting costs. "We want Connecticut to be a premier state on all issues," he said.
Another source of renewable energy—thermal loops—was brought up by Ganim, who has been advocating for a thermal loop project in downtown Bridgeport and recently traveled to a clean energy conference in Denmark.
On the issue of utility costs, Hanscomb said that he supports using renewable energy but believed that it isn't feasible to set up renewable energy plants all around Connecticut. He added that people should have a say in what source of energy they would like to use, considering that renewable sources such as heat pumps can be costly. Lamont responded to Hanscomb and said that wind and solar power generation reduce peak load and could significantly reduce the high utility costs in Connecticut.
All candidates present disapproved of the removal of money from the Energy Efficiency Fund and the Green Bank, which encourage energy efficiency. "The Energy Efficiency Fund is essential to the state," said Lamont.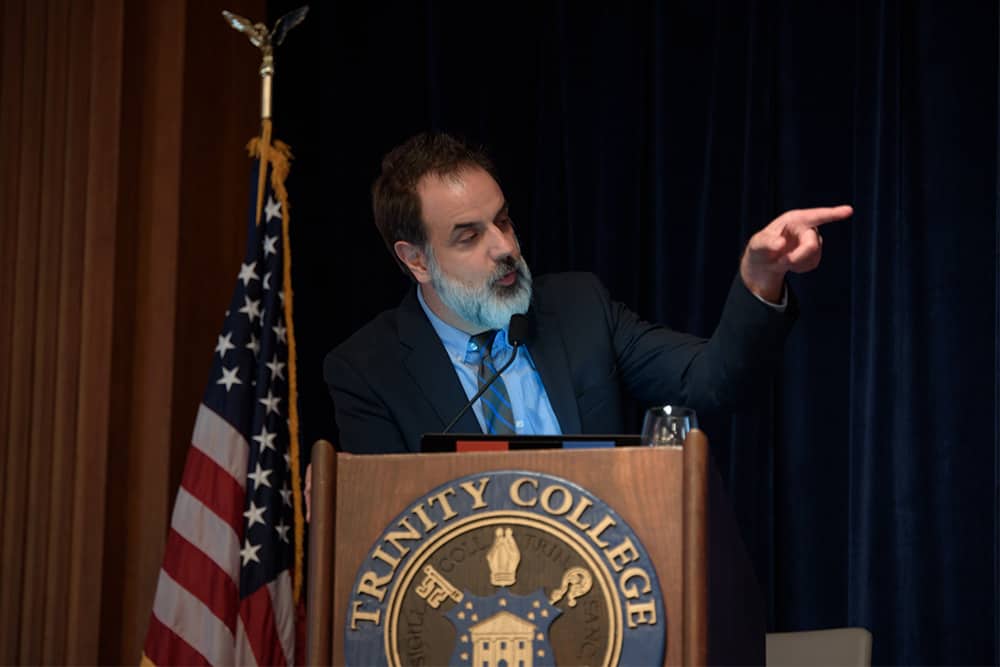 An audience member brought up the topic of electric vehicles, which then was debated by the candidates. Ganim supported the use of electric school buses but questioned Tesla cars. "I'm for electric cars, but I'm not a Tesla fan," said Ganim. Lamont responded to Ganim's hesitation about Teslas by saying that any electric car ownership should be encouraged in Connecticut. Lamont further said that, as governor, he would impose tolls on trucks.
Toward the end of the forum, candidates discussed methods to preserve trees without hindering the growth of infrastructure. Ganim told the audience, "I built 14 parks in Bridgeport by breaking down blighted buildings." Hanscomb said that he believes the cost of moving property is high, so for every tree cut, two should be planted.
Trinity student Claire Pritchard '20 attended the forum and said that Trinity can play an important role in the debate on climate change. "Higher learning institutions have a responsibility to be examples of sustainability," said Pritchard, who cited the college's recent creation of a full-time sustainability coordinator position as "a step in the right direction."
Writer-in-Residence Lucy Ferriss also attended the forum and said more Trinity students should take the initiative to promote waste reduction and recycling and invite speakers and activists to campus. "We should be seen as a place to bridge political divides in a spirit of open inquiry," said Ferriss.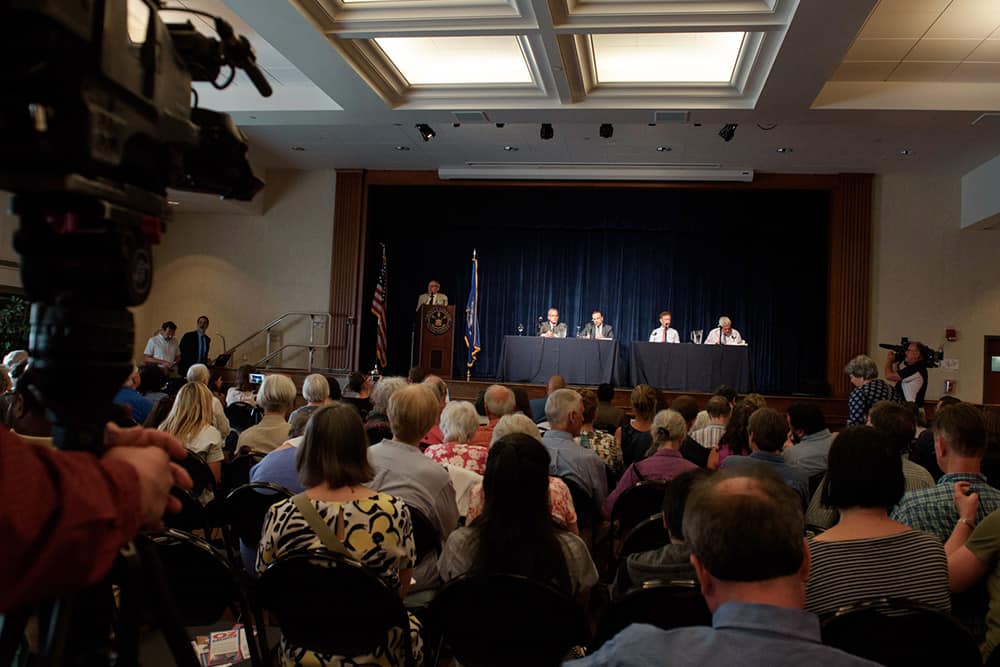 The forum was attended by about 200 people, including students and faculty and staff members. Silk said that he believes Trinity is participating in discussions on climate change by increasing courses on this matter and by holding weekly lunches during the academic year for students to express their opinions on "the most multidisciplinary problem the world is facing." He added, "There are several educational opportunities combining engagement and activism that are going to be available at Trinity." Silk said he believes that forums such as this one reflect Trinity's role in the larger community and allow environmental organizations to use Trinity's space for meetings and conferences.
The sponsors of the forum included 350 CT, Actual Food LLC, Beyond Extreme Energy, Clean Water Action, Connecticut Chapter of the Sierra Club, Connecticut Federation of Lakes, CT Green Building Council, Connecticut League of Conservation Voters, Connecticut Puerto Rican Agenda, Consumers for Sensible Energy, Food & Water Action, Eastern Connecticut Green Action, Energy Efficiencies Solutions, Greater Hartford Environmental Coalition, the Immanuel Congregational Church (Hartford) Environmental Action Committee, Interreligious Eco-Justice Network, the Trinity College Program on Public Values, The Climate Mobilization (TCM), and What Now New Haven.
To view a video recording of the entire "Climate Change and Connecticut" forum, click here.
See images of the candidates in the media gallery below.
Explore the Gallery
Connecticut Gubernatorial Climate Change Forum
Explore the Gallery
Connecticut Gubernatorial Climate Change Forum