The Lemon Squeezer
Originally published in The Reporter, fall 2015.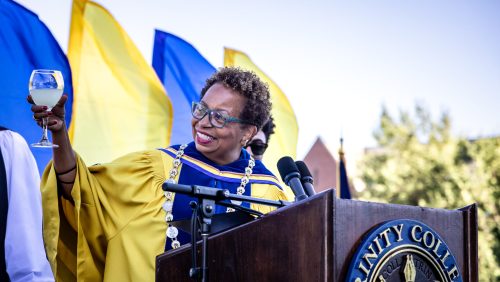 Most people connected to Trinity know the lemon squeezer as an important College symbol, but few know why. It definitely has been known to bring out the mysterious and the mischievous on campus.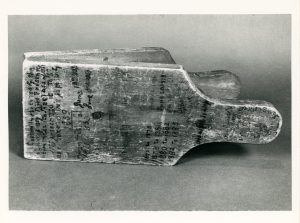 According to a document displayed in the Smith House that chronicles the kitchen tool's history at the College, the tradition began in 1857 when then-senior William Niles presented a lemon squeezer to the Class of 1859 for its "aggregate excellence in scholarship." It was selected because it was associated with the adored lemonade that "Professor Jim," a popular College staff member, made each year on Class Day. 
From then on, the lemon squeezer was passed down to the next class deemed worthy. This sparked lively competition among underclassmen to be the most popular. In 1863, the Class of 1864 began the tradition of stealing the lemon squeezer when passed over for the honor. Perhaps the most elaborate scheme involved a heist in which Walter Parsons, Class of 1896, snatched the lemon squeezer from the speaker's podium during the presentation and tossed it to a peer who ran around the quad to evade capture. He then passed it off to another '96er who ran upstairs in Northam Towers and dropped it down to a final conspirator waiting on horseback on Summit Street.  
Since then, the lemon squeezer has been stolen dozens of times. While it has been recovered after most disappearances, it has had to be replaced at least three times. It has been kept safe – either by the College or by witty thieves – in safe-deposit boxes, bank vaults, closets, and even in the walls of Seabury, where it was discovered during a 1980s restoration project after being hidden for 20 years.  
Modern-day Trinity students have continued the tradition with attempted thefts in 2012 and 2014. In spite of this, Associate Director of College Events Kate McGlew says that she, Convocation marshal and Professor of Physics and Environmental Science Christoph Geiss, and other members of the faculty seated in the audience during the ceremony, as well as Campus Safety officers, are aware of Trinity students' history with the lemon squeezer and ensure that students "really need to get creative if they want to steal it now."