The Cave
Originally published in The Reporter, winter 2017.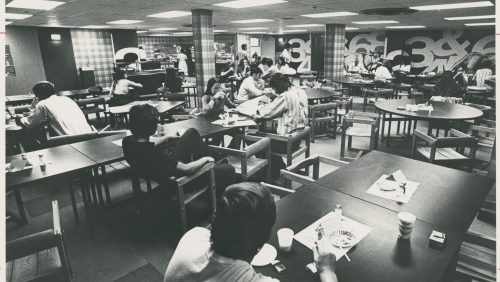 1948 – In the spring of his junior year at Trinity College, George Simonian '49 started wondering why there wasn't a place for students who lived on campus to have some coffee, play bridge, and socialize after hours. This prompted him to poke around the basement of Hamlin Hall, where he found a large storage room that was not being fully utilized. Then, Simonian said, "I approached the powers that be, along with Harvey Bingham '49 and Whitey Epps '49 [and] with the support of the popular Northam Professor of History, Emeritus, Dr. George B. Cooper, to get permission to clean up the closet and get some tables and chairs. Since I was well liked by the professional kitchen crew, I had access to a pot of hot coffee and fixings every weekday night. The very first night I invited our 'gang' down to the room, I called it the Cave." Simonian says that from there, the Cave grew, "and it seems we left a legacy."          
2017 – In the almost seven intervening decades, the Cave — since 1960 located in the Mather Hall basement — has expanded and continued to be a favorite meeting spot for students. In the summer of 2016, the Cave underwent a renovation that better celebrates Trinity colors, highlights traditional features of the College's architecture, and embodies the cozy, collegiate feeling that alumni like George Simonian fondly recall. The renovation was in part inspired and overseen by the Campaign for Community, a student-led initiative to promote respect, inclusion, and collaboration throughout campus. Students from the Campaign recognized the Cave's potential to combine the academic and social spheres for all members of the community. The updated Cave, though in essence still familiar to alumni, is emblematic of what it means to belong to Trinity's tightly knit liberal arts community in the 21st century.